Phuket
Phuket driver escapes injury as storm fells tree onto pickup truck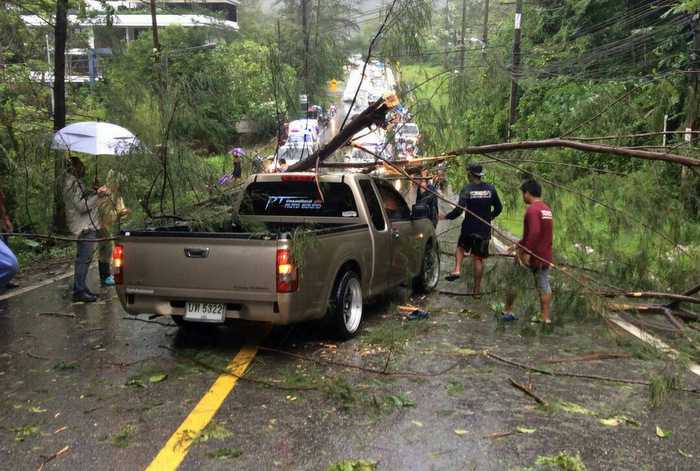 PHUKET: Police are urging motorists to exercise caution on Phuket's roads today after strong winds felled a tree that landed on a pickup truck in Kamala this morning.
Rescue workers were called to the scene, on the road between Patong and Kamala, on Phuket's west coast, at about 8:30am.
"The pickup driver had left Patong and was on his way to Kamala when the tree fell on his pickup," Kamala Police Superintendent ML Pattanachak Chakrabhandhu told the Phuket Gazette.
"Fortunately, nobody was hurt."
Rescue workers spent about an hour removing the tree, allowing the road to re-open to traffic at about 9:30am.
"We urge motorists to drive carefully in this weather," Col Pattanachak said. "Please also listen to radio reports or follow updates online so you know where accidents have occurred, so you can avoid traffic in the area."
The Thai Meteorological Department (TMD) this morning issued another severe weather warning for the Phuket and surrounding provinces from fallout caused by Typhoon Kalmaegi, which is heading for Hainan, China, in the South China Sea (click here).
Kalmaegi, which has produced recorded winds of more than 130kmh, is expected to make landfall over northern Vietnam by tomorrow.
In Phuket, 69mm of rainfall was recorded at Phuket International Airport over the past 24 hours and more than 21mm of rain fell on Phuket Town between 7am and 10am today.
The forecast predicts more severe weather, with winds gusting up to 40kmh and waves of over three meters as a result of thunderstorms in the Andaman Sea.
The rough weather is forecast to continue through Thursday (story here).
— Thawit Bilabdullar