Phuket chosen as Asian HQ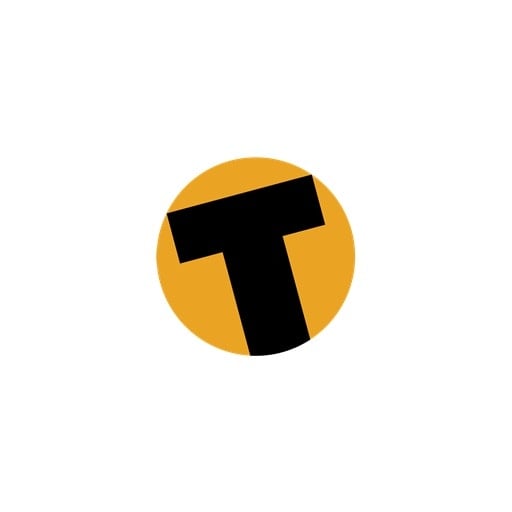 Phuket NEWS Hound
– A daily digest of news from around the world compiled by Gazette editors for Phuket's international community. World Cup? Get instantaneous scores and news updates right here on the Gazette Online (fed directly from FIFA).
PHUKET: Asia Travel Tips reports that Outrigger Hotels and Resorts Asia has officially established Phuket as its Regional Operating Headquarters (ROH).
The resort operator has also been approved by the Thai Government's Board of Investment, under the Ministry of Industry.
"We are a resort company so have chosen a resort location," said Outrigger's Senior Vice President for Asia, Darren Edmonstone.
"Our expertise since our formation in Hawaii over 60 years ago pertains to warm climate resort holidays. Phuket, with its great aviation access, human resources and culture of hospitality is a perfect regional headquarters for us in Asia.
"With a headquarters in Phuket, Outrigger can easily access resort areas of potential business interest in India, Indonesia, Vietnam, China and around Asia," he added.
Here in Phuket, the resort company manages the Outrigger Laguna Phuket Resort & Villas.
The Thai Government created the ROH program in 2001 to reinforce Thailand's position as an important business hub.
Thais move to help tourism
ETN
The Thai government has decided to move forward with a tourism recovery plan, and to move quickly. Thailand's Government has extended a range of measures to promote tourism, including a waiver of tourist visa fees until March 31, 2011.
They they have also approved a relief package for the tourism industry, including loans in the Thai Baht equivalent of US$153 million.
Hotels are exempted until 2011 from operation fees, while Thais travelling on local packages from tour operators, or who pay for their accommodation, will be able to deduct up to 15,000 baht from their annual income tax this year.
The TAT was granted an additional budget of 350 million baht (approx US$11.1 million) to boost promotion in the domestic market.
And the government-owned Airports of Thailand company has introduced discount schemes such as the reduction of landing fees by 15%.
The Government says it will also study tax deductions for MICE organizers.
Thailand praised for recovery
Earth Times
International tourism officials on Friday praised Thailand's efforts to restore its image as a safe destination after months of political turmoil.
At a meeting in Bangkok, World Tourism Organisation (UNWTO) secretary general Taleb Rifai and Pacific Asia Travel Association (PATA) chief executive Gregory Duffell pledged to work closely with Thailand to accelerate the recovery of the country's tourism industry.
"UNWTO and its members stand behind Thailand," Rifai said. "Valuable lessons and strategies used by other member states to confront similar crisis situations will be shared. This meeting also represents an expression of solidarity with Thailand from the international tourism community."
Rifai praised Thai government's efforts to revitalize the tourism industry, including a financial scheme for tourism entrepreneurs and small businesses affected by the unrest, exemption from the tourist visa fee for foreigners, and a landing and parking fee discount for airports.
The Kingdom's image as the 'Land of Smiles' was shattered after thousands of anti-government protesters occupied Bangkok's central shopping and hotel district in April and May and sporadic violence left 90 people dead and 1,885 injured.
Economic losses, including the torching of several of Bangkok's landmark businesses, were estimated at 200 billion baht (6.25 billion dollars).
Thailand's tourism industry was hurt by the outbreak of SARS, or severe acute respiratory syndrome, in 2003; by the Indian Ocean tsunami in 2004; and the closure of Bangkok's two airports by protesters in 2008.
But the industry has proved resilient, bouncing back stronger each time.
Thais seek peace through art
Centre Daily
Out of Thailand's bloody political turmoil that ended in mid-May, an art exhibit has emerged.
'Imagine Peace' opened last week and runs through August 22 at the Bangkok Art and Culture Center, located just a block from the protest zone in central Bangkok where protesters set up a makeshift campsite enclosed by a barricade of stacked rubber tires and bamboo spears.
Eighty artists have contributed works that include a rendition of the anti-government protesters' rubber tire barricade – which sealed off parts of central Bangkok for weeks – to express "the desire for peace and reconciliation," says curator Apinan Poshyananda.
Reconciliation is the latest catchword in Thai politics today, as the government tries to heal a nation fractured by the worst political violence in nearly two decades.
The 10 weeks of protests left 89 people dead and about 1,400 injured, and brought the capital's luxury shopping district to a standstill.
The exhibit was cobbled together in three weeks. Organizers say they hope to rotate in new installations if more artists want to contribute, and even expand onto the streets outside the gallery if need be.
Jakarta develops tourism
The Jakarta Post
The Ministry of Culture and Tourism has selected 200 villages across Indonesia as recipients of donations from the country's Community Empowerment Fund (CEF) in a bid to develop tourism. The announcement was made yesterday.
Indonesia has announced a series of tourism development measures over the past few months. The country's most visible competitor with Phuket is Bali, but many other destinations in the archipelago are under active grooming as tourism attractions.
The Director of Community Empowerment at the Ministry said that each village in Java would receive development funds, and that the villages were expected to develop tourism as a source of income for themselves and for the country.
The CEF program was initiated last year, with 104 villages receiving allocations of funds. An additional 450 villages will receive allocations next year, the Ministry says.
— Gazette Editors
Keep in contact with The Thaiger by following our
Facebook page
.
Never miss out on future posts by
following The Thaiger
.
Man's body discovered hanged in a Phuket Town apartment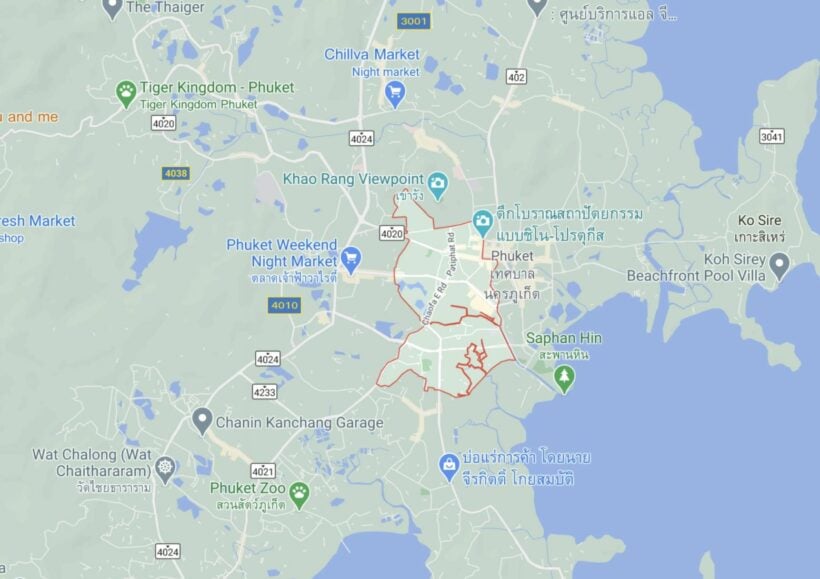 A man has been found hanged in Phuket Town apartment yesterday. Police are treating the cases as a suicide at the moment.
The man was found hanged from the apartment's ceiling fan. His lifeless body was discovered around 11am after neighbours complained to the manager about the smell coming from the man's room.
Police and the local Kusoldharm Foundation rescue workers attended the scene. Police later confirmed the incident happened in room on the 3rd floor of an apartment lock in Soi Phoonphol Soi 1, Talat Nuea in Phuket Town. Police said the man was 35-45 years of age and had a 29 year old girlfriend from Chumphon. He was paying 1,000 baht a month and had been renting the room for 2 months. Police estimate that the man had been dead for at least 3 days.
Police told media that the man had used, what appeared to be a dress, tied around his neck and then to the room's roof fan. The apartment manager told police that he had been late on on his recent rent, speculating that the man may have been suffering financial hardship.
The man's identity has not been released at this stage.
His body was taken to Vachira Hospital for an autopsy.
If you or anyone you know is in emotional distress, please contact the Samaritans of Thailand 24-hour hotline: 02 713 6791 (English), 02 713 6793 (Thai) or the Thai Mental Health Hotline at 1323 (Thai).
Keep in contact with The Thaiger by following our
Facebook page
.
Never miss out on future posts by
following The Thaiger
.
Bangkok Airways add 3 new local routes to their schedule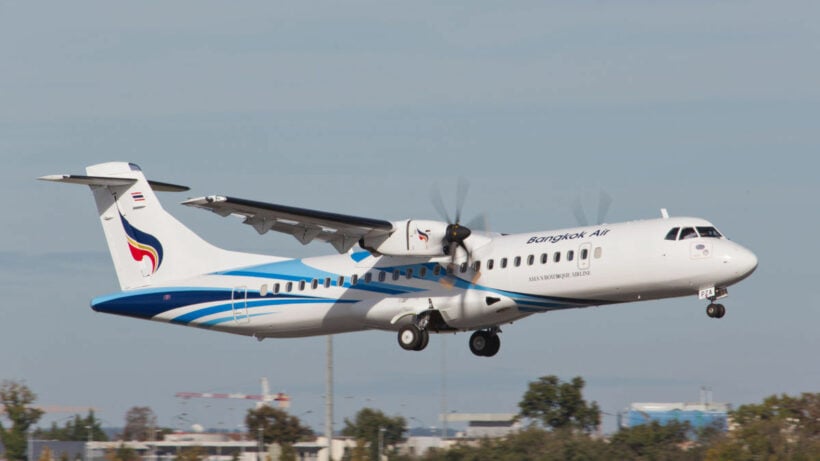 Some domestic routes are being added as local routes continue to expand. This time Bangkok Airways has announced it's resuming its Samui-Phuket, Phuket-Hat Yai and Phuket-Pattaya/Rayong (U-Tapao) flights.
The first additions to the schedule will be the Phuket-Samui flights resuming this Sunday, October 25, and the Phuket-Pattaya flights start again next Tuesday, October 27. The Phuket-Samui flights will be operating on Sundays and Wednesdays only on the airlines' ATR72 turbo prop regional planes, same as before.
A casual search on the Bangkok Airways website, for a return flight from Phuket to Samui on November 1, then back to Phuket on November 8 indicates the cheapest fare (promo) is 2,430 baht. Coming back, the cheapest fare we found, again labelled 'promo', was 2,630 baht. Bangkok Airways operate as a "full service" airline and don't compete with the country's discount airlines. But they operate these three routes exclusively – like it or leave it.
Bangkok Airways say that the flights will be operated "with the highest preventive measures and standards". Around the country the Civil Aviation Authority of Thailand have eased a few of the onboard restrictions, including the start of catering services which were originally banned under the initial flight rules when domestic routes started flying again at the start of July.
The daily direct services between Phuket and Hat Yai are also being operated on the ATR72 aircraft. The flight to Ha Yai leaves Phuket at 8.40am and arrives at Hat Yai at 9:.45am. The return flights leave Hat Yai back to Phuket at 10.25am each day. The route was very popular for the airline before the 'disruption' when airlines had their fleets grounded in April.
The service between Phuket and U-Tapao, linking the party city with the party island, will operate on Tuesdays, Thursdays and Saturdays, again with the ATR72. Phuket to U-Tapao will leave at 12.10pm and then from U-Tapao to Phuket at 4pm on the three days. U-Tapao is about a 50 minute drive from Pattaya and the airport also serves the greater Rayong area.
Keep in contact with The Thaiger by following our
Facebook page
.
Never miss out on future posts by
following The Thaiger
.
4 billion baht medical hub planned for Phuket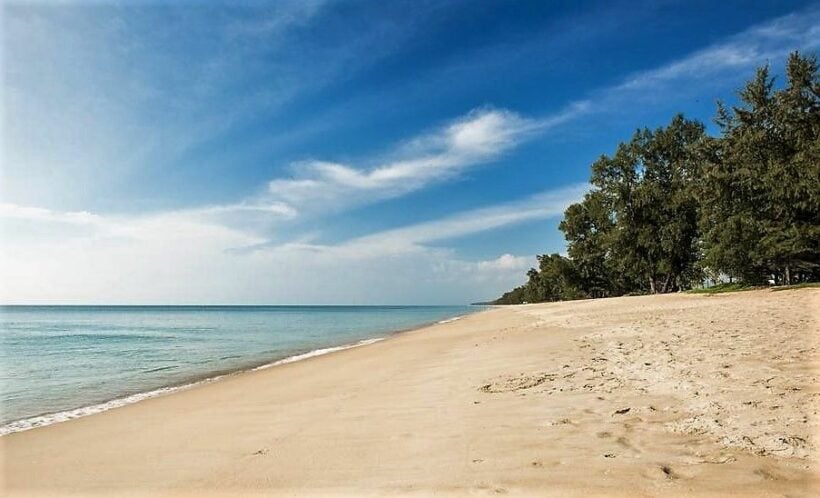 Phuket officials are setting aside around 4 billion baht to transform medical tourism in the southern province of Phuket, by developing a state-of-the-art treatment hub in the north of the island. The Bangkok Post reports that the Treasury department is planning to give the Public Health Ministry permission to use 141 rai of government land in the sub-district of Mai Khao, close to Phuket International Airport. It's not the first time the proposal has come to light.
The concept is gathering support as Phuket battles to diversify its attraction beyond a tropical holiday island.
The aim is to develop Phuket as a world-class health and wellness destination, with facilities that will attract medical tourists from all over the world, as well as providing a high standard of treatment to the local population. It's understood the facility will provide a full range of health services, including long-term care, and hospice and rehabilitation services.
The island already has a well-developed medical tourism market, but has been based around local hospitals and clinics linking up with foreign marketing companies in the past. "The International Medical and Public Health Service" has been conceived to create more long term financial security and diversification, and value-added tourism in Phuket, as the island has taken a heavy financial hit over the past 7 months.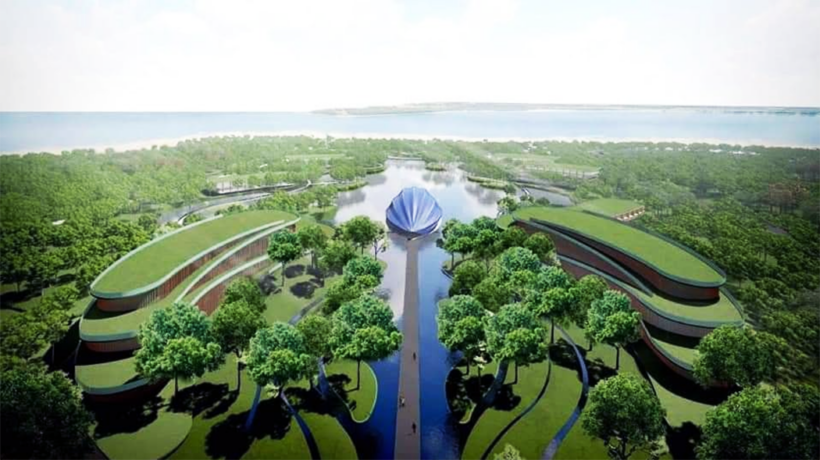 PHOTO: Phuket Andaman News
The plan was first suggested in 2017, by then governor, Noraphat Plodthong and confirmed by the director of Phuket's Vachira Hospital, Dr. Chalermpong Sukontapol, in July. At that stage, the estimated budget was 3-4 billion baht. The director-general of the Treasury department, Yuthana Yimkarun, says the plot is being offered to the Health Ministry for free. The land is thought be worth around 1 billion baht.
Yuthana says the ministry will manage investment, with approximately 2 billion baht required for the first stage of the project. Construction of the facility is expected to be completed over 2 years.
Meanwhile, it's understood that unused government land that is currently managed by various government agencies may be moved under the remit of central government, with a view to increasing its worth. According to the Bangkok Post report, just 4% of government land is directly managed by the Treasury. The other 96% is controlled by various government agencies. Yuthana says the plan is to increase the percentage of state-owned land under the Treasury's management to 10% within 2 years.
SOURCE: Bangkok Post
Keep in contact with The Thaiger by following our
Facebook page
.
Never miss out on future posts by
following The Thaiger
.