Phuket arrest: Father remains jailed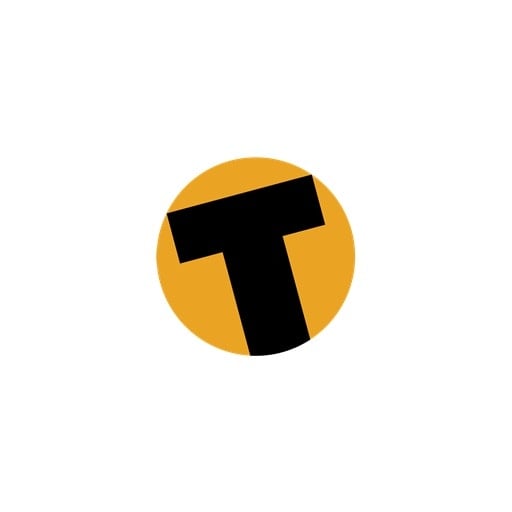 Phuket NEWS Hound
– A daily digest of news from around the world compiled by Gazette editors for Phuket's international community. World Cup? Get instantaneous scores and news updates right here on the Gazette Online (fed directly from FIFA).
PHUKET: A father volunteered to remain in jail in the United States on Monday while awaiting trial on charges that he fled the U.S. with his 3-year-old daughter in violation of an order issued by the Family Court of Greenville County, South Carolina.
According to the Greenville News yesterday, Samuel Lee Horton II, 38, was arrested in Phuket three weeks ago, ending a search that lasted more than a year, federal prosecutors said.
FBI Special Agent Lisa Quillen wrote in an affidavit that Horton flew from New York to New Delhi, India in April 2009. Greenville County sheriff's deputies charged him the following month with violating a custody order, Quillen wrote.
Horton initially returned to the United States at Los Angeles and has more recently been in the Greenville County Detention Center, authorities said.
Horton volunteered to remain in custody after attorneys in a court hearing clashed over whether he should be granted bond.
Horton has been charged with unlawful flight to avoid prosecution and giving a false statement for the use or application for a passport.
If convicted, he faces up to 10 years in prison.
7-Eleven swamps Thailand
Earth Times
Phuket residents will not be surprised to learn that Thailand has overtaken Taiwan as host to the third-largest number of 7-Eleven convenience stores in the world, behind only Japan and the USA, media reports said yesterday.
The number of 7-Eleven outlets in Thailand reached 5,500 this year, surpassing Taiwan's 4,000 stores, but behind Japan's 12,000 stores and the USA's 6,000, the Bangkok Post reports.
"We expect the total number of stores to reach 7,000 in 2012, enabling us to replace the US [as World Number Two]," said Suvit Kingkaeo, Senior Deputy Managing Director of CP All Plc, operator of the 7-Eleven franchise for Thailand.
The ubiquitous 24-hour convenience stores were introduced to the Thai market around 20 years ago and now offer various services, such as paying bills and providing mobile phone SIM cards as well as conventional corner-store fare.
Thai army deflated
Earth Times
An 11-million-dollar airship recently purchased by the Royal Thai Army has been grounded for the past several weeks because of leaks, news reports said yesterday.
The US-made Aeros 40D aircraft, which was delivered in May, has been sitting in a hangar because of several ruptures in the stitching on the aircraft's body.
The army purchased the helium-filled craft to conduct surveillance in Thailand's three troubled southernmost provinces of Narathiwat, Pattani and Yala, where a separatist struggle has claimed 4,000 lives over the past six years.
The military went on a buying spree after its coup in 2006 when it ousted former prime minister Thaksin Shinawatra, who fled Thailand to escape a jail sentence for corruption.
The military budget jumped 60 per cent in 2007 and 18 per cent in each of 2008 and 2009.
Drought hits Thai farmers
The Nation
This year's prolonged drought has badly hurt Thai farmers, who face increased production costs and lower yields, and are likely to see the effects in next year's crops as well.
Farmers have not been able to harvest their crops as usual, as lack of rain has disrupted their normal farming cycles. Rice farmers have been advised to grow their main crops in the middle of July.
In addition, a drought brought on by the El Nino weather phenomenon has seen some fruit crops either diminished or delayed.
The drought has created an opportunity for some businesses involved in alternative water supplies in Thailand, the world's biggest rice exporting nation, where the staple is farmed throughout the year and demand for water is high.
Thai crackdown benefits Burma?
The Irawaddy
The Democratic Karen Buddhist Army (DKBA), a proxy militia of the Burmese regime, says it has seen profits rise at its unofficial "Immigration Checkpoint" following Thailand's recent crackdown on illegal migrant workers, according to a source close to the DKBA.
The DKBA checkpoint, locally known as "Gate Zero" and controlled by a DKBA battalion, has become the main deportation point for illegal migrant workers arrested in Thailand.
Gate Zero is located on the Thai-Burma border next to the Myawaddy Friendship Bridge, just across the Moei River from Mae Sot in Thailand's Tak province.
"The crackdown has meant more migrant workers are being deported to the gate, so revenues have gone up," the source said.
Thai Prime Minister Abhisit Vejjajiva recently issued an official order to set up a special center for the suppression, arrest and prosecution of alien workers in Thailand.
Thailand promotes North
TTR Weekly
The Tourism Authority of Thailand (TAT) says it will promote in the UK the lesser known regions of Thailand, such as the Northeast and the eastern seaboard.
To balance the southern region's popularity in Europe, spearheaded by Phuket, the TAT intends to experiment by promoting the Northeast region, known as 'Isan', and lesser known beach destinations on the eastern seaboard in a move to support government policy to spread the benefits of investment and tourism.
In 2009, Thailand welcomed 14.09 million tourist arrivals, of which 777,313 were from the UK and represented a 30% market share of the overall market.
The UK also generated the highest tourism revenues of any country for Thailand last year, due to its nationals' average length of stay of 15.5 days.
— Gazette Editors


Read more headlines, reports & breaking news in Phuket. Or catch up on your Thailand news.
Power outage in parts of Chalong tomorrow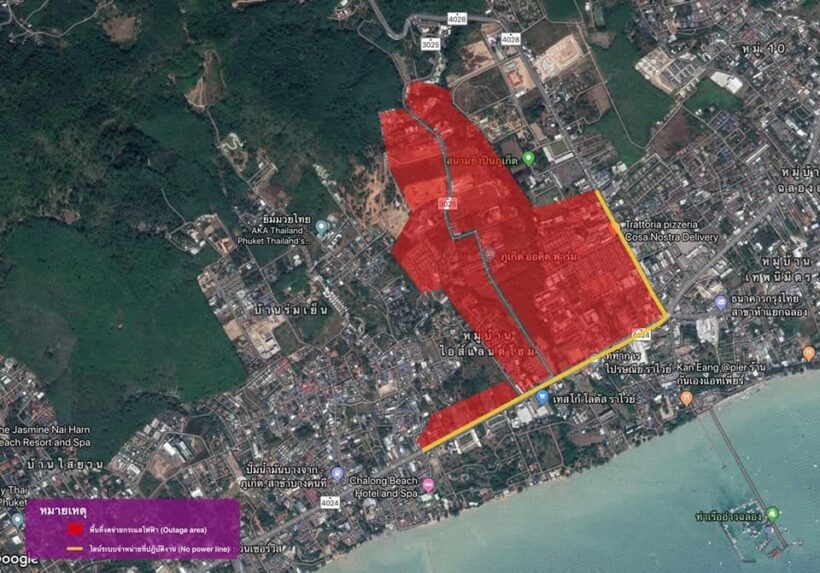 PHOTO: PEA
Residents of Chalong should be aware that there is a scheduled power outage from 9am to 4.30pm tomorrow (Tuesday) as the Provincial Electricity Authority (PEA) continues its work on high power voltage systems in the area.
The blackouts will affect the areas from the Shell petrol station on Patak Road to Bayshore law office opposite Chalong Beach Hotel on Wiset Road.
As always, the PEA apologises for the inconvenience.
For more information contact the Operations and Maintenance Department of the Provincial Electricity Authority on 07 652 1099 (24 hr)
Free water schedules for residents in Patong and Rassada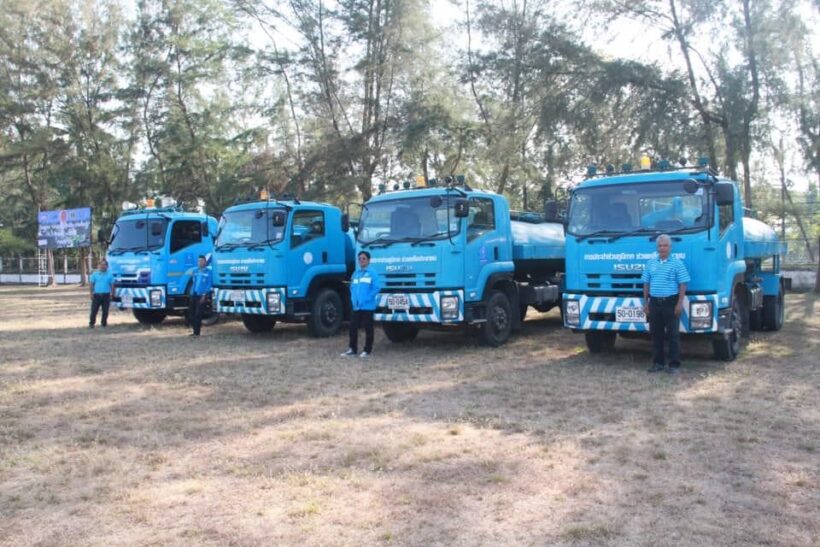 PHOTOS: PWA
Authorities have announced schedules of free water distribution for residents in Patong and Rassada.
In Rassada by the Phuket Waterworks Authority (PWA)
Koh Siray, from 8pm to midnight every day at Supitcha housing estate
Soi Kingkaew and Soi Honsaithong, from 9am to 3pm every day.
Nattakamon housing estate, one time per three days.
Thep Buri housing estate, one time per three days.
Sri Suchart 2 housing estate , Rock Garden housing estate and Kietsin hosuing estate, one time per three days.
In Patong by Patong Municipality
Free water is available on Phra Baree Road, Phisit Koranee Road and Nanai Road on Monday, Wednesday and Friday from 10am, onward starting today.
Residents are told they need to bring water buckets.
Alleged Greek murderer of Phuket beautician remains at large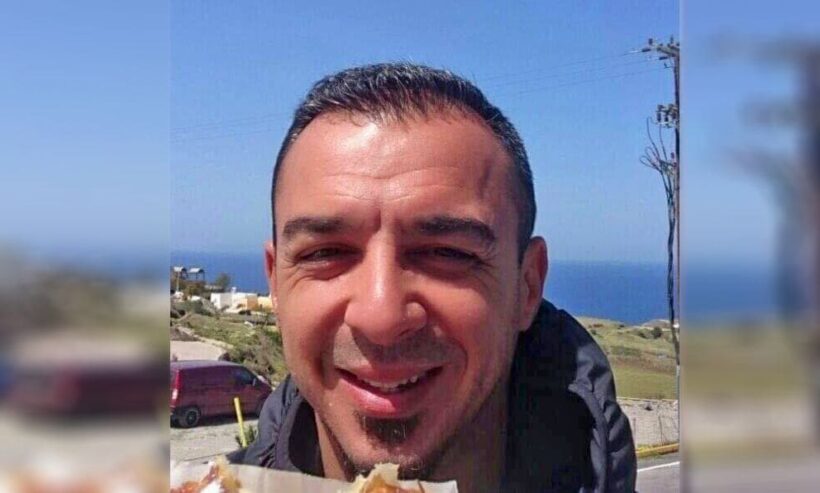 PHOTO: Dimitrios 'Dim' Chairopoulo, wanted and believed to be living in Greece
Local Phuket police are yet be informed of the latest in an international hunt for a Greek alleged murderer Dimitrios Chairopoulos. He remains wanted as a suspect in the murder of local beautician 43 year old Niramon 'Bea' Aewkaew in Phuket during February.
Cherng Talay police say they want an Interpol Red Notice issued so that they can track down and arrest 42 year old Dimitrios 'Dim' Chairopoulos, wanted for the murder. Bea and Dim were seen leaving their accommodation on February 11. It was the last time Bea would be seen alive.
Mr Chairopoulos was recorded as clearing Immigration at Phuket International Airport to board a flight to Dubai in the hours after Ms Niramon was last seen alive. He boarded an Emirates flight EK0379 to Dubai, departing Phuket at 2am. Police also confirmed that he arrived in Dubai on the same day.
"If he comes back to Thailand he will be arrested," said Chief Col Sen Kwannimit of the Cherng Talay Police.
A request for a Red Notice was submitted with the Foreign Affairs Division of the Royal Thai Police on February 19 but, for now, no formal international's notice has been published..
Cherng Talay Police confirmed that Dim was seen leaving the room at a guesthouse in Bang Tao where Ms Niramon's body was found on Saturday, February 16.
In the days leading up to her murder her family had been desperately trying to contact her.
'Bea' was the eldest of 5 children from Phatthalung province and had been working in Phuket as a beautician at the time.
One of her sisters, May' was contacted on February 15 by one of Bea's workmates trying to locate her.
Neither May or Bea's other sisters, relatives or friends were able to contact her. Bea had just moved to a new house so nobody knew where she was living. Another sister, Pichy, spoke to friends and was able, using Google Maps, to locate the guesthouse she was staying.
The owner of the room told the family that the air-conditioning was on in the room but there was no response. When the owner returned with a key he informed the family that Bea was found on the bed with a black cloth stuffed in her mouth and her hands and feet bound.
CCTV footage shows the couple leaving the room in the afternoon of February 11, the last time that Bea was seen alive.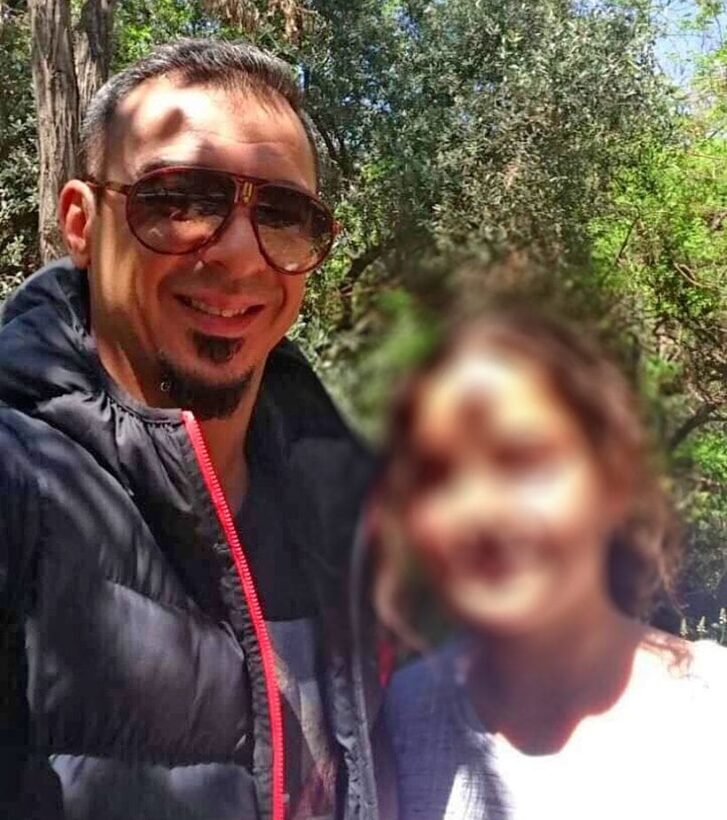 Dimitrios 'Dim' Chairopoulos with his daughter from another relationship
What we know about the alleged murderer?
Dimitrios 'Dim' Chairopoulos, who remains at large and thought to be in Greece, worked as security in a night club in Athens. He already had a daughter to another woman in Greece.
During his relationship and marriage with Bea he was said to be 'controlling' and 'jealous' by members of Bea's family. A close family friend told The Thaiger that the family had concerns for Bea's safety and were 'uncomfortable' with her ongoing relationship and marriage with Dim.
"We tried to get to know him at family functions but he was not easy to know and seemed very possessive of Bea," said one of the close family members who asked not to be named.
"He did threaten to kill her if she ever left him and Oh, another of her sisters, went with Bea to file a report of the threats at the Cherng Talay police station at the time," they explained.
That report was made to police in 2016. A year later the pair married and were still married at the time of the murder.
"He would drive past the beauty shops that Bea worked at and spy on her."
The family claim that, apart from his own possessions, he also stole Bea's phone before he headed to the Phuket International Airport on the evening of the murder.
So where is Dimitrios Chairopoulo?
At this stage the Greek Embassy has made no comment about the case or followed up with Greek Police about the pursuit for the fugitive man.
There are currently approximately 58,000 valid Red Notices worldwide of which only 7,000 are public. An Interpol Red Notice has not been issued to alert international police or Immigration officials to be on the look-out for Dim.
For now, the alleged murderer of Bea – an innocent Phuket beautician, beloved sister and family member – remains at large, most probably in Greece.
If anyone has any information about Dimitrios 'Dim' Chairopoulo's whereabouts or information that may lead police to arrest him, please send a confidential message to The Thaiger.