Phuket
Phuket Sports: Thailand World Cup hopes still alive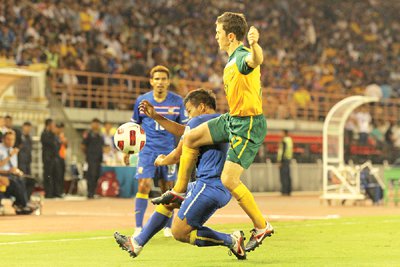 PHUKET: Thailand's senior national football squad are still in the race for the 2014 World Cup, despite back-to-back losses to Saudi Arabia and Australia on November 11 and 15.
In what was a closely contested match at Supachalasai National Stadium in Bangkok last week, the War Elephants were narrowly defeated by the Socceroos who went ahead with a header by Bret Holman in the 85th minute
.
The single-goal loss added a pinch of salt to Thailand's fresh wound following their 3-0 defeat in Saudi Arabia previously.
Nonetheless, the Thais proved that their inferior ranking was irrelevant, putting up a good fight against their opponents from 'down under'.
Thailand restricted the visitors to few scoring chances, yet despite limited opportunities the Australians made the Thais pay a heavy price by making the most of the chances they got.
After watching the Australians stretched to their limits by his charges, just like in the first meeting in Brisbane in September when the Socceroos had to come from behind to claim a 2-1 victory, Thailand's 61-year-old coach, Winfried Schaefer, was satisfied with his side's performance.
"I want to thank everyone on my team for putting on such a strong showing over 90 minutes. The only thing we lacked was the goal. I'm happy that we played well against the 20th ranked team.
"The only difference is that they made their chances count, while we failed to do that. It's a pity that we did not score any point from this game," said Schaefer, who has had to transform the team from a disjointed unit under his predecessor Bryan Robson.
Despite the loss, the former Cameroon manager believes there is still a bright future lying ahead for the Thai team.
Expressing regret about their 0-0 stalemate last month against Saudi Arabia in Bangkok, the coach said, "Had we claimed maximum points against the Saudis at home, the chances would have become more open for us."
"Now, I want the players to continue working hard when returning to their clubs in order to further improve themselves. If we keep doing our work, we will achieve our goal. Anyway, the final game away against Oman is still important and we need to get the best possible result," said the German, who only took over the post in July.
Following the disappointing loss, Thailand was offered a glimmer of hope after Saudi Arabia missed their chance to seal a berth following a goalless draw with Oman on the same night. Had Saudi Arabia won, both Oman and Thailand's chances of advancing would have been crushed.
Instead, the stage has now been set for a grand finale with all three sides vying for the remaining qualifying spot of Group D.
After five matches, Thailand are at the bottom of the group with four points. The Thais will need to win at Oman in February and hope that Australia is able to beat Saudi Arabia at its home ground at the same time.
Even if Australia and Saudi Arabia's match results in tie, Thailand could advance if they improve their goal difference.
However, that scenario would require Thailand to beat Oman by at least three clear goals – on the condition that a Saudi-Oz draw does not exceed two goals a piece.
Other Asian fixtures saw the likes of China, Singapore, Indonesia, North Korea, Tajikistan and United Arab Emirates (UAE) all denied the prospect to advance – even with a match remaining in hand.
Meanwhile, Jordan, Iraq, Japan, Uzbekistan, and Iran joined the ranks with Australia to secure a berth in the final 10.
Qatar is most likely to advance as well on the conditions that they don't get trounced in their final group E game against Iran, and that Bahrain doesn't have a goal fest against Indonesia.
Considering Indonesia have conceded 16 goals in their five matches – outdone only by Tajikistan with 17 – anything is possible.
And despite a strong start, Asian giants South Korea will have to earn their spot if they are going to advance following a historical 1-2 loss to Lebanon.
A Korean – Kuwaiti showdown will determine one of group B's spots while Lebanon needs a draw or win in their final match against UAE to advance. Even if Lebanon loses but South Korea ousts Kuwait, Lebanon will still advance along with the Koreans.
All Asian qualifying matches are scheduled for leap year day, February 29, next year.
— Nation / Phuket Gazette editors