Phuket PDL Darts: Hemingways A down Starfish, 10-3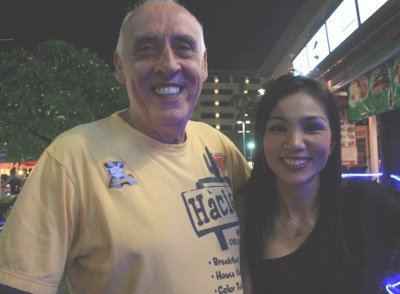 PHUKET: In Week 10 of the 2011-2012 Patong Darts League, Shakers hosted the hottest dart team in Phuket at the moment: Hemingways A.
Shakers titan and daytime schoolteacher Ryan played Big Ronnie in the first match up to get the evening going. With high scoring from both sides, the epic ended in a 1-1 draw.
Veteran of the Swedish professional league Rappe (Hemingways A) met Martin, a regular winner of the high score and head coach at the Brazilian football (soccer) academy, in the third and fourth games of the night. Not to be intimidated by the professional player from Sweden, Martin held his own for the most part, but could not quite match Rappe in the end.
New to the PDL, Nick (Shakers) was unfortunate to draw former semi-professional darts player from the UK Tony C, unquestionably one of the best, if not the most consistent, high scorers in the current Tuesday night league. Tony went through the numbers and beat Nick 2-0.
In the next match Ay (Hemingways A) met long time PDL player and supporter Stu (Shakers). Although Stu had a bit of a double struggle in the last game, he won comfortably against the out-of- practice Ay, 2-0. The first doubles game was one to watch, with Ryan hitting a 180 and Rappe missing out on a 161 finish by a couple of millimeters. The beer leg went to Hemingways A, giving them the win, 10-3.
Hemingways B met Starfish at Hemingways. Some will remember the last meeting when Starfish held Hemingways B to 7-6, a match only decided in the beer leg. It was not to be a repeated this week, as the points started to mount up early against Starfish. Only Rod (Starfish) managed to win a game, against Aquamaster representative Carl of all people. Carl hit a 180, but little else, with his new darts. Kon-tiki Dive company owner and Director Michael (Hemingways B) made life difficult for himself against Mai and almost lost one of his games. The beer leg looked like it was going to go the way it always goes, against Hemingways B. Starfish pulled away (as starfish are wont to do) and the in-form Rod had a couple of shots at the double. With Starfish left on madhouse, Steve finished it all to save him the cost of another round…again.
Because next week's games are postponed for the Christmas break, Week 10 was Carl's (Hemingways B) last game in this current season. The league wished this sharpshooting gentleman the best of luck with future ventures and hopes he'll head back this way once in a while. Both Hemingways sides will hook up for a "going away" party for Carl and a practice session tonight.
Market Bar and Pogues Mahon agreed to bring their game forward to Monday to accommodate a birthday party on the Tuesday. This was set to be a good game between the two Irish bars, as both teams are close in the league. Joy (Market) had a good finish to help Market Bar win 8-5
Celtic vs Beach house was postponed due to sickness and a lost earring.
Lots of 140s about tonight, but the sharpshooters of the night were Ryan of Shakers and Carl of Hemingways B, both with good 180's.
The new season is only around the corner and preparations need to be made. The league organizer will need to undertake the complicated task of preparing the fixtures list for next season. Unless informed, as all teams in the PDL currently have had a strong season attendance-wise so far, I will assume that this seasons teams will remain in the PDL in the coming season. Any bars that have teams and would like to join the PDL (Tuesday), please inform Steve (089-5870819) as soon as possible. Friday league teams are encouraged to join too and the Phuket dart scene is always willing to welcome newcomers at all ability levels.
At the next meeting, likely some time in January, it will be proposed that we run an individuals league table alongside of the team competition. This is our league and the decision to follow through with this will be brought to the vote. We have enough good players in the league now to make this interesting. Please consider this and discuss it with your players.

Standings after Week 10:
Hemingways A 92
Hemingways B 89
Market Bar* 61
Shakers 59
Pogues Mahon 53
Celtic Bar** 48
Starfish Bar 48
Beach House* 43
*=Game in hand
**=Two games in hand

Week 11 match-ups
Starfish Bar v Beach House
Hemingways B v Shakers Bar
Celtic Bar v Pogue Mahones
Market Bar v Hemingways A
— Steve Pearce


Read more headlines, reports & breaking news in Phuket. Or catch up on your Thailand news.
Motorbike driver files official complaint after accident from fallen cables in Kata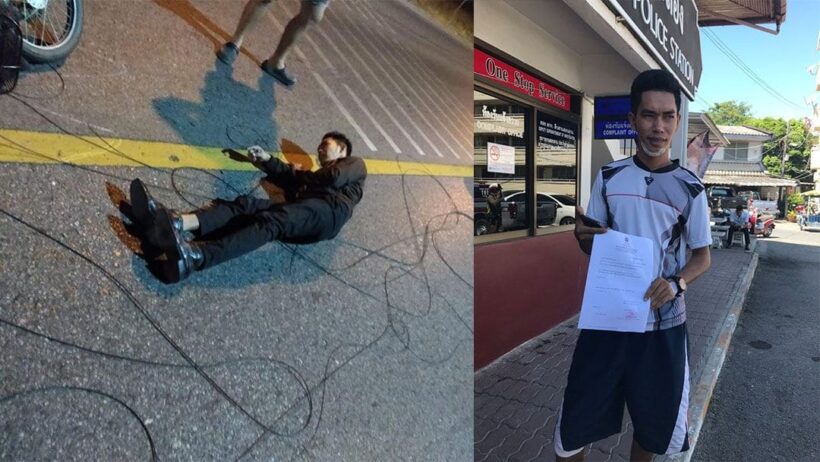 A motorbike driver has filed a report with police against a cable company after he became tangled up in their cabling while driving to work in Kata.
26 year old Chakaree Yawaekaree filled the report with Chalong Police against the local cable company.
Mr Chakaree told Police that he was driving to work in Kata on Friday morning. When he arrived at the scene he ran into the cabling that had dropped down, just above the road level. The cables hooked his motorbike and caused him to crash and fall off. He was taken to hospital where he was treated for scrapes, grazes and a badly injured right knee.
Chalong Police say they are continuing their investigation. They say the cables belong to a private company and that this kind of incident happens "very often".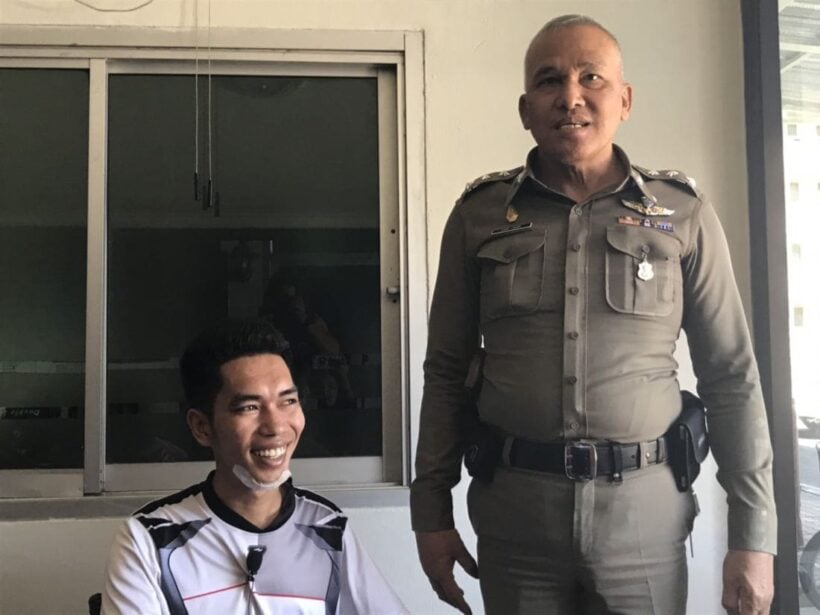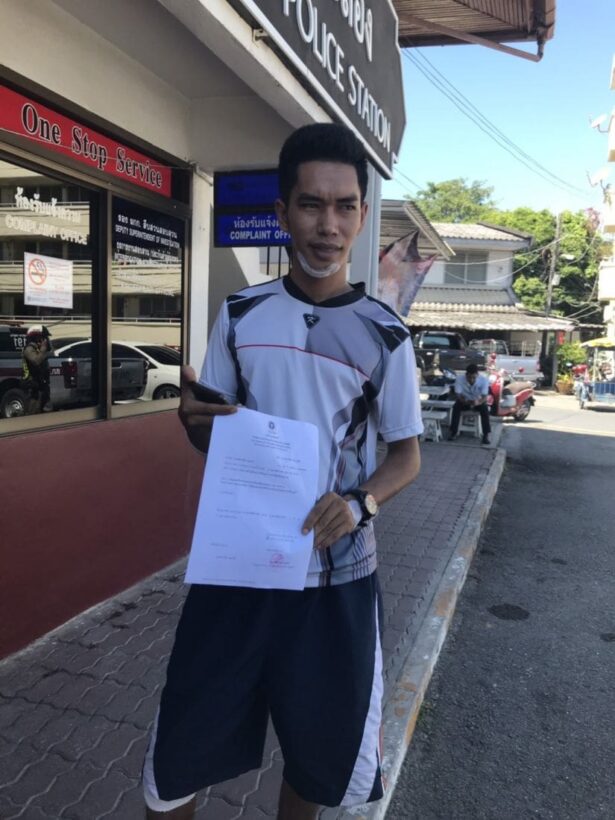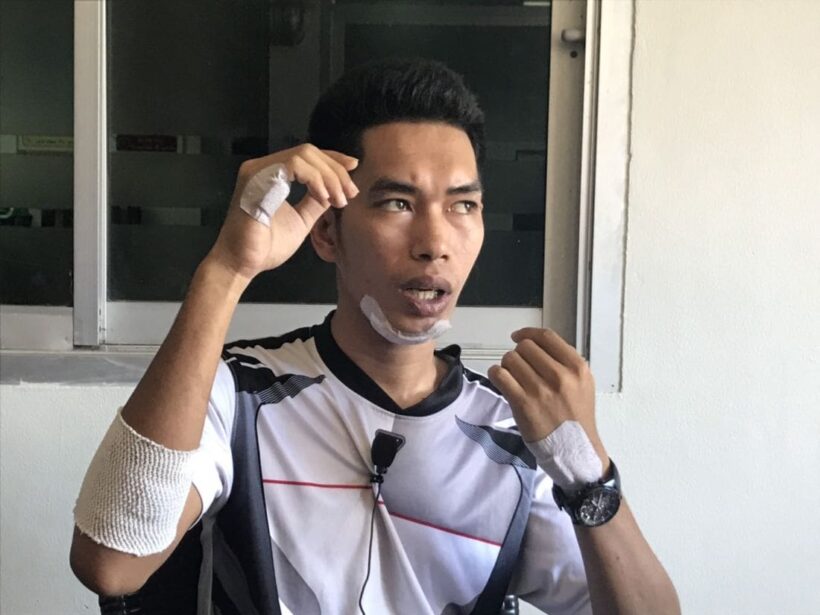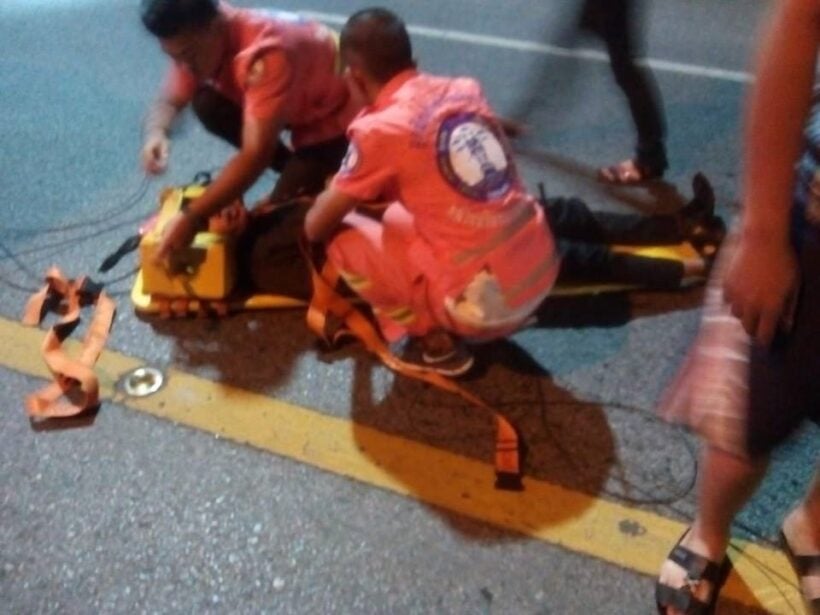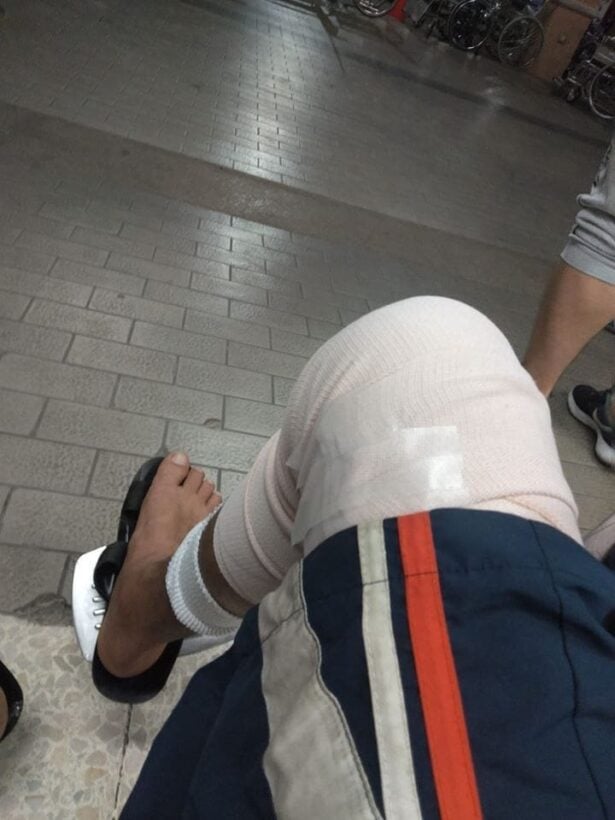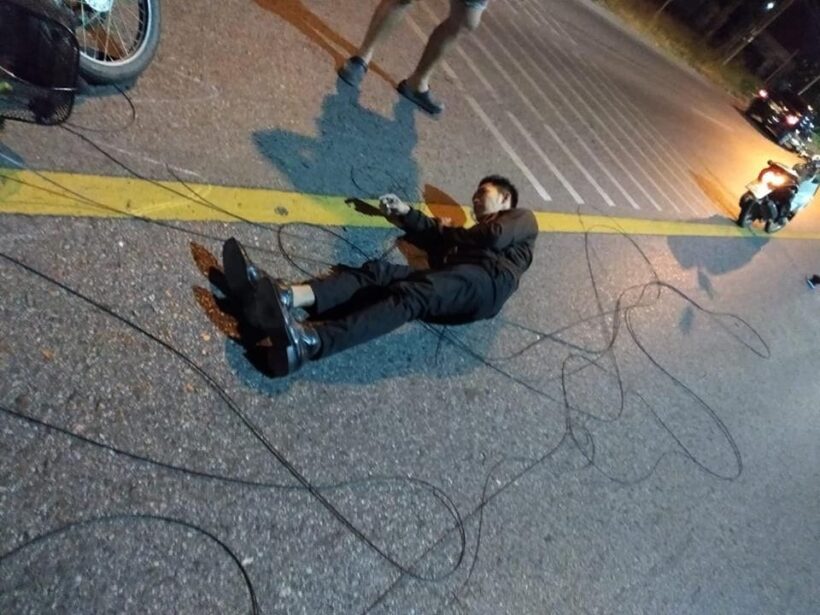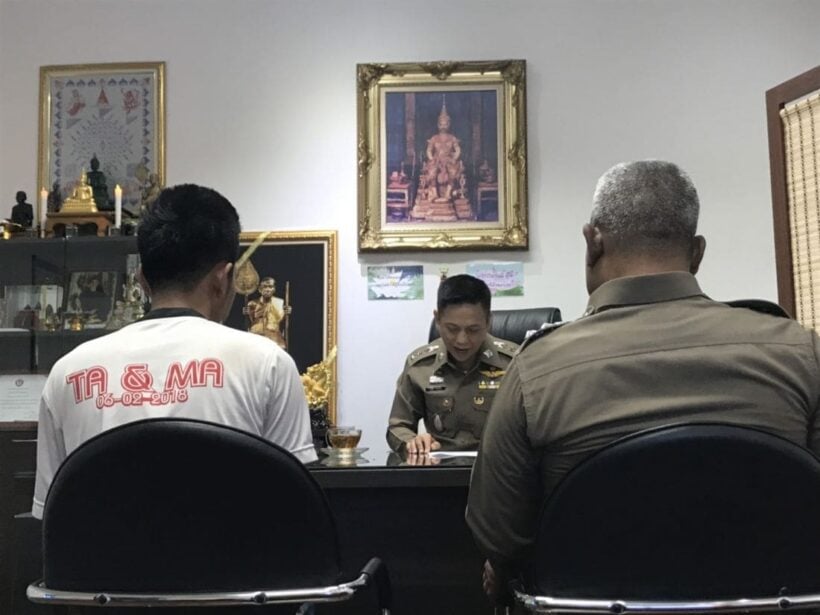 Motorbike driver dies after colliding with sedan on Thepkasattri Road, Phuket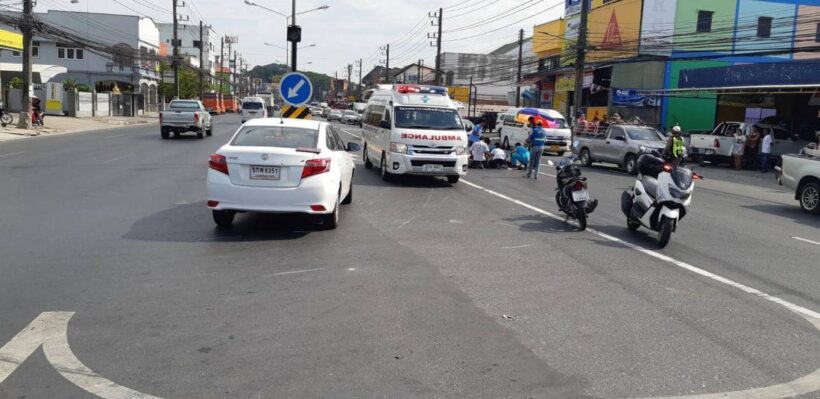 A motorbike driver has died after colliding with a sedan driven by a Russian driver who was allegedly making a "risky" U-turn on Thepkrasattri Road in Koh Kaew yesterday.
The incident happened at 3.30pm yesterday.
Police and other emergency responders arrived to find a white sedan, a motorbike and a pickup truck.
The motorbike driver had sustained serious injuries – 19 year old Weerapat Chamnina – and had already been rushed tp Mission Phuket Hospital where he was later pronounced dead.
Police report that a white sedan, whose driver was a 37 year old Russian man, Maxim Shadrin, was heading along the southbound lane of Thepkasattri Road.
Police speculate that he was trying to make a U-turn but was allegedly out of the lane of traffic making the turn.
The motorbike collided with the rear of the man's sedan.  The motorbike driver bounced off to the other side of the road (northbound lane).  Then a pickup truck hit the motorbike driver.
Police are continuing their investigation and examining all the CCTV footage.
54 year old Swede dodges traffic in Thepkasattri Road, Phuket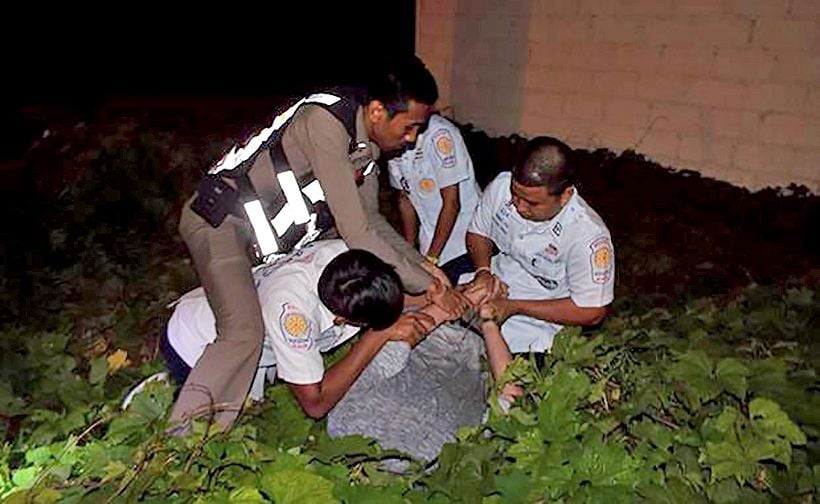 PHUKET: Achadtaya Chuenniran
A 54 year old Swedish tourist is now in custody after running around Thepkasattri road yesterday morning dodging cars and causing traffic mayhem. Luckily no cars came in contact with the man police described as 'mentally ill'.
A video clip from the incident shows the man running in and out of the traffic on Thepkasattri Road in Thalang. The incident happened around 2.30am.
The road had to be closed for 20-30 minutes as police apprehended the man, unhurt. The motive for his dangerous antics have not become apparent at this stage.
The man, who remains named was taken to Thalang Hospital for checking then was transferred to Vachira Hospital in Phuket Town. Police revealed that his visa expired on the same day so they've contacted the local Swedish consular officials to check on the man's family and travel situation.
The Swede is currently being evaluated and treated in the hospital's psychiatric wing.
SOURCE: Bangkok Post