Phuket
Phuket Lomas game for UK tour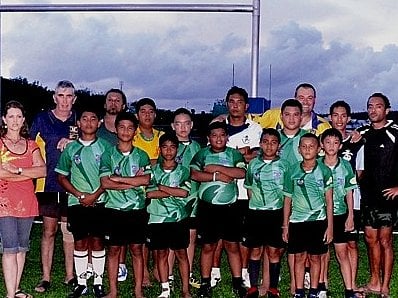 PHUKET: TEN YOUNG rugby players left Phuket on June 18 for the trip of a lifetime.
Pupils from Baan Sai Nam Yen School in association with the Asia Center Foundation and the Phuket Lomas rugby team are in the UK to play in the Manchester Touraid Rugby Festival (Lomas tour blog).
An eight-team tournament will be played, and include the Phuket Lomas from Thailand and other teams from India, South Africa and Trinidad and Tobago. Four teams from the UK will also compete.
The Lomas selection will also have the privilege of meeting English Premiership rugby side Sale Sharks during their visit.
In addition the boys will meet the second highest try scorer for Wales, Gareth Thomas and South African Rugby World Cup winner, Chester Williams.
Touraid corporate sponsorships allow for children from around the world to travel and participate in activities with their hosts while staying with families involved with the host schools or clubs.
The hope is that the children will form a healthy bond with their hosts and continue the relationship as they grow older.
A Touraid liaison officer and a representative from the Wright Robinson Sports College (WRSC), host school for the Lomas were scheduled to meet the group and introduce them to their host families once they arrived in Manchester.
Saturday June 25 is set aside for the host families and their guests before attending a farewell dinner at the Midland Hotel. Each of the visiting teams will present a cultural performance to the Lord Mayor of Manchester, Councilor Harry Lyons.
Touraid have provided for the flights, visas and accommodation and some funds were raised at the recent Rugby 10s. The Aussie Bar and Island Furniture have also helped to pay for traveling kit and formal wear for the boys. Spikee sports from Bangkok have donated playing kit.
The Phuket Lomas traveling ten are: Banthoon (Pluem) Homruen, Siwakorn (Meeh) Settha, Apichai (Hut) RutsoFah, Narongchai (Mad) PhoblarpAr, Nanthawat (Bank) Sitthichai, Songwoot (Night) Intanon, Sirirat (Fai) Tipjarune, Kritsada (Ball) Kanthiphan, Napat (Book) Supreechawutti-pong and Sombat (Nick) Phoenhiran.
Accompanying the group are Panom Prom-MaPanom, Somchai Sriwichai, and ACF Director Roelien Muller.
— Neil Quail