Phuket Live Wire: How to handle the next disaster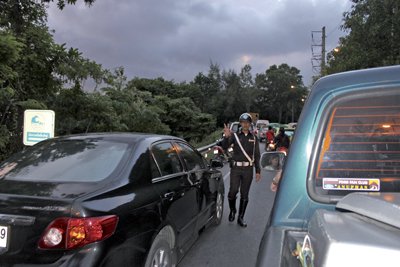 PHUKET: The "tsunami" scare has come and gone, and I'm still livid. Many news organizations spread enormous layers of misinformation and scared the living daylights out of people worldwide, without the slightest regard for the facts.
All they cared about was selling more newspapers or gathering more clicks.
At 5:23pm on April 11 – an hour before the "tsunami" was scheduled to roll out on our shores – one of the largest newspapers in Bangkok sent out an SMS saying, "Waters receding clearly on certain beaches on Phuket." That was news to me. I was on Phuket, watching Patong Bay, and there wasn't a drop receding anywhere. I guess they didn't bother to check with anyone who's ever seen a Phuket low tide.
Oh well. I'll save my rant about irresponsible journalism and execrable reporting by people who should know better for the end of this article.
As you undoubtedly know, there was an earthquake – a big one – off the coast of Sumatra at 3:39pm (08:39 UTC) on April 11. We felt the quake in Phuket. There was a panic at Central Festival, with half the people in the mall running quickly to their cars and causing big traffic jams. There was another panic at Jungceylon, with people running to the exits.
I was raised in Southern California, so when I felt the quake, I shrugged and figured nobody would even notice as it's pretty standard fare for a Californian.
By all accounts, the Patong warning system worked. Sirens on the beach blared – although visitors didn't know exactly what to make of it at first – and all of the hotels evacuated their guests.
People in Patong took every available conveyance and headed for the top of Patong Hill (probably not realizing that tsunami waves don't rise to 300 meters). The more prudent walked up nearby hillsides. I just happen to live on one of the hillsides, on the north end of Patong Bay, maybe 20 meters above sea level and we had about a hundred visitors.
At 3:40pm, the National Earthquake Information Center in Colorado had early details posted about the quake. They pegged it at 8.9 on the Richter scale, but later lowered it to 8.6.
At 3:45pm, the Pacific Tsunami Warning Center (PTWC) posted a detailed report on its website, and issued a Tsunami Watch (not a Warning – a Watch; there's a big difference!) for areas as far away as South Africa and Yemen.
Remarkably, the PTWC calculated estimated arrival times for tsunami waves at almost a hundred ports: locations in Indonesia came first, with arrivals starting at 4:31pm (our time) in Banda Aceh; 4:37pm on the Nicobar Islands; 5:45pm on the Cocos Islands, and 6:18pm in Phuket.
Yes, that means all 600 people in Australia's Cocos Islands would've been drenched a half hour before the big kahuna hit us. Except it never did.
By 4:30pm, as best I can tell, most of the voice telephone circuits in Phuket were jammed. SMSs got through for a while, then they stopped too. But the internet kept working. ADSL, Fiber, 3G – all of the lines I tested were running – and the internet provided the only reliable news I could get.
What about television? Funny you should ask. The international networks were just as clueless this time around as they were during the 2004 tsunami, with talking heads rattling on, trying to fill the air with news of any description, with no connections at all to the affected areas.
Thai TV was even worse, according to an excellent report at asiancorrespondent.com. There were no reports on local TV throughout the afternoon, except for text crawls at the bottom of the screen. ThaiPBS was the first to run a live news story at 5:42pm, followed by the other major stations at 6pm.
So where did the real news come from? People on the ground, of course, using the tools we now have to report on events as they happen. There were many Facebook updates, but once again Twitter showed its mettle, as the primary source of reliable news on the tsunami, as it happened.
Of course, it must be said that there were some fear mongers and idiots tweeting, as well. The trick lies in picking sources you trust. In my case, I found solid information from @tulsathit (who reports for The Nation), @JamieMonk (who blogs about Phuket, and, yes, our own @PhuketGazette.
I also participated (@PhuketLiveWire), primarily to debunk the people who were saying that a tsunami was imminent (we would've heard about it an hour earlier from survivors in India and Indonesia – or two hours earlier from the early warning systems in Indonesia), that the water in Patong Bay was receding (gimme a break – we were at low tide), and to counter those who said they "observed" a small tsunami wave (more about that later in this article).
If you aren't on Twitter yet, you should be. There's no better source of news anywhere in the world, and considering the quality of coverage of Thailand in the international press, it's really the only way to stay on top of breaking news – like a tsunami.
Go to twitter.com and sign up. Add a few sources like the ones I mentioned, and just go back to the Twitter site from time to time. You'll catch on.
If you find yourself using Twitter a lot, try using one of the programs that helps you work with Twitter, such as Tweetdeck or MetroTwit. You can put Twitter on your PC, Mac, iPad, or phone – it works with just about anything and it's 100% free, all the time.
In the end, five people reportedly died from heart attacks, there was "little damage" (according to Reuters) and absolutely no tsunami, anywhere, least of all in Phuket. According to the Washington Post,"aside from cracks in the walls of houses in Banda Aceh and structural damage to one bridge, you would hardly know that anything happened."
To be sure, it's better to be safe than sorry. The evacuation went well, and should provide lessons for future emergency measures. The only thing that was lacking – distressingly – is the abysmal state of telephone communication. There were horrified people waiting very near my house. One distraught lady had left her family down in Panwa, to go shopping in Patong, and had no way to contact them.
Another group – I'll never forget them – didn't speak any English, only Russian, and they were scared out of their wits that another huge tsunami was on the way. It took a while for me to understand, but they were mostly concerned about their families back in Russia. The families must've been horrified, and this group had no way to contact them.
Which leads me to my rant. People have been emailing me links to photos and videos that claim to capture a "real" tsunami wave in Phuket. I've looked and looked, and just don't get it. The photos and videos are of regular, simple, very small waves. One of the pictures claims it shows water being sucked out of Patong Bay. Balderdash: on the evening of April 11 we had a low tide, and Patong Bay always looks like that at low tide.
The one that really gets me: somebody claims they saw a 50 cm tidal wave! We get 50 cm waves in Patong all the time, but on the afternoon and evening of April 11, the seas were calm. I was there.
Besides, tidal waves don't look or act like regular waves. At least based on what I saw in Patong on Boxing Day 2004, tidal waves ride on the surface, and they come at a cross-angle from normal waves. They don't gently lap up and run back out like regular waves. The folks who reported tsunami waves may be well-intentioned, but they're completely wrong. There weren't any tsunami waves anywhere in the world,
— Woody Leonhard
Keep in contact with The Thaiger by following our Facebook page.
Never miss out on future posts by following The Thaiger.
Phuket police officer charged with attempted murder for shooting and critically injuring a noodle vendor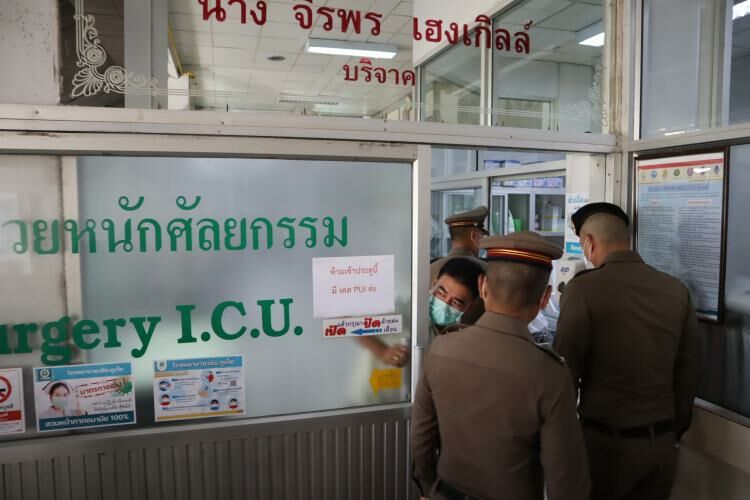 The drunk, off-duty police officer in Phuket who has caught on camera shooting and beating a noodle vendor on Bangla Road is now facing attempted murder charges as well as charges of carrying a firearm in public without a necessary reason and firing a weapon in a public area. The commander of the Phuket police station said he ordered investigators to prosecute the officer Pornthep Channarong with every criminal charge that can be applied.
The officer had gotten into an altercation just before dawn yesterday and shot a young vendor who was walking by. Surveillance camera footage show the 25 year old suddenly falling to the ground after being shot. The officer walks up and shoots the vendor at a close range, but it appears the second shot did not hit the vendor. The officer also slapped the vendor in the face, picked him up and shoved him over, and then kicked him as he lay on the ground.
The vendor has a 4 year old daughter and 3 month old son. His wife says normally he works as a motorbike driver, but he was helping his mother selling noodles. He was shot while he was walking back from collecting a noodle bowl, she says. The vendor is in critical condition and being cared for at Vachira Phuket Hospital's intensive care unit. He's in need of Type B blood.
"For his condition, the doctor told me that the bullet went through his lung. He lost a lot of blood. We need a lot of Type B blood for him."
A disciplinary investigation into the incident was launched by police and Pornthep was officially dismissed from the Royal Thai Police force. Region 8 Police Commander Kitrat Panpetch says the incident does not reflect the police force in Phuket.
"The incident was caused by an officer who did something wrong that our organisation does not want. We are a big organisation with more than 200,000 officers under our control. Our officers are not all bad like this."
Phuket Provincial Police Commander Pornsak Nuannu says he has reminded the police chiefs across the island to discuss reasons for carrying firearms in public.
"Carrying firearms is to prevent any type of crime that may happen, not to commit a crime by themselves like this incident. If I see any police doing such a thing, I will decisively proceed in terms of both officer discipline and criminal charges."
SOURCE: Phuket News
Keep in contact with The Thaiger by following our Facebook page.
Never miss out on future posts by following The Thaiger.
Thai Vietjet resumes Phuket-Chiang Rai flights, launches promotion on air fare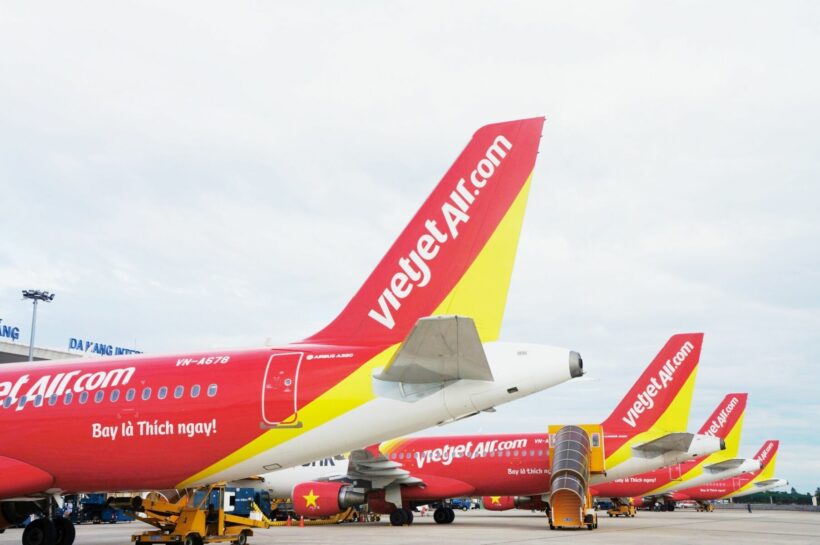 The following is a press release from Thai Vietjet on its new promotion "Welcome Back to the Sky" and the resumption of Phuket-Chiang Rai flights.
Thai Vietjet today announced the flight resumption of its domestic cross-regional service between Phuket – Chiang Rai, in response to the increasing travel demand after the government began relaxing travel measures in each province. The airline will resume the service for four (04) round-trip flights a week on Monday, Wednesday, Friday and Sunday, with the flight duration around 2 hours and 5 minutes, starting from 26 February 2021 onwards. The flight details are as follows:
| | | | | | |
| --- | --- | --- | --- | --- | --- |
| Flight No. | Departure from Phuket | Arrival at Chiang Rai | Flight No. | Departure from Chiang Rai | Arrival in Phuket |
| VZ400 | 8:15am | 10:20am | VZ401 | 10:50am | 12:55pm |
In addition, the airline also announced the resumption of other domestic cross-regional services including the flight between Hat Yai – Chiang Rai and Chiang Mai – Nakhon Si Thammarat from 19 March 2021 onwards.
Following the service resumption announcement, the airline launched special promotion "Welcome Back to the Sky", offering special fares from just THB 99 (not inclusive of taxes, fees, surcharges, and add-ons) for Thai Vietjet's flights between Phuket – Chiang Rai and the flights to/from Bangkok (Suvarnabhumi). The special fares are available for booking from 24 – 28 February 2021, with travel period between 8 March – 30 June 2021 on SkyFUN.vietjetair.com
As the COVID-19 situation is under control, Thai Vietjet has been adding flight frequency in line with the increasing demand for travel. The airline has also recently introduced its new product on SkyFUN, the 'TRIP EASY PLUS' – travel insurance with coverage of COVID-19 starting from THB 180, which provides further convenience and travel confidence to passengers to travel with the highest level of safety during the pandemic. For more information, please visit https://skyfun.vietjetair.com/insurance.
The promotional fares are available on SkyFUN.vietjetair.com, applied to Thai Vietjet's domestic flights in Thailand from Bangkok (Suvarnabhumi) to Chiang Mai, Chiang Rai, Phuket, Krabi, Udon Thani, Hat Yai , Khon Kaen, Nakhon Si Thammarat, Ubon Ratchathani and the domestic cross-regional flight Phuket – Chiang Rai. The tickets are also available on all other distribution channels including www.vietjetair.com, mobile app "Vietjet Air", via Facebook at facebook.com/VietJetThailand by clicking "Booking" tab, as well as travel agencies and booking offices. Payment can be easily made with 'True Money Wallet' and international debit/credit cards.
Thai Vietjet is committed to providing on time scheduled flights with the highest safety complied with the standards and regulations of the relevant authorities. Thai Vietjet was named the fastest growing low-cost airline in Thailand 2020 by The Global Business Outlook Award. The airline also owns one of the world's newest and most modern fleet with an average age of only 2.7 years and was awarded the highest ranking for safety with 7 stars by the world's only safety and product rating website airlineratings.com. The carrier has been strictly performing aircraft disinfection dailythroughout its fleet in compliance with Thai Ministry of Public Health.
Keep in contact with The Thaiger by following our Facebook page.
Never miss out on future posts by following The Thaiger.
4 top tourist destinations to be prioritised for Covid-19 vaccine distribution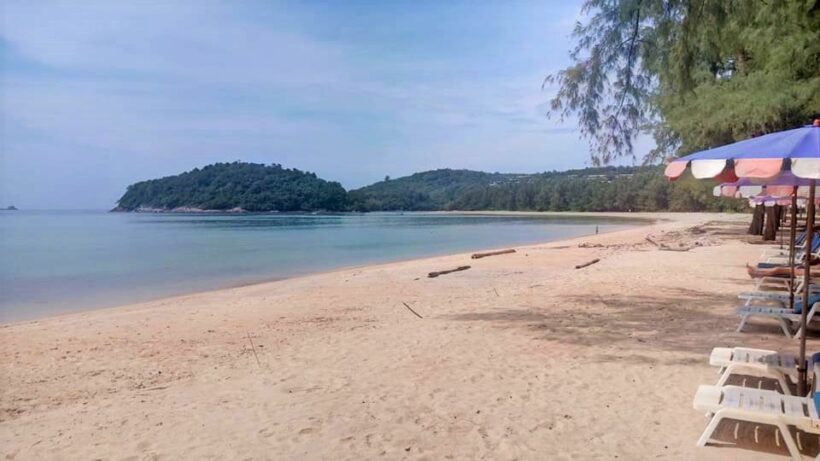 The Centre for Covid-19 Situation Administration says 4 of Thailand's major tourism destinations are to be prioritised in the distribution of vaccines. They are Phuket, Chon Buri, Chiang Mai and Surat Thani. In addition, a further 9 provinces with significant infection numbers are being prioritised in the rollout of the first vaccine doses arriving in the Kingdom today.
Taweesin Visanuyothin from the CCSA says 70,000 doses will go to the hard-hit "highest control" area of Samut Sakhon, where Thailand's second outbreak began late last year. 8,000 doses are being set aside for medical officials in the central province, along with 6,000 for frontline healthcare workers, 46,000 doses for seriously ill patients, and 10,000 doses for migrant workers and local residents.
Another 105,000 doses will be distributed to similar groups in Bangkok, in the central provinces of Pathum Thani, Nonthaburi, Nakhon Pathom, Samut Songkram and Samut Prakan, and in the western province of Ratchaburi and the Mae Sot district of Tak.
The Pattaya News reports that 14,700 doses will be sent to 4 major tourist destinations, with 4,700 going to the eastern province of Chon Buri, 4,000 to the southern island of Phuket, 3,500 to the northern province of Chiang Mai, and 2,500 going to the island of Samui in the southern province of Surat Thani.
In the case of the vaccines going to tourism spots, it is not yet known which groups will be vaccinated first, with that decision being left to the Provincial Communicable Disease Committee and other related authorities.
Meanwhile, the CCSA says other plans for the 4 tourism destinations are being considered, including the possibility of "area quarantine", which would allow vaccinated foreign arrivals to remain within certain boundaries during their quarantine period. The Tourism Authority of Thailand has been pushing for a vaccine passport policy for vaccinated visitors, while PM Prayut Chan-o-cha says the government may consider lifting quarantine restrictions for vaccinated tourists.
SOURCE: The Pattaya News
Keep in contact with The Thaiger by following our Facebook page.
Never miss out on future posts by following The Thaiger.