Phuket Live Wire: Internet access really is getting better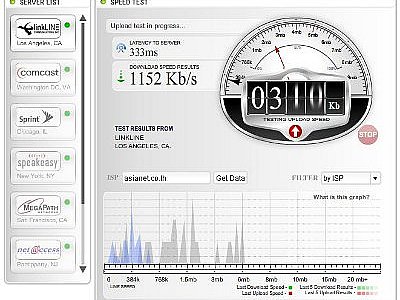 PHUKET: It's fashionable to squawk and groan about our Internet connections here in Phuket, but the fact is that we're approaching the speeds one would commonly find in the United States and other developing countries. Err, well, you know what I mean.
Scandinavia is much faster, as are Hong Kong, Singapore and much of South Korea. Those places recognized the importance of being wired long ago, and invested the money and effort necessary to create superior information infrastructure. The US, and much of Europe, has dawdled, and the result is what you see today.
Our reliability here in Phuket still isn't up to international standards. People with TOT Fiber Optic and the new True Cable TV-based systems (more about that next week) are having bad outage problems – teething pains of the new technologies.
Other internet service providers (ISPs), with long-established services have a nasty habit of kicking out for an hour or two every few weeks. That's why I strongly recommend that people who rely on access to the internet get two separate, independent connections. Again, more on that next week.
Part of the reason why our international speeds have increased so much in the past few years is caching, the process I described last week where ISPs (notably 3BB and True) retrieve new web pages from overseas just once, then store a copy here in Thailand.
Subsequent requests for the same page are "cached" – they're pulled from storage here in Thailand, as long as they aren't too stale. The net result is that our speeds have increased substantially, and the international data pipe requirements and rental fees of ISPs have stayed much lower.
As best I can tell, CAT doesn't cache anything. TOT may or may not, it's hard to tell, and if they do have a cache it looks like the amount of caching varies depending on which service you pay for. The TOT 10 Mbps and 12 Mbps services are fast (when they work) and thus may well have a cache, whereas the 4 Mbps may not.
The effect on speed testing
Unfortunately, the speed testing site that we've been using for www.phuketinternetspeed.com seems to be susceptible to web caching. The speed test on Thaivisa.com has the same problem. Earlier this year, several people remarked about amazingly consistent international download speeds on 3BB and True connections.
Last month, Henry Habermacher hooked a sophisticated tool up to his line and discovered the reason why – the international internet speed tests that we've been running on speakeasy.net are based on websites cached in Bangkok.
So, instead of measuring download speeds from San Francisco, on some systems we're seeing download speeds from Bangkok.
That isn't necessarily bad. The fact that more sites and more international access is being cached (Google.com and Microsoft.com, among others, have been cached for years) means that the speeds we're seeing in day-to-day use are improving.
But to truly measure international download speeds, we need to find a speed testing site overseas that can't be cached.
I've looked around quite a bit and found a new home. DSLReports.com has run speed tests for almost a decade. The mods on the site have given us an invitation to move over to their site for our tests.
DSLReports.com has tests with both Flash and Java, which means that people with computers that don't run Flash (including Mac OS, iPad and iPhones) will be able to get meaningful test results and post them for everyone to see.
Best of all, the DSLReports.com speed tests aren't susceptible to web caching, so we will not have to worry about comparing apples with oranges.
If you are not yet measuring and posting your internet speeds, drop by www.phuketinternetspeed.com and sign up. It's free, it's easy, and it's a great way to help all of us – even the ISPs and government officials – to keep tabs on what's really happening with internet speeds in Phuket.
Geekfest 4
We'll be celebrating the fourth anniversary of the FREE Computer Clinics at Geekfest 4 on Sunday morning, June 19, at the Sandwich Shoppe Chalong.
From 10am to midday, help us devour a Geekcake. Explore your inner geekiness. Meet people who can bully a recalcitrant PC into submission by their mere presence and uttered incantations.
You know "Reduce, Reuse, Recycle"? Meet the people whose mantra runs, "Reboot, Reformat, Reinstall."
If you own a computer, if you use a computer, if you swear at a computer, if you're thinking about throwing your Windows out the window, if you bend circuit boards with your powers of concentration, drop by Geekfest 4.
Phuket is home to an amazing array of tech savvy folks, some of whom rarely venture out in public. Here's your chance to meet them.
Live Wire is Phuket Gazette columnist Woody Leonhard's weekly snapshot of all things internet in Phuket. Woody is Senior Contributing Editor at InfoWorld and Senior Editor at Windows Secrets Newsletter. He's written more than 40 computer books including, most recently, 'Windows 7 All-In-One For Dummies'.
To see what Woody's up to in the international press, and to keep on top of the latest patches and problems with Windows and Office, drop by AskWoody.com. Follow Woody on Twitter: @PhuketPC.
— Woody Leonhard
Phuket News

Join the conversation and have your say on Thailand news published on The Thaiger.
Thaiger Talk is our new Thaiger Community where you can join the discussion on everything happening in Thailand right now.
Please note that articles are not posted to the forum instantly and can take up to 20 min before being visible. Click for more information and the Thaiger Talk Guidelines.