Phuket Immigration launches online queue for "one-year visas'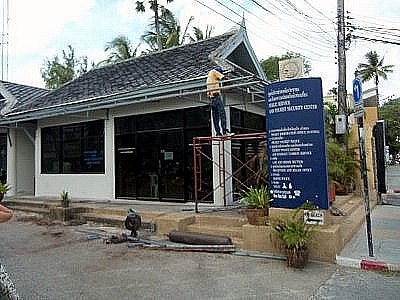 PHUKET: Phuket Immigration currently has no plans of launching an online queue system for re-entry permits similar to the one recently launched by Immigration Division 1 on Cheng Wattana Road in Bangkok, the busiest Immigration office in Thailand.

However, Phuket Immigration has quietly launched a queue system for people applying for one-year permits-to-stay.

"Even though we don't have an online queue service for re-entry permits like in Bangkok, we do have our one-year 'visa' online queue service," Phuket Immigration Superintendent Lt Col Napat Nusen told the Phuket Gazette today.

Using the online queue system (click here), foreigners who have already obtained visas such as business visas, education or "study" visas, or visas issued on the basis of marriage to a Thai national, can obtain a queue number without going to the Phuket Immigration Office in person.

"Those interested in the service can go on line and book their queue numbers, but the date of their appointments must be at least two days later. At this stage, we are able to accept advance appointments for up to six people per day," Col Napat explained.

"We have no plans to extend any other services at the moment. We launched the one-year visa online queue service only a few months ago. So far, not many people have used it. We will wait for feedback for this service first; then we can decide whether or not we should extend other services," he added.

Col Napat had more good news for expats living in Patong. He expects the Patong Immigration information center (click here for map) to be re-opened by November.

Following rumors in January that the Patong Immigration Office had closed, former Phuket Immigration chief Panuwat Ruamrak explained that the office was closed only temporarily for renovations.

"The building needed some improvements and they decided to close it so the work could be carried out properly," he said.

Today, nine months later, Col Napat told the Gazette that, "We are hoping to have the office open in time for the peak tourism season so we can help the many tourists who will be in Phuket at that time.

"When it re-opens, officers stationed there will be allowed to issue re-entry permits and confirm 90-day reports for people already staying on 'one-year visas'," he added.
— Chaiyot Yongcharoenchai
Want more from the Thaiger family?
📱 Download our app on Android or iOS for instant updates on your mobile
📧 Subscribe to our daily email newsletter
👍 Like/Follow us on Facebook
🔔 Subscribe to or Join our YouTube channel for daily video updates
Covid-19 infections cast doubt on plan to reopen Phuket July 1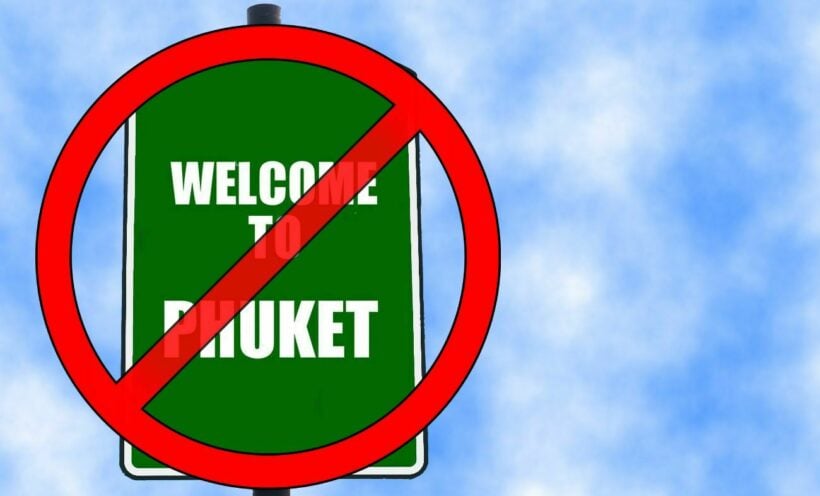 With surging Covid-19 infections, the original plan for Phuket to reopen the international border to tourism on July 1st without quarantine may be unlikely. The governor warned today that the plan may be in jeopardy if they don't reach the proposed May 15 goal of reducing infections to less than 10 each day. Governor Narong Woonciew called on everyone to work together to keep the infections down as the current rate of 10 to 15 per day will almost definitely delay the sandbox plan for international visitors to arrive in Phuket without quarantine in July.
Daily infections are on the rise in Phuket and high-risk people in local quarantine are still spreading infections, according to the provincial health officer's assessment of the Covid-19 situation. During proactive screening an active case finding, new clusters of infections continue to be uncovered, a problem that has been attributed to continued partying and social gatherings that violate current Covid-19 restrictions. The health officials warned that, as a result, more aggressive actions may be necessary to control the spread of the Coronavirus in Phuket if it is to reopen in July.
Under the current restrictions of the Covid-19 emergency decree, even two people that aren't from the same household joining together for socializing or mingling could be considered a gathering and punishable with legal action. Officials are speaking out about the threat of more Covid-19 outbreaks due to large gatherings, citing several events that were broken up recently.
One such group in Phuket garnered a lot of attention online with many people surprised that it was considered a gathering and busted up. A group of six British and Thai people that the police raided yesterday at a home in Thalang were reportedly drinking and celebrating. This is a violation of the disease decree and local Covid-19 safety measures, and 2 British nationals were charged a 6000 baht fine each.
SOURCE: The Pattaya News
Want more from the Thaiger family?
📱 Download our app on Android or iOS for instant updates on your mobile
📧 Subscribe to our daily email newsletter
👍 Like/Follow us on Facebook
🔔 Subscribe to or Join our YouTube channel for daily video updates
30 year old Thai woman found dead in car in Patong from apparent suicide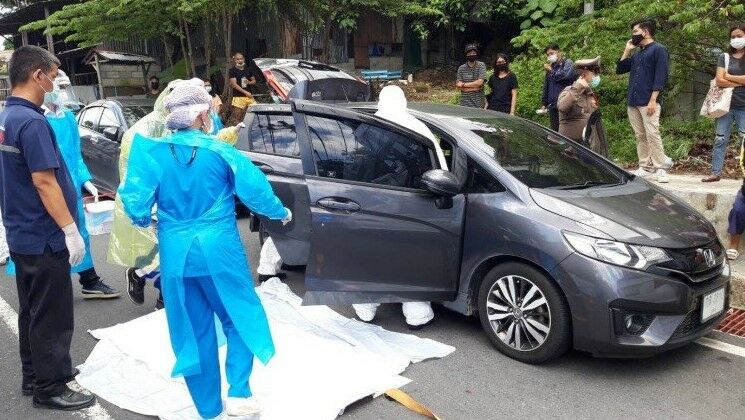 A 30 year old Thai woman has been found dead in her car, in Patong, from an apparent suicide. The woman's car was parked by the side of the Sirirat Road, which links Patong and Karon. Police and rescue workers arrived at the scene to find the body of Kanokwan Chuenaka, slumped backwards in the driver's seat of a Phuket-registered gray Honda Jazz vehicle.
Police say they found an electric pan with burnt charcoal behind the driver's seat in the back. They say this was the cause of death as she likely died from asphyxiation. They also say they found a suicide letter, written in 2 different parts with a pen and pencil.
The heartbreaking note in blue pen said:
"To dad and mum, please forgive me, your daughter. Ney [Kanokwan's nickname] has hurt dad and mum many times. Please take care of Pokpong [Kanokwan's son]. Love him. Don't let Pokpong feel bad for not having his mum beside him. Don't waste your money holding a funeral for me. Think of Pokpong often."
In pencil, the note went on to say:
"Nobody loves Ney. I thought getting married would bring me happiness like other people. I have not even had a family trip, like dad, mum, and son."
Kanokwan's mother Boonlap Chuenaka says that she has accepted her daughter's death to be from suicide. Her body was taken to Patong Hospital for further examination as a standard protocol before police can release it to her relatives for a funeral.
It is not known whether the Covid pandemic had any effect on Kanokwan, but notably, the pandemic has caused increased hardship and mental health issues for many in Thailand. Job losses, bankruptcies, sickness and fear are just a few of the side-affects felt by the Covid-19 pandemic. For many in Thailand and all over the world, this has a profound impact on the mental health of everyday people. The suicide rate in Thailand has also seen a spike, with 22% more suicides recorded in the first half of 2020 when compared to the same period in 2019. A sharp increase not witnessed since the 1997 Asian Financial Crisis.
Even before the pandemic struck, Thailand was on record as having the most suicides of any country in SE Asia. As per WHO data, in 2019 Thailand's suicide rate was 14.4 per 100k population, compared to a global average of 10.5 per 100k population.
If you or anyone you know is in emotional distress, please contact the Samaritans of Thailand at their 24-hour hotline 02-713-6791 (English), 02713-6793 (Thai) or Thai Mental Health Hotline at 1323 (Thai).
SOURCE: The Phuket News
Want more from the Thaiger family?
📱 Download our app on Android or iOS for instant updates on your mobile
📧 Subscribe to our daily email newsletter
👍 Like/Follow us on Facebook
🔔 Subscribe to or Join our YouTube channel for daily video updates
British citizens fined 6,000 baht each for illegal 'party' in Phuket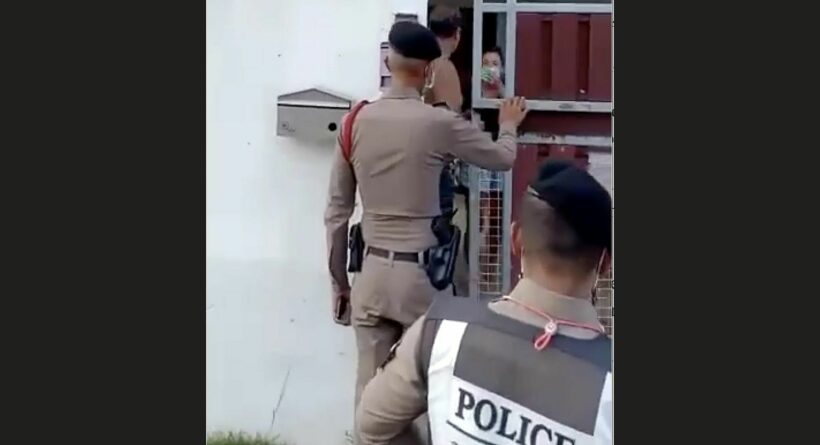 An unedited video circulating, showing Phuket police raiding an illegal gathering in Cherngtalay, ended up with 2 UK citizens, working in Phuket, being fined 6,000 baht each. The Cherngtalay police are also calling on another 4 foreigners attending the party to present themselves to the police station to be charged as well.
Cherngtalay Police descended on the property around 5pm on Sunday following a tip-off from residents in the same street.
The video shows the police at the front gate of the property demanding entry… "Open, open, open the door… now!" The people inside the gate shouted back "no party". The policeman leading the raid was Capt Prasan Ketsaro. Despite a number of other foreigners, and Thais, at the gathering, only the 2 British people attending the event were fined after being taken to the station.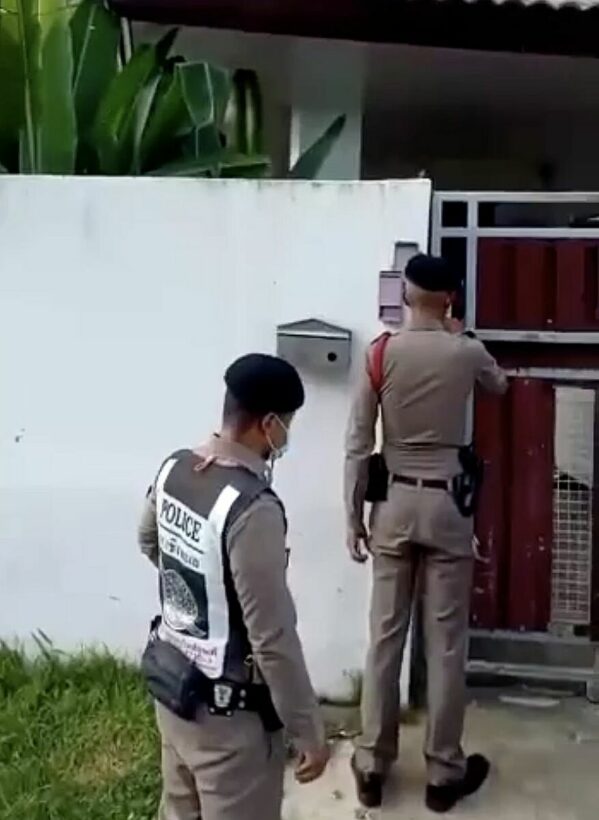 They were officially charged with "acting against the Communicable Diseases Act, BE 2558 and the Phuket Provincial Order #2284/2564 Section 5," according to the police report.
At the end of April the Phuket governor made an announcement, tightening restrictions for the island province.
"For social activities, all people must refrain gathering for celebration, such as birthday parties, welcome or farewell parties, or others, except traditional events, such as funerals, weddings, or ordination."
At the time the vice governor of Phuket said that foreigners breaking the rule could also be subject to being deported. Foreign consular officials were also invited to the provincial offices with Governor asking them to ensure the citizens they represented would abide by the current rules and restrictions.
The video of what appears to be an afternoon soirée, complete with alcoholic drinks and a barbecue, was deemed by the attending police to be in clear contravention of the current restrictions, a point that the lead police officer, doing all the talking, kept making as he beckoned everyone inside the house to come out.
"Everybody, outside. Come one, come on, outside!"
None of the foreigners were wearing face masks in the early phases of the video although the Thai people inside the property either were, or were quick to put them on as the cameras were rolling.
The police kept berating and accusing the people inside the property… "you come for party". They pointed to a pile of iced drinks on the verandah of the property (which contained wine, beer and other beverages)… "what is this, what is this?"
Any conversation was a bit one-sided with the Captain doing most of the talking whilst the owners of the property, and their guests, were at least trying to explain their situation.
The accusations were flying thick and fast "Why party?! You party!"
The foreigners insisted it wasn't a party and were trying to reason with the police about the intentions of the afternoon's gathering but the police had already made up their mind.
The lead police told the accused that they could take photos of the 'raid'. The Thaiger has decided not to air the video but have shared some edited screenshots.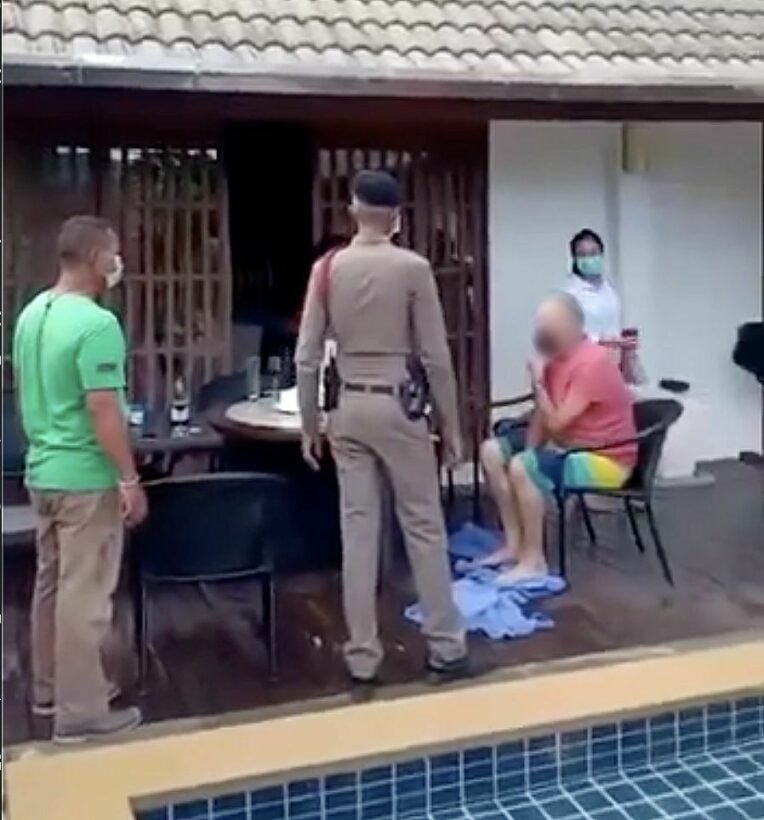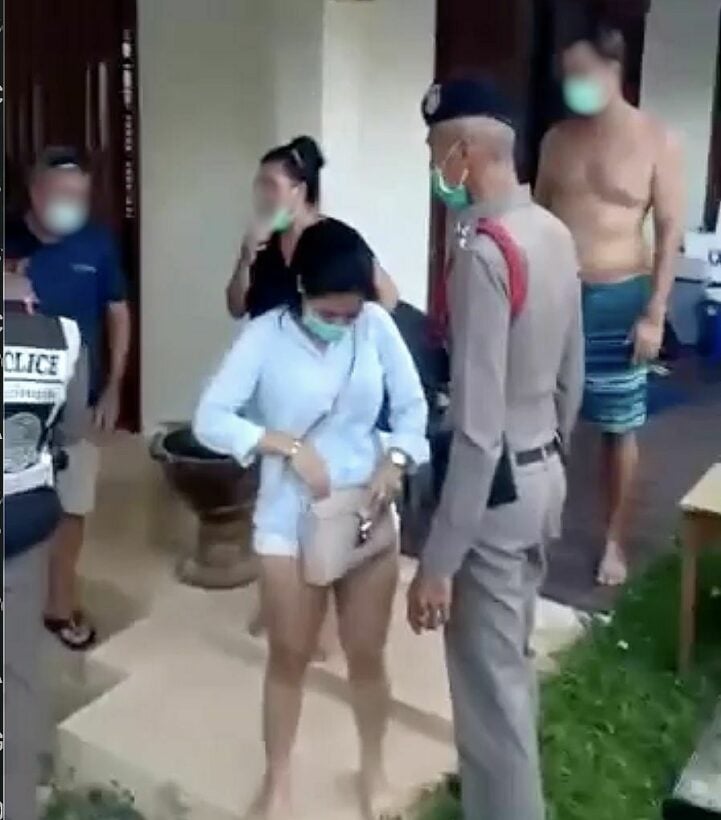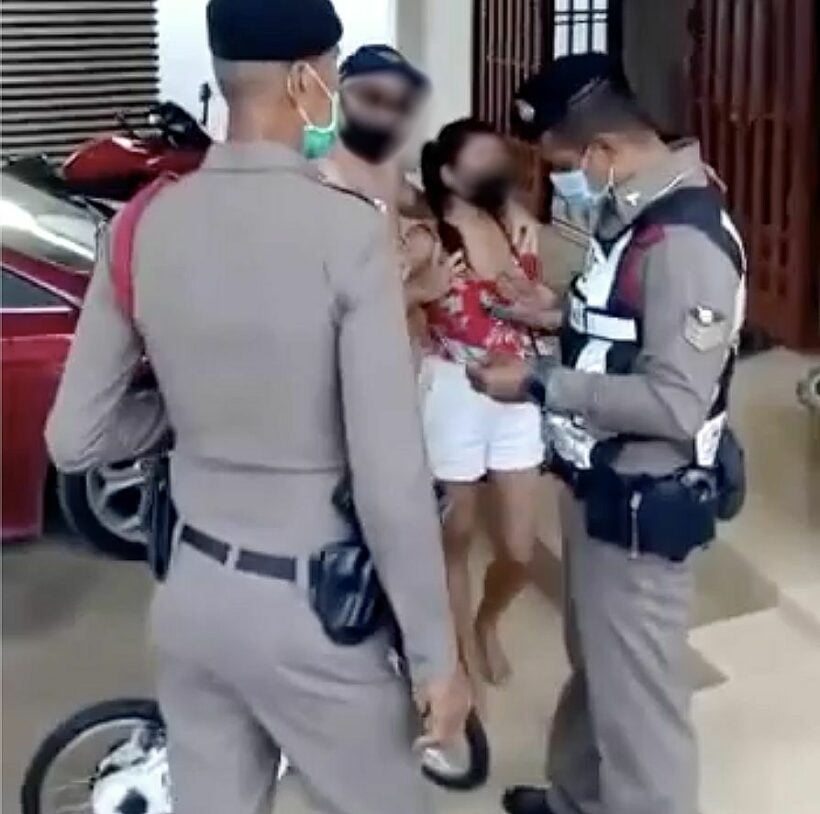 A lot of the social media commentary about the incident has focussed on whether the gathering was a "party" or not and accusations that the attending police were just after some tea money.
"The high crimes and misdemeanours of having drinks and a BBQ in your garden "
"What party? Even the mosque in Bang Tao is packed everyday, local Thai restaurants are packed – this it outrageous."
"Pretty strange…. a good way to make money."
"What a country this place is turning into."
"The video is on all the Thai news site… and it not look like a party at all."
The names of the people involved in the raid have been published in other media.
Want more from the Thaiger family?
📱 Download our app on Android or iOS for instant updates on your mobile
📧 Subscribe to our daily email newsletter
👍 Like/Follow us on Facebook
🔔 Subscribe to or Join our YouTube channel for daily video updates