Phuket Airlines "will be off blacklist soon'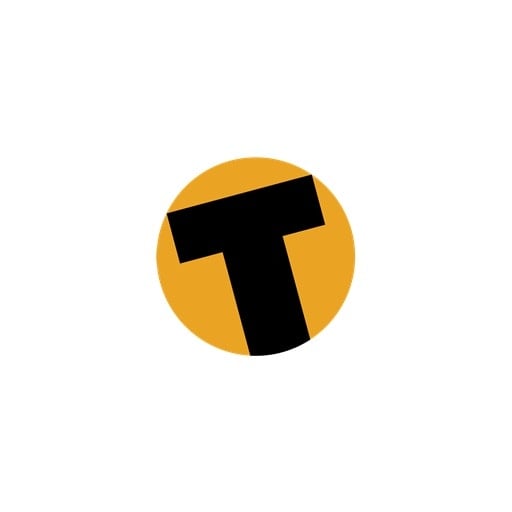 BANGKOK: Phuket Airlines, recently blacklisted by the European Commission (EC) as one of 93 airlines barred from flying to the European Union (EU) and Switzerland, is confident that it will be reinstated soon, a senior official of the airline said today.

As if to reinforce that confidence, the Gazette has learned that Phuket Airlines has applied to launch another airline, to be called Holiday Airlines. The application is currently being considered by the Thai Aviation Department (TAD).

Phuket Airlines was included in the EU ban list on safety grounds. It is one of only two airlines in East Asia banned, the other being North Korea's Air Koryo.

The European Commission (EC) has also advised passengers to avoid flying with the 93 airlines anywhere else in the world.

Grp Capt Pattana Tareekes, Phuket Air's Vice-President, Administration, told the Gazette in an exclusive interview today, "We realize that safety is the most important part of being in the aviation business and we try to improve constantly.

"We are ready to let [EC inspectors] audit our aircraft and we have already let the Aviation Department invite the EC to conduct a safety audit.

"The EC list is to be revised every three months and we want to get off it as fast as possible; it would be good if they could remove us earlier than that," Capt Pattana said.

"It makes us very sad that this has happened," he added, "because it has given us a negative image worldwide, and that has seriously affected our business."

However, the airline's management is not about to give up, he said. "We will prove that we are an international-standard airline and, when the EU team comes here, I believe we will pass their audit."

The TAD supports Phuket Airlines's contention that it should be removed from the blacklist. Kanika Khemmawuthanond, the TAD's Deputy Director-General, told the Gazette yesterday that, after the airline was barred from the UK and the Netherlands, her department had ordered it to improve its safety, and had kept a close eye on it.

"Phuket Airlines has employed Air France to revamp all systems, especially those relating to safety, to bring them up to international standards. We have checked on progress and believe that the airline is now up to standard, and we have invited the EC to send inspectors to check.

"Unfortunately, at the time when the papers were on their way to Europe, at the beginning of March, the 25 member-countries of EU were meeting [to decide which airlines should be included in the blacklist]."

She noted that Phuket Airlines' entry in the blacklist was marked by an asterisk, indicating that it would be audited soon to see whether it should be removed from the list.

"The EC knew that we were working to fix Phuket Airlines' safety systems – that is why they marked the entry with an asterisk.

"I cannot say for sure that the airline will pass the next audit, but the airline is ready for it and I believe we have done the best that we could – it should pass," K. Kanika added.

Referring to Phuket Airlines' application to register Holiday Airlines, she said, "The TAD committee is checking the documents now to decide whether to allow it or not. In fact, we are examining seven or eight such applications."

Capt Pattana declined to make any comment on the application.

The full EC blacklist can be seen here.
Keep in contact with The Thaiger by following our
Facebook page
.
Never miss out on future posts by
following The Thaiger
.
Phuket police arrest 6 after finding large amounts of methamphetamine in raid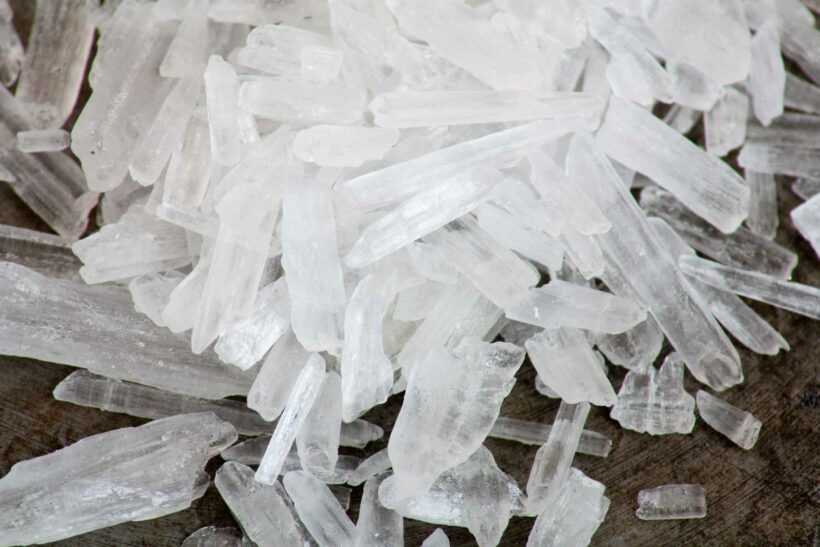 Phuket Provincial Police have arrested 6 people after finding large amounts of methamphetamine and other drugs during a raid. One suspect alone allegedly had 7.6 kilograms of crystal meth (ya ice) and over 12,500 methamphetamine pills (ya bah). 29 year old Surasak 'Bank' Wijit and 27 year old Panida 'Mei' Saeyang were arrested at an apartment car park in Soi Lookkaew, Moo 6, Rassada, in eastern Phuket, after they were found in possession of the drugs.
Police also found 2 mobile phones and a red Honda PCX, registered in Phuket, as evidence. Both suspects have been charged with posessing a Category 1 drug with the intent to sell.
Other suspects arrested at the same time include 36 year old from Chiang Rai, 42 year old Sarawut 'An' Srichanon, from Ranong and 31 year old Pornthep 'Iew' Thepchampa, who were charged with the same crimes in Chalong after police found more drugs in their possession. 33 year old Kamon 'Kung' Sae-ngow, was arrested as well after police found kratom juice and leaves at a house in Rassada. He was taken to Phuket City Police station and was charged with a Category 5 drug possession.
SOURCE:The Phuket News
Keep in contact with The Thaiger by following our
Facebook page
.
Never miss out on future posts by
following The Thaiger
.
Phuket Muay Thai fighter is the first Thai national to compete in UFC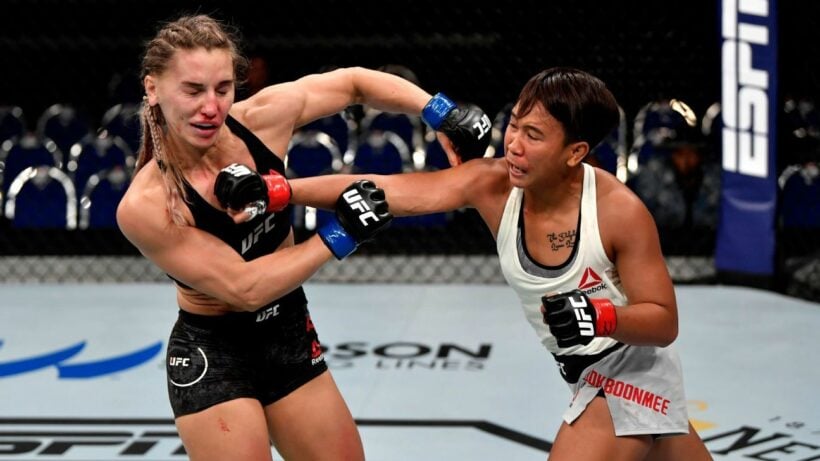 The upcoming Ultimate Fighting Championship Fight Night event in Abu Dhabi will feature Thailand's only national marking her third fight with the UFC, the world's largest mixed martial arts competition. 24 year old Loma Lookboonme, from Burirram in northeastern Thailand, will fight in the event on October 3, 2020.
Loma is a Muay Thai fighter who has adapted her MMA skills to fight in the UFC where she currently trains at the Tiger Muay Thai gym in Phuket. Loma qualified for the national team at the age of 19 and has fought in over 12 nations worldwide. She currently trains 6 days a week starting daily at 6:30am with a 3 kilometre run. In the UFC, she will be competing against China's Angela Lee who is the undisputed champion of the 52 kilogram fist weight category.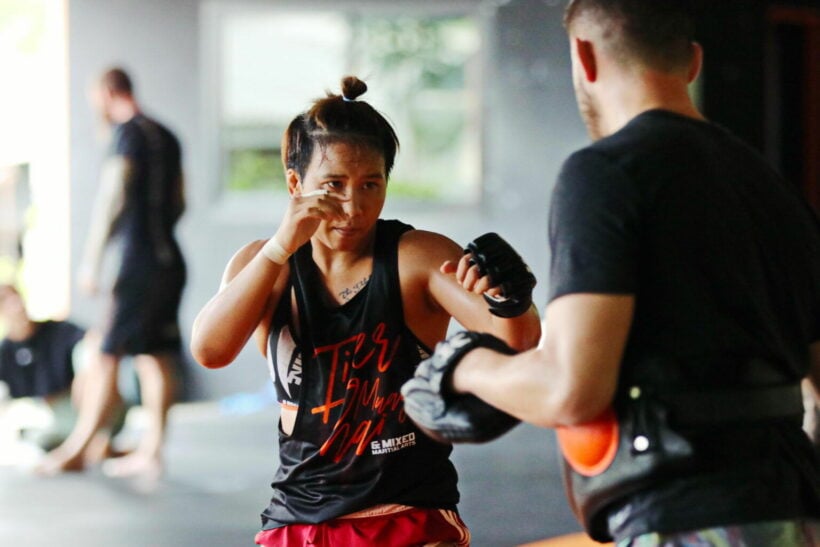 Loma's parents are former Muay Thai fighters and her 2 sisters currently compete as well. She reportedly started training at 8 years old after being inspired by her father, whom she describes as her "hero."
Like most Thais in such fighting sports, Muay Thai offers a way to rise out of poverty-and fighting for the UFC can be financially lucrative. But Loma says her only Thai sponsor is the gym where she trains, with the rest of her sponsors being from foreign brands. She says she is trying to get more Thai sponsors but feels that maybe she needs to win the UFC first before Thai brands notice her.
Loma lost her last fight and says her new opponent gives her nothing to lose. She says her goal is to get into the Top 10, but is not sure when it will happen. Loma says for now, it would be good to fight against someone in the Top 10 to help her prepare for her future.
FULL INTERVIEW: Thisrupt.co
Keep in contact with The Thaiger by following our
Facebook page
.
Never miss out on future posts by
following The Thaiger
.
Phuket airport ready for tourists after finishing Covid screening labs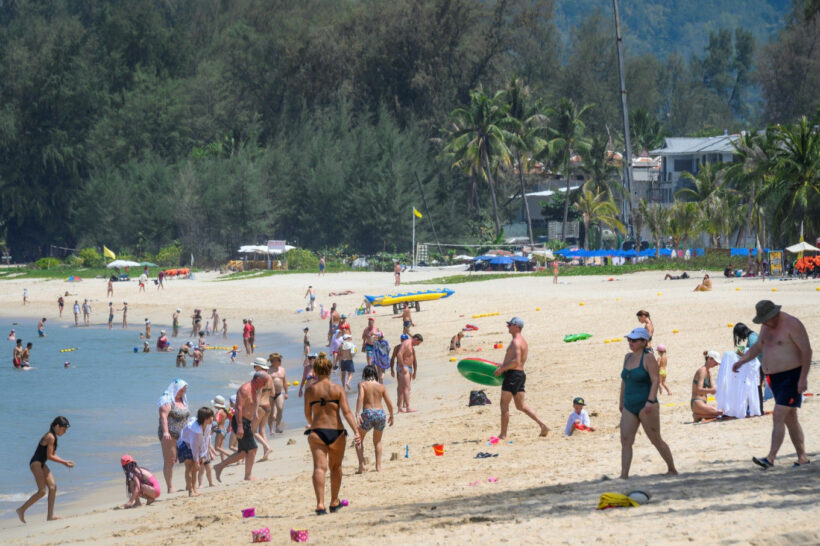 Phuket Airport is officially ready for tourists as authorities say they have finished installing Covid screening labs in an effort to welcome international travellers. The 5T Model for Covid-19 is being used at the airport with the goal of screening large groups of people in a quick and efficient manner. The Phuket health chief says the 5T's stand for Target, Testing, Treating, Trusting and Tracing.
Phuket has one large airport at the north end of the island but is separated into two separate terminals – a domestic terminal (the original airport terminal), and a new international terminal opened in 2016.
The target category refers to the target groups of tourists while the tracing stands for software that will be used to monitor their movements. The testing category refers to Covid tests that will be implemented to travellers upon arrival along with the treatment and trust categories signifying the readiness of resources for medical treatment and confident communications between all parties respectively.
The Covid-19 lab container module has been set up at Phuket airport's Terminal X (the terminal opened for charter flights opened in 2014) and will be tested tomorrow with its operation to start on September 30. As large groups of tourists could arrive (later in the year, the lab is reportedly capable of testing 96 people at a time with test results becoming available in 6 hours. What the airport would do withe tested passengers whilst waiting for 6 hours, has not been detailed at this stage.
Such a readiness plan to welcome foreign tourists originally singled out Phuket due to its popularity with travellers, and as a so-called guinea pig model to test in a controlled environment (Phuket is an island joined to the Thai mainland by a single 300 metre road bridge). Once dubbed the "Phuket Model", authorities have proposed to rename the plan to "Special Tourist Visa" due to the confusion and opposition it reportedly caused. The scheme is reportedly now being proposed for all areas of Thailand but only allowing foreigners from specific countries.
SOURCE: Pattaya Mail
Keep in contact with The Thaiger by following our
Facebook page
.
Never miss out on future posts by
following The Thaiger
.