Phuket
Oil rigs off Phuket may become 'national issue'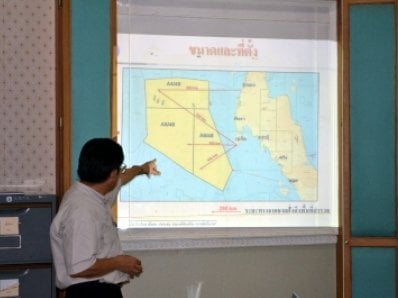 PHUKET: A top official at PTT Exploration and Production Public Co Ltd (PTTEP) on Tuesday expressed his worry that tapping any oil reserves in the Andaman Sea off Phuket will become a "national issue".
PTTEP Vice President Visit Coothongkul voiced his concern at a meeting to update Vice Governor Somkiet Sangkaosutthirak and other local authorities on the status of oil and gas exploration off Phuket.
"I do not think it will be an easy task as I believe the decision to drill a borehole in the Andaman will definitely become a national issue. We have to know whether or not the locals [will] approve of this," he said.
Mr Visit explained that PTTEP hired TDI-Brooks International (USA) to conduct seabed geochemical exploration in order to find any traces of oil in the area.
The team collected samples of seabed soil and rock at 35 sites between May 17 and 26 this year, he said.
"We are now trying to find out whether there are oil reserves in these areas. The samples are being analyzed and sent to the US. We expected the results to be submitted to PTTEP at the end of August," Mr Visit said.
However, even if the tests do return positive results, the PTTEP would have to then conduct a seismic study before selecting where to drill a borehole, he added.
Mr Visit explained that PTTEP testing for oil in the Andaman was the result of limited choice.
"We have drilled about 8,000 to 9,000 boreholes in the Gulf of Thailand. Some of theses are producing oil, but we have yet to find any new oil fields.
"We are facing the same problem with discovering new oil fields in Central Thailand," he said.
"We have run out of places to look. So the Department of Mineral Fuels, under the Ministry of Energy, is now looking at unexplored areas in Thailand.
"So far the places with the best potential are the Northeast [Isarn] and the Andaman as they have not yet been thoroughly explored," he said.
— Janpen Upatising