More noise promised for beaches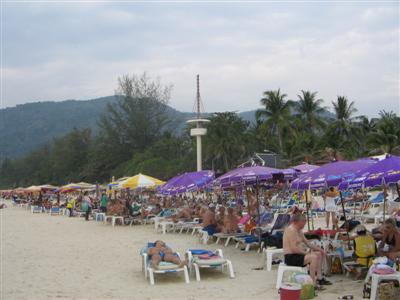 PATONG, PHUKET: A special committee tasked with finding ways to generate more noise and extra revenue for Phuket is moving forward with a unique plan that would allow businesses to broadcast advertisements through the island's existing network of 19 tsunami warning towers.
The project will be launched early next month in Patong, where the entire beach front is covered by warning towers that emit a siren sound and pre-recorded voice messages at an impressive 121 decibels. The record-breaking volume is achieved through the resonance of the towers, with each individual tower able to achieve sound saturation across a radius of at least 1,500 meters.
Committee chairman Boonterd Wattanatong told the Gazette yesterday that the idea was such an obvious one that he was surprised no-one had proposed it earlier.
"The beach, rather than the town or residential areas of Patong, was chosen for the pilot project because there is such intense competition for the tourist baht along the sand, yet the provincial government still refuses to allow billboards on any of Phuket's beaches," he explained.
"This really is a win-win situation for everyone, because it doesn't make much sense to have these expensive, high-tech towers just sitting there doing nothing all the time – especially when they could be generating revenues for the province and customers for advertisers," he emphasized.
Under the plan, advertisers will be able to buy broadcast time from 7am until 7pm. The approved charges are 480 baht for a 15-second spot, and 820 baht for 30 seconds. These prices are uniform throughout the day, with no variation based on time of day.
"All we care about is ensuring that the advertising runs all day without interruption, so that we maximize revenue for the province, Mr Boonterd says.
"People want lively, active beaches. The jet-skis have helped to create background noise, but neither they nor the sound trucks operating along the beaches are capable of generating the kind of volume tourists want."
Among businesses that have already expressed interest in purchasing broadcast time are a local Thai boxing stadium, a popular Patong discotheque, 11 tailor shops, a cinema, and a Rawai-based tattoo parlor.
Please join the the Phuket Gazette in wishing a Happy April Fools' Day to one and all – except Mr Boonterd.


Read more headlines, reports & breaking news in Phuket. Or catch up on your Thailand news.
Man found dead in pickup with charcoal burner in Rassada, Phuket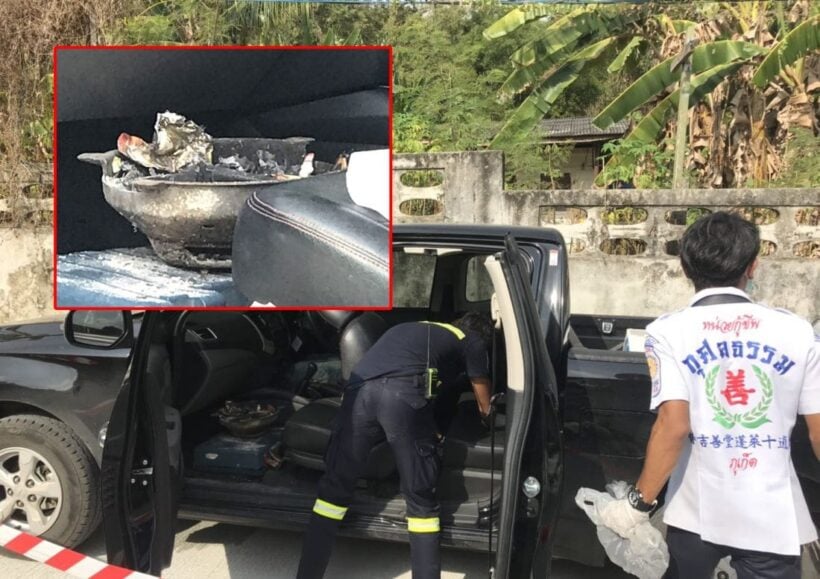 A man has been found dead inside a pickup truck with a coal burner also inside the vehicle in Rassada this morning. Police were notified of the situation in Soi Muen Sri in Rassada.
Police and emergency responders arrived to find the man's body in the parked pickup truck. The man was identified as 28 year old Weerawat Pakdeewirot from Phuket.
A coal burner was also found inside the vehicle. A suicide note addressed to his girlfriend was also found. The letter stated that he was facing financial problems. His body was taken to Vachira Phuket Hospital.
Police says that Mr Weerawat is a CCTV camera and internet contractor. His home was only 50 metres from the scene. Yesterday locals noticed his pickup parked at the scene. Today they saw the pickup in the same location and went to check out the situation.
Police are continuing their investigation.
If you or anyone you know is in emotional distress, please contact the Samaritans of Thailand 24-hour hotline: 02 713 6791 (English), 02 713 6793 (Thai) or the Thai Mental Health Hotline at 1323 (Thai).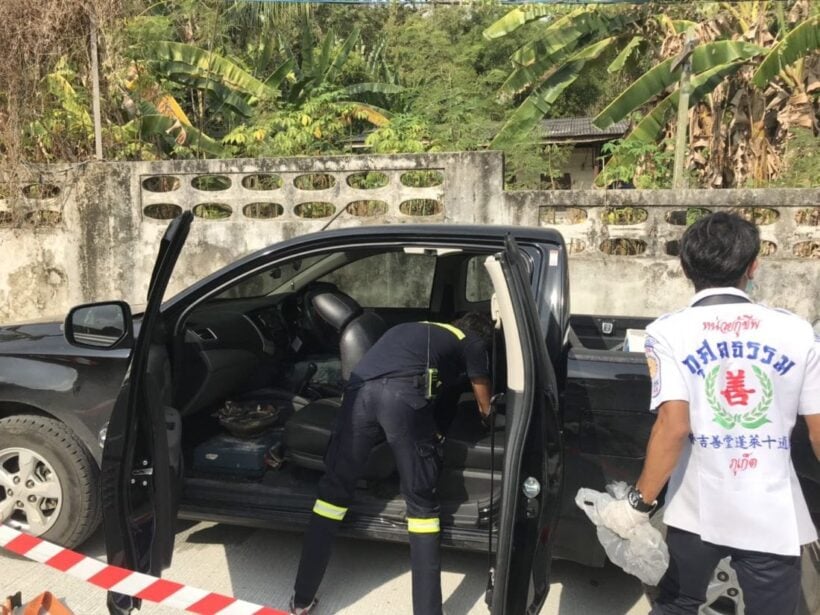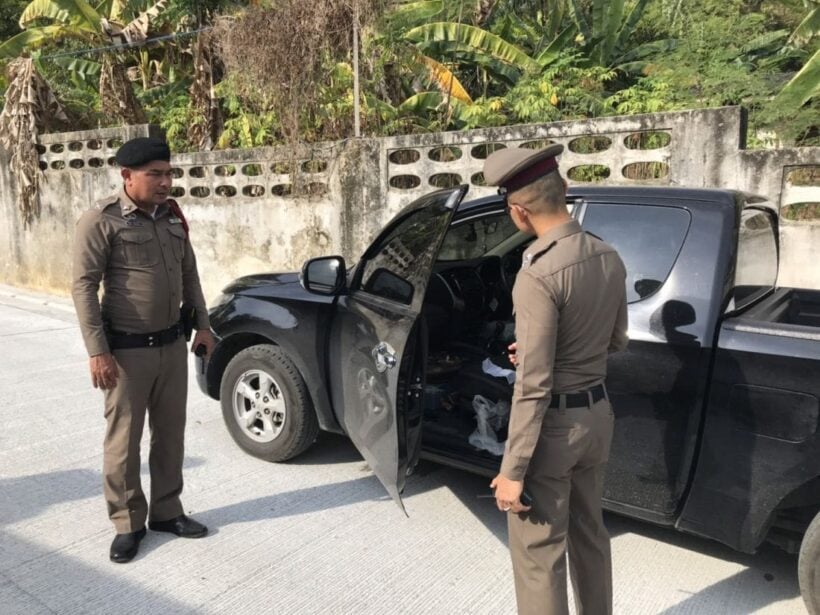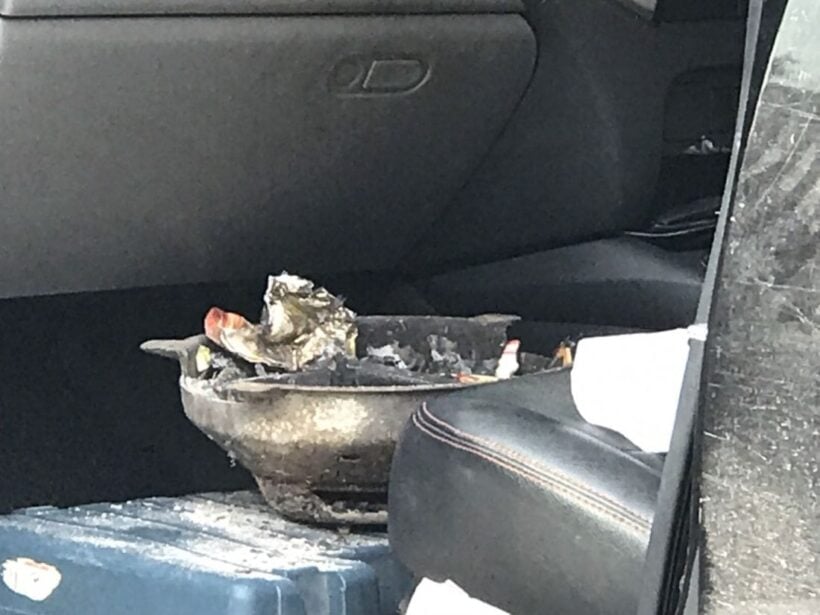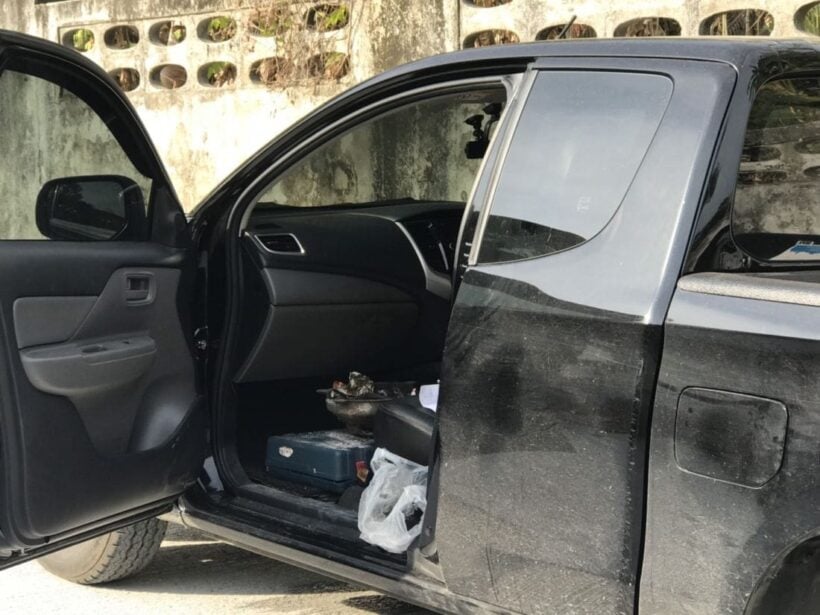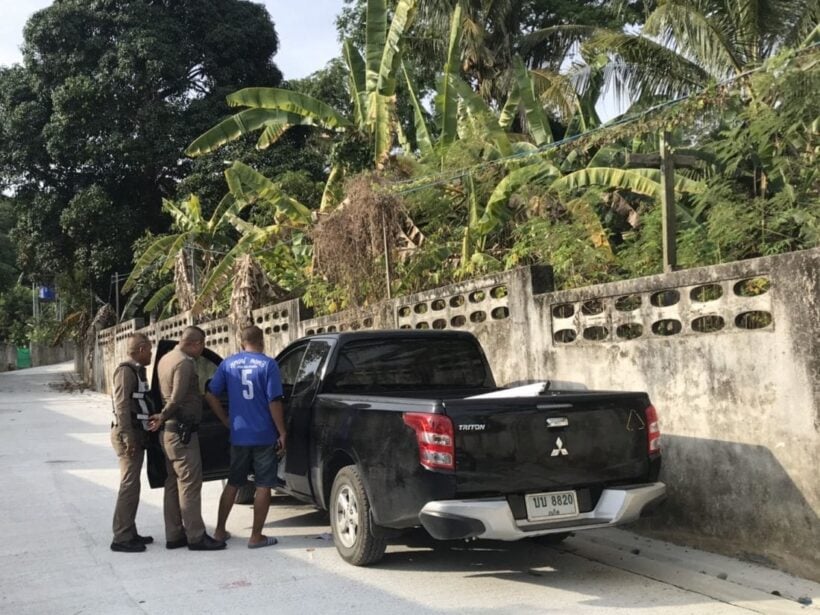 Injured Brahminy Kite (bird) rescued in Karon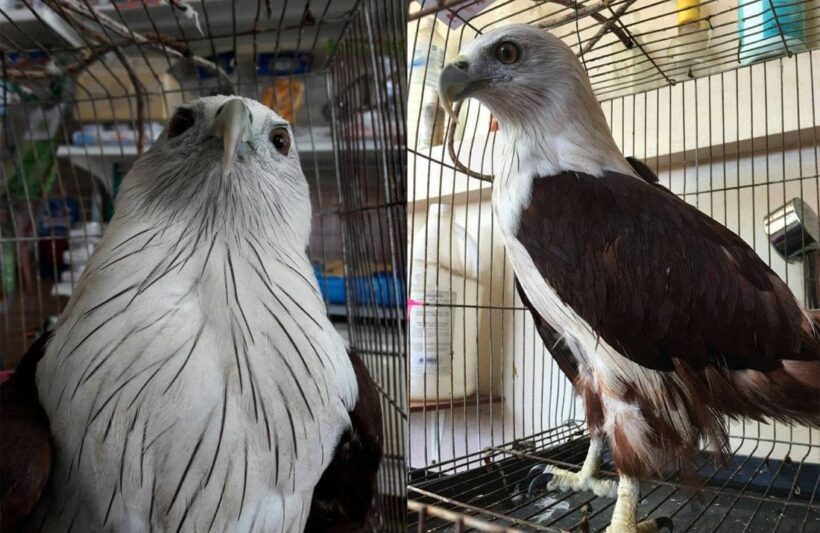 An injured Brahminy Kite has been rescued by locals in Karon, Phuket.
The mature Brahminy Kite was found in Karon this week. Locals who found the bird contacted the head of Khao Phra Thaeo Non-Hunting Area, Pongchart Chueahom.
The Brahminy Kite had a wound similar to a bite wound under its wing. It was unable tp fly. It is now being treated at a pet hospital in Thalang until it is ready to be set free.
The Brahminy Kite is a protected species in Thailand.
The brahminy kite (Haliastur indus), also known as the red-backed sea-eagle in Australia, is a medium-sized bird of prey in the family Accipitridae, which also includes many other diurnal raptors, such as eagles, buzzards, and harriers. They are found in the Indian subcontinent, Southeast Asia, and Australia. They are found mainly on the coast and in inland wetlands, where they feed on dead fish and other prey. Adults have a reddish-brown body plumage contrasting with their white head and breast which make them easy to distinguish from other birds of prey – Wikipedia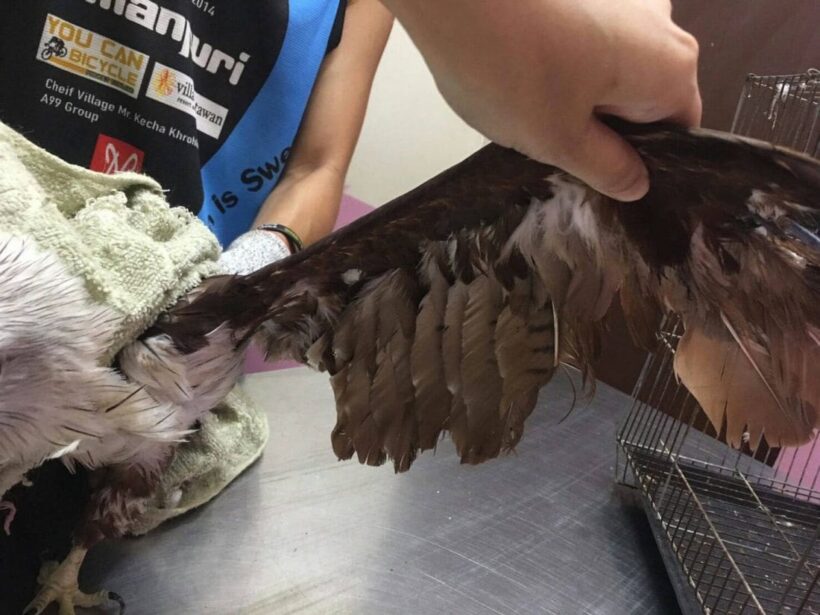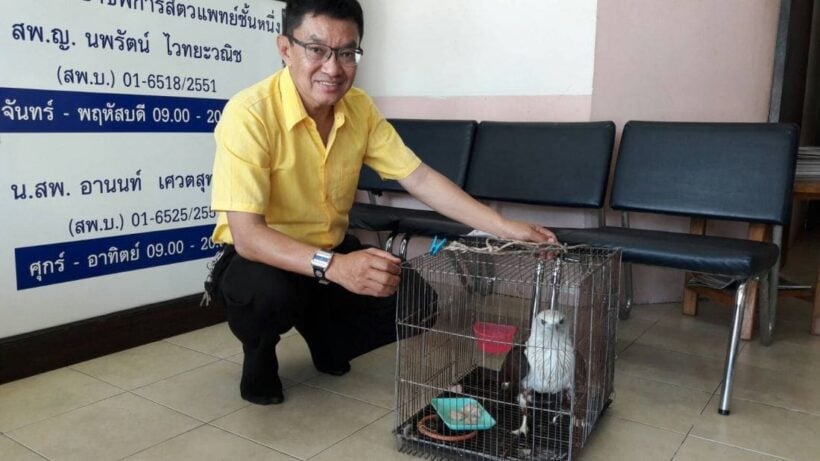 Army commander visits Phuket residents to discuss water shortage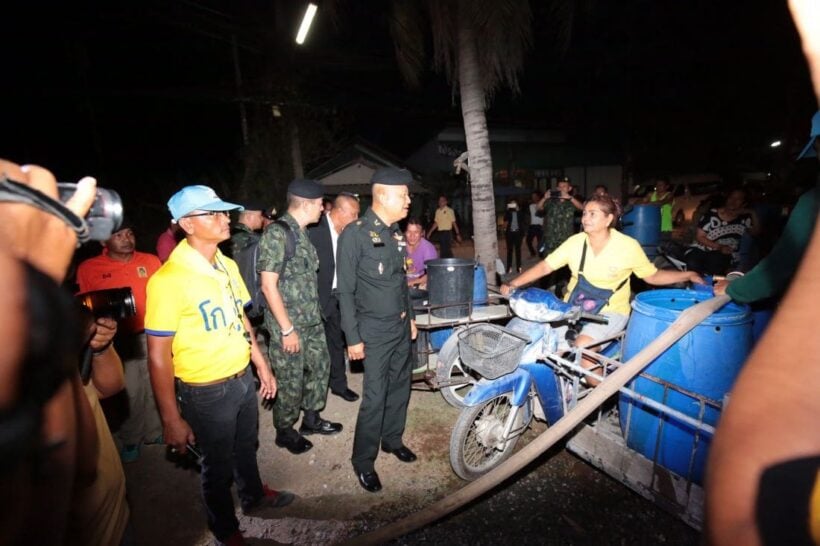 Lt Gen Pornsak Poonsawat, the Commander of the Fourth Army Region (Southern) in Nakhon Si Thammarat, came to Phuket to visit residents over water shortage issues in Rassada.
Lt Gen Pornsak says "we were contacted from the Phuket Governor that Phuket is facing serious water shortages. We have come here with water trucks to help residents to join with other government agencies in Phuket.
There are now 23 water trucks which are delivering free water to residents around Phuket. However we need cooperation from every one to save water."