Live Wire: Drilling down on landlines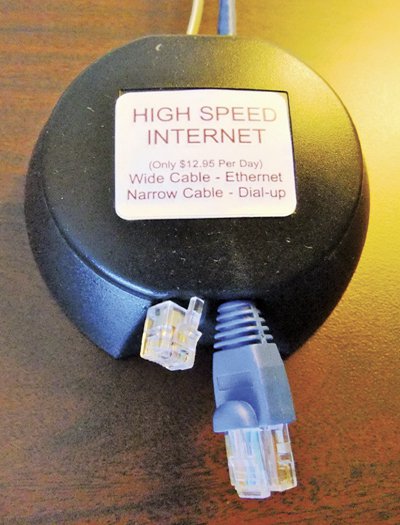 PHUKET: Last week I talked about the general state of internet connections in Phuket. This week I want to drill down on landlines.
I wish I could just point you to a web page that has all of the information about the various internet lines available on Phuket, and let you make a choice. Life isn't that simple.
You would think that the internet service providers would make some information very easy to find: go to the main page for TOT, for example, maybe click to get the page in English, and then you'd see a list of the packages on offer and their prices. Alas, it doesn't work that way.
If you're near a computer, try bringing up tot.co.th and tell me if you can find a list of TOT products and prices, in either Thai or English. Anywhere. I've wasted hours trying to get definitive lists of products and prices from the web site, and it's an exercise in futility.
You'd think TOT would know better. They aren't the only ones. CAT, True and 3BB – the other leading landline providers in Phuket – aren't any better.
The only way I've found to get actual, valid price lists involves schlepping to the service provider's office and asking for a brochure. If you're in the market for a new landline, get down to Central Festival, second floor.
There you'll find the CAT office (tucked in the back behind the mobile phone booths), True (next to Power Buy), and TOT (in the cul-de-sac with the banks).
3BB is up the street, diagonally opposite Tesco Lotus.
Here are the products that I would try to get, taking into account how much real speed you get for your money. Note that the "Mbps" (millions of bits per second) speeds listed in the brochures and advertising are pure marketing puffery and bear no resemblance at all to the real-world speeds you're likely to experience. In other words, they're not much different from internet speed ratings all over the world.
TOT Fiber 2U 10 Mbps – seems to hit the sweet spot, at 1,500 baht/month. You can spend 2,500 baht/month and get the nominal 20 Mbps line, but historically the 20 Mbps line isn't considerably faster than the 10 Mbps. There are "consumer" and "business" options, with "business" being about four times more expensive than "consumer." I've seen little-to-no evidence that the business lines are any faster than the consumer lines. And if you're wondering about paying more for a "Fixed IP address," trust me, you don't need or want it.
True Ultra Hi-Speed DOCSIS 10 Mbps uses DOCSIS cable TV-style cables. The basic package is a very reasonable 599 baht/month. If you want the TrueVision "Knowledge" package of TV stations hauled in on the same line, the whole thing including internet costs 899 baht/month. The "Knowledge" package includes all of the major Thai language local channels, plus various True-branded sports and movie channels, and the Fox network. Although True is working toward bringing other TV channels in on DOCSIS cable – there are licensing problems – at this point if you want any of the good True TV channels, you have to get a TrueVisions satellite dish.
Some people have had good luck with the True Ultra Hi-Speed DOCSIS 20 Mbps line, at 1,299 baht/month (which includes the Knowledge package of TV channels). Others haven't seen any significant increase in speed over the 10 Mbps DOCSIS line. Since the 20 Mbps line costs more than twice as much as the 10 Mbps line, I personally wouldn't pay for it, but it may be worthwhile if you want local Thai language TV channels.
If TOT doesn't have Fiber near you, and True hasn't run a DOCSIS cable in your neck of the woods, the next best line isn't a line at all, really. It's a box that's nailed onto the side of your house that gets its signal from a specific kind of mobile phone tower.
The TOT AirMax WiNet service runs B 599/month and it's faster than garden-variety ADSL lines. Unfortunately, TOT doesn't have many towers up that can use the service, but it's worth asking.
If you can't get any of those packages, you're left with ADSL. TOT and 3BB have ADSL lines almost everywhere on the island, and CAT and True are almost as well-connected. My personal experience in Patong is that True is more reliable, and a bit faster, than 3BB, but the difference isn't huge. TOT and CAT are both competitive now – they're fighting in a commodity business – and their service is reasonably well regarded, as well. In general. You can find specific instances of shoddy service with any of the carriers, of course.
All four of the ADSL providers in Phuket offer decent 10 Mbps lines for about 590 baht. For that price, with a one year commitment, you should get free installation (which is generally remarkably professional) and a truly shoddy free WiFi router.
Almost everyone has to replace the router within a year or two. They just don't hold up. But that's another story for another time.
Based on many years of observations, I wouldn't pay much more for "faster" lines. In many cases, a 10 Mbps ADSL line runs just about as fast as a 20 Mbps ADSL line. You should expect about 1 Mbps in real world international download performance from a 10 Mbps line. That's fast enough to run Skype or YouTube, but painfully slow for big downloads.
Almost all of the service providers "throttle" (put a speed cap) on torrents and some other large downloads.
You'll notice that I didn't mention using a cable TV company for an internet connection. In my experience, the cable TV connections just don't work very well – they're technically fragile and not at all fast.
My number-one recommendation for land lines: if you need to be up most of the time, get two packages from two different suppliers. I've been running a True 10 Mbps ADSL line and a 3BB 10 Mbps ADSL line, concurrently, for many years, and the combination has worked well: when one line goes down, the other is almost always up. You have to set up your own router so you can swap between the two lines – unplug True and plug in 3BB, or vice versa – but that's cheap and easy.
Next week I'll talk about the wireless connections available all over Phuket – indeed, all over Thailand. Our "3G" service isn't the world's fastest, but it's certainly serviceable almost all of the time.
We're running informal computer clinic roundtables every Sunday morning at Sandwich Shoppe Chalong, located 1 km north of Chalong Circle on Chao Fah East road. If you have a Windows problem that needs to be solved, or a question about internet service in Phuket, drop by and ask one of the assembled gurus. Sponsored by the Phuket Gazette and Khun Woody's Sandwich Shoppes.
Live Wire is Woody Leonhard's weekly snapshot of all things Internet in Phuket.
Follow him on Twitter, @PhuketLiveWire, and "like" the pages at facebook.com/SandwichShoppe, facebook.com/phuketgazette.net and now Google+, or send him mail at Woody@KhunWoody.com.
— Woody Leonhard
Keep in contact with Thaiger by following our Facebook page.
Never miss out on future posts by following Thaiger.
Tourism officials slash Songkran travel expectations by half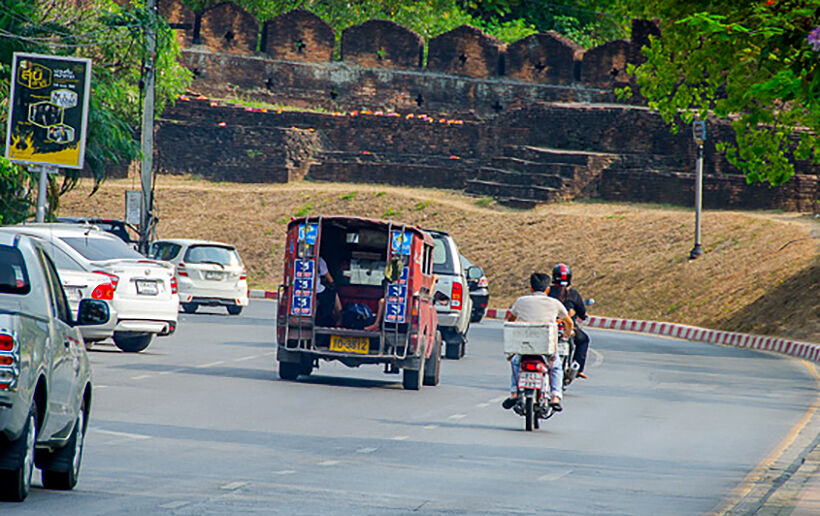 The TAT, ever the optimists regarding anything tourism related, even domestic tourism, predict that the Bangkok clusters that have emerged in the week before the Songkran break could reduce traffic and spending by up to half.
Today the CCSA is reporting 789 new infections and one additional death. 522 were local infections, mostly walk-ins to Bangkok hospitals, 259 were discovered through track and tracing. The remaining 8 were found in quarantine from overseas arrivals. In Phuket, another 17 cases have been reported today, taking the island's week total to 43.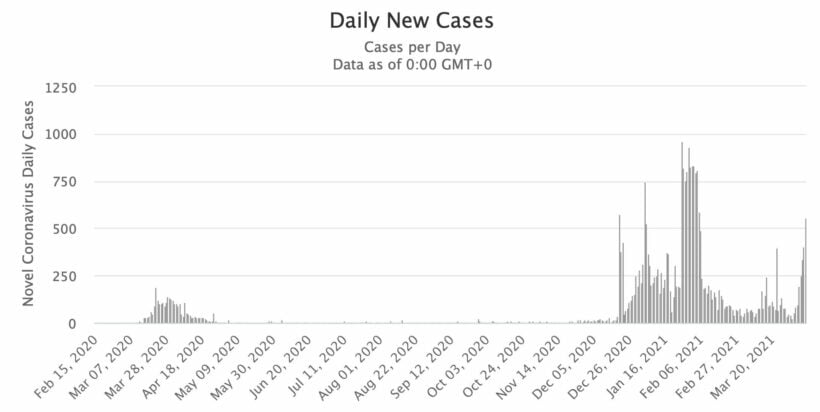 GRAPH: Worldometer figures for Thailand, up to April 9
A 68 year old man from Nakhon Pathom province died on April 4 but wasn't reported until today. The CCSA report that he died from Covid and "complications". 33 other former patients have recovered and been discharged.
Last week the TAT estimated 3.2 million domestic trips would circulate 12 billion baht for the Thai economy. But the Tourism Authority has now slashed their estimates by half after hotels, airlines and bus companies reported mass cancellations in the last few days. Other provinces are reporting less than 20% cancellations. Although this weekend will see a lot of travel, Songkran doesn't formally start until next Tuesday and the TAT expect there could be additional fallout as travellers decide to have a staycation for Songkran instead heading home.
Bangkok Post reports that 70% of travellers to Prachuap Khiri Khan and Hua Hin have already cancelled hotel bookings. Similar cancellations have been reported in Pattaya, Phuket and Chiang Mai. Many other provinces, particularly in the north east and north, are also enforcing quarantine on arrivals or additional paperwork to try and protect their provinces from any of the Bangkok clusters.
8 north eastern provinces rare now requiring 10 or 14 day quarantine periods for anyone arriving from areas where new clusters have been reported. Chiang Mai provincial officials say that tourists from Samut Prakan, Nakhon Pathom, Bangkok, Pathum Thani and Nonthaburi – basically Bangkok and surrounding provinces – must complete a 14 day mandatory quarantine or conduct a test for Covid when they arrive.
The reality is that the travel and quarantine changes are outstripping the ability to communicate them all. Anyone crossing into other provinces in the next few day, especially if you're travelling from Bangkok and surrounding provincial 'red zones' can expect some additional paperwork or a Covid test. Or even quarantine.
Keep in contact with Thaiger by following our Facebook page.
Never miss out on future posts by following Thaiger.
Phuket student protests and is flunked as "not loyal to the nation"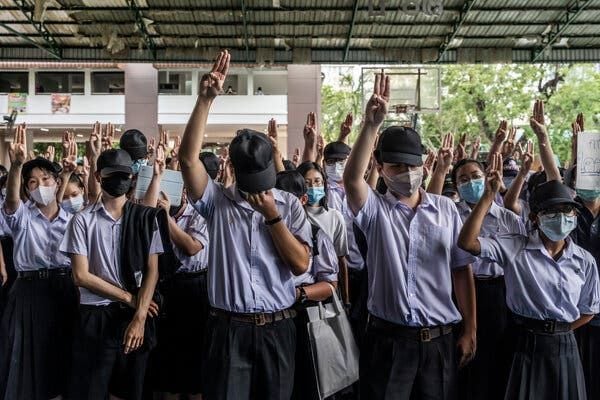 After participating in protests for student's rights, a Phuket student was barred from graduating 9th grade, moving from middle school to high school, charged with being "not loyal to the nation, institution of the monarchy". The student had advocated against mandatory uniforms and for student's liberties. He told reporters that the school started paying attention to his actions last year when he participated in rallies in solidarity with students across Thailand. The school's student affairs office received a copy of posts he made on social media encouraging others to join the cause. The school ordered a stop to his political actions, but he and his friends disregarded warnings and violated school rules when they handed out white ribbons to classmates. They received a warning from the student affairs office.
Student protests have increased after pro-democracy demonstrations surged in July last year, empowering many Thai people to speak out against injustices, including students' rights and liberties. People from schools across the nation have been banding together in solidarity to bring their issues to public light.
On graduation day, all the students were promoted into high school, except for the one student protestor, says the Bad Student protest group. The theme of the day focused on dedication to the monarchy, country and religion, and specifically how students should be obedient. The student said he has received support from friends, but his parents remain neutral and his teachers have been completely silent on the matter. He is frustrated that he was punished for his right to express himself. He plans on testing with incoming students to re-enrol in the same school, and if he is not accepted because of the disloyalty charge, he will pursue legal ramifications, suing the school for blocking his right to an education over the student's protests.
The student believes he needs to speak out to prevent school administrators from imposing on more students' rights. He advocates for diversity in schools and ending prejudices, with increased liberties and freedoms for students.
"Schools must teach children to be able to think by themselves, not force children to think like them. Schools should create opportunities for students to express their ideas more freely."
SOURCE: Prachatai
Keep in contact with Thaiger by following our Facebook page.
Never miss out on future posts by following Thaiger.
16 more Covid infections reported today in Phuket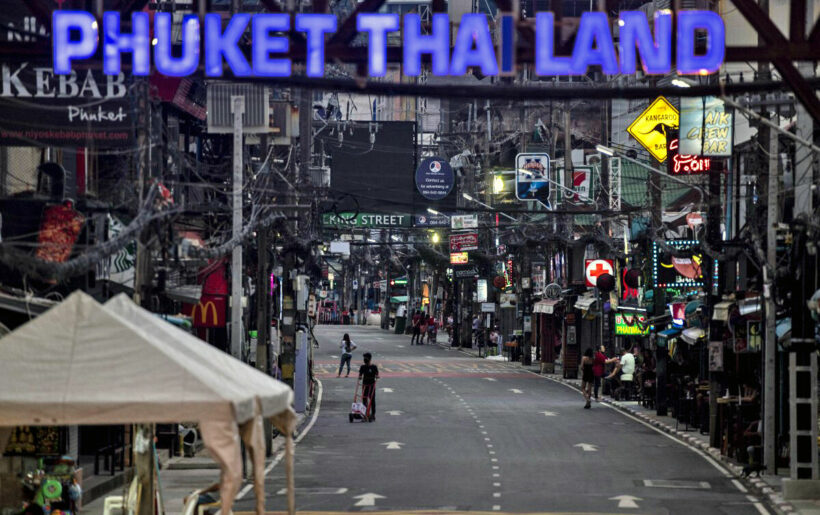 Phuket is reporting 16 more infections today. It follows visits from Bangkok and last weekend's Kolour Beachside parties that have resulted in a number of new Covid infections. The number of new infections has reached 26. But deputy governor Vikrom Jakthee says the province has been successful in containing the new outbreak "due to its quick response measures which now include shuttering bars and nightlife venues.
One of the confirmed cases is a male teacher from Headstart International School in Kathu who, after attending the parties on the weekend, was back teaching students on Monday and Tuesday. The school has sent a letter to all parents advising them of the situation and organising testing for anyone who may have come in contact with the teacher.
The closure order in Phuket comes just as the island province was expecting to get an influx of visitors for Songkran, the Thai New Year. Many bar and club owners were expecting some increased traffic during the holiday week. Phuket officials say they will explain to bar and club owners why they decided to close the venues during the critical week for business.
Vikrom previously cited the start of the island's Covid vaccine roll-out of Covid starting to head towards a herd immunity in time for the province's proposed July reopening to international tourists. But he admitted that the sudden appearance of the coronavirus on the island again will force officials to reevaluate the schedule for reopening. He also said that almost all cases were in younger age groups of people in their 20s and 30s.
"Today, the number of infected people reported in Phuket has reached 26, many are from entertainment venues. This figure is relatively high. It jumped from 10 to 26 cases. We will invite operators of entertainment places in for discussions."
Partygoers who went to any of the Kolour Beachside parties in Phuket last weekend are being asked to visit a local hospital for a Covid test. The parties hosted more than 3,000 people, drawing concern after a musician tested positive for Covid-19, having attended all 3 parties. The Phuket Provincial Government and Phuket Provincial Public Health Office released a statement yesterday advising all partygoers to get tested.
"Those who attended the Kolour parties from April 2 to 3 at Shelter Phuket Dance & Night Club in Patong, Cafe Del Mar Phuket in Kamala and Illuzion nightclub on Bangla Road in Patong are asked to get tested."
SOURCE: Bangkok Post
Keep in contact with Thaiger by following our Facebook page.
Never miss out on future posts by following Thaiger.