Illegal Phuket gun dealing conducted in closed Facebook groups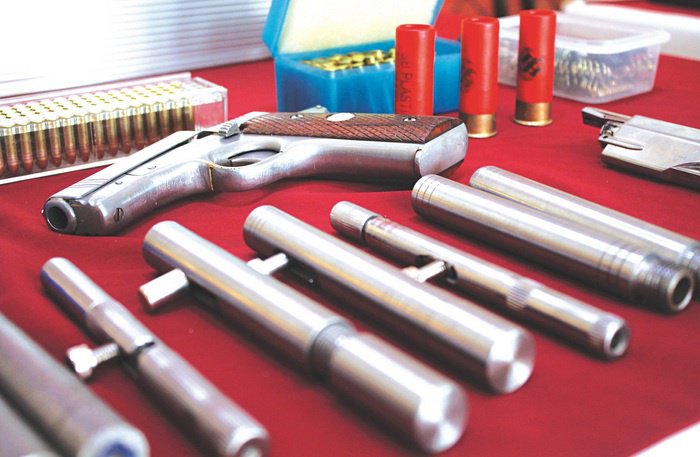 PHUKET: Closed groups on social media platforms are facilitating a boom in illegal factory built and homemade firearms, confirmed the head of the Phuket City Police this week.
"A decade ago, people would need the know-how or a special connection to get their hands on a firearm. But now, with Google and YouTube, as well as social media, such as Facebook, almost anyone can obtain a gun," Superintendent Kraithong Chanthongbai told the Phuket Gazette. "We are seizing twice as many guns a month than we did previously. Last year, we confiscated three guns a month on average. This year, it's six."
The figures presented by Col Kraithong are only for the area under his jurisdiction. Provincial Police Commander Patchara Boonyasit was unable to supply similar figures for the entire island.
"Though there are no significant gun manufacturers or professional builders operating in Phuket, these firearms are being purchased online through closed groups on Facebook and other social media platforms, and then sent via post to the island," Col Kraithong said.
"We sometimes seize firearms when we arrest drug dealers operating on Phuket – there is without a doubt an intimate connection between the drug world and violent crimes where guns are used."
A police raid on a home in Si Suchat Grand View 5 in Rassada last month uncovered a cache of drugs worth about 5 million baht, four handguns, one silencer and 400 rounds of ammunition. The suspect manged to slip out of the house moments before police arrived (story here and here). Firearms are regularly being confiscated during drug busts in Phuket, Phang Nga and Krabi.
One 19-year-old, who was willing to talk to the Gazette, but declined to be named, explained that he was arrested for carrying an illegal firearm. However, he denied that he had purchased it with the intent of using it to commit a crime. He said it was for self-protection.
"I felt cooler and safer when I had a gun with me. I knew if we had a problem with someone or bumped into our rivals they wouldn't dare mess with us," the teen said.
The 19-year-old confirmed that he had purchased a zip gun or 'Chab Pong' after a friend had invited him to join a closed Facebook group used to buy and sell firearms. Zip guns are generally defined as crude homemade guns. Those on Phuket are often single round weapons designed to take shotgun shells as ammunition.
"Most of the gunmakers are based in Bangkok. It was easy to buy. We simply placed an order through the group, paid and then had the gun delivered by post.
"Depending on the type of gun you buy it could cost as little as 2,000 baht."
Many of these gunmakers are in the pre-order business, explained Krabi Provincial Police Commander Nunthadej Yoinual. The weaponsmiths are not necessarily putting products out on Facebook groups or in the market in general prior to an order – most products are custom made.
Although the teen who was willing to speak to the Gazette said he had never attempted to make a firearm himself, he did say it was an easy process given the resources available through the internet and general access to metal working and machining tools in Phuket.
In agreement is Anuphong Phuangjan, an 18-year-old from northeastern Thailand who was arrested after shooting himself in the leg with a homemade gun in April. He confirmed that Thai-language resources were readily available when he decided to make his weapon.
"It was very easy to learn how to make a gun. You just Google it, and everything you need is there," Mr Anuphong said.
"At the time, I learned from a do-it-yourself gun construction website that was in Thai. However, the page has been deleted," Mr Anuphong said.
"The equipment is also easy to find. The barrel of the gun is just a piece of the right kind of metal tubing, while the rest is easy to find too. If you want to get creative, you can build the stock or handle from wood."
Mr Anuphong explained that he had grown up in a rural area, where he was exposed to guns as a child for hunting and protection from animals. After moving to Phuket with his mother, he felt a responsibility to be able to protect her and his girlfriend.
Obtaining ammunition was the real issue though.
"Eventually, I was able to buy ammunition from a Burmese man who sold me ten for 200 baht," Mr Anuphong said. "Though I could have found them online as well."
Mr Anuphong had previously tried to purchase a gun online, but never received his order after paying 5,000 baht, which is why he went to the Myanmar national for the the ammunition.
Col Kraithong's real concern has less to do with individuals attempting to make homemade guns than that gun construction is becoming a serious business in Thailand.
The most common firearms reported being seized in Phuket are handguns, including those that are homemade. However, a number of firearms classified as 'weapons of war' have been seized on Phuket this year, including M3 submachine guns – also known as a 'Grease Gun' – and an M16 assault rifle.
Being caught with a weapon of war is the most serious weapon possession crime in Thailand, explained Lt Thanom Thongpan of the Tah Chat Chai Police. It carries a maximum penalty of life imprisonment with the minimum jail term being two years.
Though weapons of war are not found very often on Phuket, there are several other firearm possession crimes that are more regularly dealt with by police.
"There is the possession of an unlicenced firearm, such as a homemade gun, which carries a maximum penalty of a 20,000-baht fine and 10-year prison term. Most often, the suspects are given a 10,000 baht fine and are forced to serve about nine months in prison," Lt Thanom said.
"Lighter charges are carrying a licenced gun in public without permission when the weapon isn't registered in your name. This usually comes with a fine of about 8,000 baht. Those found carrying their own licenced firearm in public without permission are usually fined about 3,500 baht."
The court has to weigh a number of factors about the weapon itself before ruling on a case though, explained Lt Thanom.
"They review whether or not the licence for the weapon was falsified; whether or not it was used in a crime; and what kind of gun it is," Lt Thanom said.
"However, if it's a homemade gun, it becomes very difficult for us to link it to any previous crimes."
Additional factors, such as the criminal's age are also added to the equation when the case is reviewed by the court, with minors being processed through the juvenile court.
Lt Col Somkid Boonrat, chief of the investigation department at the Phuket Provincial Police, expressed his concern about teenage gun violence on the island.
"Some of these teens are part of real 'at-risk' groups, who are doing anything to be accepted by their friends and feel cool," Lt Col Somkid said.
"They are also addicted to social media, which has become an easy way for them to access firearms.
"These kids want to show their friends and the world that they are the best and that they are powerful, and they think having a gun will do that."
To crackdown on 'at-risk' groups, police continue to raid and target areas most likely to be housing illegal firearms, Gen Patchara explained
"The problem isn't just gunmakers; the problem is gun buyers. If there was not a market for these weapons, then we wouldn't have this problem," Gen Patchara said.
However, for Col Kraithong the issue is that the penalties being handed out are not strong enough to dissuade people from violating the law.
"The issues are that criminals are not scared of being arrested and fined," Col Kraithong.
Police continue to attempt to infiltrate closed Facebook groups where firearms are bought and sold. However, they are struggling.
"We have created fake accounts to try and access the groups. If they would only accept us, then it would be easy to get to the heart of the matter," Col Kraithong said. "However, given that these guns are being created in other provinces and sent to Phuket, there really needs to be a national effort to put an end to this."
Several officers who spoke to the Gazette pointed out that education and the social fabric that keeps families, and society as a whole, functioning are the most important factors for putting the brakes on gun violence on the island.
"It really is the responsibility of families and educational institutions to help the children develop a strong moral code that will help prevent them from getting involved with guns," said Gen Patchara.
Phuket Technical College Director Adisak Chutchavate agreed.
"If students were well-educated from the beginning, then a greater percentage of them would go on to be valuable members of the community," Mr Adisak said. "We are doing our best here to do that."
However, for the 19-year-old who was caught in possession of the homemade gun, it took police action in order for him to revise his thoughts on his need for a gun.
"After I was arrested, I changed my mind. I didn't go out and buy another gun – I realized I had no reason to have a gun," he said.
"Many other people don't have guns and stay safe. Why would I need a gun?"
— Kongleaphy Keam
Phuket News

Join the conversation and have your say on Thailand news published on The Thaiger.
Thaiger Talk is our new Thaiger Community where you can join the discussion on everything happening in Thailand right now.
Please note that articles are not posted to the forum instantly and can take up to 20 min before being visible. Click for more information and the Thaiger Talk Guidelines.