Phuket
Hookah bars targeting Phuket youth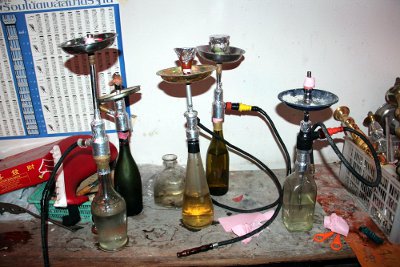 PHUKET: The Phuket Provincial Office is planning to crack down on hookah bars and other businesses catering to a growing demand among island youths to smoke flavored tobacco known as shisha.
The proliferation of venues offering shisha to youths has risen dramatically over the past year and the situation must be quickly addressed, a provincial panel heard recently.
New Phuket Vice Governor Chamroen Tipayapongtada, who chairs a provincial panel aimed at keeping youths away from drugs, said there were at least 20 venues on the island set up as places for minors to socialize and smoke shisha through Middle-Eastern style water pipes known locally as baraku.
There are more than 10 such venues in Muang District alone, offering a wide variety of flavored tobacco blends including apple, strawberry, mango, coffee, vanilla, lime, rose and herbal mixtures, he said.
Restaurants and nightlife establishments in areas such as Patong that cater to Middle Eastern patrons have long offered shisha to adult clientele, but the popularity of flavored tobacco has now trickled down to local youths.
As a result, hookahs can now be found in restaurants and roadside shops set up specifically for minors. Businesses offering shisha are commonly found in or near student dormitories, the panel heard.
Vice Governor Chamroen said the problem can be addressed using a number of existing regulations. These include excise tax laws that forbid the import of shisha; regulations that forbid smoking in restaurants, parks and other public places; and restrictions against selling alcohol and tobacco products to people under 18 years of age.
The province will first launch a public-awareness campaign before launching the crackdown in order to give venues that have been engaged in the illegal business a chance to stop, he said.
— Warisa Temram