Phuket
Heroines' Memorial Festival kicks off tomorrow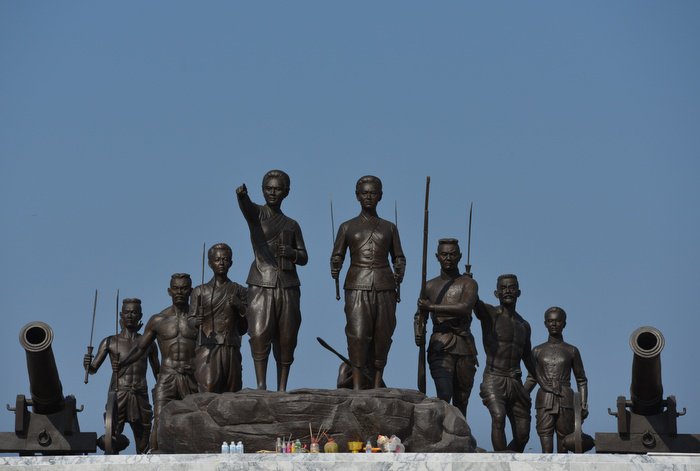 PHUKET: This year's Heroines' Memorial Festival, which kicks off on Saturday, is sure to impress all in attendance with its cultural and historical activities to honor Thao Thepkrasattri and Thao Srisoonthorn.
"The purpose of this event is to honor the heroism of Lady Thepkrasattri and Lady Srisoonthorn, who sacrificed their blood and lives for generations to come," Governor Nisit Jansomwong told the Phuket Gazette.
"We also hope that Phuket's younger generations are able to learn about our history and the history of their ancestors."
Among the events taking place to honor the heroines, who led Siamese forces in repelling the 1785 Burmese invaders, will be a group ordination of monks, tours of historical locations in Thalang associated with the battle and sport competitions, as well as light and sound shows to re-enact the famous battle.
The schedule of events is as follows:
March 7
The group ordination of 21 Buddhist monks will take place at Ketho Temple in Kathu.
March 8-21
The newly ordained monks will learn Buddhist teachings.
March 8-11
There will be historical tours in Thalang starting from 9am that will go to important spots in the area including the Thalang National Museum, Phra Nang Sang Temple, Wat Phra Thong, Baan Thao Thep, Muang Komarapaj Temple and the Thalang Victory Memorial.
March 8
There will be a a 5.5k and 10.5k run held at Thalang Historical Park, near the Heroines' Monument, starting at 6am. Registration starts at 4:00am. A bicycle competition will also take place at the same location starting at 11am.
March 12
Wat Moung Komaraphat will have a worship gathering in respect of ancestors.
March 13
At the significant time of 9:09am, there will be a ceremony to honor Thao Thepkrasattri and Thao Srisoonthorn. Officials will place garlands at the Heroines' Monument and praise the bravery of the two sisters.
March 13-15
Vendors will sell local foods and One Tambon One Product (OTOP) goods at Thalang Historical Park, near the Heroines' Monument, starting at 5pm. There will also be traditional performances from 7pm until midnight, and a light and sound show re-enacting the history of Thalang and the famous battle against the Burmese invaders, which begins at 8:30pm.
— Kongleaphy Keam