Gunfire silences Phuket construction clamor, says Swede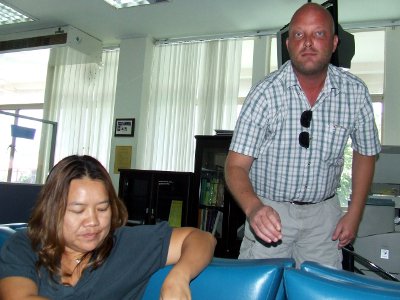 PHUKET: A Phuket estate manager terrified a team of Thai workers when he fired warning shots over their heads in an effort to get them to stop making noise yesterday morning, says the construction team's foreman.
Swede Mike Hjort and Songkhla native Waleeporn Chinpised, both 41, appeared at Phuket City Police Station to file a complaint against Seree Duangsuwan.
The couple told Duty Officer Jetsuda Saensuree that Mr Seree fired a series of gunshots over their heads as they and their team of workers were doing contract construction work on a home in The View villa estate near the Khao Khad Viewpoint in Wichit.
"Me and my eight staff were working repairing a house on the project yesterday morning. Some workers were cutting lumber needed to make the repairs. At around 9:30am, [estate manager] Seree Duangsuwan came from [his house] across the street and told us to keep quiet and stop working.
"But I told him he was not my boss and that if he had any problems he should contact the house owner.
"Instead he asked me to call the owner, but I didn't call. Then he asked me to fight him, but I told him I came here to work, not fight," said the Swede.
"He also told us to stop work, saying we could only work in the afternoon and could not work at all the following day," he said.
Time is money in the construction trade, so as soon as Mr Seree departed the workers resumed their work.
"That's when he came out of his house with a gun and fired warning shots into the sky above our heads," he said.
Mr Suree fired two volleys of five rounds each as staff were working on the roof.
"One of our female staff panicked and fell off a ladder. She is in hospital now," Mr Hjort said.
The woman, Ms "Gee" suffered only a light sprain.
Even as the staff were ending their day's work, at about 4:30pm Mr Suree was walking about brandishing his firearm, said the Swede.
Mr Hjort called his wife Waleeporn Chinpised, who contacted the police.
They appeared for questioning this morning and were happy to share their story with the media.
Mr Hjort, who has been living in Phuket for 22 years, said, "I have no idea why he acted that way. We are afraid to work on the project now as he is still walking around with a gun like a crazy man."
Two of his workers have already said they were too afraid to return to the site, he added.
Ms Waleeporn said the team tried to minimize disturbance to neighbors by doing the noisy work in the afternoon.
"But yesterday we were nearly finished, so we wanted to get the job done," she said.
As an act of intimidation, the shooting was effective.
"After he fired, we called for the home owner's assistance and decided to do some other work that did not make noise for the rest of the morning," she said.
"Actually, we have another repair job scheduled in another house nearby, but we chose to cancel it," she added.
Police accepted the complaint and said they would call in Mr Suree for questioning, she said.
— Atchaa Khamlo
Keep in contact with The Thaiger by following our
Facebook page
.
Never miss out on future posts by
following The Thaiger
.
Thai Airways to resume flights from Bangkok to Chiang Mai and Phuket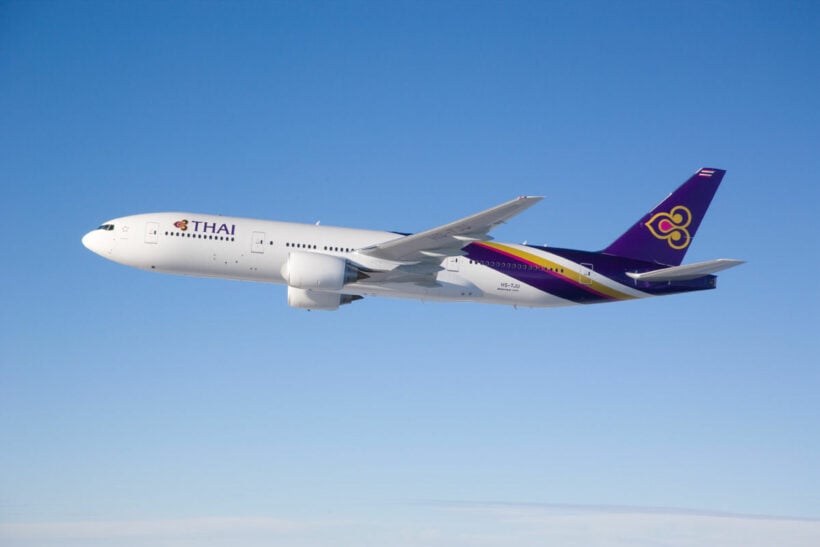 After nearly 9 months on the ground due to the coronavirus pandemic, along with problems balancing their accounts, Thai Airways will resume flights between Bangkok and Chiang Mai as well as Bangkok and Phuket later this month. The flights will start back up on Christmas day.
Flights from Bangkok to the 2 key tourist provinces have been grounded since April 1. Starting December 25, the airline will run 3 flights a week on both routes. A source told the Bangkok Post that the new schedules will run until at least February 28.
Thai Lion Air, Thai Air Asia, Nok Air, Thai Smile, VietJet Air and Bangkok Airways have returned to the domestic skies since July and slowly adding frequency to their routes.
In addition to resuming the domestic flights, the Thai Airways is relaunching some international flights from January 1 to March 27 including weekly flights to Frankfurt, London, Copenhagen, Sydney, Seoul, Manila, Taipei and Osaka. Flights from Bangkok to Tokyo will be available 3 times a week and flights from Bangkok to Hong Kong will be available every day.
Thai Airways has been tackling bankruptcy throughout the lockdown and trying to make up for more than 300 billion baht in losses. Since many flights were suspended due to travel restrictions, Thai Airways has tried to make money by business ventures on the ground, like a pop-up restaurant serving in-flight meals and selling off unwanted equipment from their warehouse. There also disposing of much of their older fleet, including all of their Boring 747-400s.
SOURCE: Bangkok Post
Catch up with the latest daily "Thailand News Today" here on The Thaiger.
Keep in contact with The Thaiger by following our
Facebook page
.
Never miss out on future posts by
following The Thaiger
.
97 police officers investigated for fiddling Covid-19 payments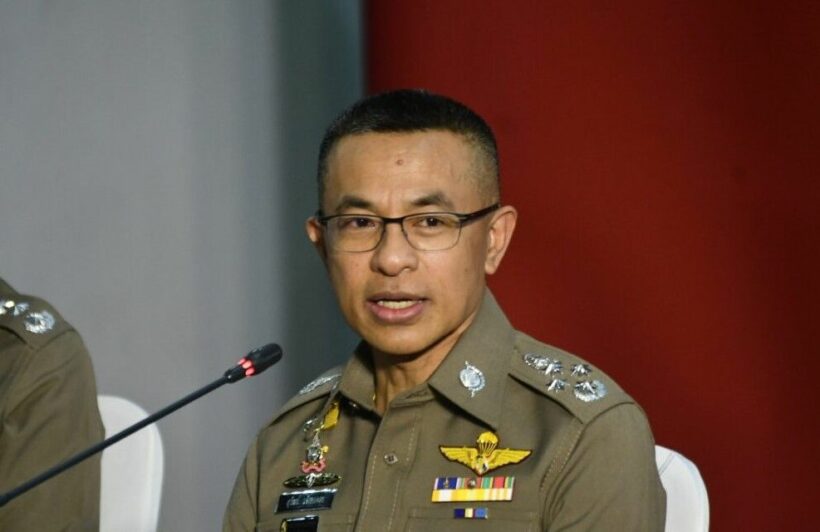 97 police officers, from 41 police stations, are currently being investigated for an alleged scam involving Covid-19 payments meant for officers who worked extra shifts during the crisis. The case was assigned by national police chief Suwat Jangyodsuk in November, when it came to light that some officers may have fraudulently claimed allowances meant for others.
In one incident, an officer responsible for transferring extra payments to police on the southern island of Phuket transferred the money to his own accountant instead. At the time, the transfer was dismissed as a mistake (in his favour), with the officer in question receiving a warning, and payments then made to the qualifying officers.
Wissanu Prasatthong-Osot from the National Internal Affairs Police says the investigation should reach a conclusion within the next 10 days.
"The result of the investigation should be ready in 10 days. Currently, 97 officers in 41 police stations ranging from non-commissioned to generals are under investigation for being involved in the swindle. The bureau aims to provide justice to all policemen involved. After the investigation concludes, the victims will receive their full allowance, while the offending officers will be punished under the law and disciplinary standards."
Nation Thailand reports that a full list of alleged offenders has been sent to Suwat, with Wissanu promising that none will escape prosecution.
"The National Police chief had also ordered the transfer of offending officers at the commander and sub-commander levels out of their areas as per the investigation procedures."
SOURCE: Nation Thailand
Keep in contact with The Thaiger by following our
Facebook page
.
Never miss out on future posts by
following The Thaiger
.
Thai-Chinese Chamber of Commerce to propose Guangzhou-Phuket tourism route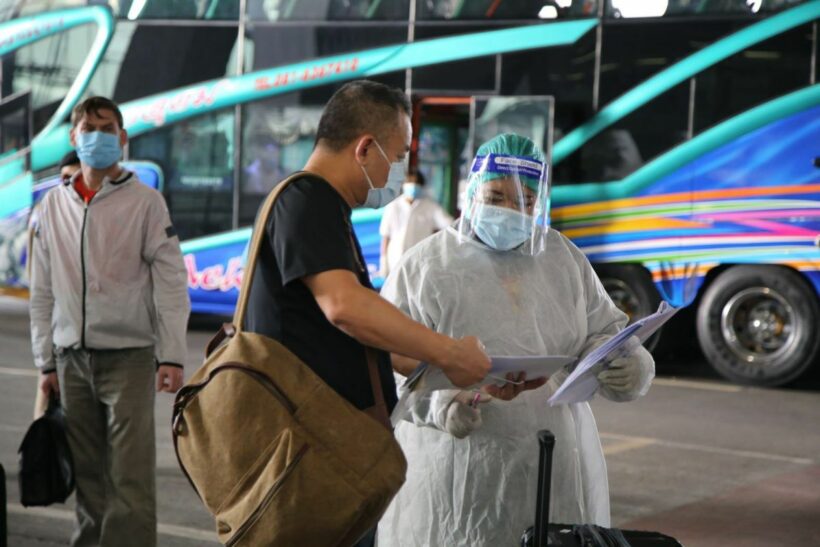 A tourism route from Guangzhou, China to Phuket could help the island province recover from the recession brought on by the pandemic and lack of foreign travel, according to the Thai-Chinese Chamber of Commerce. The president of the organisation, Narongsak Puttapornmongkol, says they plan to submit a letter proposing the route under a travel bubble scheme to the Centre for Covid-19 Situation Administration.
The Thai-Chinese Chamber of Commerce is proposing a travel bubble with around 20 cities in China with no recent coronavirus infections and considered to be at a low risk of spreading the virus. Travellers from Guangzhou recently entered Thailand on the new Special Tourist Visa. It was the second flight of international tourists since travel restrictions were imposed in late-March.
"We believe that the Travel Bubble and the quarantine reduction will resolve the tourism business, which is a huge economic opportunity to recover."
Once a vaccine is widely available, Narongsak suggests that those who wish to Thailand could also present their vaccination certificate or examination reports from the place of origin. He adds that the mandatory state quarantine period is likely to be reduced.
SOURCE: Pattaya News
Keep in contact with The Thaiger by following our
Facebook page
.
Never miss out on future posts by
following The Thaiger
.