Gunfire silences Phuket construction clamor, says Swede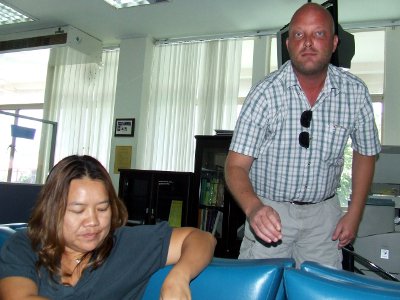 PHUKET: A Phuket estate manager terrified a team of Thai workers when he fired warning shots over their heads in an effort to get them to stop making noise yesterday morning, says the construction team's foreman.
Swede Mike Hjort and Songkhla native Waleeporn Chinpised, both 41, appeared at Phuket City Police Station to file a complaint against Seree Duangsuwan.
The couple told Duty Officer Jetsuda Saensuree that Mr Seree fired a series of gunshots over their heads as they and their team of workers were doing contract construction work on a home in The View villa estate near the Khao Khad Viewpoint in Wichit.
"Me and my eight staff were working repairing a house on the project yesterday morning. Some workers were cutting lumber needed to make the repairs. At around 9:30am, [estate manager] Seree Duangsuwan came from [his house] across the street and told us to keep quiet and stop working.
"But I told him he was not my boss and that if he had any problems he should contact the house owner.
"Instead he asked me to call the owner, but I didn't call. Then he asked me to fight him, but I told him I came here to work, not fight," said the Swede.
"He also told us to stop work, saying we could only work in the afternoon and could not work at all the following day," he said.
Time is money in the construction trade, so as soon as Mr Seree departed the workers resumed their work.
"That's when he came out of his house with a gun and fired warning shots into the sky above our heads," he said.
Mr Suree fired two volleys of five rounds each as staff were working on the roof.
"One of our female staff panicked and fell off a ladder. She is in hospital now," Mr Hjort said.
The woman, Ms "Gee" suffered only a light sprain.
Even as the staff were ending their day's work, at about 4:30pm Mr Suree was walking about brandishing his firearm, said the Swede.
Mr Hjort called his wife Waleeporn Chinpised, who contacted the police.
They appeared for questioning this morning and were happy to share their story with the media.
Mr Hjort, who has been living in Phuket for 22 years, said, "I have no idea why he acted that way. We are afraid to work on the project now as he is still walking around with a gun like a crazy man."
Two of his workers have already said they were too afraid to return to the site, he added.
Ms Waleeporn said the team tried to minimize disturbance to neighbors by doing the noisy work in the afternoon.
"But yesterday we were nearly finished, so we wanted to get the job done," she said.
As an act of intimidation, the shooting was effective.
"After he fired, we called for the home owner's assistance and decided to do some other work that did not make noise for the rest of the morning," she said.
"Actually, we have another repair job scheduled in another house nearby, but we chose to cancel it," she added.
Police accepted the complaint and said they would call in Mr Suree for questioning, she said.
— Atchaa Khamlo


Read more headlines, reports & breaking news in Phuket. Or catch up on your Thailand news.
Beam me up Phuket – new space theme hotel for the island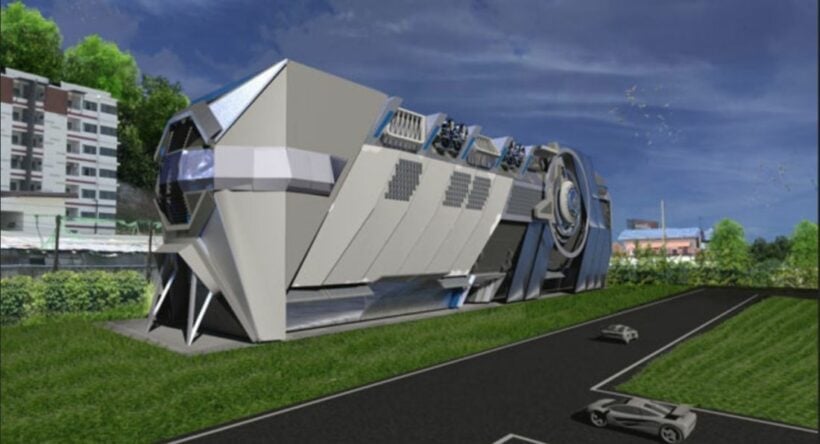 A 150 key space themed hotel is under development in Kathu, Phuket, by a Singaporean group .
Located close to the Central Festival and Makro complexes, the project is expected to open next year according to a report in TTG Asia.
The One Pioneer – Beyond Space Travel hotel say it's "highly focused on an outer space storyline and will have an indoor observatory".
Janette Lee, founder and CEO, says the hotel is poised to open sometime in 2020.
"Tourism business in Thailand and in Phuket will continue to grow but there is still a lack of new attractions. Our vision is to bring to life the dreams of mankind for an experience of space on earth. Our target markets will be both local and international tourists."
According to Lee, the company is seeking partners from Thailand or elsewhere to complete the project. She has had discussions with potential partners and investors during the South East Asia Hotel Investment Summit which took place in Bangkok last week.
Prior to entering the tourism business, Lee had sold her private education business and social enterprise in Singapore. She also used to work in the financial sector.
The project cost is estimated at $40 million.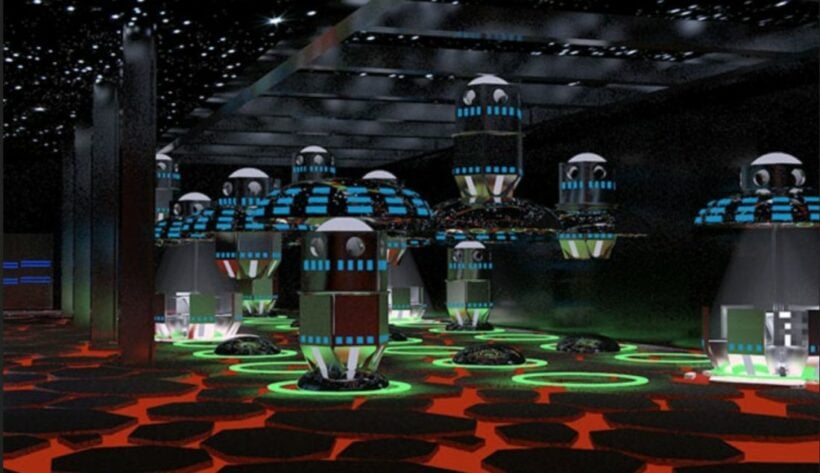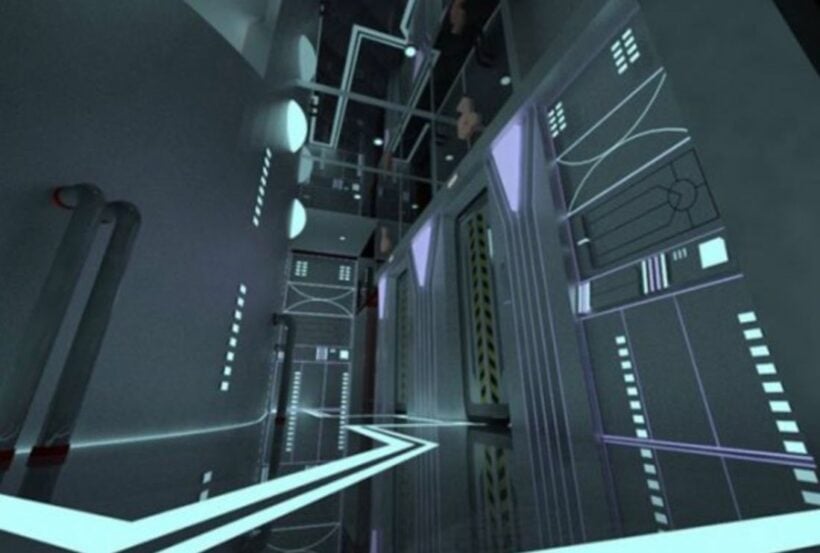 Two charged with attacking an ambulance and driver in Phuket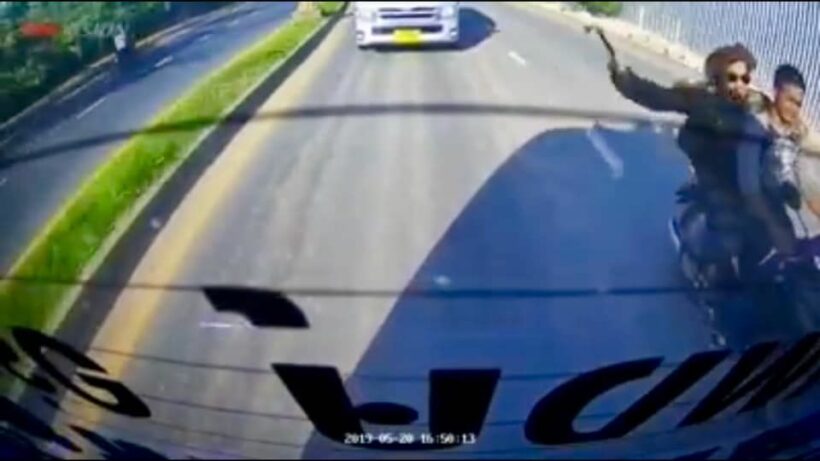 Two men were have been charged with attacking a moving ambulance and the volunteer ambulance driver along the ByPass Road in Phuket earlier this week.
The two assailants were easily identified as 22 year old Sagib Yomyai and 29 year old Sutthi Sripoon, both from Trang province, were arrested at a rented house in Tambon Wichit, Muang district, with an array of incriminating evidence that included a pistol, two bullets, a knife and an axe.
The pair were then taken for questioning in front of Phuket police chief Pol Maj General Wisan Panmanee.
The men were charged by police with damaging, or rendering useless, property belonged to another person, threatening another person and illegal possession of a gun.
The charges follow an attack on the ambulance with a knife and an axe as it was driving on Chalerm Phrakiat King Rama 9 road (ByPass Road) in Muang district on May 20.
The ambulance driver, 41 year old Detnarong Songsang, a lawyer by profession, told Wichit Police that the two men were on a Honda Wave motorcycle that chased after him after he beeped his horn at them for dangerously changing lanes near Siriroj Hospital at around 5pm on Monday.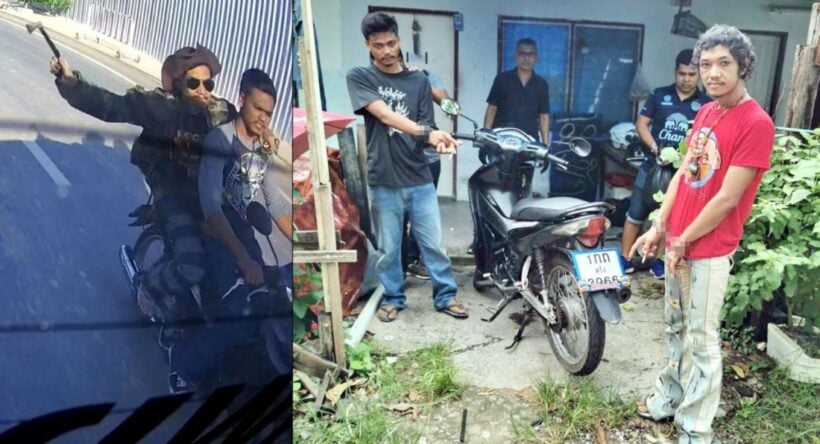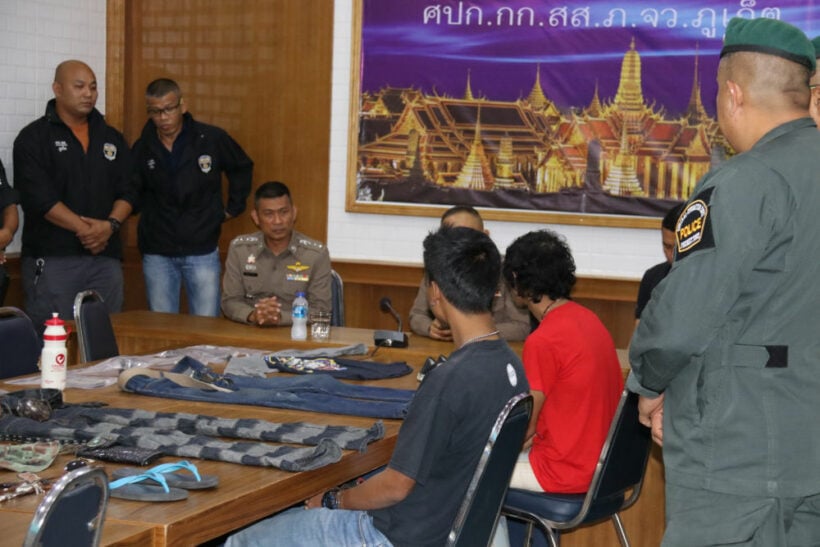 One of the men threw an object at the back of the ambulance and then tried several times to use a knife to pierce the ambulance's hood cover. They kept up the chase and then attacked the rear again, this time with an axe.
Detnarong accelerated to escape and luckily for him, the men spotted police on the road ahead, so they gave up the pursuit. He went straight to the police station to report the incident.
Damage estimated at 50,000 baht was caused to the back windshield of the ambulance, its two side windows and the hood cover. As police were still hunting the suspects, Detnarong posted a four-minute video clip and photo on to his Facebook account to help spread the news.
One reporter asked the driver why he didn't just drive them off the road, Detnarong said he was trained to save people and it was inappropriate to use an ambulance to cause harm.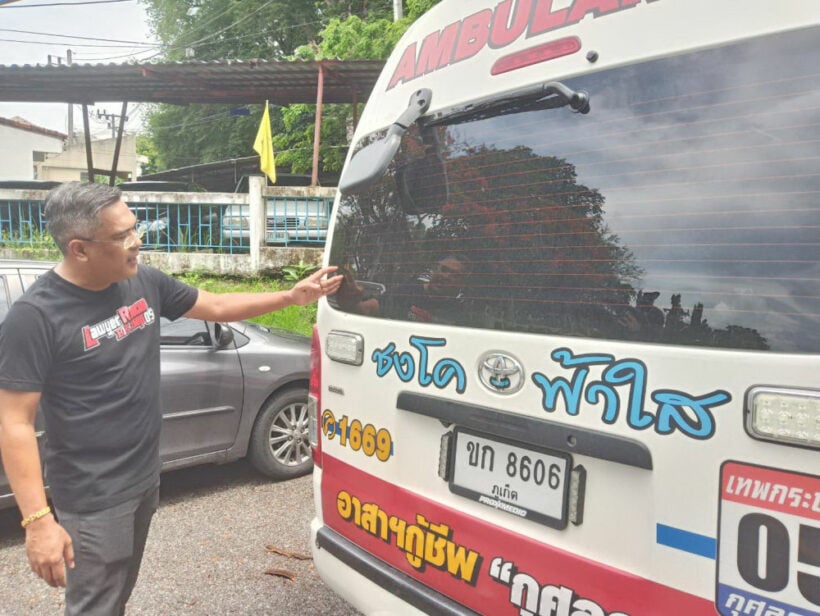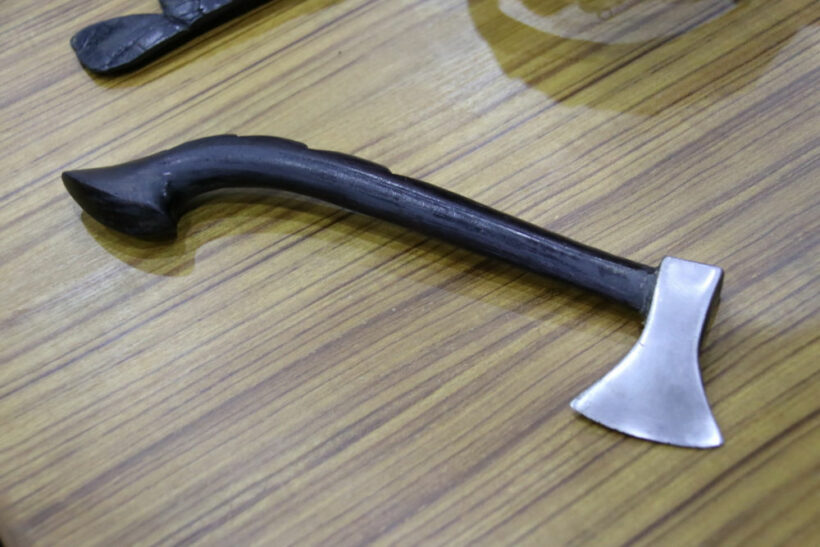 SOURCE: The Nation
No injury as trailer truck loses control in Phuket Darasamut Underpass – VIDEO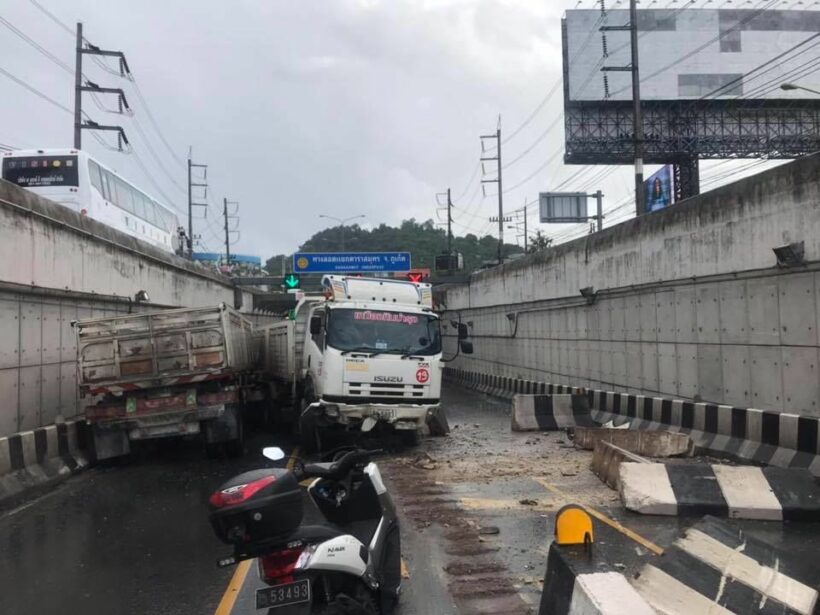 PHOTOS/VIDEO: Newshawk Phuket / อาสา ของ ประชาชน
A trailer has skidded and lost control, and then collided with concrete barriers at the southern entrance to the Darasamut Underpass this morning. No injuries were reported as a result of the incident.
Wichit Police were notified of the incident at 10am. Police and emergency responders arrived at the scene to find the damaged trailer truck and smashed barriers. Both lanes inside the underpass were blocked until the truck and debris could be removed.
Police checked CCTV footage showing that the truck was heading down into the underpass. The truck lost control after starting to skid sideways and smashed through the median barriers.
#ภูเก็ต #วินาที เกิดอุบัติเหตุอุโมงค์ทางลอดดาราสมุทร #Phuket #VIDEO 9.37am accident at the entrance of the Darasamut Underpass northbound. #NewshawkPhuket#NewsInPhuket #PhuketTraffic #PhuketUnderpass #accident #PhuketAccident #PhuketRoadSafety

Posted by เหยี่ยวข่าว ภูเก็ต on Wednesday, May 22, 2019