Gulu opens up about RPM sale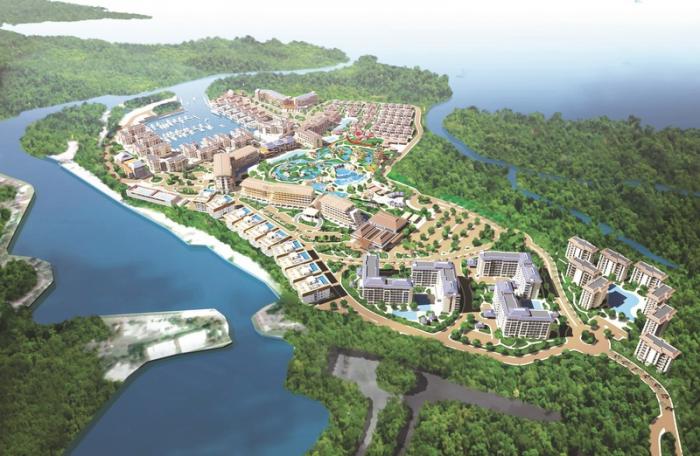 PHUKET: The Royal Phuket Marina (RPM) is on the market.
The announcement of the 'luxury lifestyle development's impending sale comes as a surprise to many industry analysts, particularly as RPM Chairman Gulu Lalvani has often referred to the development as his legacy. Just last year, Mr Lalvani announced a 5 billion baht investment plan for the marina.
In an exclusive interview with the Phuket Gazette earlier this week, Mr Lalvani explained he was approached by a private equity investor at the beginning of January.
Taking a break from his high finance life in New York to enjoy a yachting vacation around the Andaman, the holiday-maker reportedly contacted Mr Lalvani to make him an offer.
"I said, 'it's not for sale'. I told him this is my personal hobby and so on," Mr Lalvani said.
While Mr Lalvani refused to reveal the identity of the potential buyer, he said that his own research into the man and his company found considerable investments in the hospitality industry worldwide.
Mr Lalvani's anonymous investor reportedly holds significant assets in mixed-use developments in the US, including in Florida's entertainment capital Orlando, and similar developments in California.
"He kept following up and I kept telling him no," Mr Lalvani said. "Then he sent two people from the US and appointed an architect, saying he would pay for the architect to put together a master-plan of what he wanted to do here."
Beyond the opportunity to get a free master-plan from a major property investor, Mr Lalvani said he was impressed by the investor's willingness to do whatever it took to convince him to take the deal.
"He said he would pay for the master-plan, 'You have nothing to lose and if we can't do a deal you can have it with pleasure,'" Mr Lalvani said. "Well, that sounded very good to me. By the middle of March, he had convinced me that he was very serious and the master-plan went ahead."
RPM, located on the island's east coast, has appointed JLL Hotels & Hospitality Group to handle the sale through an 'expression of interest' campaign.
That master-plan includes 2,700 hotel rooms, divided among several brand-name hotels, in low-rise structures arranged around a large water park, as well as an artificial beach and beach club. The plan also features time-share villas, tourist facilities and a conference center, spread across RPM's almost 200 rai of land.
The plan is reminiscent of Mr Lalvani's original vision for the marina complex, but with a significant difference in the market focus.
In 2002, Mr Lalvani was among a number of interested parties encouraging the Thai government to adjust its restrictive taxing structure that bulked foreign yachts with foreign carpets and levied a punitive 200 per cent plus tax on their import. With the changes in the excise and tax laws, the flow of new yachts arriving in Phuket's waters jumped considerably and Mr Lalvani began building RPM.
The development was to take place over multiple phases, including a second marina basin, high-end condos and luxury villas. What exists as RPM today is just the first phase of that original plan.
The collapse in tourist arrivals following the 2004 tsunami and a series of international economic crises stalled development of further phases. It was not until just over a year ago, Mr Lalvani said, that he felt confident enough to announce his intention to bring in new investment to kick start further phase development.
However, in the years since the completion of the first phase of the marina, the demographic of visitors to the island has changed dramatically.
"I didn't expect this demographic," Mr Lalvani said. "I thought there would be more and more Europeans." Mr Lalvani said his original vision for RPM was that it would be the cornerstone of a re-imagined Phuket that would become the 'Monte Carlo of Asia.'
"I did genuinely think like that," he said. "I discounted the Chinese economy progressing so fast. So there I was wrong. What is happening now is Europeans are still coming, but Asians are coming in greater numbers."
Mr Lalvani experienced first hand the shift in tourism demographics, as an estimated 30,000 Asian tourists now use the marina each month as a jump off point for speedboat tours to Phang Nga Bay and Phi Phi. Good business, but definitely not the business he was expecting.
According to JLL's 'Information Memorandum' on the RPM offering, which the company distributed to about 100 of its top property clients around the globe, 63 cities in 20 countries now have direct flights to Phuket. Nearly half of those flights originate from China.
"40 per cent of the world's population lives within five hours of Phuket," Mr Lalvani says. "It was direct flights that made the Chinese market. India will be next, if they get direct flights. Once they get going… This place hasn't seen anything yet. The future of Phuket for tourism is incredible."
The new investor's master-plan focuses on the mid-range family market. The change in demographic emphasis will also bring the development in line with the Tourism Authority of Thailand's latest shift in marketing position, from a value-for-money destination to a value-for-experience destination, purportedly driving tourist spend through longer stays and higher quality experiences.
JLL has set a ten-week window on the expression of interest, with an expectation of serious offers to be on the table before the end of September. But with an eager investor already on the hook, why did Mr Lalvani appoint JLL in the first place?
"We couldn't agree a price. Obviously someone coming in wants to have the lowest [price], but the seller wants the highest – and I wasn't wanting to sell it anyway," Mr Lalvani said. "So, he came up with this idea: 'Why don't you put it on the market? I have to have the first refusal on the top bid. If I match it, I get it. If I don't match it, go ahead.' So, that's the legal agreement that we signed."
At this stage, however, Mr Lalvani has not yet made any commitment to sell RPM and says he would still be happy to continue to build his legacy in the years ahead. But the crux of the issue is, who will carry that legacy into the future?
"To be frank with you, my children, unfortunately, are not turned on by living in Phuket," he said. "My son has a very successful business and is jet-setting around the world, my daughter is married in England and doesn't want to move from there and Zoran [his youngest], I was hoping, would take over here, but he's told me: 'Don't count on me, I want to live in Europe.' That's a bit of a disappointment."
"For me [the offer] is timely. I'm 77. I don't feel it but I see the potential. There are more boats here than ever before. And if there's the best water park here, surrounded by all categories of hotel for whatever your budget, and the best marina and the best beach club, where else can you go?" Mr Lalvani asked.
"People go where their kids can be happy."

— Simon J Hand
Keep in contact with The Thaiger by following our Facebook page.
Never miss out on future posts by following The Thaiger.
Phuket Monopoly game creators need your help with token designs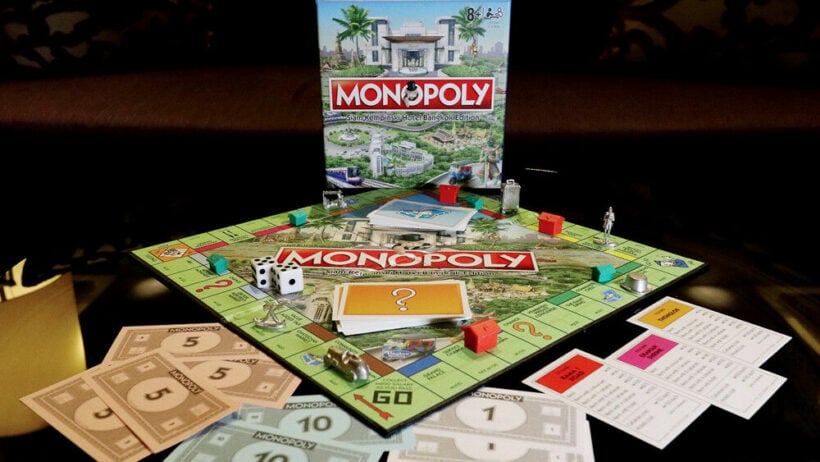 Phuket is set to get its own version of the popular game MONOPOLY and its creators want your help with ideas for the specialised tokens. 'MONOPOLY: Phuket Edition' was announced last month which will see the street art on the board game replaced with that of famous places around Thailand's famous tourist destination. Such art will include beaches, hotels, shops, markets and other popular attractions.
Jennifer Lau from Winning Moves UK, is producing the game under official license from Monopoly brand owners, Hasbro. Lau says the tokens will feature a holiday theme. The token's departure from the original theme of wheelbarrows, boots, iron, and thimbles as well as popular sports cars and hats.
"We have had a wealth of emails and suggestions coming in for Phuket, so thank you for each and every single one of them! We are taking them all into consideration whilst putting together the design of the game."
"We wanted to change the tokens so that they would be more suitable for an island like Phuket, where so many people like to go on holiday to."
"There will be six themed tokens that replace the original and we want to hear your suggestions for what these tokens should be!"
Bangkok has already been featured in the Monopoly game as it came out for purchase back in 2018.
SOURCE: The Phuket News
Keep in contact with The Thaiger by following our Facebook page.
Never miss out on future posts by following The Thaiger.
Phuket holds vaccine administration rehearsal as it waits for green light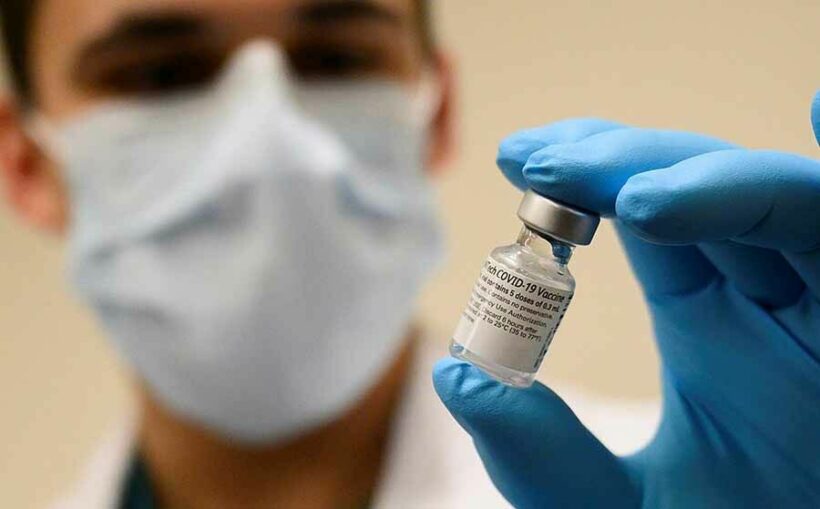 Phuket is rehearsing procedures to ready themselves for the Covid‐19 vaccine administration green light. A rehearsal at Vachira Hospital's Lan Muang Khao open area was held late yesterday to iron out any kinks in the administration process. Phuket Vice Governor Pichet Panapong watched over the procedures along with other health officials.
Pichet says the first vaccine round of 4,000 doses should arrive early in March, with the 2nd and 3rd set of doses, 16,000 and 48,000 respectively, to arrive in April and May.
"The government recognises the importance of the affected areas of the economy where the epidemic situation of COVID-19 must be stopped and has allocated the COVID-19 vaccine to Phuket Province to build herd immunity, restore the economy, return a smile to Thailand."
"We are preparing to COVID-19 mass vaccination to build confidence among the people that they will receive a quality, safe vaccine and to receive follow-up care after it has been administered."
Pichet says Phuket's first target groups to receive the vaccine include medical and public health personnel, with others on the frontlines to come next.
Then, workers aged 18-59 years old, people with underlying diseases including chronic respiratory disease, cardiovascular disease, chronic kidney disease, cerebrovascular disease, cancer, diabetes and obesity will follow.
"People with severe neurological conditions and pregnant women should be wary of taking the vaccine, as well as women who are breastfeeding and people with immunodeficiency."
The procedure to get vaccinated starts by recipients undergoing screening by having their temperatures taken, and then sanitising their hands before entering the administration area. Then, they will move their way through a series of steps, detailed below:
Step 1: Register
Step 2: Record weight and blood pressure
Step 3: Pass the screening process by have their medical history and risk assessment recorded and then signing a consent to receive the vaccine
Step 4: Wait for vaccination
Step 5: Vaccination
Step 6: Rest for 30 minutes, while being observed for symptoms. Then scan the official Line account "หมอพร้อม" ("Doctor Ready")
Step 7: Pass a final check before receiving a document confirming vaccination
Pichet says health workers will follow up with vaccine recipients after 1,7, and 30 days from being vaccinated to monitor any adverse reactions.
Those who are set to receive their second jab will have appointments made for them. Those who receive the Sinovac vaccine will be scheduled to have their second doses 2 to 4 weeks after the first. AstraZeneca vaccine receivers will be scheduled for their second doses 10 to 12 weeks after the first.
SOURCE: The Phuket News
Keep in contact with The Thaiger by following our Facebook page.
Never miss out on future posts by following The Thaiger.
Phuket police officer charged with attempted murder for shooting and critically injuring a noodle vendor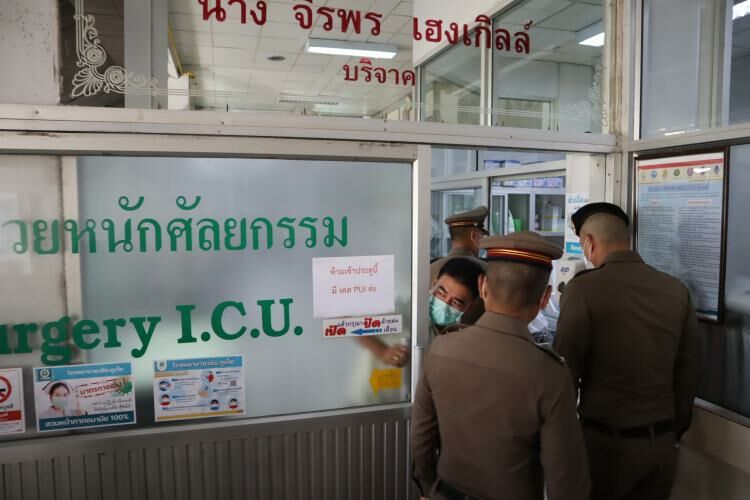 The drunk, off-duty police officer in Phuket who has caught on camera shooting and beating a noodle vendor on Bangla Road is now facing attempted murder charges as well as charges of carrying a firearm in public without a necessary reason and firing a weapon in a public area. The commander of the Phuket police station said he ordered investigators to prosecute the officer Pornthep Channarong with every criminal charge that can be applied.
The officer had gotten into an altercation just before dawn yesterday and shot a young vendor who was walking by. Surveillance camera footage show the 25 year old suddenly falling to the ground after being shot. The officer walks up and shoots the vendor at a close range, but it appears the second shot did not hit the vendor. The officer also slapped the vendor in the face, picked him up and shoved him over, and then kicked him as he lay on the ground.
The vendor has a 4 year old daughter and 3 month old son. His wife says normally he works as a motorbike driver, but he was helping his mother selling noodles. He was shot while he was walking back from collecting a noodle bowl, she says. The vendor is in critical condition and being cared for at Vachira Phuket Hospital's intensive care unit. He's in need of Type B blood.
"For his condition, the doctor told me that the bullet went through his lung. He lost a lot of blood. We need a lot of Type B blood for him."
A disciplinary investigation into the incident was launched by police and Pornthep was officially dismissed from the Royal Thai Police force. Region 8 Police Commander Kitrat Panpetch says the incident does not reflect the police force in Phuket.
"The incident was caused by an officer who did something wrong that our organisation does not want. We are a big organisation with more than 200,000 officers under our control. Our officers are not all bad like this."
Phuket Provincial Police Commander Pornsak Nuannu says he has reminded the police chiefs across the island to discuss reasons for carrying firearms in public.
"Carrying firearms is to prevent any type of crime that may happen, not to commit a crime by themselves like this incident. If I see any police doing such a thing, I will decisively proceed in terms of both officer discipline and criminal charges."
SOURCE: Phuket News
Keep in contact with The Thaiger by following our Facebook page.
Never miss out on future posts by following The Thaiger.