Phuket
For the love of dolphins: NGOs to launch heated campaign in Phuket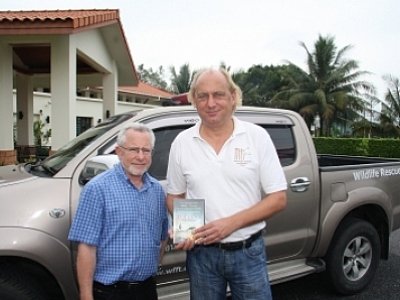 PHUKET: The heads of two non-government organizations were in Phuket this weekend to announce the start of a partnership campaign to halt plans to build a "dolphinarium" as part of a resort and tourism complex in Rawai.
Mark Berman of the US-based Earth Island Institute and Edwin Wiek of the Wildlife Friends Foundation Thailand (WFFT) stopped by the Phuket Gazette offices today to drop off a copy of the Academy Award-winning documentary The Cove, which they plan to translate into Thai and distribute among the local media, schools and government agencies.
The pair said their two groups would work together domestically and internationally to fight a plan by Canadian investor Daniel McDaniel to build a tourism attraction that would include a dolphin show.
Both men feel it is unethical to keep dolphins in captivity and that dolphin shows are dying out in the West as more people learn about how the mammals are captured in the wild, which is the subject of The Cove.
Mr Berman said he plans to return to Phuket with former dolphin trainer Ric O'Barry to encourage Thais to attend free showings of The Cove in order to raise local awareness of the issue.
Mr Wiek, a Dutchman who has lived in Thailand for over two decades and is fluent in Thai, will lead the fight locally in Phuket, preparing a version of the film with Thai subtitles and using the media to spread the message.
The development planned for Rawai is not the first time people have tried to import dolphins as part of a tourism related business, he said.
The first was about 12 or 13 years ago by an American man. Then, about three years ago, a Dutchwoman wanted to use dolphins for the treatment of autism in children.
"I understand that some people think that zoos and dolphinariums are still a thing of this time, but scientific research has not proven that it works. I don't know what this gentleman's argument is that it will be good for Phuket.
"From a financial point of view I am sure it could make a profit, especially with so many tourists coming in from Russia and China who love this sort of thing, but from an ethical point of view I don't think it's right to take animals from the wild and put them into tanks to entertain people," Mr Wiek said.
As for claims that as many as 1,000 jobs could be created, he said most of those would probably go to low-wage workers from Burma who build the project.
Mr Wiek emphasized that there was no basis for comparison between keeping domestic dogs and holding dolphins in captivity.
"Dogs are bred. They couldn't survive without people, and they aren't endangered either. These animals [dolphins] are in some cases highly endangered, and the way they are taken out of the wild is horrific," he said.
Mr Berman said he had already met with the Thai Food Processors Association's tuna group in Bangkok.
Association members told him they adhere to the Earth Island Institute dolphin-safe policy so they can export canned tuna.
"It's one of the top five industries in this country, a multi-billion dollar industry. We told them they face the wrath of a possible international boycott if they do this. They can't claim to be dolphin-safe if the government of Thailand is allowing trade in live dolphins. It doesn't work."
His group stopped a similar scheme to import dolphins to Thailand from the Solomon Islands in 2008 and was lining up support from other international NGOs for this latest campaign, he said.
When told that Mr McDaniel had already been given several chances to state his right of reply on why the project was good for Thailand, Mr Berman said:
"This man can sit in the shadows if he wants, because they know what they are doing is not acceptable. But we are going to challenge him to a public debate. All he wants to do is make money from this deal; that's all it is. There is nothing educational about captive dolphins. It has been proven behind Ric O'Barry's work."
Mr Berman said the Earth Island Institute would call for a boycott on Thai tourism as well if the import of dolphins is allowed.
Mr Wiek was less enthusiastic about this approach, saying such a call might be impractical and cast his group as obstructionist.
His group would rather work at the local level to raise awareness about the issues involved, he said.
"We want to see dolphins living free in the waters around Phuket, not on the island itself," he said.
— Stephen Michael Fein