For the love of dolphins: NGOs to launch heated campaign in Phuket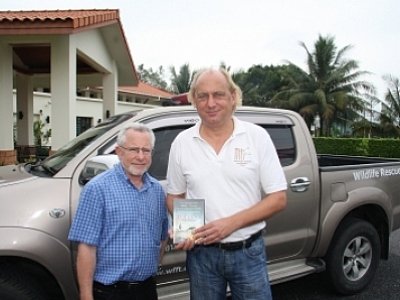 PHUKET: The heads of two non-government organizations were in Phuket this weekend to announce the start of a partnership campaign to halt plans to build a "dolphinarium" as part of a resort and tourism complex in Rawai.
Mark Berman of the US-based Earth Island Institute and Edwin Wiek of the Wildlife Friends Foundation Thailand (WFFT) stopped by the Phuket Gazette offices today to drop off a copy of the Academy Award-winning documentary The Cove, which they plan to translate into Thai and distribute among the local media, schools and government agencies.
The pair said their two groups would work together domestically and internationally to fight a plan by Canadian investor Daniel McDaniel to build a tourism attraction that would include a dolphin show.
Both men feel it is unethical to keep dolphins in captivity and that dolphin shows are dying out in the West as more people learn about how the mammals are captured in the wild, which is the subject of The Cove.
Mr Berman said he plans to return to Phuket with former dolphin trainer Ric O'Barry to encourage Thais to attend free showings of The Cove in order to raise local awareness of the issue.
Mr Wiek, a Dutchman who has lived in Thailand for over two decades and is fluent in Thai, will lead the fight locally in Phuket, preparing a version of the film with Thai subtitles and using the media to spread the message.
The development planned for Rawai is not the first time people have tried to import dolphins as part of a tourism related business, he said.
The first was about 12 or 13 years ago by an American man. Then, about three years ago, a Dutchwoman wanted to use dolphins for the treatment of autism in children.
"I understand that some people think that zoos and dolphinariums are still a thing of this time, but scientific research has not proven that it works. I don't know what this gentleman's argument is that it will be good for Phuket.
"From a financial point of view I am sure it could make a profit, especially with so many tourists coming in from Russia and China who love this sort of thing, but from an ethical point of view I don't think it's right to take animals from the wild and put them into tanks to entertain people," Mr Wiek said.
As for claims that as many as 1,000 jobs could be created, he said most of those would probably go to low-wage workers from Burma who build the project.
Mr Wiek emphasized that there was no basis for comparison between keeping domestic dogs and holding dolphins in captivity.
"Dogs are bred. They couldn't survive without people, and they aren't endangered either. These animals [dolphins] are in some cases highly endangered, and the way they are taken out of the wild is horrific," he said.
Mr Berman said he had already met with the Thai Food Processors Association's tuna group in Bangkok.
Association members told him they adhere to the Earth Island Institute dolphin-safe policy so they can export canned tuna.
"It's one of the top five industries in this country, a multi-billion dollar industry. We told them they face the wrath of a possible international boycott if they do this. They can't claim to be dolphin-safe if the government of Thailand is allowing trade in live dolphins. It doesn't work."
His group stopped a similar scheme to import dolphins to Thailand from the Solomon Islands in 2008 and was lining up support from other international NGOs for this latest campaign, he said.
When told that Mr McDaniel had already been given several chances to state his right of reply on why the project was good for Thailand, Mr Berman said:
"This man can sit in the shadows if he wants, because they know what they are doing is not acceptable. But we are going to challenge him to a public debate. All he wants to do is make money from this deal; that's all it is. There is nothing educational about captive dolphins. It has been proven behind Ric O'Barry's work."
Mr Berman said the Earth Island Institute would call for a boycott on Thai tourism as well if the import of dolphins is allowed.
Mr Wiek was less enthusiastic about this approach, saying such a call might be impractical and cast his group as obstructionist.
His group would rather work at the local level to raise awareness about the issues involved, he said.
"We want to see dolphins living free in the waters around Phuket, not on the island itself," he said.
— Stephen Michael Fein
Want more from the Thaiger family?
📱 Download our app on Android or iOS for instant updates on your mobile
📧 Subscribe to our daily email newsletter
👍 Like/Follow us on Facebook
🔔 Subscribe to or Join our YouTube channel for daily video updates
Phuket tightens restrictions: No parties, no visits from friends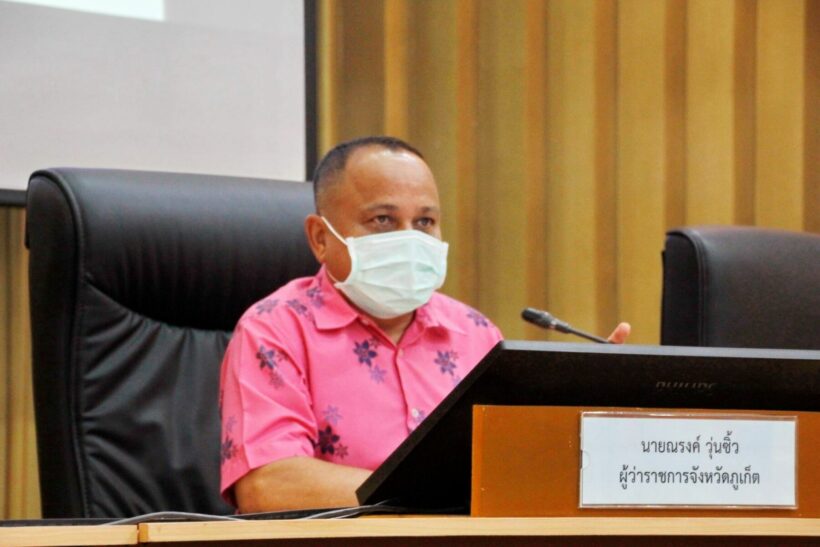 No, your friends can't come over. No parties. No drinking with friends. No large gatherings. As part of Phuket's efforts to stop the spread of Covid-19, local authorities have tightened restrictions and say friends are not allowed to gather at private homes.
"No parties of any kind allowed… No house party, no friends gathering in the residence."
Along with temporary closures of some businesses and venues, the order says, parties involving alcohol are banned and gatherings of more than 30 people are banned. The only gatherings allowed are religious ceremonies like weddings and funerals.
Foreigners who violate any of Phuket's disease control measures could be deported and lose their permission to stay in Thailand. On Sunday, 2 British men in Phuket were each fined 6,000 baht for having a "party." Only 6 people were gathered at the home. Police from the Cherng Talay station came by the home after a call from a neighbour.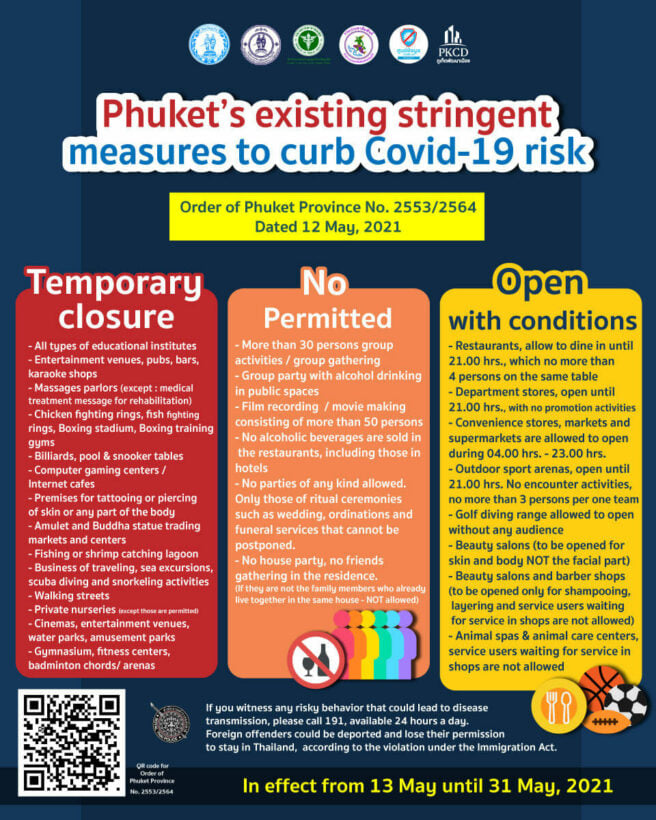 Want more from the Thaiger family?
📱 Download our app on Android or iOS for instant updates on your mobile
📧 Subscribe to our daily email newsletter
👍 Like/Follow us on Facebook
🔔 Subscribe to or Join our YouTube channel for daily video updates
3 organisers of Phuket's Kolour superspreader event charged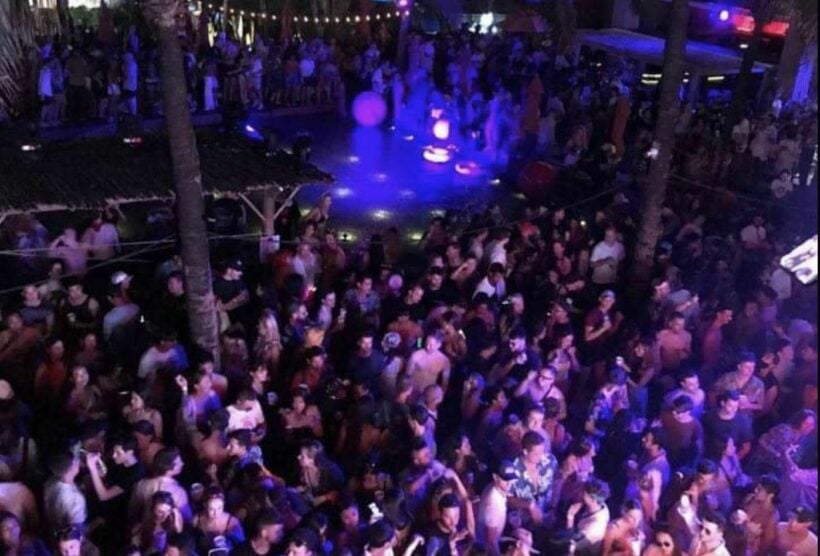 As Thailand still wrestles to control the third wave of Covid-19, much of which stems from entertainment venues in Bangkok and a massive party in Phuket, Patong police announced that the managers of the Phuket venues that hosted the Kolour superspreader event will be charged under the Emergency Decree. The case report was filed with the public prosecutor yesterday according to the Patong police chief, confirming that 3 people will be prosecuted for the event.
The Kolour Beachside Festival was held April 2 and 3 with events at Café Del Mar Phuket in Kamala, and Shelter Phuket Dance and Night Club and Illuzion Nightclub, both in Patong. Before the festival, Phuket had gone more than a hundred days without any new Covid-19 infections, but by April 7 the Phuket provincial Public Health office announced 8 new infections, half of which had been at the Kolour parties. In the following weeks, officials plead for attendees to be tested as infections spread.
Charges were delayed in being filed to the Phuket Public Prosecutor's office as a special investigation committee was ordered to be created to oversee the investigation at the request of Region 8's Police Commander. That committee brought together officials from various law enforcement in the area including the Patong Police, Kamala Police, Phuket Provincial Police, and the Region 8 Police to investigate the Kolour event before anyone was charged.
The manager of Café Del Mar, along with the managing director and the manager of Shelter and Illuzion, which are under the same management team, will be charged for the Kolour festival violating Thailand's Emergency Decree that was declared to help protect the country from Covid-19 outbreaks. A breach of the Emergency Decree can be held liable for up to 40,000 Baht and 2 years in jail under Section 9 of the Decree.
The latter 2 are also facing charges of operating an unlicensed entertainment venue. This carries the possibility of another year in prison and a fine of up to 60,000 baht, in accordance with Thai Law under Section 26 of the Entertainment Place Act.
SOURCE: The Phuket News
Want more from the Thaiger family?
📱 Download our app on Android or iOS for instant updates on your mobile
📧 Subscribe to our daily email newsletter
👍 Like/Follow us on Facebook
🔔 Subscribe to or Join our YouTube channel for daily video updates
Phuket woman impaled by steel rod in motorbike accident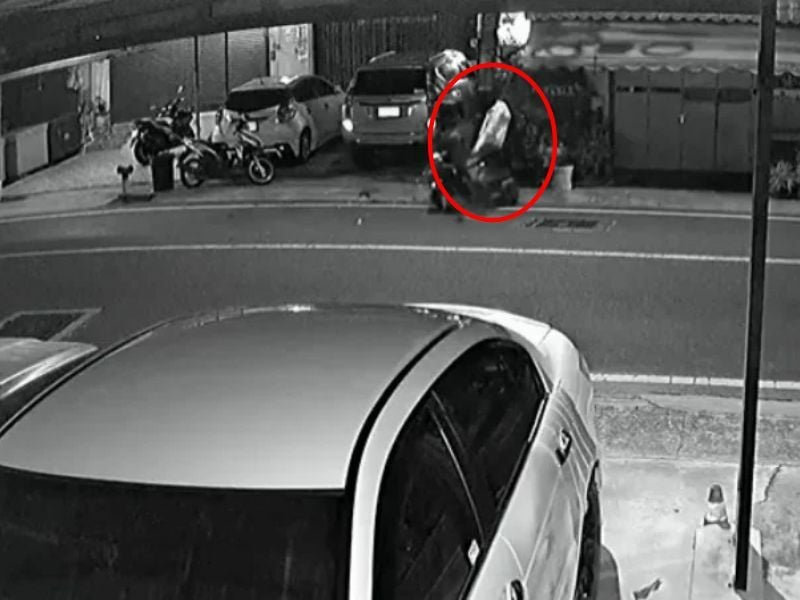 Police were called to the scene of a gruesome motorbike accident just after midnight in the Kathu area of Phuket, where a woman was impaled by a steel rod. The 34 year old woman crashed her motorbike into a concrete power pole on Wichit Songkram Rd between the Kathu Shrine and Kathu Municipality. rescue workers responded, and together with police, they arrived to find the woman still hanging from the power pole.
Khanuengnit Onoaun was driving a black and pink Honda Click motorbike and may have been speeding just before being impaled by the rod on the electric pole. Her motorbike was lying nearby the pole with significant damage to the front of the bike and the front wheel.
CCTV footage recovered from the scene suggest that the woman may have fallen asleep and crashed into the power pole. The pole had steel rods protruding from its side that utility workers use to climb when service or repairs are needed to the electrical lines, which is what impaled her when her motorbike hit the pole.
The metal rod pierced the woman's upper chest and went all the way through her body with about 2 inches exposed on the other side of her as she hung from the pole. Rescue workers could not remove her from the steel rod at the scene of the accident safely and instead chose to cut the rod to take her off the electric pole and into an ambulance. Cutting through the steel took about 5 minutes for the rescuers.
She arrived and was admitted into Vachira Phuket Hospital with the metal rod still impaled through her chest. The hospital had no updates about the woman's condition after her motorbike crash other than that she is alive and receiving treatment currently. The police plan on questioning her once she has had time to recover and investigating the incident further if necessary.
SOURCE: The Phuket News
Want more from the Thaiger family?
📱 Download our app on Android or iOS for instant updates on your mobile
📧 Subscribe to our daily email newsletter
👍 Like/Follow us on Facebook
🔔 Subscribe to or Join our YouTube channel for daily video updates