Phuket
Double down: Ex-con nabbed in Phuket drug bust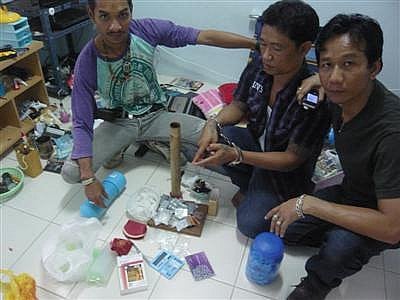 PHUKET: Thalang Police on Friday night arrested a man they described as an "important" ya bah (methamphetamine) dealer who previously served an eight-year stretch in jail on drug charges.
Panya Kumanchan, 39, told police he had been smuggling the ya bah from Bangkok to Phuket for two years before his capture.
Mr Panya, alias "Nueng Mueang Non" (Neung from Nonthaburi), was caught in possession of 1,037 ya bah tablets and 168 bags of ya ice (crystal meth) with a total value of around one million baht.
He had already sold more than half of the current shipment to dealers on the island, officers quoted him as saying.
Police also seized Mr Panya's Mazda Astina 323 car and a Honda Wave motorcycle.
An examination of his bank account showed he took in several million baht per month, they said.
Inspector Wirayut Sitthirattanakun of Thalang Police Station said investigators suspect a unit in the 'Kan Keha' government housing project in Srisoonthorn subdistrict was being used as a base for drug dealing.
After casing the premises for some time, they established that Mr Panya lived on the premises and was selling drugs there, he said.
After making the arrest, police searched the house. Inside a bag containing various tools they found a PVC pipe containing ya bah and ya ice, the police said.
Under interrogation, Mr Panya allegedly confessed that the drugs were his and that he planned to sell them.
He will be charged with drug possession with intent to sell.
Mr Panya served eight years' in prison in Nonthaburi on drug charges, but went straight back to the illicit trade after his release, police said.
He sourced the drugs from a man identified as "Mr Ek" in Bangkok, regularly travelling between the two cities by coach to resupply, said police.
— Yodsak Jarana