Donations urgently needed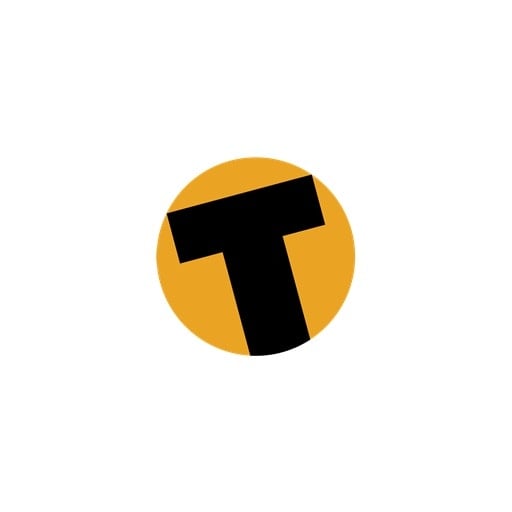 PHUKET: As the island continues its recovery from the tsunami that hit the island on Sunday morning, many hospitals and other organizations are calling for donations to assist victims.

Hospitals: clothes, shoes, counseling:

Wachira Phuket Hospital and other hospitals say there is an urgent need for shoes, shorts and T-shirts, especially in sizes large enough for foreigners.

Shoes are the priority right now. Many of the Thais and foreigners who were hit by the wave lost their shoes, with the result that many have foot injuries from walking or running on broken glass and other sharp objects.

Stores in Phuket have given many pairs of shoes, but most of these are in sizes suitable only for smaller people.

Any footwear large enough for foreigners is welcome; even rubber flip-flops would be a great help.

Many people have lost all or most of their clothes and need T-shirts or shorts to get by for a few days.

Donations may be taken direct to any of the major hospitals: Wachira Phuket, Phuket International; Patong Hospital; Mission Hospital; Bangkok Phuket Hospital.

Many victims are still walking around in a daze and; some have lost love ones or do not know where they are. Any person with the time to go to the hospitals and help is asked to do so. In some cases just hearing a calm voice amid the confusion can help.

Dulwich International College: counseling and transport

The school is being used as a refuge, and many of the victims there need transport to the airport, bus station or relief center at Provincial Hall. The school does not have sufficient transport because many of its drivers are missing. Anyone with transport is asked to go to the school to help out.

Also sorely needed are people with experience in counseling. Many of the survivors are in shock and have horrific stories to tell, and need a comforting ear. Help is needed throughout the day. For more information call Tel: 01-7886639 or 076-238744.

A list of survivors who have taken refuge at Dulwicj College may been seen here.

Wood suppliers: plywood for coffins

ESP Construction Co has been asked to make, urgently, 500 wooden caskets of 60cm x 40cm x 200cm. Boats bringing the dead from Phi Phi Island and Khao Lak will be arriving in Phuket through the day, so many more caskets are likely to be required.

Those in the construction business are urged to contact their timber suppliers to try to get 6mm plywood either free or at reduced prices, and deliver it to ESP. Local stocks are likely to be depleted fast, so any assistance suppliers in Bangkok or elsewhere can offer will be greatly appreciated.

Timber should be delivered to ESP at 99/26-27 Charloem Phrakiat Ror IX Rd (bypass road), Tambon Rassada, Muang, Phuket, Tel: 076-354870, Fax: 076-354871; Mobile 01-6334279

Muslim funerary cloth

The Islamic Organization of Phuket has made an urgent plea for donations of white cloth – preferably cotton – for draping bodies in preparation for Muslim funeral rites.

Anyone able to make a donation should telephone Bamrung Sampaorat, President of the Islamic Organization of Phuket, at Tel: 09-1056039; K. Sana at Tel: 076-214436, 076-224436 or 09-2894893; or K. Rasamee at: 01-5373715.

British nationals: please register

All British nationals are asked to register with the temporary British embassy office located at The Courtyard, on Chao Fa West Rd, about 2.4 kilometers south of Central Festival Phuket. You may also register by sending an SMS message to Martin Carpenter at Tel: 09-8749080.


Read more headlines, reports & breaking news in Phuket. Or catch up on your Thailand news.
Pedestrian seriously injured after being hit by car in Kathu – VIDEO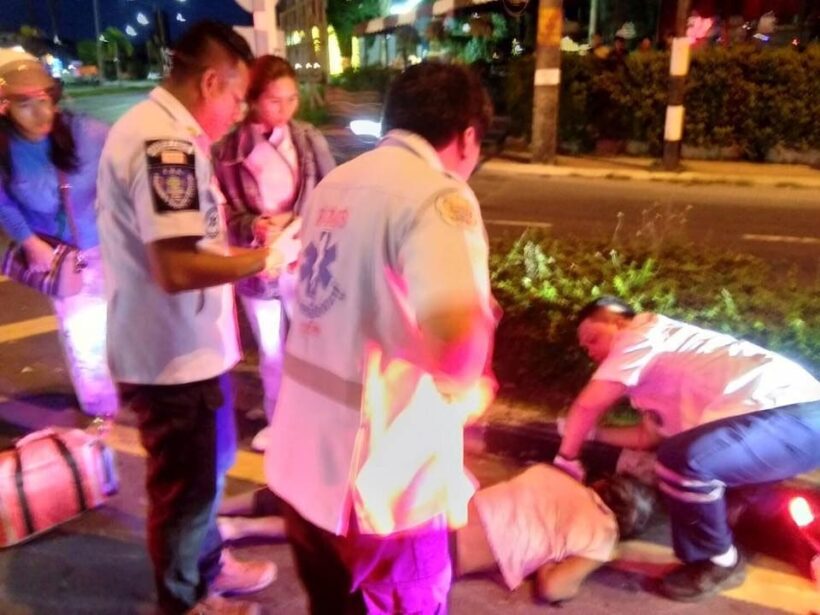 PHOTOS: อาสา ของ ประชาชน VIDEO: Kathu Police/ Newshawk Phuket
A pedestrian has sustained serious injuries after being hit by a sedan while crossing a road in Kathu, Phuket. Volunteers rescue workers report that they were notified of the incident at 7.19pm last night at the Kathu Intersection (near the Caltex petrol station).
They have arrived at the scene to find an unconscious man on the road. He has sustained a serious injury and was rushed to Vachira Phuket Hospital.
The sedan and the driver were not waiting at the scene when rescue workers arrived but the driver later presented himself at the Kathu Police Station along with the damaged sedan.
Police are continuing their investigation.
🔴 #ภูเก็ต เหตุการณ์ รถยนต์ชนคนเดินเท้า ที่แยกกะทู้ตัดใหม่ ตอนค่ำเมื่อวานนี้ (เนื้อหาวิดีโออาจมีความรุนแรง) #เหยี่ยวข่าวภูเก็ต#VIDEO (WARNING GRAPHIC CONTENT) In #Kathu #Phuket last night #NewshawkPhuketCr. #สภกะทู้

Posted by เหยี่ยวข่าว ภูเก็ต Newshawk Phuket on Monday, 17 June 2019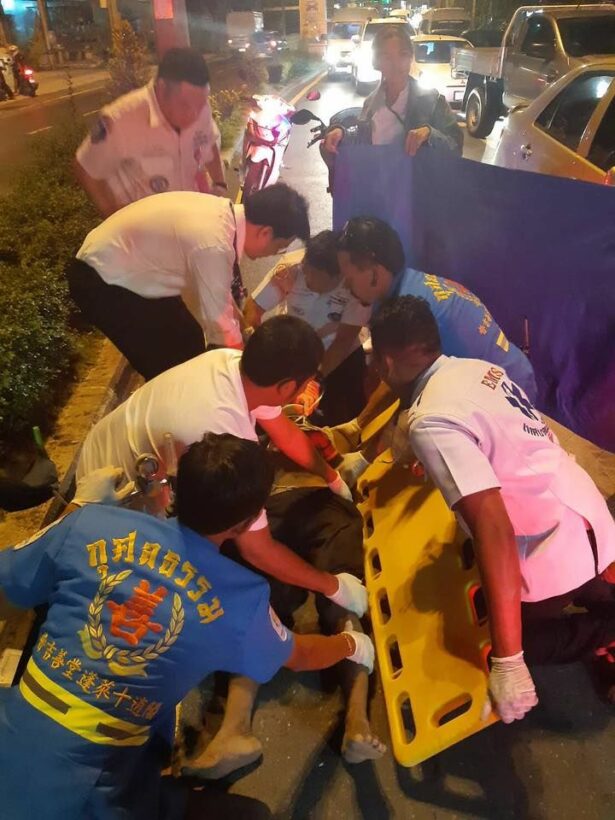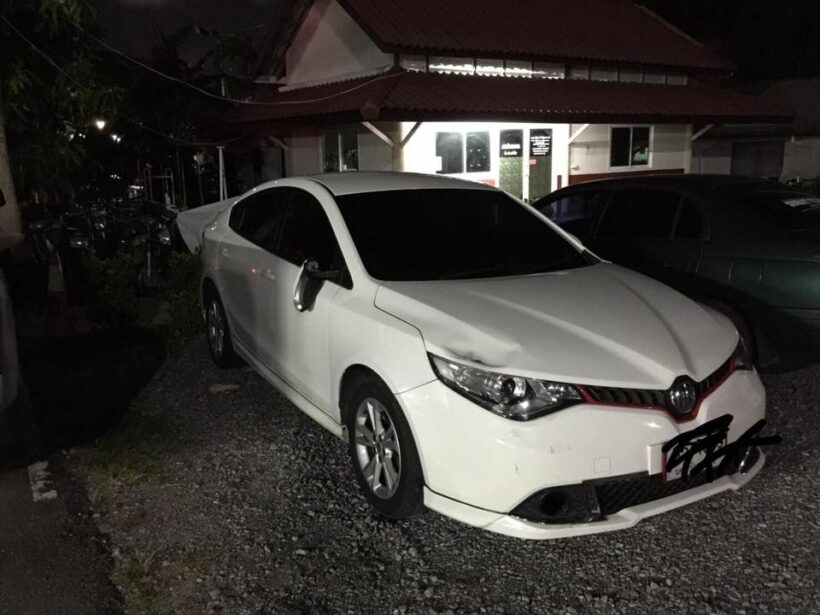 Motorbike driver dies after colliding with taxi in Thalang, Phuket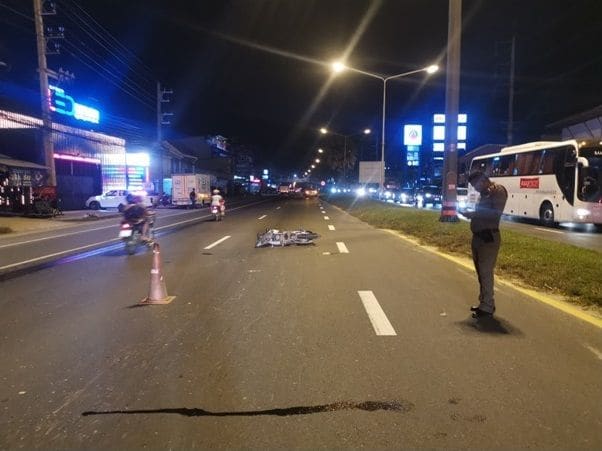 A motorbike driver has died after colliding with a taxi carrying Indian tourists in Thalang. Thalang Police report that they were notified of the collision at 9.35pm last night on Thepkrasattri Road in Thalang, Phuket.
Police and emergency responders arrived at the scene to find the damaged motorbike and taxi on the road.
The motorbike driver, 45 year old man Somjit Pimmala, was taken to the Thalang Hospital where he was later pronounced dead.
The taxi driver 29 year old Prapan Chaipakdee was taken to Thalang Police Station. An alcohol breath test was conducted indicating a reading of zero.
The taxi driver told police that he was carrying Indian tourists from the Phuket International Airport and heading to Patong. He claimed that the motorbike suddenly changed lanes and collided with his taxi, causing him to crash onto the road.
Police are continuing the investigation including checking local CCTV cameras.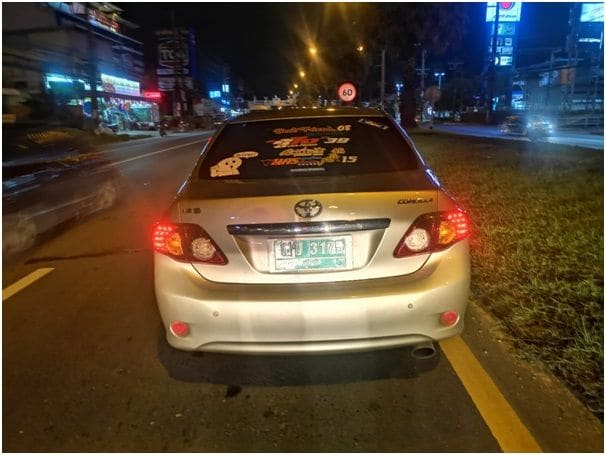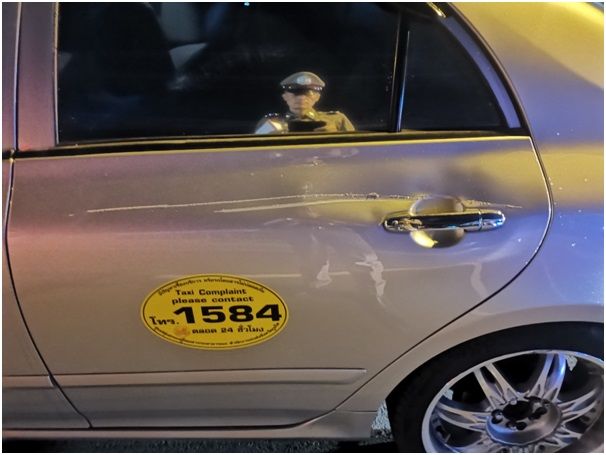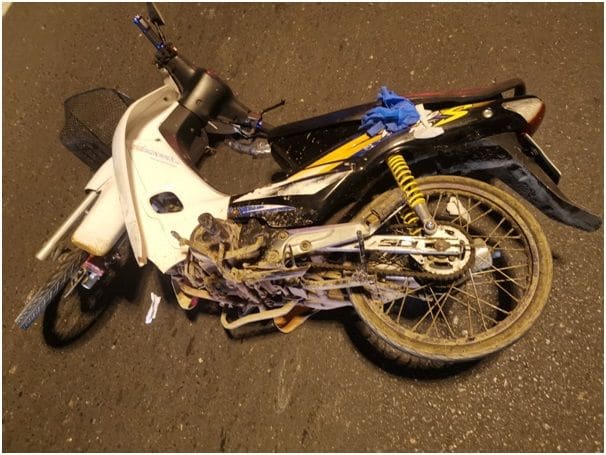 Motorbike driver crushed by cement truck in Thalang, Phuket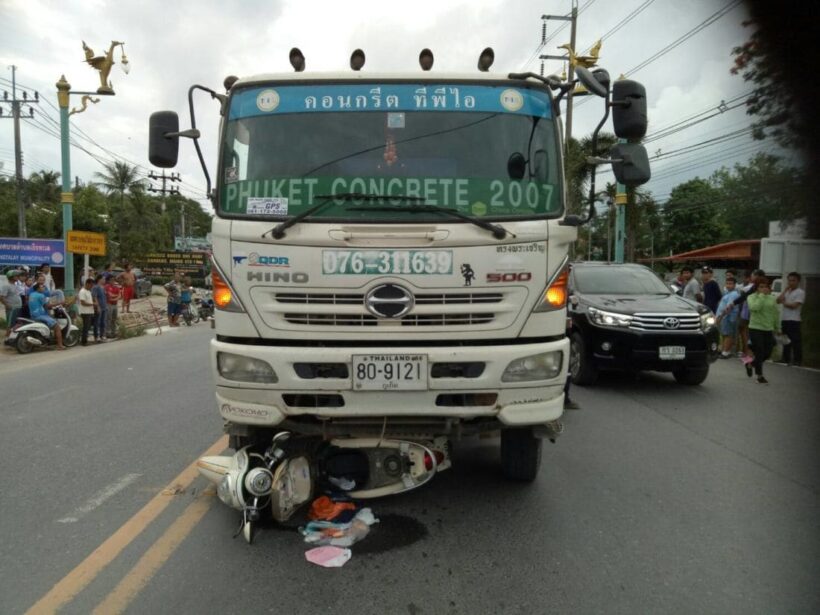 A cement truck driver has been charged with reckless driving causing death after a motorbike driver died at the scene after being run over by the cement truck in Thalang yesterday afternoon.
The Thalang Police were notified of the incident at 5.10pm on Srisoonthorn Road in Thalang, central Phuket.
Police and emergency responders arrived to find a cement truck in the middle of the road. A damaged motorbike was found under the truck. The body of 40 year old Danai Srikaewheaw was also found crushed under the truck. His body was taken to the Thalang Hospital.
Witnesses told police that the cement truck collided with the motorbike. The motorbike was knocked over and the driver bounced off and ended up being run over by the truck.
The cement truck driver, 22 year old Thanin Janyawit, was taken to Thalang Police Station to face charges of reckless driving causing death.