Phuket
Disgraced tycoon Boonkeng shot in Bangkok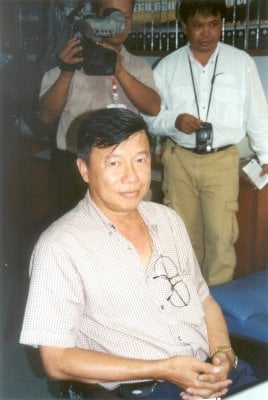 BANGKOK (Phuket Gazette/Kom Chad Luek): Disgraced businessman Boonkeng Srisansuchart, evicted in 2004 from land in the Panturat Hills along the bypass road, was wounded in a gun attack in Bangkok on Saturday morning.

An associate of his, Nimit Pokaphol, a former civil servant in the Phuket Provincial Land Office (PPLO), was killed in the attack by a round from a .22 firearm.

K. Boonkeng, 57, was injured in the neck by a single shot and spent time under police guard in a Bangkok hospital before returning today to Phuket.

K. Boonkeng and K. Nimit had traveled to Bangkok to meet with the 80-year-old former Deputy Commander of Police Region 8, Pol Maj Gen Preecha Pakpaiboon. They were shot as they walked through Lad Phrao District to hail a taxi after the meeting.

Although the motive behind the attack is not yet known, Pol Lt Col Teerawat Mungkalasiri, Deputy Superintendent of Chok Chai Police Station in Bangkok, speculated that it may have been in connection with a business deal.

According to the Kom Chad Luek newspaper, a close relative of the injured tycoon suggested that a soured land deal was the cause for the attack.

However, another relative of K. Boonkeng said that it was K. Nimit who was the intended and successful target of the assassination, suggesting that K. Boonkeng had simply been in the wrong place at the wrong time.

In June 2004, four plots of land in the Panturat Hills were seized from K. Boonkeng by the Anti-Money Laundering Office (AMLO) in Bangkok. AMLO confiscated the land after the Phuket Appeal Court ruled that K. Boonkeng had wrongfully obtained it.

AMLO confirmed that all four plots were SorPorKor land, which is land owned by the state but allocated to poor, landless farmers for use in providing for themselves and their families.

It has been alleged that, in 1983, a provincial vice-governor allowed K. Boonkeng to take out a 30-year lease on the four plots, totaling 76 rai and comprising forest and agricultural land.

K. Boonkeng was said to be planning to use the land to collect water for a development of prestige homes, but the properties were never built.

AMLO accused K. Boonkeng of obtaining Chanote or NorSor 3 Gor titles to the land with the help of corrupt staff in the provincial Land Office. AMLO had already confiscated assets worth around 30 million baht from former land officers accused of producing fake land papers.

Lt Col Teerawat said that officers are continuing their investigations into the double shooting.