Carving a niche in the black market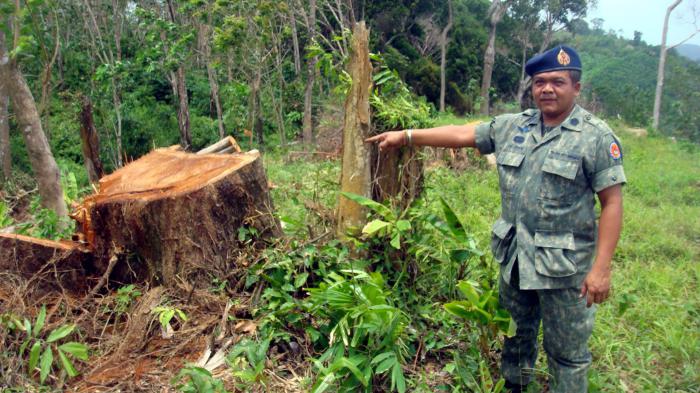 Special Report

Six men were arrested in November for illegal possession of more than 50 kilograms of eaglewood. One of the men was caught with an illegal .45 handgun under his pillow. Today, those six men roam free, all released on suspended sentences.
Here, the Phuket Gazette's Irfarn Jamdukor investigates the island's illegal logging trade.
PHUKET: Six men were arrested during a morning raid of two neighboring houses near Kathu Municipality Kindergarten on November 18.
Five of them pleaded guilty to illegal possession of eaglewood, resulting in a speedy handing down of an initial sentence of three months in prison and a fine of 2,000 baht per person.
"All of them confessed, so the penalty was reduced to 45 days in prison and a fine of 1,500 baht each," said an officer at Phuket Provincial Court.
"The judge then suspended the jail terms and ordered the men to one-year probation."
The men spent the night at Thung Thong Police Station, but were free to go after their sentences were suspended the next day – despite being caught with contraband with a street value of more than 300,000 baht.
As the men were charged under Section 29 of the Forest Act BE 2484 (1941), the maximum penalty could have been up to one year in prison or a fine of up to 10,000 baht, or both, the court officer explained.
The current whereabouts of the men – Wiangchai Srichan, 34; Udon Srichan, 32; Thanad Petrit, 45; Sanan Kodking, 42; and Anucha Somsung, 38 – are unknown.
The sixth man, Wirat Sunsuwan, 38, stood trial on January 20.
Mr Wirat was charged with illegal possession of a firearm and ammunition after officers conducting the raid found an illegal .45 handgun, fully loaded, under his pillow.
"He was sentenced to two years in jail, but the sentence was halved, then commuted to two years' probation," said Maj Pramuan Jaikratok of the Thung Thong Police.

NIGHT PATROL
The rising incidence of illegal loggers plundering Phuket's protected forests has prompted officers to boost patrols up to five times a week, including night patrols.
"Many protected forests in Phuket are logged by different gangs," Maj Pramnuan explained.
Paisarn Noopichai, chief of the Royal Forest Department (RFD)'s Deforestation Prevention and Suppression office in Phuket noted that three areas were particularly prone to illegal logging: the
Nakkered Hills behind Karon, the hills in Thalang; and the area near the Bang Wad Reservoir in Kathu.
"These gangs stash their illegal wood in houses near the forests or hide it somewhere in the jungle, but it seems none of the gangs know where the other gangs keep their wood," he said.
IN THE DARK
The November arrests have reinvigorated interest in combating illegal loggers.
"After arresting this gang, we contacted other officers to be on the lookout for illegal logging in protected forest areas," Maj Pramuan said.
Chief Paisarn revealed that although his teams of officers had arrested five gangs during the past two years, the persistence of the nighttime cutting crews was gnawing at him.
"We are very concerned about this. I believe there are many gangs in Phuket, and in the past two years we have discovered more than 20 large eaglewood trees, as well as ironwood and takien sai trees, felled in protected Phuket forests," he said.
"These logging gangs operate at night and they separate into teams to scour the forest for trees to fell, which makes it very difficult for us to find them.
"We recently increased the number of our patrols, but we don't have enough officers to comprehensively protect the forests – which cover huge areas – and we're trying to find the loggers in the dark, which is not easy."
What officials did learn from the November raid is that felled wood stashed in the jungle is collected by transport crews who deliver it to customers waiting in Bangkok or other destinations elsewhere in Thailand, or even Malaysia.
"But we have learned nothing about the gangs and the networks of the operators who ply these routes," Chief Paisarn said.
Col Natthapakin Kwanchaipruk, Superintendent of the Tah Chat Chai Police, confirmed that his officers had yet to make any arrests for lumber trafficking since he took charge of Phuket's northernmost police station more than a year ago.
"Every truck carrying wood is stopped and checked at the Tah Chat Chai checkpoint," Col Natthapakin said.
"However, it would be easy to conceal illegal wood in a shipment of regular timber on the back of a truck," he noted.
LEGACY
Much of the current impetus to target illegal loggers in Phuket stems from the passion of former Kathu District Chief Veera Kerdsirimongkol for protecting the island's forests.
Current Kathu Chief Sayan Chanachaiwong has vowed to maintain that pressure.
"This is an important issue. We do not want anyone destroying Phuket's forests," he said.
"Mr Veera did much good work and left behind many leads that we are still pursuing. Nearly everything I know about illegal logging in Phuket, I learned from him."
Chief Sayan, however, declined to reveal exactly which investigations were underway.
"We meet with relevant departments each month to learn the latest about the state of illegal logging on the island and to develop strategies to prevent it," he said.
"We also have volunteers to keep watch in certain areas and we have asked local villagers to inform us if they find any illegal logging in their areas."
However, Chief Paisarn noted, "Some villagers call in with tip-offs, but many do their best not to anger illegal loggers. After all, these gangs carry guns and knives."
BLACK MARKET
Chief Paisarn was at pains to point out that 250 species of trees are protected under Thai law, but that eaglewood was the most likely to be targeted by illegal loggers.
"Eaglewood is the main target because the tree can used to make fragrances," he said.
"Top-quality eaglewood could fetch almost 100,000 baht per kilogram, while the parts of the wood not used to make fragrances can be used to make wooden products."
Chief Paisarn estimates that the RFD, established specifically to protect natural forests throughout Thailand, knows of only 20 to 30 per cent of the total number of eaglewood trees on the island.
"These trees grow throughout Thailand and are more common in the South… but the number of them is diminishing. That's why we have to protect them."
— Irfarn Jamdukor
Phuket News

Join the conversation and have your say on Thailand news published on The Thaiger.
Thaiger Talk is our new Thaiger Community where you can join the discussion on everything happening in Thailand right now.
Please note that articles are not posted to the forum instantly and can take up to 20 min before being visible. Click for more information and the Thaiger Talk Guidelines.