Phuket
Canadian PM pledges help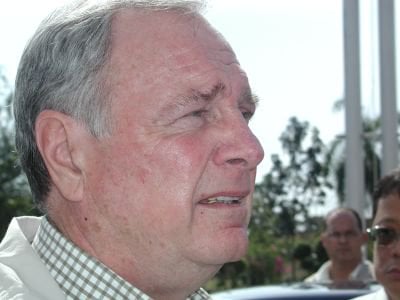 PHUKET CITY: Canadian Prime Minister Paul Martin yesterday visited Phuket and offered his country's help in restoring the coastal environment and establishing a tsunami early warning system.

Mr Martin met Interior Minister Bhokin Bhalakula at Phuket Provincial Hall, before visiting Kamala to talk with Canadian and Thai volunteers, and officers of the Royal Canadian Mounted Police.

Vice-Minister for Foreign Affairs Sorajak Kasemsuvan said Mr Martin expressed great sympathy for tsunami victims, and added that his country would support the recovery of the tsunami-affected areas.

"The Canadian International Development Agency will help with the environmental recovery of coastal areas and with technical information for an early warning system," said K. Sorajak.

He added that Canada will send representatives to a ministerial conference, due to take place in Phuket on January 28 and 29, about the early warning system. It will be attended by ministers from 12 nations that were affected by the tsunami or that lost nationals in the disaster.

Four Canadians are known to have died and 29 injured in Thailand.

Details of the conference have yet to be confirmed.