Bag-snatching gang arrested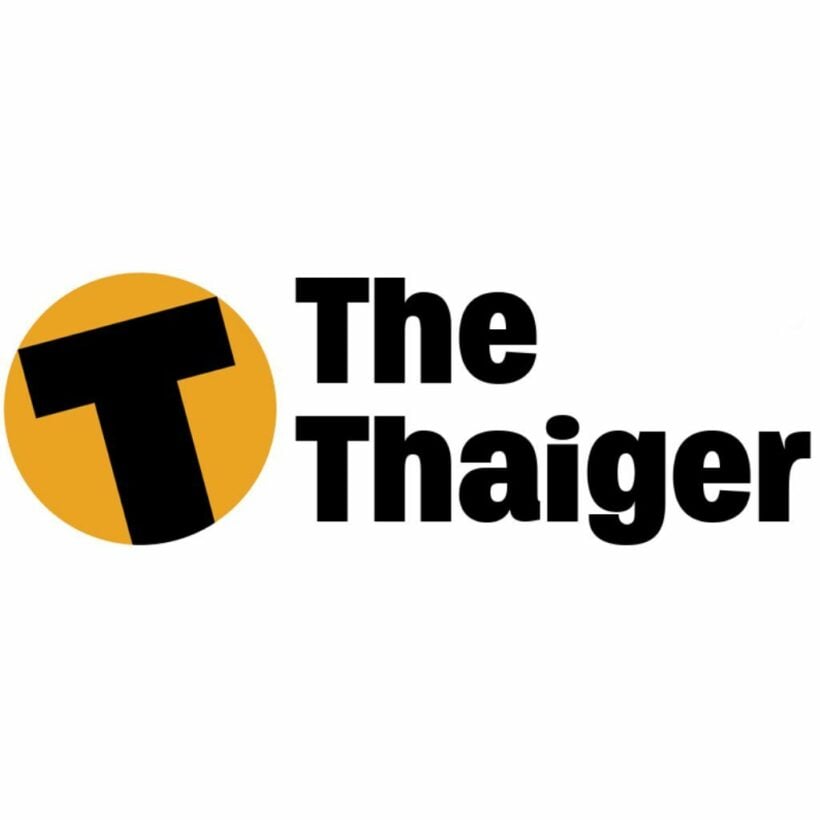 PHUKET TOWN: Nine suspects, including five teenagers, were arrested yesterday for their alleged involvement in a series of bag snatchings, following a five-week police investigation into their activities. Police say that all of the suspects have admitted to being party to a number of snatchings in and around Phuket Town. The first case, on March 25 at around 7:45 pm, happened while Kalaya Sameupark was riding her motorbike in front of the Yada Dental Clinic on Hongsyok-U-Thit Rd. A boy on a motorbike drove up alongside her, grabbed her purse and fled. The bag held her mobile phone and personal documents. Police, continuing their investigation into the incident, found on Tuesday that K. Kalaya's mobile phone was still in use. Further investigation traced the user to 17-year-old "Jeed". Police invited Jeed and her father, 36-year-old Pairoj, to make a statement at the Phuket Town Police Station. Jeed confessed that she had been given the mobile phone by her boyfriend, 18-year-old Rangsit Tongjankaew. Pairoj admitted to knowing that the phone had been stolen, police say. The police found Rangsit in a rented house behind Surakul Stadium, along with 16-year-old "Bow", 15-year-old "Tee", and 16 year-old "Tongchai". All were brought in for questioning. Rangsit admitted to police that he carried out the March 25 snatching, and also confessed to two robberies on March 27, two in April, and one last Friday. He told police that on March 27 at about 6 pm, he and Bow snatched a mobile phone and a bag from a woman riding alone on her motorbike near Soi Kong Pram, Chao Fa East Rd Later that evening, Rangsit told police, he carried out another robbery with Bow, at the intersection in front of the Thainaan Restaurant. He admitted to stealing a bag and two mobile phones, one of which was given to 28-year-old Somsak Saeong. Rangsit said he snatched another bag on April 1 with Bow and got a mobile phone, which he sold to 17-year-old "Ruj". Rangsit and Bow both confessed to another theft on April 7, when they stole a mobile phone and a bag. The phone was sold to a boy named "Dum". Rangsit and Bow also confessed to snatching a bag on May 3 on Bangkok Rd in Phuket Town, and to giving the victim's mobile phone to 18-year-old Suratree Ritthidej. Meanwhile, Tee and Tongchai both confessed to riding together and snatching a bag in the Thungtong area. Yesterday, victims of all of the robberies went to Phuket Town Police station to identify the suspects and claim their possessions. Rangsit, Bow, Tee and Tongchai were all identified by the victims they had allegedly stolen from. Police charged Jeed, Rangsit, Bow, Tee and Tongchai for committing theft by snatching and using a vehicle to do the illegal act, and receiving stolen property. Suratree, Ruj, Somsak and Pairoj were each charged with receiving stolen property. The five minors were sent to Juvenile Observation and Protection Center (JOPC) while the four adults are being held at the Phuket Town Police Station awaiting court appearances. Police say are still searching for more suspects, including Dum, who they believe has gone to Chiang Mai.
Keep in contact with The Thaiger by following our Facebook page.
Never miss out on future posts by following The Thaiger.
UPDATE: Confusion over Covid-19 tests for visa extensions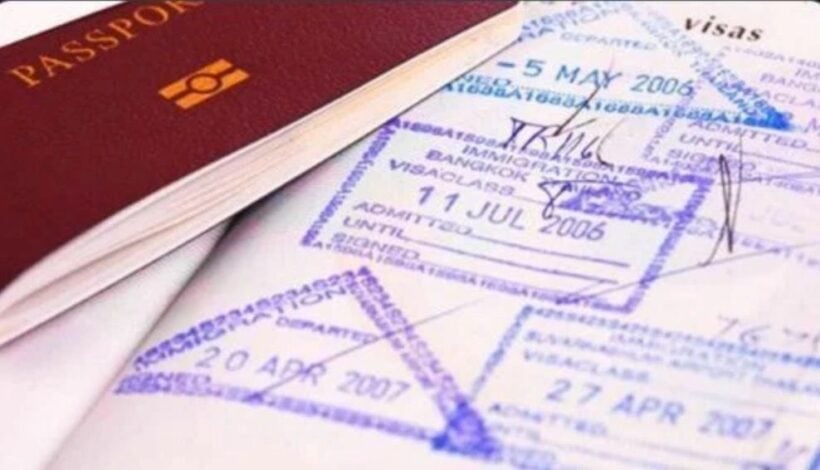 UPDATE: Khaosod English removed a story on Covid-19 tests for those seeking visa extensions and replaced it with the article "Immigration backtracks on plan to require Covid-19 test for visa extensions." They say the previous report sparked uproar among expats and immigration police spokesperson has since apologised for the misunderstanding.
Original article…
Confusion reigns today over whether Covid-19 tests will be required for visa extensions. While The Phuket News spoke with an immigration official who said "no… you don't need a Covid-19 test to extend your visa or apply for a work permit", Khaosod English wrote an article headlined "Covid-19 test will be mandatory for all visa extension".
The Thaiger also contacted a respected visa agent who said Covid-19 tests are, indeed, now required for applying for both visa extensions and work permits, even renewals.
The Thai Immigration Bureau has not made any official announcement regarding Covid-19 tests. Talk about Covid-19 tests for foreigners was brought up after a rule was published in the Royal Gazette last month, officially adding Covid-19 to a list of dangerous diseases, prohibiting those infected with any of the listed illnesses from entering the country.
Immigration Police Bureau spokesperson Archayon Kraithong told Khaosod English that proof of a negative Covid-19 test will be required for visa extensions, regardless of how long a foreigner has stayed in Thailand. On the other hand, Phuket immigration deputy chief Nareuwat Putthawiro told The Phuket News that Covid-19 tests will not be required for visa extensions or work permit applications.
"We do not require any medical documents for an application to renew a visa, because there are few foreigners' movements outside Phuket. Most of them live and work in Phuket, and have done so before the new wave of Covid-19… So they do not have to worry about it. Everything is still the same."
Medical exams are currently already required for most work permit applicants (including tests for Syphilis and Elephantiasis). A visa agent told The Thaiger that Covid-19 tests have been added to the medical examination requirements for work permit applicants. But, on the other hand, Phuket immigration says they DO NOT require Covid-19 tests for work permit applicants.
"We have not received any notices about Covid-19 requirements for processing applications to renew visas. If we do receive any such orders, we will let the public know."
It isn't the first time there has been conflicting statements coming out of different officials, in different immigration offices on different days.
SOURCES: Phuket News| Khaosod English
Catch up with the latest daily "Thailand News Today" here on The Thaiger.
Keep in contact with The Thaiger by following our Facebook page.
Never miss out on future posts by following The Thaiger.
Visitors to Phuket from "highest risk" areas must show Covid-19 test results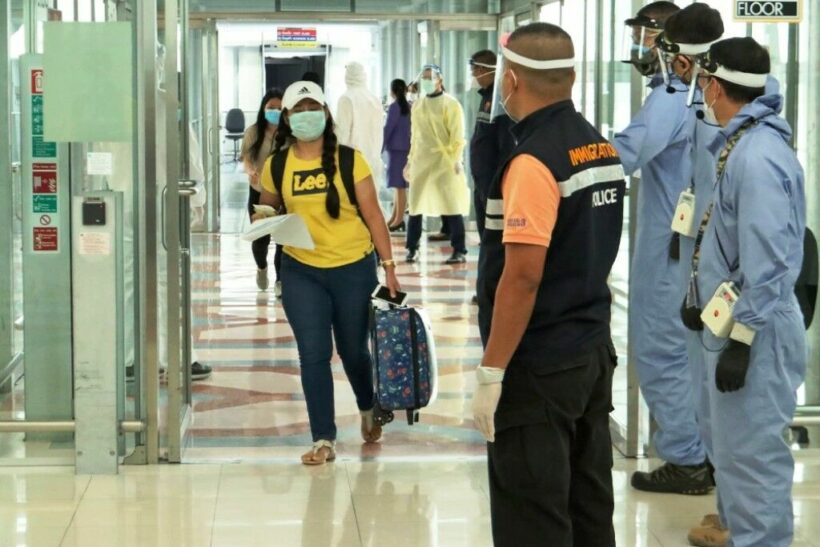 People arriving Phuket from the "highest risk" areas are required to take a swab test by the staff at emergency operation centres (EOC) or show the test result document endorsed by the EOC staff made within 72 hours of their arrival. The revised order is effective from now until January 31, according to the Phuket Governor.
Those people who are on a brief business trip to Phuket need to show certificates from their employers describing the reason and necessity of their trips. If they want to leave their accommodations, they have to make a request to the EOC and clearly explain the reason as well as the time and destination. Visitors are also asked to avoid going to the community areas to avoid crowded gatherings.
It is noted that the revised order by the governor has not been officially promoted by the Phuket office of the Public Relations Department. However, all visitors are still asked to register online via the Mor Chana contact tracing application and via www.gophuget.com according to the order re-issued on Friday.
SOURCE: Phuket News
Keep in contact with The Thaiger by following our Facebook page.
Never miss out on future posts by following The Thaiger.
The road less travelled – trekking to the Kalim Viewpoint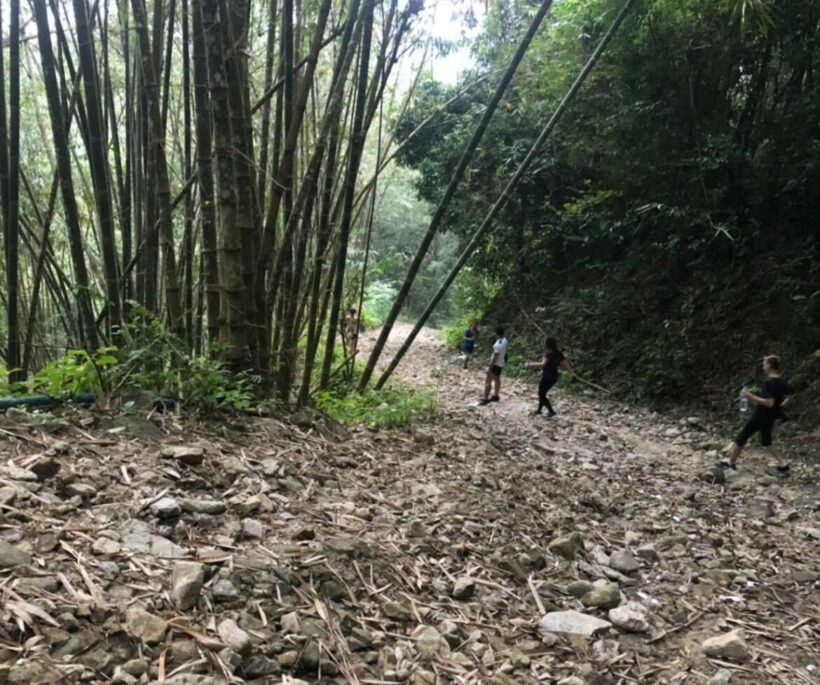 There are two well known ways to get from Kathu to Kalim or Kamala – one is across the Patong Hill, and the other is much longer, through Srisoonthorn and along the coastal road from Surin the Kamala (very scenic too).
But there's also another way. Also very scenic but will take you about 2 hours through dense forest although there is a well-worn walking track. The track will take you from Kathu up to the Kalim Viewpoint. From here you can head back to Kathu along a different path, or down into Kalim, near Patong.
Starting about halfway down Soi Namtok in Kathu, you head up a nondescript road past the Flying Hanuman zipline attraction, although there's no sign at the entrance to the soi (below). About the first kilometre is paved but then becomes increasingly 'agricultural' as you get higher into the hills, heading towards the Kalim Viewpoint. There's also a small temple on the way up.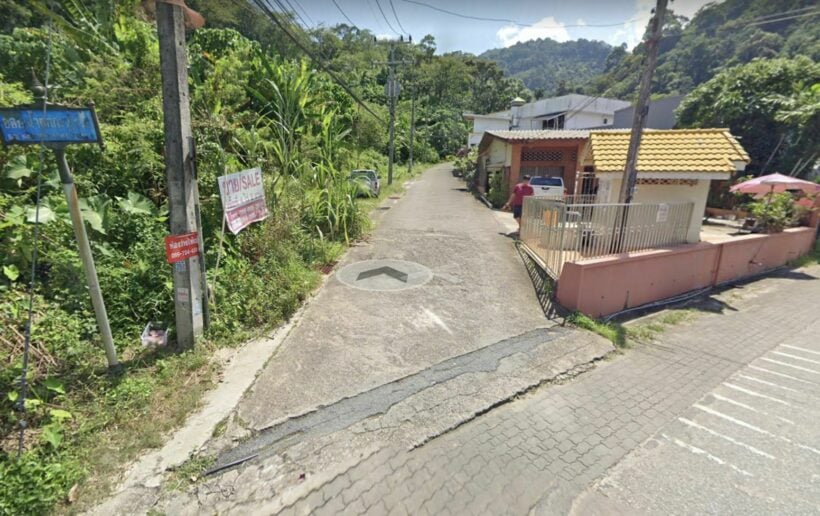 PHOTO: The start of the trek, a small soi off Soi Namtok – Google Maps
It will take around 2 hours to trek up to the Kalim Viewpoint. The walking is quite strenuous and you'll need to be wearing the right shoes and take plenty of water – there's no 7/11s on the way! As you get nearer the top, to the viewpoint, the track becomes less drivable although the track is still quite open and easy to follow. If you're feeling a bit lazy you can take a motorbike about halfway up the road until you'll need to proceed on foot from there.
From the Kalim Viewpoint you can see across Kalim to Patong Bay and the land that stretches along the bay south of Patong Beach. From the top you can either make your way down to Kalim or another exit along the Kalim-Kamala Road, just near the Iguana Beach Club.
You can also head back another way to Kathu, a longer return track that skirts around the top of the Kathu Waterfall. A lot of that track gets very narrow and parts of it are up and down the hills, some of it very steep.
The views are amazing and you get to see a vast swathe of Phuket, still very close to popular locations like Patong, Kamala and Kathu, but untouched by any civilisation.
You'll need to be in reasonable health to take on the trip but, just to go up to the Kalim Viewpoint and back, or down into Kalim, should take around 5 hours in total. On a scale of 1 – 5 for difficulty, we'd rate it a 3. An easy trek for experienced people but will need a bit of planning if you're not an experienced trekker.
Even on a hazy day, as it was today, the views were amazing. But best to start off early morning when the weather is cooler. Well worth the time for the views and the opportunity to see more of Phuket, away from the bars and beaches.
Thanks to BT for the pics and information.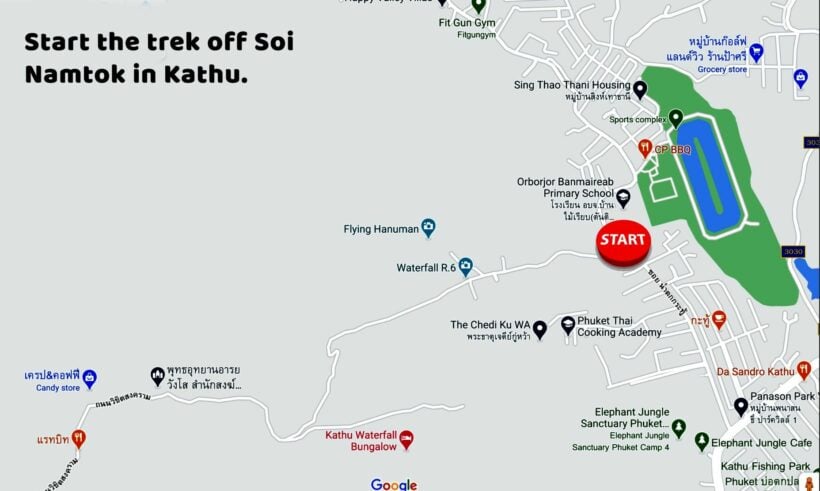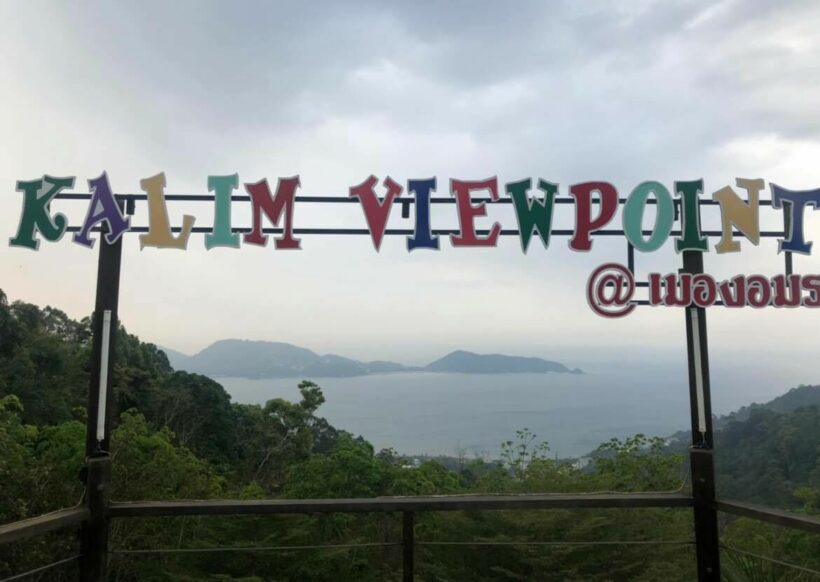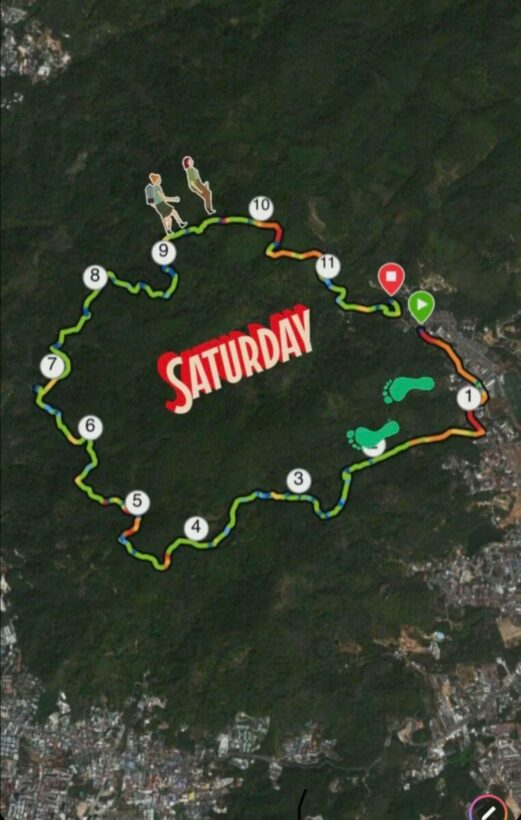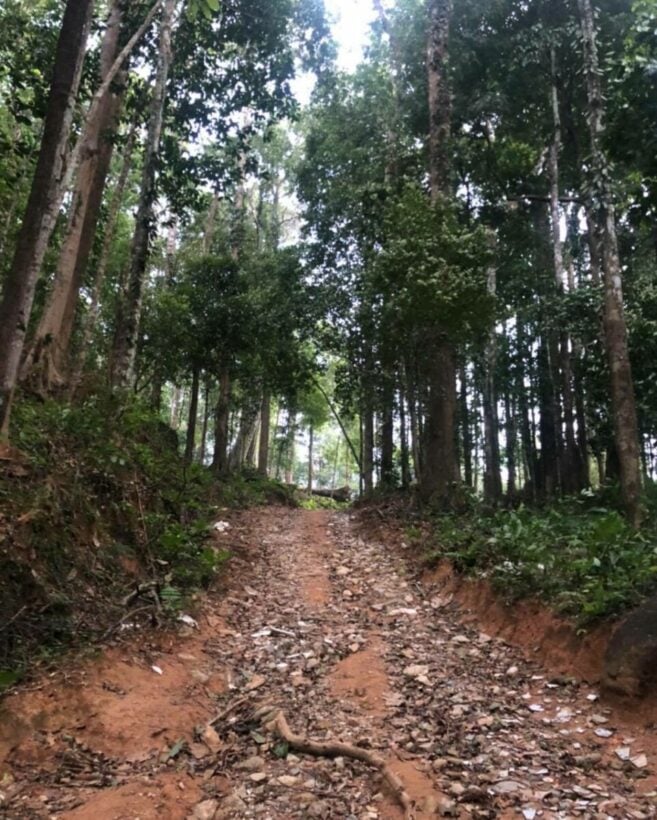 Keep in contact with The Thaiger by following our Facebook page.
Never miss out on future posts by following The Thaiger.