Phuket
Back to business amid good conditions at Phuket King's Cup Regatta Day 4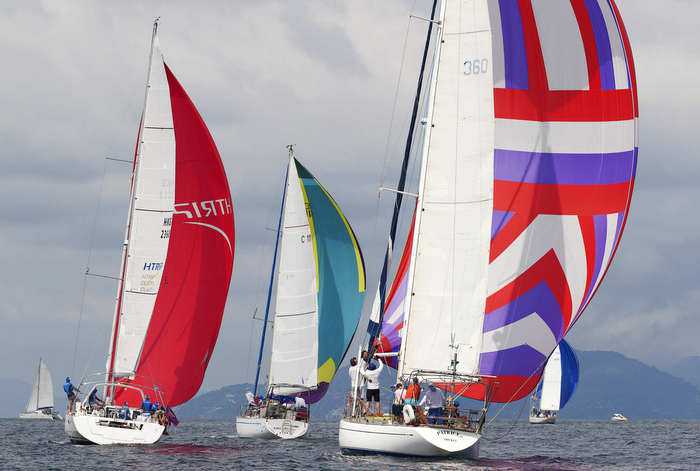 PHUKET: Consistent winds made a very welcome return for Day Four of the Phuket King's Cup Regatta yesterday.
All classes sailed, with exceptionally tight action and some big winning margins.
The King's Cup this year has played host to an offering of IRC class racing, especially at the high-tech "Grand Prix" end of the classes such as in IRC0, where Karl Kwok's team Beau Geste has been involved in serious competition with Neil Pryde's HiFi. In Race 6, the teams were once again within a whisker of each other. Team Beau Geste took the win by a scant 45 seconds on corrected times, with Neil's team trying desperately to leverage their handicap advantage. There's nothing in it points-wise going into the final day's showdown.
In IRC1 Race 6, EFG Mandrake ramped up their efforts to come back strong on the penultimate day. The Hong Kong racer took the win to give rivals Island Fling and her skipper Paul Winkelmann something to consider on Friday; Paul's crew are still ahead in the standings, with today being the decider. Mandrake is able to use a free discard to remove one of their disappointing 4th place finishes, helping to balance things out come D-Day.
Hannes Waimer's TBG team Premier made easy work of it out there again yesterday, finishing well in front of the IRC2 pack. Singaporean team WindSikher were second in yesterday's Race 6, while Hannes' team is cruising top of the table in the IRC2 points.
Foreign Affair was victorious in IRC3, beating team Kata Rocks 1 and both Royal Thai Navy boats. Due to the consistent performance of Kata team throughout much of the week, things are tight points-wise, with today's race being the decider. This class exhibits a very exciting close to a memorable Phuket King's Cup Regatta.
Malaysian entry Zuhrah beat out the powerful Pine-Pacific team in Premier class, a huge margin on the waves resulting in close corrected times at the end. Pine-Pacific is just a single point in front of Starlight at the top of group.
In Bareboat Charter, Russian team Uhuru placed first followed by Papaya (Ukraine) and Lychee (Russian), while in the B group, Russian entry Sarawadee placed top in a very large fleet.
Sailplane took the Open Charter race ahead of Kata Rocks 3, leaving Tony Pfeiffer's Kata team just a couple of points clear. These two rivals are well ahead of the rest of the group, and really enjoying their private competition.
In the Firefly 850 Sports class, Hans Rahmann and his crew took their second victory with a top finish in Race 6 yesterday; there was not a great deal in it time-wise, with Advance Racing tailing closely behind (no handicaps in this one-make series, of course). Voodoo is only two points clear at the top, over Twin Sharks.
Of the Multihull Racing boats, Alan Carwadine's Asia Catamarans Hurricane took the win by a considerable margin once again, staking an early claim to class honors in 2014. They sit pretty at the top and are unlikely to be beaten come regatta end.
Thai team Sansiri Windstar did exceptionally well to come through for another win, and are favorites to win their class. The Classics headed out for Race Four today, although SY Ravensong was the only ship to finish. In Multihull Cruising, Masami Yamashita's crew of Minnie came home well ahead of rival boat Starfruit once again. In Cruising class, Skyelark was the winner, skippered by Dan and Ern Bower.
All results are provisional and subject to any protests filed.
For the full results, click here.
Inaugurated in 1987 to celebrate the 60th birthday of His Majesty the King of Thailand, the event has been held during the first week of December every year since.
Under Royal Patronage, the Phuket King's Cup Regatta is organized by the Phuket King's Cup Regatta Organizing Committee under the auspices of the Royal Varuna Yacht Club, in conjunction with the Yacht Racing Association of Thailand, the Royal Thai Navy and the Province of Phuket.
Sponsors of the 2014 Phuket King's Cup Regatta include Kata Group Resorts Thailand, PTT Global Chemical, Jaguar Land Rover, FINCA de MALPICA by Siam Winery, Singha Corporation, and Haadthip PLC. Media Partners include Phuket Gazette, Phuket Today, Sail-World.com, SEA Yachting, YachtStyle Asia, Prestige, Real Life Magazine, The Guide Phuket, Image Asia, Art & Culture, and Phuket Marine Guide.
This event is proudly sponsored by the Phuket Gazette and PGTV's nationwide 'Phuket Today' show, which broadcasts daily on True Visions channels 85 and 59.