BREAKING NEWS: 33 Rohingya remain detained in Phuket, tell of hardships at home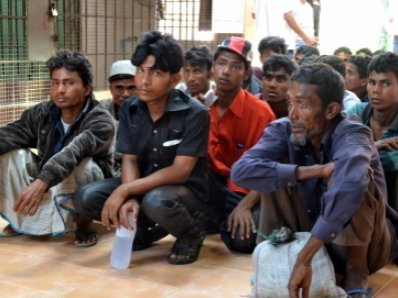 PHUKET: The whereabouts of the 68 Rohingya refugees who were arrested on January 31 when their boat drifted to Phuket's shores has been confirmed by the Phuket Gazette.
Phuket Immigration late yesterday gave the Gazette access to 33 Rohingya men in custody at the Immigration Detention Center (IDC). The youngest in the cell was only nine years old and the oldest was 45, the detainees said.
Phuket Immigration officials originally said that the 68 men had been transferred to Phang Nga IDC. (See current issue of the Phuket Gazette, 'Where have the Rohingya gone?', on shelves this morning. Digital subscribers click here to download the full newspaper).
Officials now say that only 35 have been transferred to Phang Nga.

An employee at Phang Nga Immigration, who declined to give her name, yesterday again said that there were no Rohingya in detention at their facilities.
However, an independent source yesterday confirmed that the 35 were detained there.
Following appeals from the international community and local organizations, Senior Regional Public Information Officer Kitty McKinsey of the United Nations High Commission on Refugees (UNHCR) told the Gazette that the Thai Ministry of Foreign Affairs has agreed to give that organization access to 226 Rohingya currently detained in Thailand.
Mrs McKinsey said the UNHCR was able to speak with nine teenagers on Thursday in Songkhla who were part of a group of 67 who were detained in that province on January 23.
Regarding the 68 who landed in Phuket, she said, "We expect to be able to talk to those men next week. They are apparently in Phuket, but I agree that there is confusion about exactly where they are because we're not certain whether they are in two places or one place.
"We've been told that all 68 are on Phuket and that we'll have access to them. We're going to be accompanied by the Ministry of Foreign Affairs and I hope we're going to be taken to see 68 people," she said.
The UNHCR hopes to determine where the men come from, what their protection needs may be and whether or not they are seeking refugee status.
She said the UNHCR is also exploring whether 91 Rohingya who were intercepted and detained by Thai authorities on January 22 this year are the same group that arrived "starving" in the Andaman and Nicobar Islands on February 3.
Members of that group said that they were detained in Thailand then towed out to sea by Thai authorities, human rights groups said.
The 32 men, and at least one child, being held in one of Phuket IDC's two cells which are designed to hold 30 people, told the Gazette that they are happier, healthier and better looked after in those cramped conditions than they are in Burma.
On our arrival, the men crowded near the front of their cell and gave an enthusiastic greeting, all seemingly eager to share their story – and many smiling.
One man, 27-year-old Muhammad Amin, seemed to be the informal "spokesman" for the group.
Mr Amin explained that they had all, 70 originally (two remain unaccounted for after landing in Phuket), had set out from Maungdaw in Arakan State, Burma, on January 20.
He said their reason for leaving was that as Muslim Rohingya they face constant persecution and abuses at the hand of the Burmese government.
When asked for examples of their hardships at home, many of the men had something to say:
"We have no work – no jobs," one said.
"We're rice farmers and need rice to survive," another said. "Then the government started taking from us 25 kilograms of every 100kg of rice we had."
"Then they took away our land," another added.
"We don't have anything to eat if we stay in Burma. It's a very difficult life," Mr Amin said.
One of the men produced an identification card he said was issued by the Burmese government. The card, a flimsy piece of white paper in a plastic sleeve, identified him as a Muslim and his home "district". Muslims in Arakan State issued such cards are not allowed to travel outside their home districts.
All of the men in the cell said that they have similar documents and that actual Burmese citizens have a "red ID" which permits them more freedoms.
Desperate for prospects of a better life, the 70 men pooled their money together and bought the wooden boat that was their home for 11 days as they headed for Malaysia.
"We wanted to go to Malaysia because it's a Muslim country," Mr Amin said.
However, their boat engine gave out on them and at the mercy of the winds they were blown to Phuket.
"We had no food on our journey, and it's quite dangerous – especially when we leave from Burma," he said.
The men said that no women joined them on their journey because of the dangers.
"We had to hide in fishing nets to avoid detection by the Burmese military," one man said.
When asked what would happen if they were caught trying to leave the country, many of the men responded in unison, "We would be shot dead by the military".
The men all said they were scared of being sent back to Burma and that if that were to happen, they would face 15 years imprisonment or a very heavy fine.
"We don't care where we stay, as long as it's not Burma," Mr Amin said.
Phuket Immigration officers said that halal food and clothing is being provided to the 33 detainees by a local Muslim foundation.
— Nicholas Altstadt

Join the conversation and have your say on Thailand news published on The Thaiger.
Thaiger Talk is our new Thaiger Community where you can join the discussion on everything happening in Thailand right now.
Please note that articles are not posted to the forum instantly and can take up to 20 min before being visible. Click for more information and the Thaiger Talk Guidelines.