Army reverses decision on Phuket sun loungers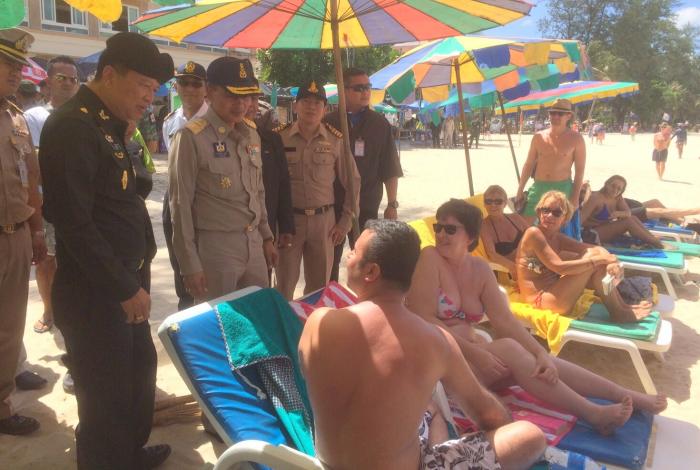 PHUKET: The Royal Thai Army has declared that sun loungers are now allowed in the 10 percent zone at Patong Beach.
The decision was handed down yesterday afternoon by army and beach management committee officials, who decided to reverse the Royal Thai Navy's ruling declaring them illegal in December last year (story here).
The same outcome is expected for other Phuket beaches, but no timeline has yet been announced.
Following the announcement, vendors at Patong Beach immediately brought dozens of loungers and other furniture down to the beach.
Army Region 4 Deputy Commander Pornsak Poonsawat and other officers patrolled Patong Beach to ensure order and safety, and also to follow up on decades-old rental bike management and parking issues along the beach road that they had attempted to rectify earlier this month (story here).
"We had initially decided to ban sun beds, even in the 10 per cent zone, and only allow mattresses and umbrellas. However, that 'seems to be' posing problems for tourists, particularly older ones," said Maj Gen Pornsak.
"From what we have observed, both tourists and vendors are satisfied with this decision," he added.
The beach management committee will continue to monitor the situation and if 'all goes well', the loungers will once again become a permanent fixture on the sand.
"We have not set a limit on the number of loungers allowed. This can vary depending on the demand, but vendors have to ensure that they are placed in an orderly and appropriate fashion. Local authorities also have to keep an eye on them," said Gen Pornsak.
— Kritsada Mueanhawong

Suspect arrested in Phuket over 11 year old murder case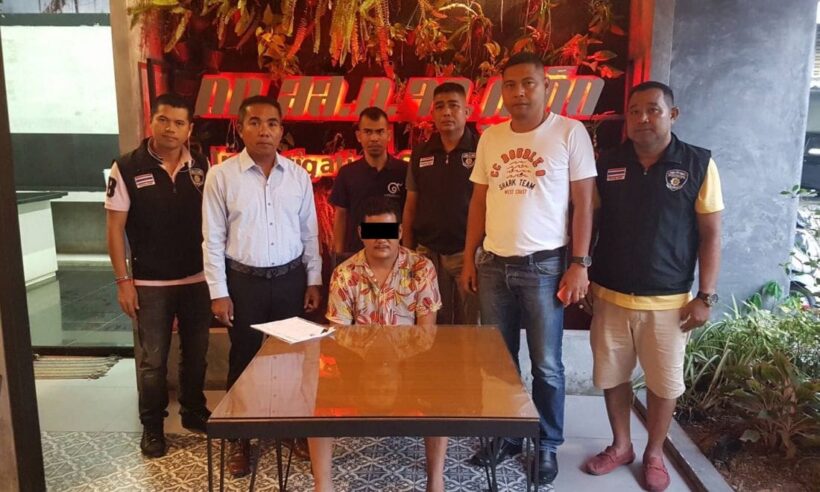 Phuket police yesterday arrested a suspect in Phuket who was allegedly involved in a police killing in Phattalung 11 years ago.
On May 10, 2007, 37 year old Maj Wuttichai Jantakan, who was stationed at Tung Tam Sao Police in Hatyai, Songkhla, was murdered in Pattalung. Slash wounds were found on his neck and a bullet wound was found on his right cheek. Police have been continuing the search for suspects ever since and issued arrest warrants.
Yesterday, the Phuket Provincial Police arrested 35 year old Kamhang Khunprom from Pattalung on Chumphon Road in Phuket Town.
The arrest follows up the Pattalung Provincial Court issuing an arrest warrant back in 2007 over charges related to theft, murder, illegal possession of firearm and ammunition, and carrying weapon in public without reason.
Kamhang has now been taken to Khao Chaison Police Station in Pattalung awaiting a hearing in the local court.
The arrest came after police saw Kamhang leaving from his house on Friday. Police routinely asked to check his ID but he was unable to provide the card. Police later identified him as the same person wanted over the 11 year old case.
Kamhang had moved from Phattalung  and lived in Phuket since 2007. He had even opened a southern Thai food restaurant in Kathu. He also changed his name to 'Pupa Khunpetch' to try and evade arrest.
Evidence of Maya Bay recovery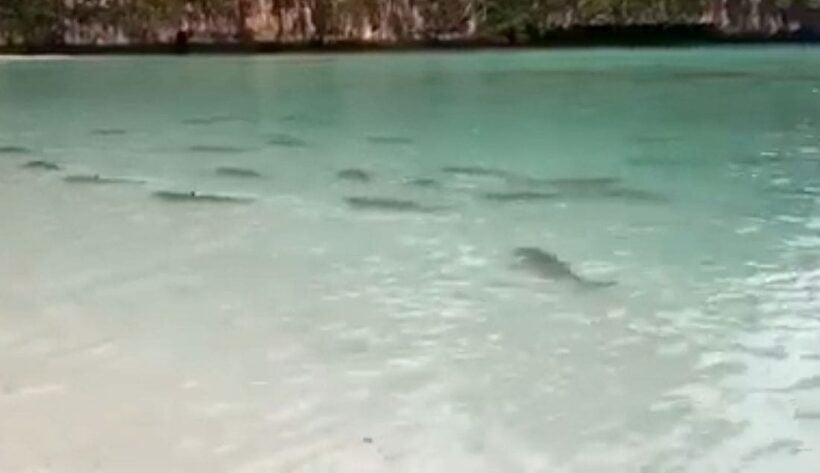 Blacktip reef sharks have been spotted at the recovering Maya Bay on Koh Phi Phi Ley today.
This morning official at the Hat Noppharat Thara-Mu Ko Phi Phi National Park reported that many Blacktip reef sharks were discovered swimming just off the beach in Maya Bay. They said it was a good sign of the improving biological system.
The famous bay remains closed indefinitely after an initial four months closure which has now been extended. Environment and marine officers say the Bay needs a lot more time to recover from the years of tourist ravage.
VIDEO: DNP/Newshawk Phuket
MAYA BAYBlacktip reef sharks were spotted at the recovering Maya Bay on Koh Phi Phi Ley today. This morning official at the Hat Noppharat Thara-Mu Ko Phi Phi National Park reported that many Blacktip reef sharks were discovered swimming just off the beach in Maya Bay. They said it was a good sign of the improving biological system.VIDEO: DNP/Newshawk Phuket

Posted by The Thaiger on Tuesday, October 16, 2018
Soi Dog Foundation responds to rabies and dog registration stories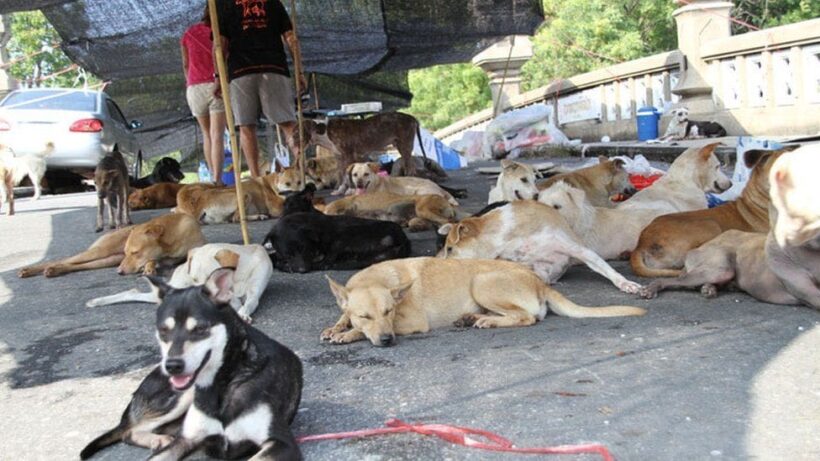 PHOTO: Bangkok Thailand Soi Dog
Phuket's Soi Dog Foundation has sent The Thaiger a response to an article published on October 16. The story was sourced from our Bangkok partners 'The Nation' and, according to Soi Dog, contains some glaring inaccuracies. You can read the original article HERE.
We reprint the response from the Soi Dog Foundation below…
"The Department of Livestock Development (DLD) carries out a survey, twice a year, in an attempt to count the number of dogs and cats in the country, both owned and stray. In 2016, it counted 7.3 million dogs and 3 million cats in Thailand, excluding Bangkok. This year the number of dogs was recorded by the DLD as 7,770,969, excluding Bangkok.
We at the Soi Dog Foundation carried out a census of free roaming dogs in Greater Bangkok two years ago and came up with a figure of 640,000, so a realistic number for dogs nationwide is somewhere around 8.4 million, not – as your story states – 820,000.
Another figure given in your story is that 40 per cent of stray dogs in Thailand could carry the rabies virus. If this were true, there would be hundreds of human deaths a year, if not thousands, and the carcasses of dead dogs would be scattered all over the place.
A story published by The Nation on September 28 ("Expert says rabies still not under control and official statistics may be misleading") gave a DLD figure of 15.3 per cent for the first nine months of this year.
But even that is highly suspect. It was based on a very small sample – just 8,472 dogs. And those were 8,472 dogs that had been caught by the DLD, and their brains examined post mortem for the virus because they were believed to be rabid.
Plainly, to base a percentage infection rate on a sample made up entirely of dogs that are already suspected to have rabies is utterly misleading. It would be like saying, "We checked a bunch of people thought to have diabetes and found that 15 per cent of them did indeed have diabetes."
The real figure must be much lower. We believe it is between 1 and 4 per cent.
At the root of all the problems being discussed is, in fact, Thailand's ineffective garbage disposal problem system, which allows a high number of dogs to survive and even get fat by scavenging from trash bins.
Trying to remove 8 million-plus dogs to "shelters" is futile, and carrying out culls (which would probably be illegal under the Cruelty Prevention and Welfare of Animals Act of 2014) would be equally ineffective. Here's why:
The cost of building shelters to hold 8.4 million dogs would be astronomical and the annual budgets for running them would equally expensive. It would be a huge drain on the national treasury.
Dumping dogs in government pounds would probably lead to large scale suffering and death, as was seen earlier this year when, as a result of the rabies panic, 3,000 dogs were crammed into the government animal quarantine facility in Nakhon Phanom. In just weeks, around 2,300 died from disease, starvation and wounds from fighting.
Dogs that were not caught in this proposed nationwide roundup, or which avoided being killed in a nationwide cull, would swiftly move into the territories of the dogs that had been removed, breeding rapidly and replacing them.
A female dog can have up to three litters of pups a year, each litter averaging seven pups. This means that one female and her offspring – and their offspring and so on – can become 67,000 dogs in six years. This is why an extended campaign of "catch, neuter, vaccinate and release" is so effective.
Even if all the dogs could be removed, the garbage problem remains, Other species would take over, notably cats, who breed even more rapidly than dogs, and monkeys. If they, too, were impounded – and cats and monkeys are far harder to catch than dogs – then the country would see an explosion in rat and mice populations. Outbreaks of bubonic plague transmitted by rats and their fleas would be far more frightening than rabies.
As we have seen in Phuket, large scale sterilisation, coupled with vaccination, works, not only in reducing numbers but also in eliminating rabies. It does require large scale investment, though far less than sheltering would, and spread over several years.
As to the issue of compulsory licensing of pets, whether there is a fee or not, we believe this is not a viable solution. It has been tried by other countries and then abandoned because the majority of dog owners – numbering in millions – simply decided not to comply.
Does Thailand have the resources to find, arrest and bring to court millions of dog owners, in order to extract small fines from them, always assuming that the authorities can prove in the first place that the dogs actually have "owners"?
We doubt very much that the government will find this is an effective measure for controlling Thailand's population of strays, reducing abandonments or reducing the spread of disease. Indeed, it is likely to have the opposite effect.
SDF Founder John Dalley, Soi Dog Foundation, Phuket