Phuket
American hit-and-run fugitive arrested in Koh Lanta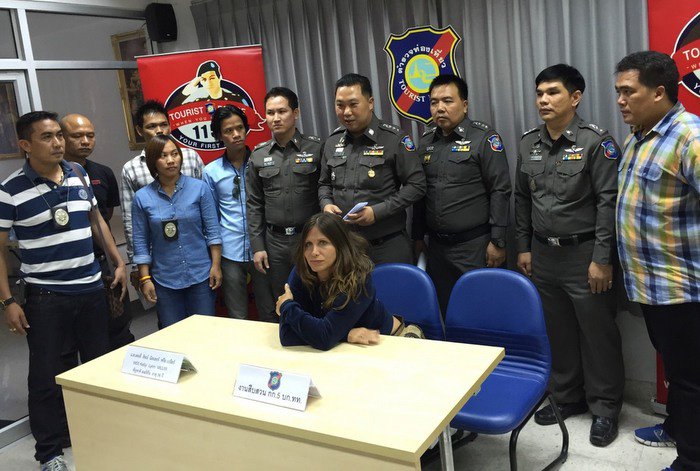 PHUKET: An American hit-and-run fugitive was arrested on Koh Lanta on Tuesday.
Police arrested Kelly Lynn Miller, 36, in the parking lot of the Poonsap Resort, after officers received a report from the United States Embassy in Bangkok that she was illegally staying in Thailand.
"We have been looking for Ms Miller since we received the report about two weeks ago," said Tourist Police Deputy National Commander Supaset Chokchai.
Ms Miller, unable to provide police with her passport or other documents, eventually confessed that she arrived in Thailand in 2009, and had thrown away all her identification documents in hopes that police wouldn't recognize her.
"She was charged for overstaying in Thailand and is being held at Phuket City Police Station until she is deported to the United States," confirmed Col Supaset.
Ms Miller fled the US after being sentenced to five years in prison, reported Al.com.
Ms Miller was charged for drunk driving causing a death after she killed a truck driver in Hoover, Alabama, in 2004.
Donald Goodwin, 57, had parked his truck in the emergency lane and was checking his tires when he was struck and killed, reported Al.com.
Ms Miller was arrested and released on a US$1,000 bond. In 2006, she was indicted for vehicular homicide, according to Alabama court records. She was arrested again, and then released on a US$10,000 bond, with a jury trial set for 2007. Ms Miller pleaded guilty to the charge and was sentenced to five years' imprisonment.
However, she fled Alabama and entered Thailand in 2009. She was officially declared a fugitive by the US Government in 2010.
— Voratuss Intasee