Alleged Aussie perfume thieves out on bail in Phuket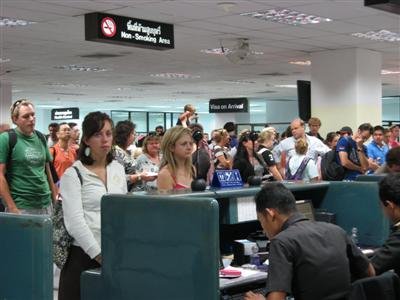 MAI KHAO, PHUKET: A young Australian couple accused of stealing three bottles of perfume from a duty-free shop at Phuket Airport have been released on bail, but must remain in Phuket while their court cases are heard.
Police identified the couple as 21-year-old Nathan Robert Hinds and his 16-year-old fiancée, whose name cannot be reported because she is a minor.
The couple were arrested by Tah Chat Chai Police on November 28 for allegedly shoplifting three bottles of perfume from the King Power duty-free shop in the departure lounge of Phuket International Airport.
The couple were awaiting their return flight to Australia after a 10-day holiday in Phuket when the alleged theft occurred. Their plans changed abruptly when the pair were arrested with the perfume, valued at 22,000 baht.
The cases of Mr Hinds and his betrothed will be forwarded to the Criminal and Juvenile Courts respectively, Tah Chat Chai Police say.
Phuket Juvenile Observation and Protection Center director Sukhaporn Udomsin said the young Australian woman was turned over to her mother and an Australian diplomatic officials after depositing 30,000-baht bail last Monday morning.
A source at Phuket Provincial Court said Mr Hinds was released on 100,000 baht bail the following day. He will have his first court hearing this Friday.
How long the minor will have to stay in Phuket will be up to the Juvenile Court, which has yet to receive the case file from police, Ms Sukhaporn said.
King Power also has to be contacted to see whether they want to press charges, she said.
"It will be up to the prosecutors whether or not to press charges. I can't tell how long they will be in Phuket, but normally cases involving foreigners don't take too long," Ms Sukhaporn said.
Tha Chat Chai Police duty officer Lt Col Sarit Bodnongsang said the couple are accused of conspiring to steal the perfume by slipping the bottles into each others' bags.
Because the alleged crime took place at night, they will face more serious penalties than for daylight shoplifting if convicted.
Both deny the charges, he said.
Their passports have been seized, Immigration has been informed and the pair will not be allowed to leave the province, he said.
With more than a week having passed since their arrest, it appears the case is not off to a swift start through the Thai criminal justice system, however.
Tha Chat Chai Police duty officer Sarit Bodnongsand told the Gazette today the case would stay with the police for the full two weeks allowable before it is forwarded to the courts.
Thus far the plight of the Aussie couple has failed to generate the kind of media attention back home as that of confessed beer mat thief Annice Smoel, a mother of four who walked out of the popular Aussie Bar in Patong with a beer mat in May this year.
After spending two nights in jail, Ms Smoel's plight caused a media sensation in Australia and around the world after it was reported that she would face a long period of separation from her children over what she claimed was an innocent 'prank'.
After the case hit the Australian and international media, Ms Smoel was subsequently released when she confessed to one charge of theft and was allowed to leave Thailand – about a month after her arrest.
Her fine of 1,000 baht was paid by Phuket Governor Wichai Phraisa-ngop.
The case of Mr Hinds is also notable in that it involves a King Power duty-free shop.
There have been several allegations of a scam operating out of King Power shops at Suvarnabhumi Airport in Bangkok. In what also became worldwide news reports, the shoppers, all tourists, were accused of shoplifting, then forced to 'negotiate' a settlement in order to catch their departing flights.
The British Embassy has warned its nationals transiting though Bangkok Airport not to move items around in the duty-free shops prior to paying for them as this could result in arrest and imprisonment, the BBC reported in July.
Thus far, no allegations of such scams at duty-free shops at Phuket Airport have been reported.
— Atchaa Khamlo
Want more from the Thaiger family?
📱 Download our app on Android or iOS for instant updates on your mobile
📧 Subscribe to our daily email newsletter
👍 Like/Follow us on Facebook
🔔 Subscribe to or Join our YouTube channel for daily video updates
Phuket tightens restrictions: No parties, no visits from friends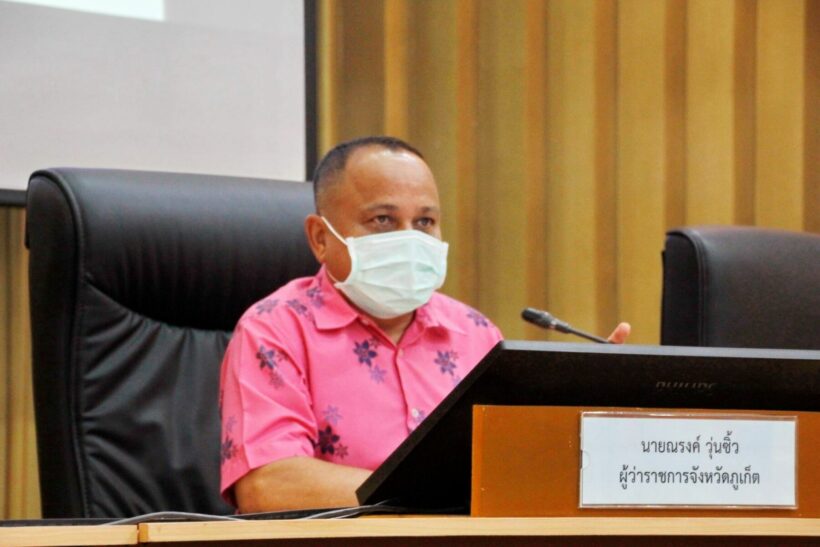 No, your friends can't come over. No parties. No drinking with friends. No large gatherings. As part of Phuket's efforts to stop the spread of Covid-19, local authorities have tightened restrictions and say friends are not allowed to gather at private homes.
"No parties of any kind allowed… No house party, no friends gathering in the residence."
Along with temporary closures of some businesses and venues, the order says, parties involving alcohol are banned and gatherings of more than 30 people are banned. The only gatherings allowed are religious ceremonies like weddings and funerals.
Foreigners who violate any of Phuket's disease control measures could be deported and lose their permission to stay in Thailand. On Sunday, 2 British men in Phuket were each fined 6,000 baht for having a "party." Only 6 people were gathered at the home. Police from the Cherng Talay station came by the home after a call from a neighbour.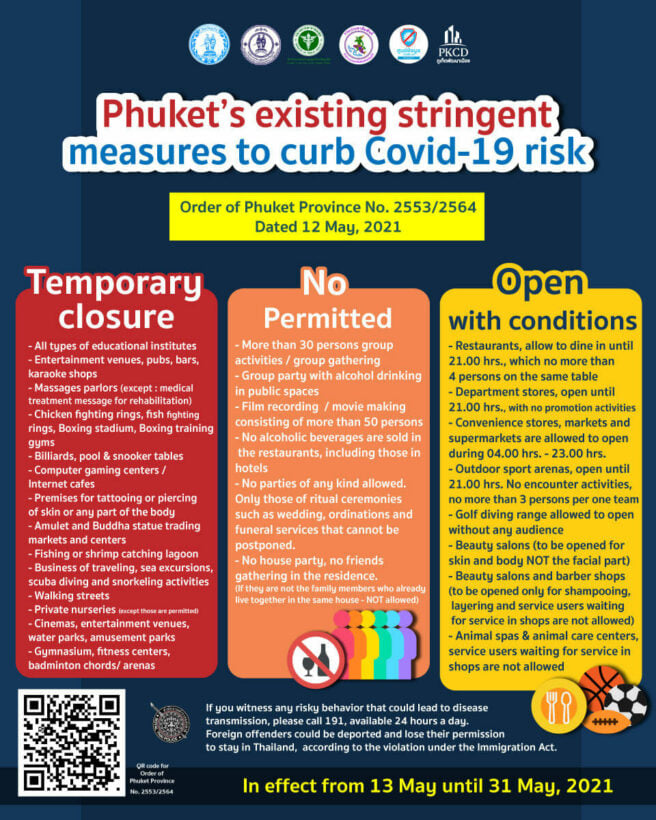 Want more from the Thaiger family?
📱 Download our app on Android or iOS for instant updates on your mobile
📧 Subscribe to our daily email newsletter
👍 Like/Follow us on Facebook
🔔 Subscribe to or Join our YouTube channel for daily video updates
3 organisers of Phuket's Kolour superspreader event charged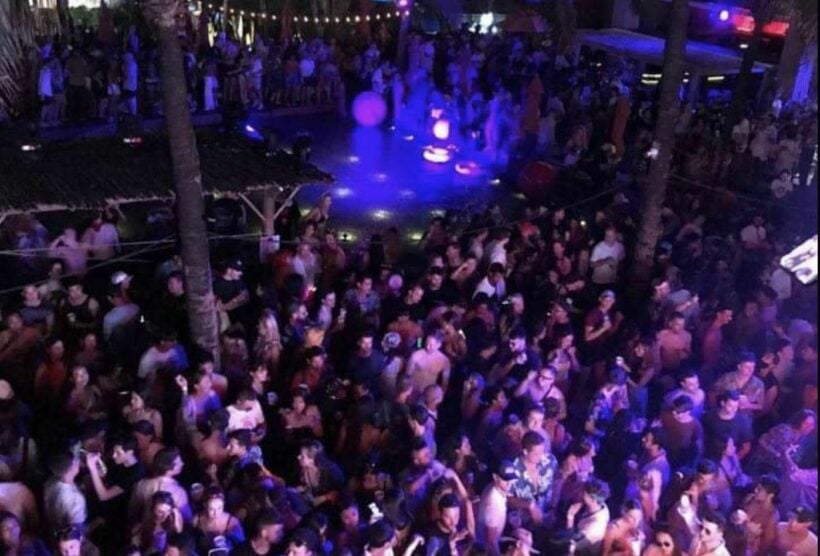 As Thailand still wrestles to control the third wave of Covid-19, much of which stems from entertainment venues in Bangkok and a massive party in Phuket, Patong police announced that the managers of the Phuket venues that hosted the Kolour superspreader event will be charged under the Emergency Decree. The case report was filed with the public prosecutor yesterday according to the Patong police chief, confirming that 3 people will be prosecuted for the event.
The Kolour Beachside Festival was held April 2 and 3 with events at Café Del Mar Phuket in Kamala, and Shelter Phuket Dance and Night Club and Illuzion Nightclub, both in Patong. Before the festival, Phuket had gone more than a hundred days without any new Covid-19 infections, but by April 7 the Phuket provincial Public Health office announced 8 new infections, half of which had been at the Kolour parties. In the following weeks, officials plead for attendees to be tested as infections spread.
Charges were delayed in being filed to the Phuket Public Prosecutor's office as a special investigation committee was ordered to be created to oversee the investigation at the request of Region 8's Police Commander. That committee brought together officials from various law enforcement in the area including the Patong Police, Kamala Police, Phuket Provincial Police, and the Region 8 Police to investigate the Kolour event before anyone was charged.
The manager of Café Del Mar, along with the managing director and the manager of Shelter and Illuzion, which are under the same management team, will be charged for the Kolour festival violating Thailand's Emergency Decree that was declared to help protect the country from Covid-19 outbreaks. A breach of the Emergency Decree can be held liable for up to 40,000 Baht and 2 years in jail under Section 9 of the Decree.
The latter 2 are also facing charges of operating an unlicensed entertainment venue. This carries the possibility of another year in prison and a fine of up to 60,000 baht, in accordance with Thai Law under Section 26 of the Entertainment Place Act.
SOURCE: The Phuket News
Want more from the Thaiger family?
📱 Download our app on Android or iOS for instant updates on your mobile
📧 Subscribe to our daily email newsletter
👍 Like/Follow us on Facebook
🔔 Subscribe to or Join our YouTube channel for daily video updates
Phuket woman impaled by steel rod in motorbike accident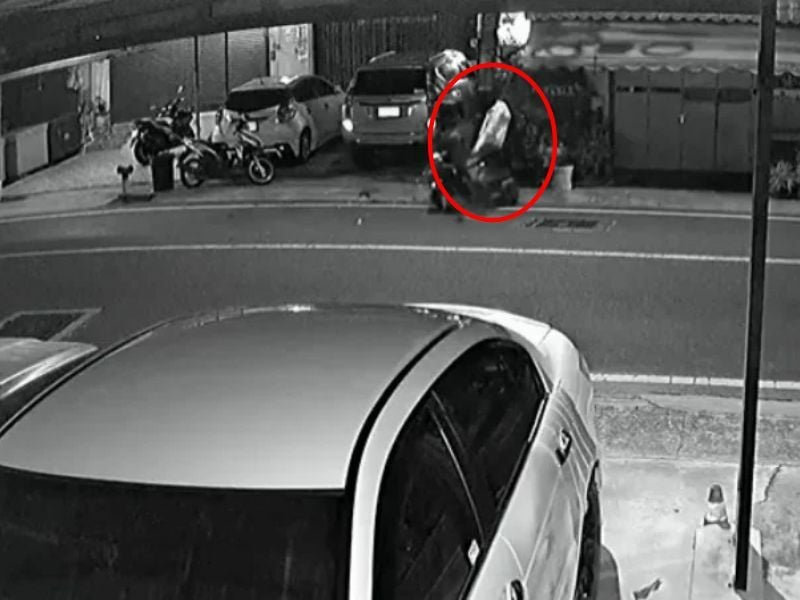 Police were called to the scene of a gruesome motorbike accident just after midnight in the Kathu area of Phuket, where a woman was impaled by a steel rod. The 34 year old woman crashed her motorbike into a concrete power pole on Wichit Songkram Rd between the Kathu Shrine and Kathu Municipality. rescue workers responded, and together with police, they arrived to find the woman still hanging from the power pole.
Khanuengnit Onoaun was driving a black and pink Honda Click motorbike and may have been speeding just before being impaled by the rod on the electric pole. Her motorbike was lying nearby the pole with significant damage to the front of the bike and the front wheel.
CCTV footage recovered from the scene suggest that the woman may have fallen asleep and crashed into the power pole. The pole had steel rods protruding from its side that utility workers use to climb when service or repairs are needed to the electrical lines, which is what impaled her when her motorbike hit the pole.
The metal rod pierced the woman's upper chest and went all the way through her body with about 2 inches exposed on the other side of her as she hung from the pole. Rescue workers could not remove her from the steel rod at the scene of the accident safely and instead chose to cut the rod to take her off the electric pole and into an ambulance. Cutting through the steel took about 5 minutes for the rescuers.
She arrived and was admitted into Vachira Phuket Hospital with the metal rod still impaled through her chest. The hospital had no updates about the woman's condition after her motorbike crash other than that she is alive and receiving treatment currently. The police plan on questioning her once she has had time to recover and investigating the incident further if necessary.
SOURCE: The Phuket News
Want more from the Thaiger family?
📱 Download our app on Android or iOS for instant updates on your mobile
📧 Subscribe to our daily email newsletter
👍 Like/Follow us on Facebook
🔔 Subscribe to or Join our YouTube channel for daily video updates