Three metre crocodile spotted off Bang Tao beach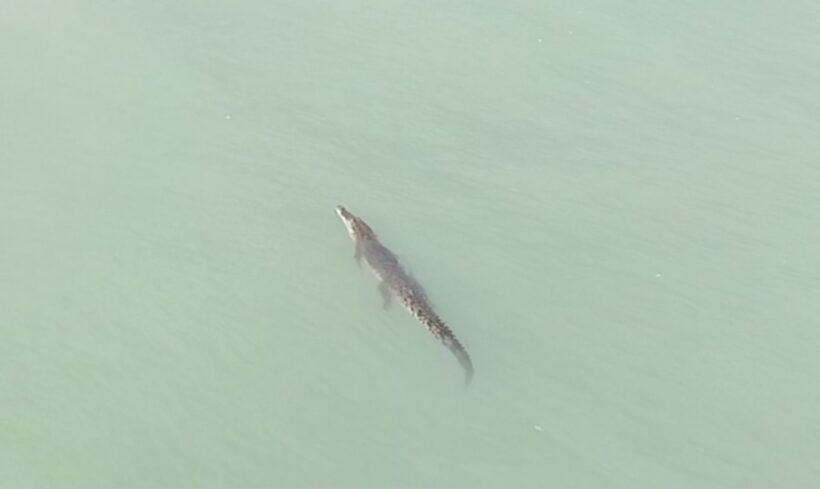 So this is how it happened…
Phuket expat 'Mike', along with his wife, were walking their dogs along Bang Tao beach last Friday. They say they normally start their walk around 2 kilometres south of the small island adjacent to the beach near Layan. On this particular morning they decided to walk in the opposite direction to the south instead of north.
Upon returning to their starting point around 8 am they met up with an Australian they often see who also has a few dogs. He asked the couple if they'd seen the 'Croc' and pointed just beyond the break. Mike made a comment at the time… "it surely must be a log" as he was surprised at the description of the size (around 3 metres!).
The Australian pointed out that the 'log' was actually "swimming against the drift" and Mike was able to confirm that. Mike and his wife eventually could see the reptile quite clearly as they could see it floating on top of the swell, and that it was, indeed, a large crocodile. The Australian said he would follow the crocodile which was moving to the south while Mike headed home to collect his son who had a drone (quad copter) and his telephoto camera equipment.
When Mike returned about 20 minutes later the Australian had gone but he noted some Burmese workers next to a hotel on Bang Tao beach all pointing and staring out to sea. The crocodile was still moving slowly south.
The drone was launched and started moving in to get some closer footage. Unfortunately as soon as the flying camera was within 20-30 metres the crocodile would dive and stay submerged for lengthy periods. But the video is certainly sharp enough to identify the creature as one VERY large crocodile.
The pilot of the drone was also a local expert in 'all things marine' and proposed the theory that the reptile may have drifted in from the Andaman Sea with the stormy weather.
We'd be happy to hear any other thoughts about the origins of this large, and dangerous, reptile.
It goes without saying that you should avoid swimming in any area with a 3 metre crocodile. If you do see such a beastie along the Phuket coast contact local wildlife authorities immediately.
Keep in contact with The Thaiger by following our
Facebook page
.
The 15th Mai Khao Marine Turtle fun run attracts more than 4,000 runners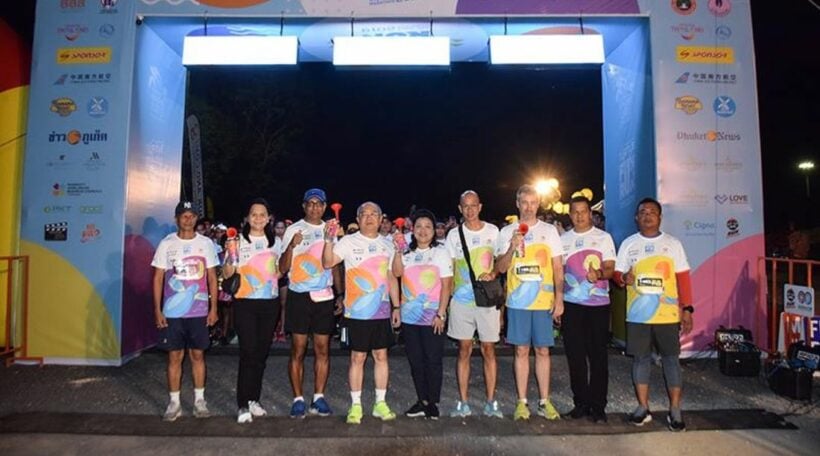 4,000 runners from Thailand and overseas took part in the 15th Mai Khao Marine Turtle Fun Run and Half Marathon 2019 yesterday, starting from the Phuket Gateway.
The event is expected to raise 700,000 baht for the charity, now in its 15th year. The money raised goes towards to The Mai Khao Marine Turtle Foundation, which is committed to protecting the marine and coastal environment, and ecosystems, for the wellbeing of sea turtles that nest in the Mai Khao beach and the surrounding areas.
The annual race also provides funds for thePhuket Marine Biological Centre's Injured Turtle Rehabilitation Program and The Third NavalArea Command's Turtle Hatchery Program.
The race was in its 15th year and runners of all ages and abilities took part in the race. The morning's racing was divided into five categories – the 21.1km half marathon, 10.5km mini- marathon, 5km fun run and 3k family run and VIP participants for all the races. The route of 21.1 kilometre race took runners northwest along the Haad Sai Kaew beach towards Thao Thepkasattri bridge, past the rural road No. 3006, run along the road – Pi Lai viewpoint area returned back along the T. Baan Tha Nun to the iconic Sarasin bridge before finished the half marathon in the Phuket Gateway.
For Mini Marathon 10.5 km – Over all category, Mr. Chinnawat Changlek clocked 39 minutes and 40 seconds to clinch victory in the male half marathon, winning prize money and a trophy with the signature of Phuket's Governor. The winner in the female mini marathon was Surakarn Wanna with a time of 47 minutes and 47 seconds.
Winners also received a prize gift voucher as well as a medal. Congratulations to all participants.
Keep in contact with The Thaiger by following our
Facebook page
.
'Phang Nga Bay and Beyond' exhibition by Marilyn Band at Mom Tri's WOK Gallery Kitchen in November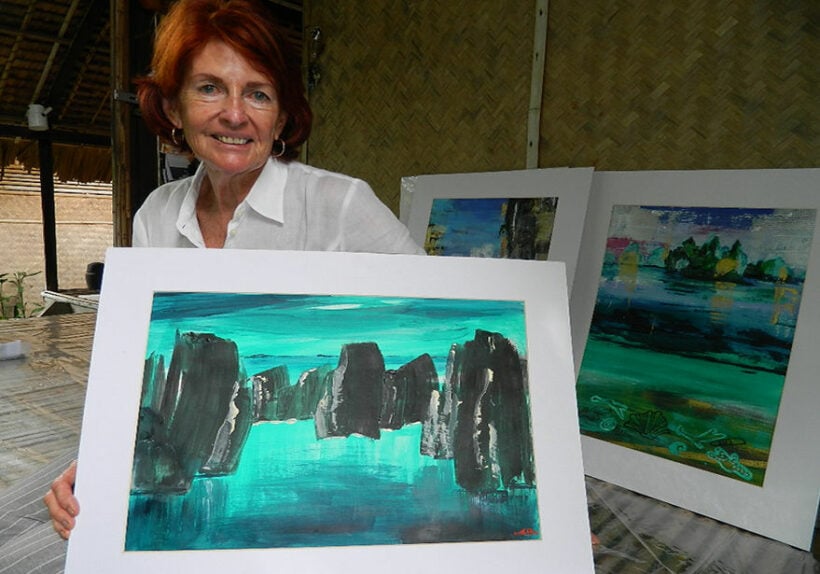 The Art exhibition "Phang Nga Bay and Beyond" by Marilyn Band is being held at Mom Tri's WOK Gallery Kitchen, Chalong, Kata Hill, Phuket from November 30, 2019 – January 31, 2020. The opening will take place on Saturday November 30, 2019 at 6.30 pm.
Artist's Statement
"For the current exhibition, I am presenting recent work, a more abstract expression of Phang Nga Bay's beauty, which intends to encourage the viewer the opportunity to interpret and appreciate a little bit of paradise. I am quite excited about these more abstract works as it has allowed me to explore the essence of these limestone monuments in the bay.
"I find the natural world a beautiful, magical place. My paintings are inspired by many sea voyages. Though based on reality I try to introduce my own feelings and vision which will delight others."
Biography
Marilyn Band has been creating art since childhood, influenced by a family who surrounded her with paintings and the creations of several generations of her ancestors who were famous stained glass artists. She went to Florence, Italy for life drawing and then went on to study graphics at High Wycombe Technical College in Buckinghamshire, England and started her career as a graphic designer in a variety of advertising agencies in London.
On Holiday in the Seychelles, she met her future husband, Nick Band, and they have been sailing around the Indian Ocean and SE Asia for more than forty years allowing Marilyn the chance to draw and paint the now disappearing tropical cultures from Zanzibar to Sri Lanka to Phuket, and beyond.
She arrived in Phuket in 1980 and immediately built a studio that has been the center of her art projects. Between sea voyages and other travels, Marilyn has become one of Phuket's most significant artists with one person exhibitions at Mom Tri's Boathouse and Villa Royale Galleries.
She has also designed and developed the graphics for the island's world famous Phuket King's Cup Regatta media.
She continues to explore new avenues of self- expression in acrylic, oil, watercolour, ink, collage and silkscreen.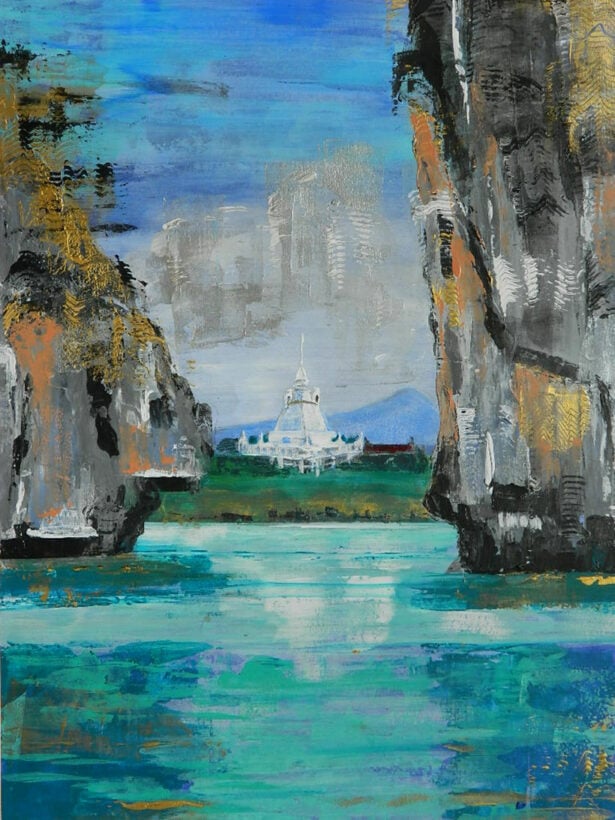 Keep in contact with The Thaiger by following our
Facebook page
.
Top 10 English news sources in Thailand (2019)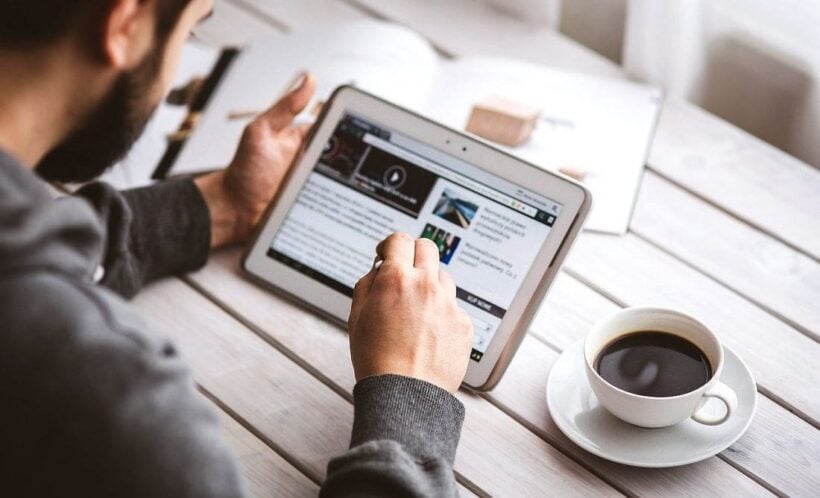 …in English, in no particular order.
This post is mainly for newbies, tourists and people-interested-in-Thailand. Locals already have their home favorite news sources. But all these Top 10 do it well, in their own way. All are trying to navigate their way through the labyrinth of modern media, some better than others, whilst punching out daily news. We think they're all stars because doing media in Thailand, in English, is a tough gig.
These are all news and information sources and the list doesn't include the myriad of excellent blogs around – a topic for another Top 10.
1. Bangkok Post
Traditional news, still delivered as a daily newspaper, but with an expansive and thorough website. It's been going since 1946 and reported on a coup or two, or three. As far as making the move into digital media is concerned, Bangkok Post is doing it better than most. Editorially it has has taken a, mostly, neutral political stance with a few exceptions. But, as newspapers go, it walks down the middle fairly reliably. It is currently the leading English language news portal in Thailand and deserves its position on top.
2. The Thaiger
Please indulge us as we put our own website and news in the Top 10. The Thaiger, only running as a national website since April 2018, remains the fastest growing English-speaking online-only news and information site in the Kingdom (according to the 'stats').
The Thaiger curates the news and chooses topics it believes will be interesting, important or newsworthy, in English, Thai and now Vietnamese too. The Thaiger bought out the Phuket Gazette's digital assets in August 2017 but now has a national and regional focus, whilst continuing to pay homage to its home turf in Phuket. Currently has the second highest readership of any English-speaking news website in Thailand.
3. The Nation
The Nation was the other major daily coming out of Bangkok, well for 48 years anyway, was a lot newer than Bangkok Post when it started up in 1971. The Nation took a more partisan line, famously turning its editorial voice against PM Thaksin Shinawatra. In latter years the paper struggled with circulation and was taken over by Sontiyan Chuenruetainaidhama, founder of conservative outlets T News and INN News. Falling circulation and advertising revenues eventual killed off the printed daily version. Final issue June 28, 2019. The Nation changed their domain name (suicidal) and continues as an online-only news source with an excellent coverage of local Thai politics.
4. ThaiVisa
Used to be the biggest and most popular news website in Thailand (in English). If it moves or breathes, you'd find the story on ThaiVisa. It's full of news copied and pasted from partners who agree to share their news on the site. It's also famous, or infamous, for its hugely popular forums where keyboard warriors dispense their opinions and wisdom on everything, usually tearing just about everything in Thailand to shreds. Whilst it was once the biggest English-speaking news website in Thailand for a decade it is now being challenged by new sources moving into the same web space. Plenty of info, a lot out of date, about visas and other snippets about living in Thailand.
Fresh, selective, well-written and a rising star in real Thai english-language journalism. An offshoot of it's much bigger Thai-language sister. To the point, original stories with a modern journalistic spark. They tend to choose their stories and provide excellent insight when they do. Original and deserving of your daily read.
6. Coconuts
Most would agree that when Coconuts started it was the best and cheekiest news blog for its time. Actually covering all of South East Asia, it's Bangkok blog was a daily log-on for most hip expats. Now they've taken the brave 'paywall' option (because people want to pay for good journalism they say) which seems to have killed off some of their web traffic but the company says they will persist with the subscription model. In our opinion it's lost a bit of its verve but it's still a healthy and reliable daily read for Thailand and the region. Singapore it its most popular location, Thailand is third.
A shameless aggregator, they copy and paste headlines and a few paragraphs with a link to the original story. Designed to rank in Google, the site is still in its early days. To avoid any copyright issues, the stories usually include a photo library 'look-a-like', instead of the real photo from the story. For all we know the entire site could be run by cleverly-coded robots.
There is no sign of a human touch anywhere. Rather than a contributor to the world of Thai journalism, the site is just a parasite using everyone else's news. Bottomline, it's nicely set up and has, well, most of the stories around Thailand, all in one neat package.
Chiang Rai Time is a local website that is regularly updated, nicely laid out, aggregates most of the main international stories and has plenty of local news relevant to the residents of northern cities of Chiang Rai and Chiang Mai. You may notice a similarity with The Thaiger as they used the same WordPress theme – we'll take it as a compliment. There's also Chiang Mai City Life which is a bit less 'newsie' and has plenty of northern lifestyle info in addition to the local news.
Whilst the rest of Thailand does things one way, Pattaya does things differently, in every aspect, including its media. But The Pattaya News does a better job than most with daily content, some original, and translating stories from Thai media. Easy to navigate, clear and readable, unlike a lot of others!
10. Thai PBS World
A government news agency but has demonstrated its independence over the years. As a website it's had more face-lifts than Joan Rivers but remains solid, reliable and surprisingly (especially as it's run by a quasi-military government) unbiased. Also tends to cover stories the other news sources don't.
Keep in contact with The Thaiger by following our
Facebook page
.