Scuffle in Walking Street ends up in hugs and wais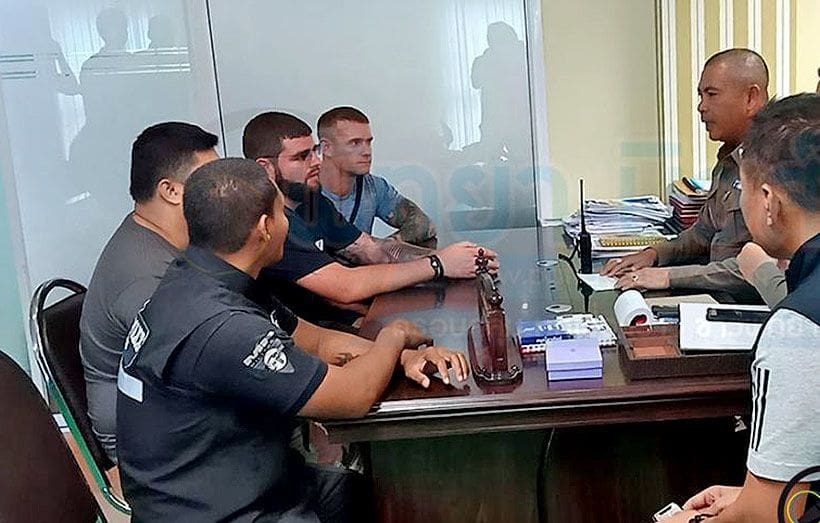 A fight in Pattaya's Walking Street at the weekend ended up as a disagreement between two British friends, one of them the owner of the bar where the fight took place. But it was the Thai bouncer at the bar who ended up being hit.
Pattaya News reports that the two British men have been fined a total of 15,000 baht after Pattaya police sat them down for a 'chat'.
The whole late night spat ended up in hugs and polite wais – the good name and 'world class resort' status of Pattaya intact.
The Pattaya News reports the names of the two British tourists as Mark Jones and Kieran Flannery. They allegedly started fighting in a club owned by Kieran.
Thanachai Wansiripetch was one of the bouncers at the establishment who tried to intervene and move the fight outside. He ended up being hit for his part in trying to cool the situation down.
Keiran and Mark were fined 5,000 baht each for fighting in public and Mark got an additional 5,000 baht for hitting the Thai bouncer.

STORY: Pattaya News


Answers demanded over nuclear waste found in Laem Chabang Port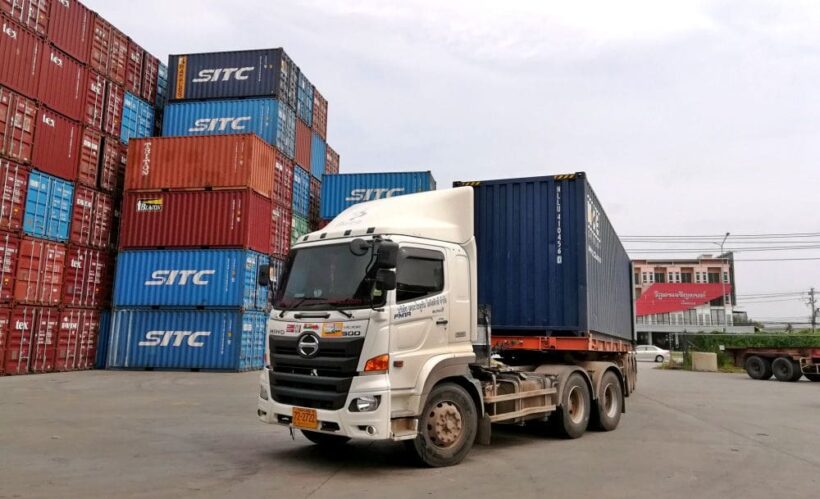 by Pratch Rujivanrom
After Friday's alert about radio active material being discovered at Thailand's main sea port at Laem Chabang, authorities have passed on very little news
Now academics are urging authorities to come clean with information about the radioactive waste found at the port and investigate the shipment's entire route.
The Office of Atoms for Peace (OAP) and the Port Authority of Thailand have said the radioactive waste was safely retrieved from the seaport in Chonburi yesterday (Sunday), but there has been no detailed information about the radioactive material detected inside the export container holding scrap aluminium.
Somnuck Jongmeewasin, a lecturer at Silpakorn University's International College, noted that the radioactive waste was found last week, but all that's been revealed is that it has the form of five-centimetre-long, needle-shaped pieces with an unsafe radiation level of 85.83 microsieverts per hour.
According to the Thailand Institute of Nuclear Technology (TINT), the acceptable level of radiation exposure for humans is 1,000 microsieverts per year. Exposure should be limited to 2.73 microsieverts per day or 0.11 per hour.
Somnuck said there was still no information about the kind of radioactive material or its isotope, half-life or origin, so it was impossible to determine the risks to anyone who might have been exposed or the level of radiation contamination in the environment.
"The relevant agencies have to fully disclose the details of this to the public as soon as possible so we can properly deal with it, because radioactive waste is a very severe threat to public health," he said.
"Even though the radiation is far too low to cause instant sickness, the received radiation, when the level is high enough, will accumulate in the body, which can trigger serious sickness such as cancer in the future."
The TINT has said that anyone accumulating more than 1,000 millisieverts or being exposed to more than 100 millisieverts per year is likely to eventually contract cancer.
Somnuck also demanded that the agencies involved investigate the background, since smuggling radioactive waste violates several laws. He speculated that this was not the first time such waste had been smuggled through Thai ports. He suspects a connection with the trade in hazardous waste because disused machines containing radioactive parts are shipped to Thai recycling plants and the separated metal materials are transported overseas to be melted down for other uses.
OAP deputy secretary-general Ratchada Hempatavee said little had yet been revealed about the situation because her office, the Customs Department and the TINT must wait for permission from higher up the chain of command to make any announcements.
The three agencies have finished analysing the radioactive waste and removed it from the port, she confirmed.
"We urge the public not to panic because the situation has already been handled, and the Customs Department, which is agency with leading responsibility on this issue, will provide more information when we're ready," Ratchada said.
Meanwhile, Laem Chabang Port managing director Pol Sub Lt Montree Lergchumniel concurred that the situation was under control. And despite rumours, he said, the seaport had not been closed.

STORY: The Nation
Phew! Police report there is no prostitution or drugs in Walking Street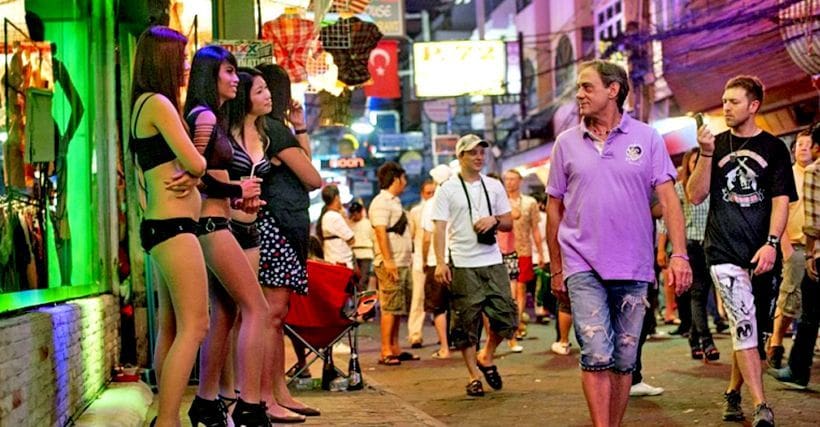 Netizens of Thailand are breathing a collective sigh of relief after it was revealed that there is no prostitution in Pattaya's infamous Walking Street.
Police proudly declared that, following checks on the famous red light district, they found absolutely no evidence of prostitution. The check was one of the highly public monthly police 'inspections' of the street, usually with the local media in tow.
To make things even better Police were able to report there were do weapons or drugs found as well.
Does it get any better than this?!
In fact everything was 'fine' as the authorities investigated the pubs and entertainment venues at the culmination of a great long weekend at the Chonburi resort.
Which is just as well, because Pattaya is no the 'world class family resort' according to the TAT.
Sanook reported that said the Pattaya police station chief Pol Col Apichai Krobpetch led the police contingent in line with government policy and regular checks of the party district.
But, said Apichai, there was no crime to report at all.
Thailand sleeps well tonight knowing there is no prostitution or drugs in Walking Street.
Phew!
Pattaya police track down property scammer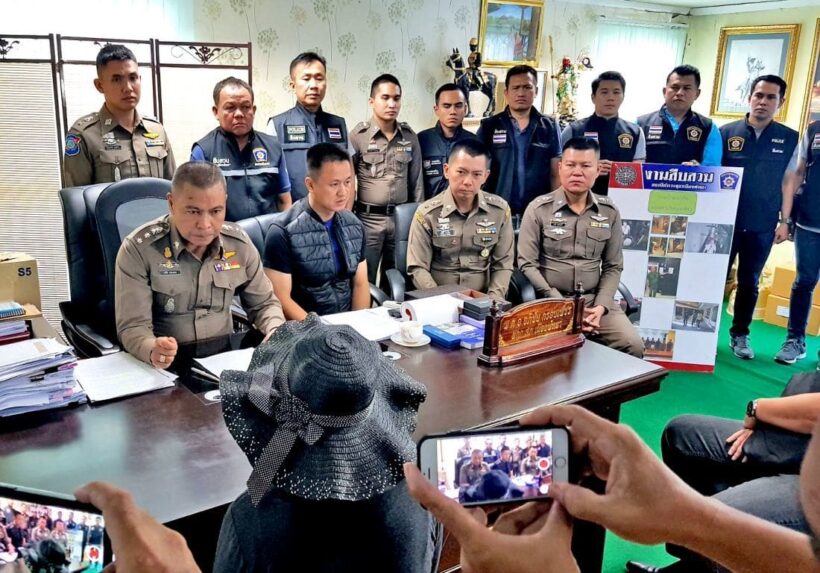 PHOTOS: Sophon Cable
Cautionary Tale #2,980
An Italian pensioner met two Thai ladies along The Avenue on Beach Two Road in Pattaya. The events happened back in February this year.
They ladies showed 64 year old Cosimo Tato some English cash and convinced him that they were into selling condos and could arrange a viewing for him and discuss pricing and sales.
According to Sophon Cable, the Italian man invited them to his room nearby at The Base condo in Central Pattaya (because that's what you do when you meet complete strangers in Pattaya?!?!?!).
One of the ladies asked to put her pounds sterling in his safe – the report says he was happy to oblige. He made everyone a coffee as they sat down to discuss buying property in Thailand.
The next thing he knew he woke up and all his money and property in the safe was gone (aghast, surprise, shock).
He claims that he had been drugged. Missing was 5,000 Euros, 35,000 baht and a valuable gold necklace – in total claimed to be valued around 300,000 baht according to the police report.
Pattaya station chief Pol Col Apichai Krobpetch told the story to reporters saying that the crime happened back in February. CCTV identified a previous offender, 48 year old Amorn Yeumya, as one of the women concerned and a warrant for her arrest was issued.  She has been apprehended while police are still seeking her accomplice.
Amorn has admitted drugging the pensioner by putting something a friend gave her into his coffee. She has been charged with theft from a property and detained.
SOURCE: Sophon Cable