Scuffle in Walking Street ends up in hugs and wais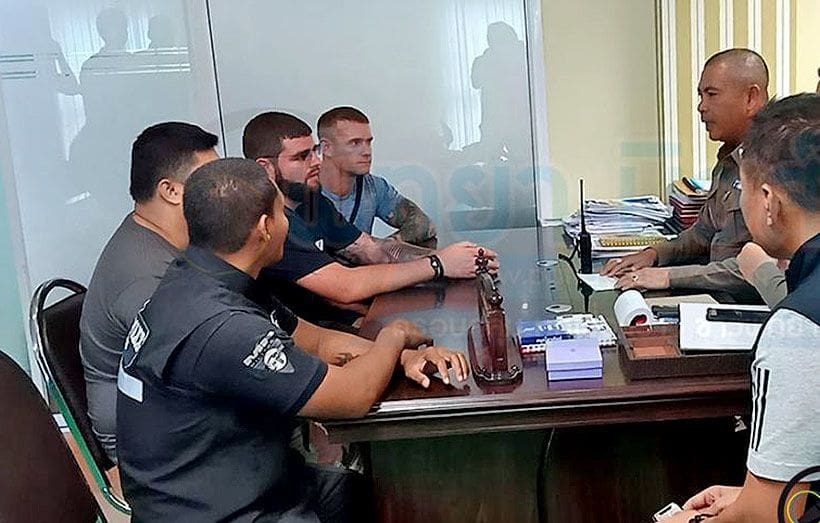 A fight in Pattaya's Walking Street at the weekend ended up as a disagreement between two British friends, one of them the owner of the bar where the fight took place. But it was the Thai bouncer at the bar who ended up being hit.
Pattaya News reports that the two British men have been fined a total of 15,000 baht after Pattaya police sat them down for a 'chat'.
The whole late night spat ended up in hugs and polite wais – the good name and 'world class resort' status of Pattaya intact.
The Pattaya News reports the names of the two British tourists as Mark Jones and Kieran Flannery. They allegedly started fighting in a club owned by Kieran.
Thanachai Wansiripetch was one of the bouncers at the establishment who tried to intervene and move the fight outside. He ended up being hit for his part in trying to cool the situation down.
Keiran and Mark were fined 5,000 baht each for fighting in public and Mark got an additional 5,000 baht for hitting the Thai bouncer.

STORY: Pattaya News



Read more headlines, reports & breaking news in Pattaya. Or catch up on your Thailand news.
Chinese tourist drowns off Koh Samet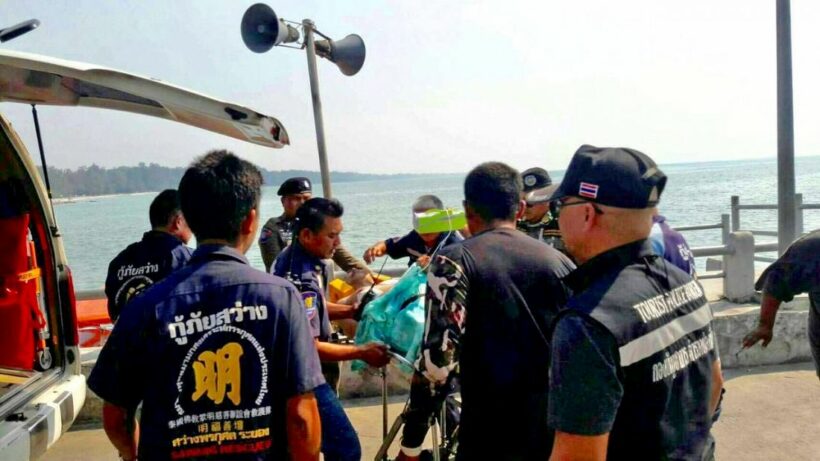 by Achara Wisetsri
A 58 year old Chinese tourist, who got into difficulty whilst swimming off Koh Samet on Saturday, has died while being transported to a district hospital. Koh Samet is off the coast of Rayong province, east of Bangkok.
Witnesses say he was "battered by waves" in the sea off Sai Kaew Beach. The victim was swimming with a large tour group.
The Chinese tour group members say that 58 year old Xiang Xeng Xui arrived at a hotel near the beach on Saturday with the rest of the group. He and some others went for a swim. The Nation reports that the man suddenly sank under waves after struggling. Other members of the group searched and rescued him shortly afterwards. The man was resuscitated and rushed by speedboat to seek medical help to a mainland hospital but he died on the way, according to the police report.
His body will be sent back to his family in China, while fellow-tour group members returned to Bangkok from Koh Samet yesterday.
SOURCE: The Nation
Belarusian 'Anastasia' will be in Moscow detention another 3 days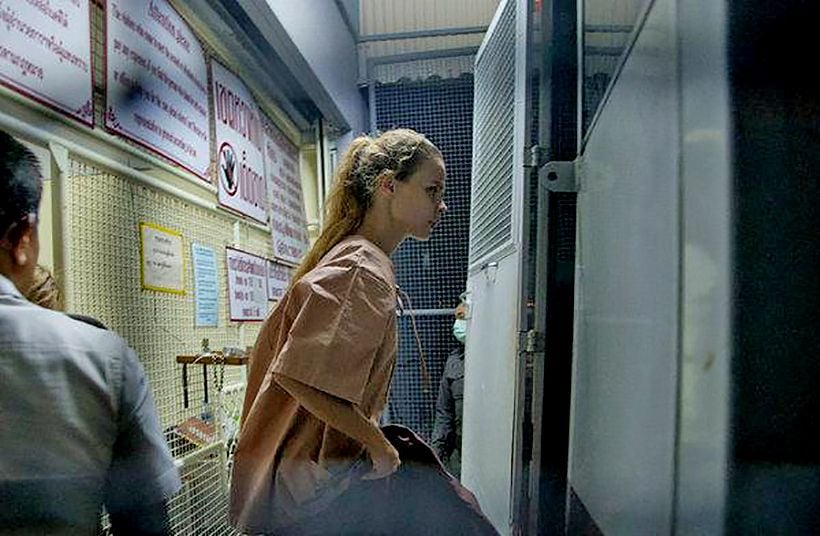 Anastasia Vashukevich, aka. Nastya Rybka, the Belarusian model/sex-educator/Instagramer who spent a year in a Thai jail awaiting last week's Court case, and was then deported, remains in a Moscow jail as of last night after the presiding judge decided to extend her detention by 72 hours.
She was arrested at Moscow airport on Thursday after being deported from Thailand on Tuesday night. She, and seven others, pleaded guilty last Tuesday for participating in a "sex training course" in Pattaya nearly 12 months ago.
During a hearing yesterday in Moscow, she said she did not want to "in any way compromise aluminum mining magnate, Oleg Deripaska".
According to Interfax she said in the hearing, "I have had enough."
Her lawyer Dmitry Zatsarinsky, told reporters that his young client "has committed no crime" and had "nothing to do with" Deripaska and "still less with US President Donald Trump".
On Friday her lawyer denounced Anastasia's arrest, which was made while she was in transit in Moscow after a flight from Thailand on her way to Belarus.
The Belarusian gained notoriety last year when she claimed she had proof of Russian collusion with the Trump Presidential election campaign. She has now had her detention in Moscow extended by three days by a Russian court.
According to Interfax reports, she told the court she denied the accusation of prostitution, telling the court that "I am not guilty of what I am accused."
She unexpectedly pleaded guilty in a Bangkok court to charges of prostitution relating to last February's sex training course in Pattaya. The Thai judge suspended the group's sentences but deported them, effective immediately.
Anastasia had been in custody in Thailand since a police raid in what AFP described as the "sleazy seaside resort of Pattaya" last February.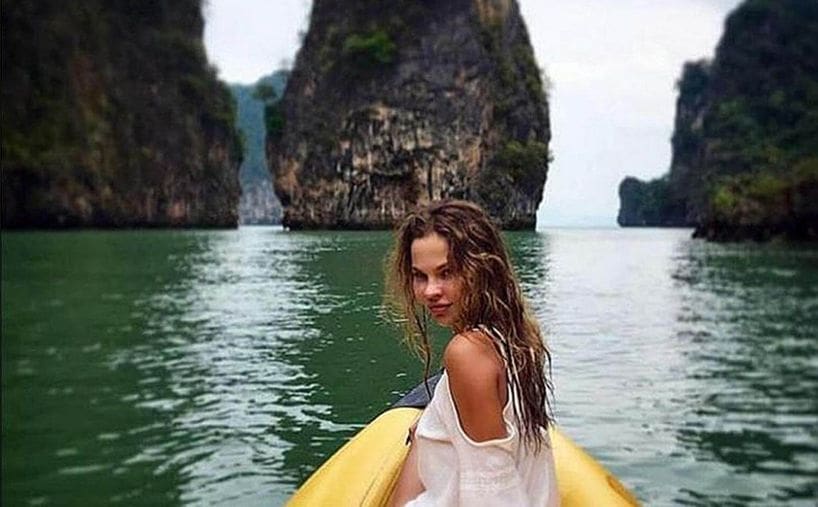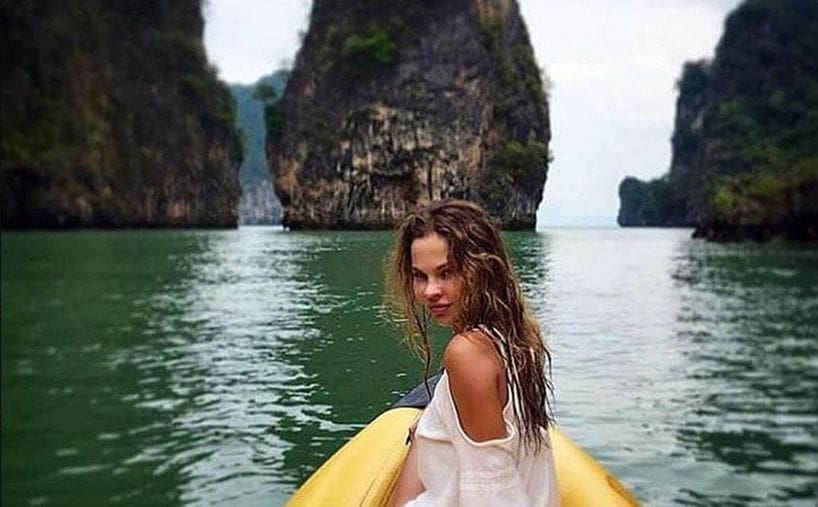 Anastasia cruising around Phang Nga in 2017 – Instagram
Deported Belarusian model, and seven others, detained in Moscow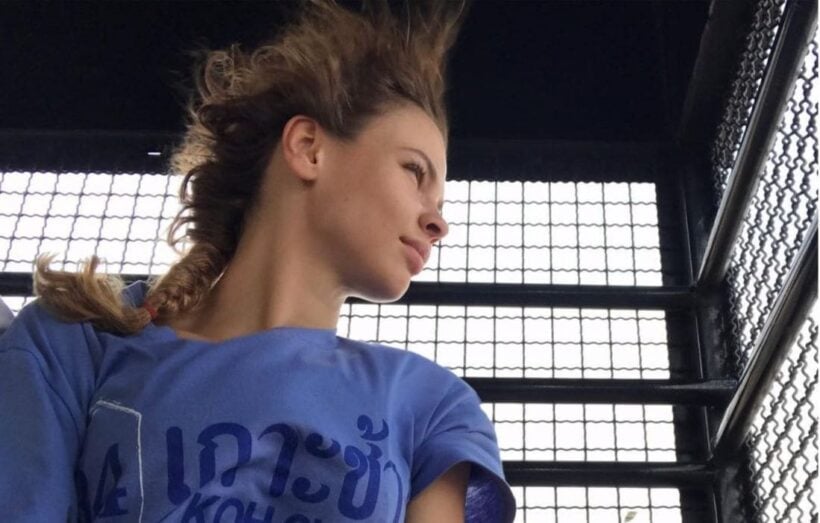 PHOTO: Instagram/nastya_rybka.ru
A woman who had claimed to have 'dirt' on Russian attempts to meddle with the US Presidential elections in 2016, is now in detention in Moscow.
Anastasia Vashukevich, aka. Nastya Rybka on social media, was deported from Thailand on Thursday after pleading guilty to charges including soliciting prostitution in a court case last Tuesday in Bangkok.
She, and seven others who were also deported over the Pattaya sex-training courses, arrived at Sheremetyevo Airport, Moscow, on Friday morning. Vashukevich was detained on suspicion of enticement into prostitution, according to state news.
"They speak very rudely!" she claimed in a text message.
"They say we must go with them for a couple of days somewhere!"
The deportees were detained by a group of people "in civilian clothes" who did not introduce themselves or say why she was detained, according to Anastasia.
Vashukevich came to world attention last year when, from her cell in Bangkok, publicly called for the US to help free her in exchange for information on alleged ties between the Trump campaign and Russia.
She was deported from Thailand on Thursday after she and seven others pleaded guilty at the start of their trial to charges including soliciting prostitution and "forming and being a member of a secret society" (translated).
The group were each sentenced to 18 months in jail but released to serve the remainder of their sentence on parole.