Russian tourist dies after being hit by motorbike in Pattaya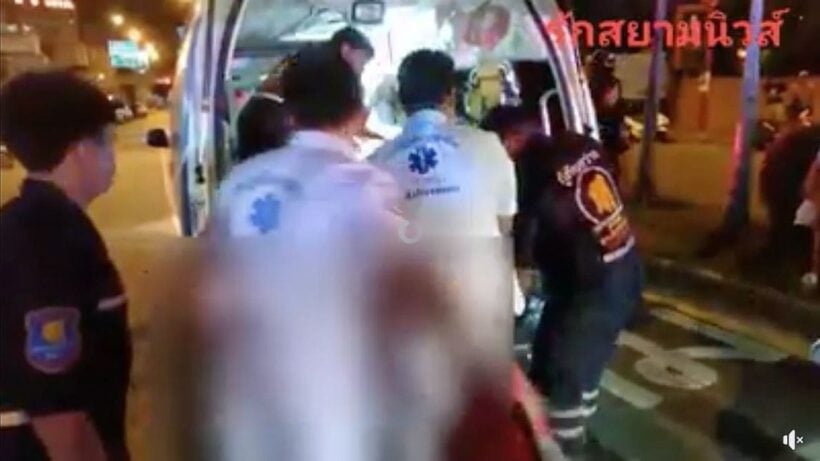 A 35 year old Russian tourist has been knocked over near the bridge leading to the Bali Hai port in South Pattaya on Saturday night. Meanwhile, two Kuwaiti nationals were in Bangkok Pattaya and Pattaya Memorial hospitals with multiple fractures and other injuries following the apparent collision. Pattaya media report that they were part of a gang of ten middle eastern men on motorcycles racing around the streets of Pattaya.
Ruk Siam News have identified the woman as Anna Ksina.
The Run Siam video shows a crowd of passers-by watching as Sawang Boriboon Foundation officers give her CPR before being taken to hospital. She was pronounced dead when she arrived.
SOURCE: Ruk Siam News
แก๊งชาวอาหรับซิ่งจักรยานยนต์นับสิบคันชนนักท่องเที่ยวขณะเดินข้ามถนนดับคาที่ เมื่อเวลา00.30.น.วันที่ 15 มิ.ย.62 ผู้สื่อข่าวได้รับรายงานจากทางศูนย์วิทยุ สภ.เมืองพัทยา ว่าได้มีรถจักรยานยนต์เกิดอุบัติเหตุชนคนเดินเท้าจนได้รับบาดเจ็บอาการสาหัสเป็นนักท่องเที่ยว เหตุเกิดบริเวณถนนสายทัพยา ก่อนจะถึงใต้สพานต่างระดับ แหลมบาลีฮาย พัทยาใต้ ต.หนองปรือ อ.บางละมุง ต.ชลบุรี หลังได้รับแจ้งแล้วได้รีบเดินทางไปตรวจสอบบริเวณจุดที่เกิดเหตุ พบนักท่องเที่ยวเป็นหญิงชาวรัสเซีนทราบชื่อMiss.ANNA KSlNA อายุ 35 ปีสัญชาติรัสเซีย นอนจมกองเลือดแน่นิ่ง อยู่ในอาการสาหัส และได้มีมูลนิธิสว่างบริบูรณ์ ธรรมสถานเมืองพัทยา กําลังช่วยกันปั้มหัวใจนักท่องเที่ยวสาวชาวรัสเซียในเบื้องต้น จนกระทั้งรถโรงพยายาลเมืองพัทยามาถึงที่เกิดเหตุ จากนั้นจึงได้รีบนําร่างส่งโรงพยาบาลเป็นการเร่งด่วนแต่สุดท้ายทนพิษบาดแผลไม่ไหวเสียชีวิตในเวลาต่อมา ส่วนผู้ได้รับบาดเจ็บอีก2 คน เป็นชายคาดว่าเป็นชาวคูเวตไม่ทราบชื่อได้รักษาตัวอยู่ไนโรงพยาบาลกรุงเทพพัทยา1คนโรงพยาบาลพัทยาเมโมเรียล1คน ทั้งคู่อยู่ในอาการสาหัส แขนขาหักอีกคนหัวกระโหลกเปิดแต่ในที่เกิดเหตุพบรถยนต์เก๋งยี่ห้อโตโยต้าสีบอลหมายเลขทะเบียนขข-3613 ระยอง ได้รับความเสียหายบริเวณท้ายรถจํานวนมาก และยังพบรถจักรยานยนต์ยี่ห้อฮอนด้าขนาดใหญ่ 650 ซีซีบี สีดํา หมายเลขทะเบียน 5744 กรุงเทพมหานคร เสียบคาท้ายรถยนต์เก๋งได้รับความเสียหาย ซึ่งรถจักรยายนต์คันดังกล่าวซึ่งคนขับเป็นชาวอาหรับโดยทั้งคู่ซ้อนท้ายมาด้วยกันแต่ยังไม่ทราบว่าใครเป็นคนขับ ส่วนสาเหตุนั้นในเบื้องต้นทราบว่า ผู้เสียชีวิตเป็นชาวรัสเซียขณะกําลังเดินข้ามถนน ได้มีกลุ่มแว้นชาวอาหรับนับสิบคันขับมาด้วยความเร็วมุ่งหน้าใต้สะพานต่างระดับพัทยาใต้ จนทําให้รถจักรยานยนต์คันดังกล่าวพุ่งชนผู้เสียชีวิตจนกระเด็น ส่วนรถจักรยานยนต์ที่มีชาวอาหรับเป็นผู้ขับขี่แถลเข้าไปชนท้ายรถยนต์เก๋งที่จอดข้างทางจนได้รับความเสียหาย จนกระทั้งเวลาผ่านไปนับชั่วโมงทางเจ้าของคดีพึ่งเดินทางไปถึงที่เกิดเหตุ ก่อนที่ทางมูลนิธิสว่างบริบูรณ์ นําคนเจ็บทั้ง3 ส่งโรงพยาบาลเป็นที่เรียบร้อยแล้ว แต่ทางผู้สื่อข่าวทราบว่ากระเป๋าของผู้เสียชีวิตได้หายไปโดยไม่ทราบว่าใครเป็นคนเอาไปเหลือแต่สายกระเป๋าแต่ยังไม่ทราบว่าทรัพย์สินภายในกระเป๋าที่หายไปมีอะไรบ้างอย่างไรก็ตามต้องฝากให้ทางเจ้าหน้าที่ตํารวจช่วยตรวจสอบกล้องวงจรปิดหาไอ้พวกมือดีฉวยโอกาสขโมยของของผู้อื่น และช่วยติดตามจับกุมมาดําเนินคดีตามกฏหมายให้ได้..

Posted by รักสยาม นิวส์ on Friday, 14 June 2019
Weather warning for southern and eastern Thailand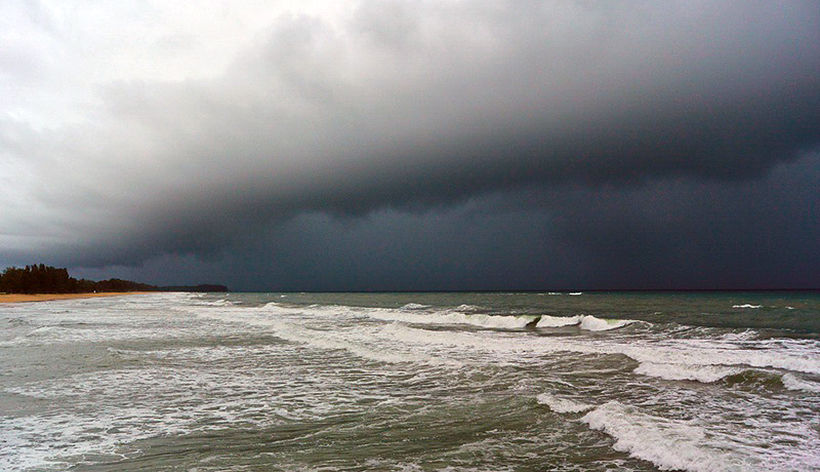 Five day forecasts for Phuket, Pattaya and Koh Samui below
The Thai Meteorological Department has issued a weather warning to alert people to approaching heavy rains and strong winds in the South.
The TMD predicts more rain from from today up to July 21 in the Southern and Eastern regions due to a tropical depression approaching westward from the Pacific, which is likely to gain strength and move through The Philippines into the northern South China Sea, and the strengthening southwest monsoon that prevails over the Andaman Sea and the Gulf of Thailand.
"Outbreaks of heavy rain are also possible for those areas. People should be aware of severe conditions that may cause flash floods and heavy water runoff."
The warning says that waves in the Andaman Sea are likely to be 2-3 metres high and, in the Gulf, about 2 metres high. In storm areas, they will reach 3 metres.
The affected areas listed by the TMD are Nakhon Nayok, Chachoengsao, Chon Buri, Rayong, Chanthaburi and Trat in the East, Chumphon, Surat Thani, Nakhon Si Thammarat and Phatthalung in the South's east coast, Ranong, Phang Nga, Phuket, Krabi, Trang and Satun in the west coast.

Phuket's five day forecast

Pattaya's five day forecast

Koh Samui's five day forecast
Thailand's tourism – stormy weather ahead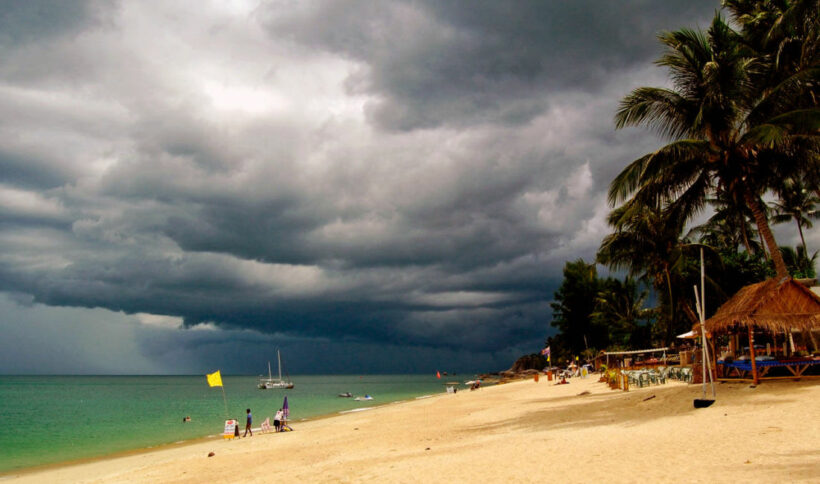 Thailands tourism industry finds itself in stormy weather as a falloff in visitors spook trade, even forcing candid admissions from some of Thailand's tourism chiefs.
Thailand has suffered a slump in tourism figures since the beginning of the year as hoteliers and tourism trade leaders have confirmed a huge 20 to 30% drop for June in tourist numbers and trade in Pattaya and Phuket this week in separate media interviews.
The slump is a startling and quite sudden drop, just seven months after the end of a record tourist year in 2018 and a good start with Christmas, New Year and January numbers. In December of 2018, the number of Chinese visors arriving in Thailand was over 838,000, a nearly 3% increase year-on-year at the time. A third of tourist arrivals into Thailand in 2018 were mainland Chinese.
But a perfect storm has now beset Thai tourism – emerging nearby tourist markets, a high baht, the US-China trade wars and ongoing fallout from the Phuket Boat Tragedy.
Locally there are other issues such as over-development of accommodation causing too much new competition, poor infrastructure and systemic tourist turn-offs never being addressed (Phuket taxi prices is one example).
All this is now broadly accepted, even officially. Figures for tourist arrivals show a slump following January this year. In April and May 2019 the figures for monthly arrivals dropped to 3,195,006 and 2,726,808. These arrival numbers were a big drop from, say, December last year.
The TAT governor, Yuthasak Supasorn, recently spoke to a meeting in Thailand's north-eastern city of Udon Thani. He outlined plans by tourism chiefs to develop niche markets for Thai tourism for secondary locations in the country targeting affluent tourists seeking lifestyle and wellness experiences, including LGBT travellers. He predicted that tourist revenues for 2020 would reach 3.7 billion baht with a 10% growth. The authority is, officially, still holding out hope that 2019 can rebound.
The optimism is based on hopes and prayers rather than any of the 'problems' actually being fixed.
Meanwhile, hotel owners and managers staring down the low-season in Phuket and Pattaya have been raising the alarm highlighting reported drops of 20-30% compared to last year. Some hotels have admitted occupancy rates as low as 10-20% as the price wars continue to drive down room rates. They admit it's an unsustainable situation fear that July and August could be as bad as June.
Kongsak Phupongsakorn is the head of the Thai Hotels Association for southern Thailand. He gave a  wide-ranging interview this week to Manager Online and frankly addressed the situation.
'There are hopes that Asian and Australian travellers will take up some of the slack in July and August. But that is all they are, hopes. Most people are expecting July to be just as bad as June."
He blamed the problems not only on external factors but also on shortcomings in Thailand. One was the political uncertainty sparked in the run-up to the election in Thailand and the long process afterwards to form a new government.
The Phuket hotelier also criticised a lack of clarity in government policy and strategy regarding tourism.
Kongsak explained that Phuket has seen what he described as 'leapfrog' investment in the tourism industry on the island driven by a massive increase in tourist arrivals in five years from 9 million arrivals to 14 million.
"This poses a major problem for operators who find themselves competing for a shrinking market."
He suggested that some rooms in Phuket were on sale at 50% of the low reason rate for June last year as desperate hotel operators try to recoup income on their investments. He also believes that there are now heightened tensions caused by the US-China trade war that is suffocating the tourist trade. This is most notably seen in a dramatic fall-off in Chinese tourists.
Kongsak also acknowledged the growing competition from other Asian tourist locations, especially Vietnam and Cambodia. He described a tourist industry in Phuket currently stranded with too many hotel rooms and not enough visitors.
A woman from Northern Ireland arrived in Phuket this week to repatriate the remains of her husband who drowned a week before before at the popular west-coast Surin beach. Just days before his drowning local beach users and surfers had highlighted the dangerous rip tides and the lack of lifeguards or warnings at the beach. 
Read that story HERE.
In another rush of candor, Damrongkiat Phinitkar, the Secretary-General of the Entertainment and Tourist Industry of Pattaya told Sophon TV that the number of tourists and trade for June was between 20-30% down on the same month last year.
"Compared to last year, there are between 20-30% fewer tourists this low season.'
He blamed the absence of European tourists from the resort city. The tourist boss said that this had now become a long term trend but that in past years, the influx of Chinese tourists and travellers from other Asian countries had filled the gap. He hoped that European and western travellers are still more likely to arrive at high season.
Damrongkiat echoed other industry operators and confirmed that the glory days of the huge numbers of young and middle-aged European tourists crowding out the beer bars of Pattaya have come to an end. They have gone elsewhere or else they are put off by the high Thai baht and adverse economic conditions at home.
American and Thai wife arrested for selling 'ice' in Bang Lamung, Pattaya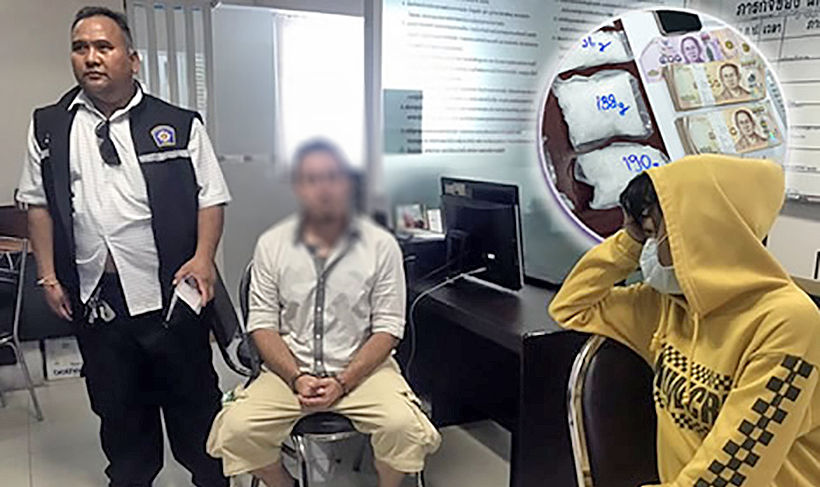 An American and his Thai wife have been arrested in Pattaya for possessing nearly a kilogram of crystal methamphetamine, plus a hand gun along with ammunition. The arrest follows a longer investigation as police became aware of the couple's activities. Police have confirmed that the man is an American citizen.
39 year old Bart Helmus and 30 year old Sirinapha Wisetrit were arrested after officers set up a sting and posed as buyers to order 10 grams of 'ice' (crystal methamphetamine). The senior police officer in Chonburi told media that Bart and Sirinapha admitted to purchasing the drugs in the 'dark web' where a complete spectrum of illegal goods and services can be bought or sold.
Police later searched their condominium in Bang Lamung district finding nearly a kilogram – 978 grams – of crystal methamphetamine in plastic bags, along with a gun and 200 bullets. They also found 205,500 baht in cash at their condo.
Police claim they had been tracking the couple for some time after receiving reports that they had been dealing drugs in Pattaya and nearby areas. They were charged with possessing drugs and firearms without authorisation.
ORIGINAL STORY: Bangkok Post