Foreigner arrested for kicking in the door to Pattaya police station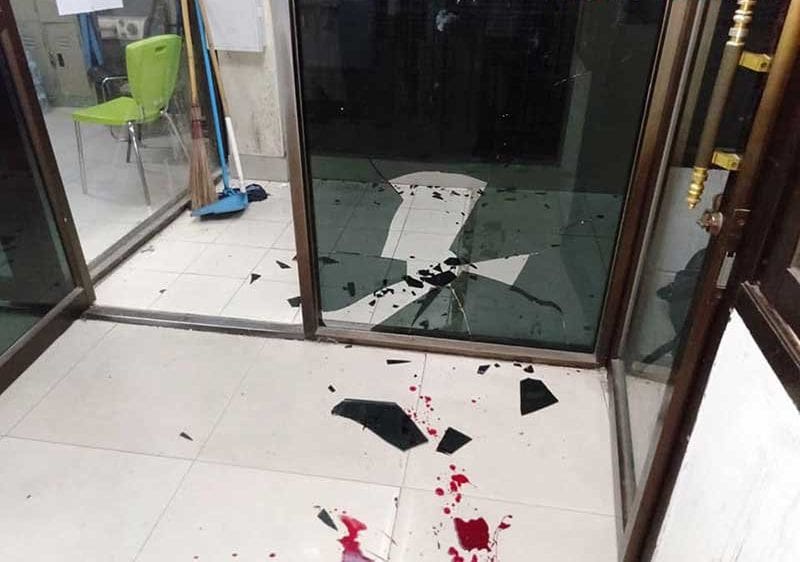 PHOTOS/VIDEO: Ruk Siam News
A drunk foreign man, dressed only in shorts, has kicked in a window at a police station in Pattaya. His name or nationality have not been revealed by police.
Ruk Siam News reports that he then made his way to the beer garden at the Central shopping centre where security tracked his movements and alerted police.
The man was eventually arrested in a bar close to the police station. Police say the man was 'incoherent' and police were unable to clarify exactly what had happened. He was taken to hospital to sober up and reflect on his adventures.
A plastic bag containing alcohol as well as other items were found by the cells. There was also a lot of blood there and in the beer garden as he'd injured his right ankle while kicking and smashing the window.
SOURCE: Ruk Siam News
ชาวต่างชาติเมาสุรา บุกเดียวใช้เท้ากระทืบกระจกด้านหน้าห้องขัง เลือดอาบขาก่อนจะวิ่งหลบหนี เมื่อเวลา 00.10.น.วันที่ 13 ก.พ.62 ร.ต.อ.จักรกฤษณ์ จันตาคํา รอง.สารวัตรปราบปราม สภ.เมืองพัทยา ได้รับแจ้งเหตุว่าได้มีชาวต่างชาติ อยู่ในอาการเหมือนคนเมาสุรา บุกขึ้นมาบนชั้น2 ของโรงพัก สภ.เมืองพัทยา และใช้เท้ากระทืบกระจกด้านหน้าห้องขังจนแตกกระจาย หลังจากก่อเหตุแล้ว ได้วิ่งหนีลงมาจากชั้น2 หลบหนีลงไปที่บริเวณลานเบียร์ของห้างเซ็ลทรัล พัทยา ขอให้มาดําเนินการจับกุมด้วย หลังจากได้รับแจ้งแล้ว พร้อมด้วยกําลังตํารวจสายตรวจได้รีบมาตรวจสอบ เมื่อถึงพบกองเลือดบริเวณลานจอดรถหน้า สภ.เมืองพัทยา และด้านในโรงพัก และบนชั้น2 หน้าห้องขัง พบกระจกแตกกระจาย และกองเลือดเป็นจํานวนมาก ยังพบขวดเหล้าใส่อยู่ในถุงพลาสติกและของใช้ วางอยู่บริเวณหน้าห้องขังของชั้น2แต่ไม่พบชาวต่างชาติ จนกระทั่งได้มี รปภ.ของห้างเซ็ลทรัล รีบเดินมาแจ้งให้ทางตํารวจรับทราบว่าได้มีชาวต่างชาติ อยู่ในอาการมึนเมา และมีบาดแผลบริเวณข้อเท้าด้านขวา เป็นแผลฉีกขาด มีเลือดไหลออกมาเป็นจํานวนมาก ทางตํารวจจึงได้ไปตรวจสอบ พบชาวต่างชาติผู้ก่อเหตุคนเดียวกันไม่ทราบชื่อและสัญชาติไม่สวมเสื้อนุ่งกางเกงยีนขาสั้นตัวเดียวเนื้อตัวเปอะเปื่อนไปด้วยเลือด ได้มีพนักงานของห้างเซ็ลทรัล กําลังช่วยเหลืออยู่บริเวณชั้นล่าง ของลานเบียร์ จนกระทั้งหลังรักษาเสร็จ ชาวต่างชาติก็ได้เดินขึ้นมาโดยมีเจ้าหน้าที่รปภ.ของห้างเดินติดตามมาด้วย พร้อมเจ้าหน้าที่ตํารวจ จนกระทั้งชาวต่างชาติเดินเข้าไปในบาร์เบียร์ทางตํารวจจึงได้เข้าควบคุมตัวคาบาร์ เบียร์ แต่พยายามไม่ยอมให้ทางตํารวจจับกุมแต่ทางตํารวจสามารถควบคุมตัวไว้ได้ ติดกับโรงพัก และได้นําตัวไปรักษาที่โรงพยาบาลทันที ส่วนสาเหตุที่เกิดขึ้นนั้นทางตํารวจยังไม่ทราบ เพราะยังอยู่ในอาการมึนเมาพูดจาไม่รู้เรื่อง จะต้องรอให้หายเมาเสียก่อน และจากนั้นก็ต้องให้พนักงานเจ้าของคดีทําการสอบสวนหาข้อเท็จจริง และจากนั้นก็ต้อง ถูกดําเนินคดีตามกฤหมายต่อไป

Posted by รักสยาม นิวส์ on Tuesday, February 12, 2019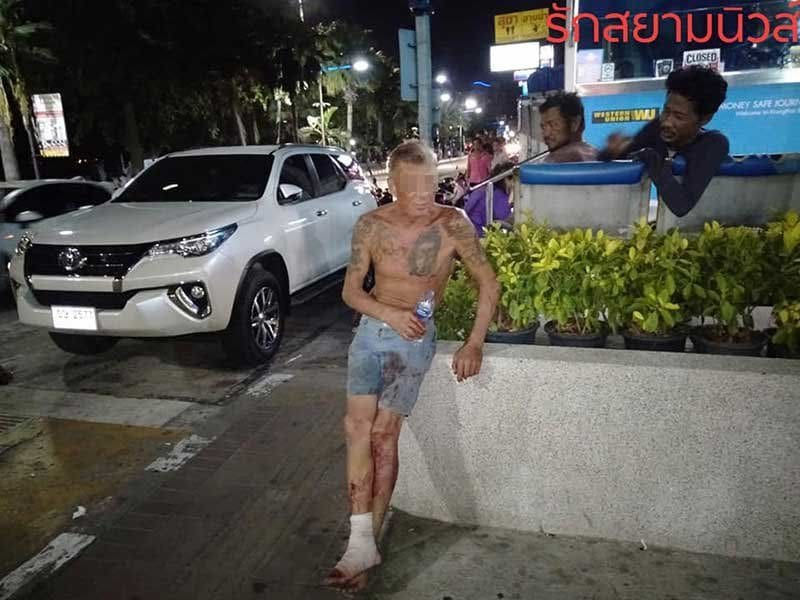 Keep in contact with The Thaiger by following our
Facebook page
.
The body of an unidentified foreigner found floating south of Pattaya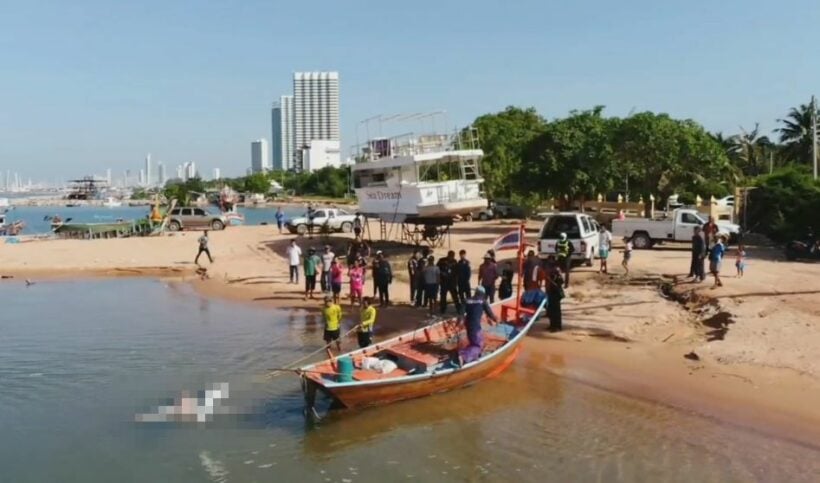 A fisherman has recovered a body, thought to be a foreigner, from the Gulf of Thailand off Sattahip.
Na Jomtien Police were notified of the body by 24 year old Teerapong Boonwat, a fishing boat captain plying the waters around Sattahip, south of Pattaya.
Mr. Boonwat had recovered the body found floating near Koh Ped (Duck Island), about three nautical miles from the Sattahip shore. Police and emergency responders rushed to the scene near Amparam Temple.
Police report that the male body appears to be a foreigner aged around 40 years old with a beard and little head hair. He was wearing a white T-shirt, long jeans and black sneakers.
No identification was found on the man. It is believed that he had died at least 7 days before his body was found floating in the water. The police didn't state if there was any signs of foul play or the condition of the body.
Police are investigating the incident and reviewing missing person reports to establish identification.
SOURCE: The Pattaya News
Keep in contact with The Thaiger by following our
Facebook page
.
Pattaya City's Police Chief dies from sudden heart attack on way to Bangkok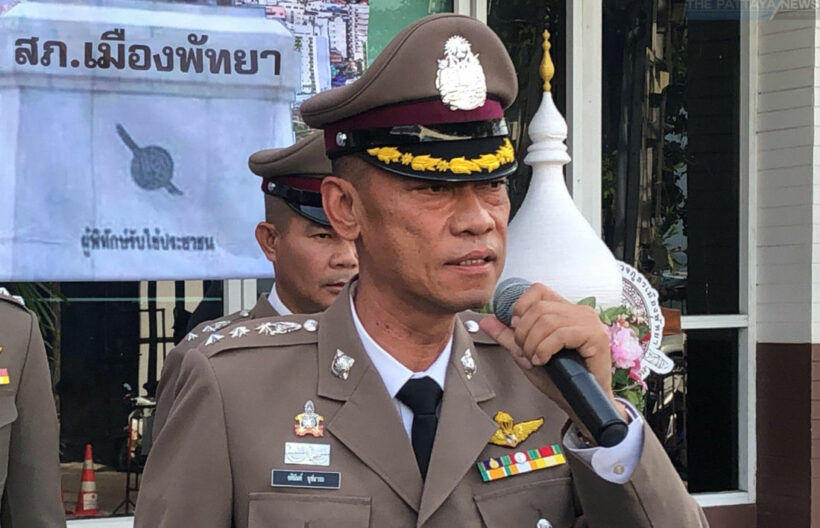 PHOTOS: The Pattaya News
The Pattaya City Police Chief Col. Atinan Nuchanart has died from a heart attack yesterday morning (Friday) while he was on the way to a meeting. 59 year old Col Atinan was the Pattaya City Police Acting Chief, new in the position, and died at the Chonburi Hospital from a heart attack.
Yesterday morning he and his team were heading to Bangkok from Chonburi for a meeting when he started complaining of chest pains before falling unconscious in the car. The Chief was rushed to the Chonburi Hospital by other officers in the vehicle. He was pronounced dead by doctors at 2pm.
Col Atinan was born in Lopburi and was the previous Police Chief of Mueang Chonburi Police Station. He was later transferred as the Pattaya City Police Acting Chief on September 2. He had only been in the top job for little over a month.
The previous Pattaya police Chief was removed from the position pending an investigation into large drug raids at local discos open after legal closing hours during this year.
A full funeral for the well respected veteran officer will take place in the near future but has not been announced at this time.
SOURCE: The Pattaya News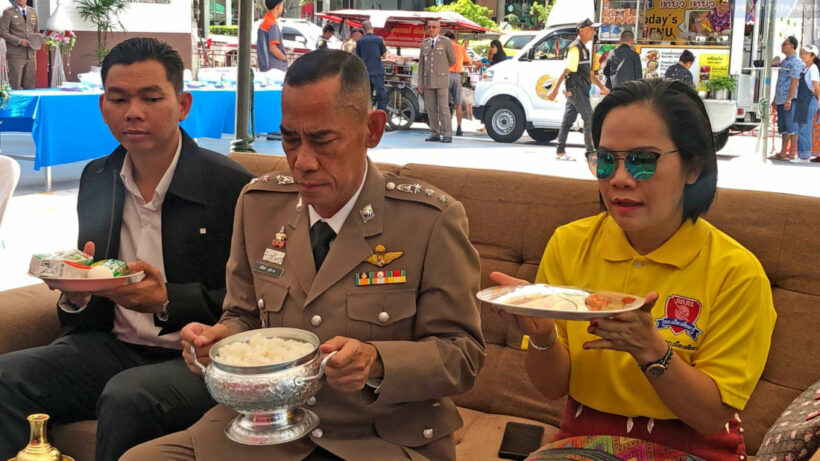 Keep in contact with The Thaiger by following our
Facebook page
.
Local residents and vendors demand action on Pattaya Beach erosion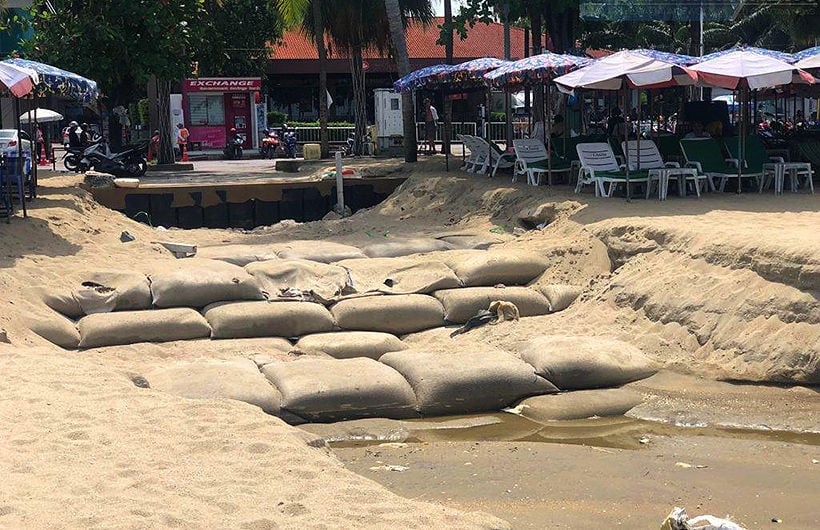 PHOTOS: The Pattaya News
Recent heavy rains over the past week in Pattaya have caused significant deep erosion and gaping holes on Pattaya Beach that have now been sitting in plain view for nearly a week. The situation is an unsightly embarrassment and a potential hazard for tourists, according to local residents and beach vendors.
The Pattaya News reports that, earlier this week, storm waters were flowing onto Pattaya beach into the Gulf after torrential rains, notably at the beach area near Central Festival Pattaya, and have been washed away.
The erosion is at least a metre deep in places, exposing some of the underpinning sand-bag foundations that were placed there doing the re-instatement works last year. Local vendors are complaining that tourists were avoiding the beach.
Beach vendors say this erosion has happened nearly a week ago and is very dangerous especially at night time. They are asking for city officials to speed up repair work and fix the problem.
Earlier this week residents were complaining about an unknown white sediment floating around some of the areas where the erosion had occurred. Last year some 400 million baht was spent re-building some of Pattaya's beaches which end up damaged and washed out to sea any time there are heavy rains.
SOURCE: The Pattaya News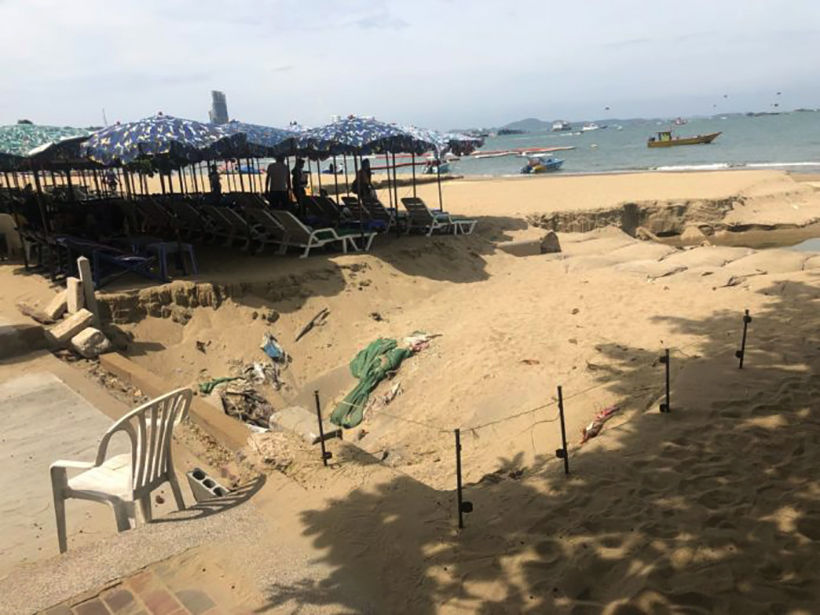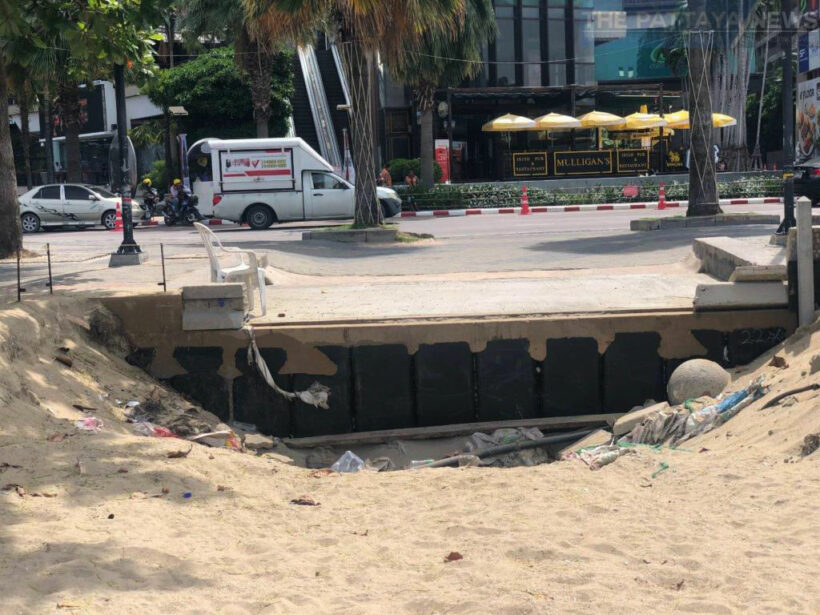 Keep in contact with The Thaiger by following our
Facebook page
.