Foreigner arrested for kicking in the door to Pattaya police station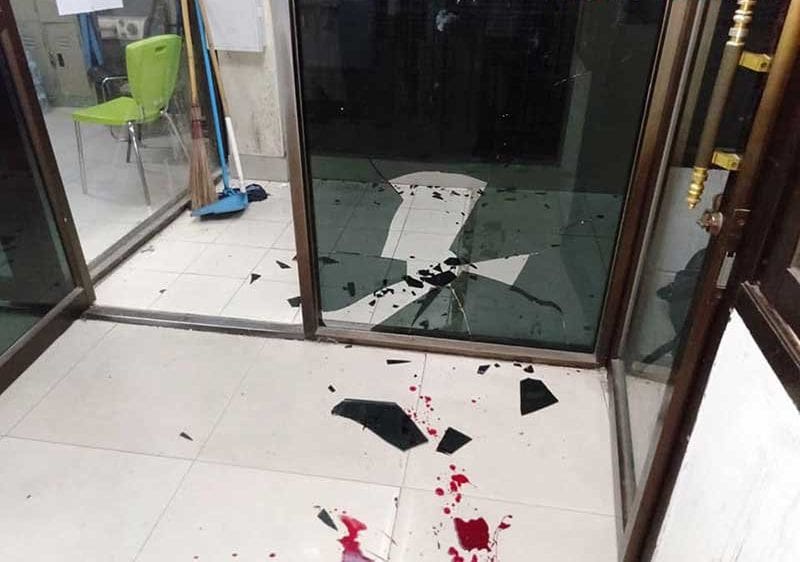 PHOTOS/VIDEO: Ruk Siam News
A drunk foreign man, dressed only in shorts, has kicked in a window at a police station in Pattaya.  His name or nationality have not been revealed by police.
Ruk Siam News reports that he then made his way to the beer garden at the Central shopping centre where security tracked his movements and alerted police.
The man was eventually arrested in a bar close to the police station.  Police say the man was 'incoherent' and police were unable to clarify exactly what had happened. He was taken to hospital to sober up and reflect on his adventures.
A plastic bag containing alcohol as well as other items were found by the cells. There was also a lot of blood there and in the beer garden as he'd injured his right ankle while kicking and smashing the window.
SOURCE: Ruk Siam News
ชาวต่างชาติเมาสุรา บุกเดียวใช้เท้ากระทืบกระจกด้านหน้าห้องขัง เลือดอาบขาก่อนจะวิ่งหลบหนี เมื่อเวลา 00.10.น.วันที่ 13 ก.พ.62 ร.ต.อ.จักรกฤษณ์ จันตาคํา รอง.สารวัตรปราบปราม สภ.เมืองพัทยา ได้รับแจ้งเหตุว่าได้มีชาวต่างชาติ อยู่ในอาการเหมือนคนเมาสุรา บุกขึ้นมาบนชั้น2 ของโรงพัก สภ.เมืองพัทยา และใช้เท้ากระทืบกระจกด้านหน้าห้องขังจนแตกกระจาย หลังจากก่อเหตุแล้ว ได้วิ่งหนีลงมาจากชั้น2 หลบหนีลงไปที่บริเวณลานเบียร์ของห้างเซ็ลทรัล พัทยา ขอให้มาดําเนินการจับกุมด้วย หลังจากได้รับแจ้งแล้ว พร้อมด้วยกําลังตํารวจสายตรวจได้รีบมาตรวจสอบ เมื่อถึงพบกองเลือดบริเวณลานจอดรถหน้า สภ.เมืองพัทยา และด้านในโรงพัก และบนชั้น2 หน้าห้องขัง พบกระจกแตกกระจาย และกองเลือดเป็นจํานวนมาก ยังพบขวดเหล้าใส่อยู่ในถุงพลาสติกและของใช้ วางอยู่บริเวณหน้าห้องขังของชั้น2แต่ไม่พบชาวต่างชาติ จนกระทั่งได้มี รปภ.ของห้างเซ็ลทรัล รีบเดินมาแจ้งให้ทางตํารวจรับทราบว่าได้มีชาวต่างชาติ อยู่ในอาการมึนเมา และมีบาดแผลบริเวณข้อเท้าด้านขวา เป็นแผลฉีกขาด มีเลือดไหลออกมาเป็นจํานวนมาก ทางตํารวจจึงได้ไปตรวจสอบ พบชาวต่างชาติผู้ก่อเหตุคนเดียวกันไม่ทราบชื่อและสัญชาติไม่สวมเสื้อนุ่งกางเกงยีนขาสั้นตัวเดียวเนื้อตัวเปอะเปื่อนไปด้วยเลือด ได้มีพนักงานของห้างเซ็ลทรัล กําลังช่วยเหลืออยู่บริเวณชั้นล่าง ของลานเบียร์ จนกระทั้งหลังรักษาเสร็จ ชาวต่างชาติก็ได้เดินขึ้นมาโดยมีเจ้าหน้าที่รปภ.ของห้างเดินติดตามมาด้วย พร้อมเจ้าหน้าที่ตํารวจ จนกระทั้งชาวต่างชาติเดินเข้าไปในบาร์เบียร์ทางตํารวจจึงได้เข้าควบคุมตัวคาบาร์ เบียร์ แต่พยายามไม่ยอมให้ทางตํารวจจับกุมแต่ทางตํารวจสามารถควบคุมตัวไว้ได้ ติดกับโรงพัก และได้นําตัวไปรักษาที่โรงพยาบาลทันที ส่วนสาเหตุที่เกิดขึ้นนั้นทางตํารวจยังไม่ทราบ เพราะยังอยู่ในอาการมึนเมาพูดจาไม่รู้เรื่อง จะต้องรอให้หายเมาเสียก่อน และจากนั้นก็ต้องให้พนักงานเจ้าของคดีทําการสอบสวนหาข้อเท็จจริง และจากนั้นก็ต้อง ถูกดําเนินคดีตามกฤหมายต่อไป

Posted by รักสยาม นิวส์ on Tuesday, February 12, 2019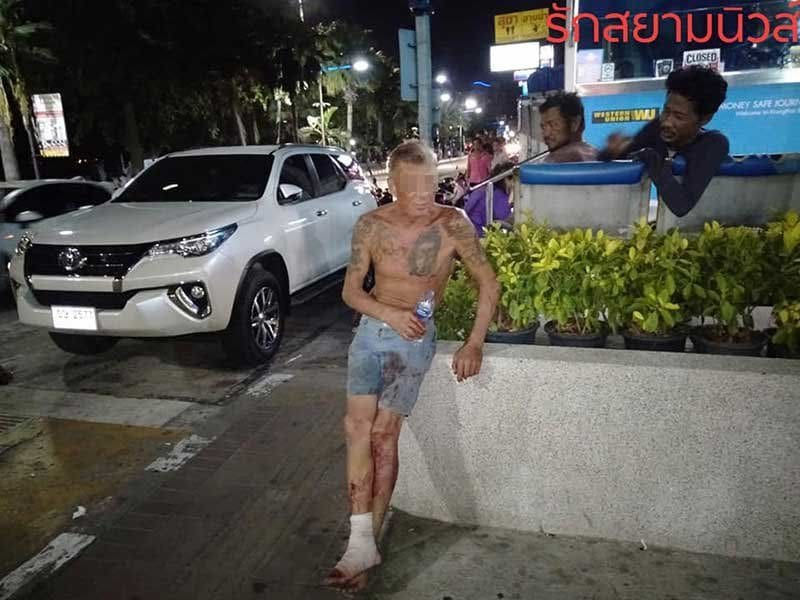 Read more headlines, reports & breaking news in Pattaya. Or catch up on your Thailand news.
Japanese tourist re-united with his bag and valuables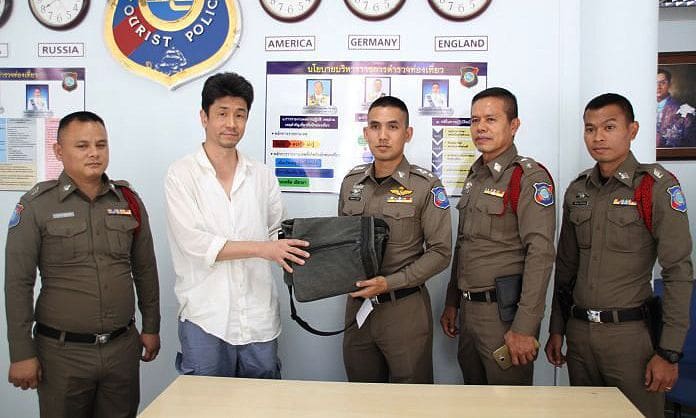 PHOTO: The Pattaya News
A Japanese tourist has offered his sincere thanks to a minivan driver, Pattaya's Tourist Police and the Department of Land Transport.
The Pattaya News reports that 46 year old Japanese tourist Ryochi Mihashi had taken a minivan ride from Rayong to South Pattaya but left his bag in the van. The bag contained 4,100 baht, US$440, 56,000 yen, his phone and notebook.
The driver Somchai Bunsiri handed the bag into the Land Transport offices on Sunday after finding bag left in his van. The Japanese Embassy and local tourist police were able to help track down Ryochi and re-unite him with his lost bag.
Chief of the Pattaya Tourist police Lt-Col Piyapong Ensarn hosted a quick photo opportunity with Ryochi  confirming that all was in order.
The Japanese tourist expressed his gratitude to the driver for his honesty, and the DLT and police for being able to find him.
SOURCE: The Pattaya News
TAT expects 2.3 million tourists for this year's Songkran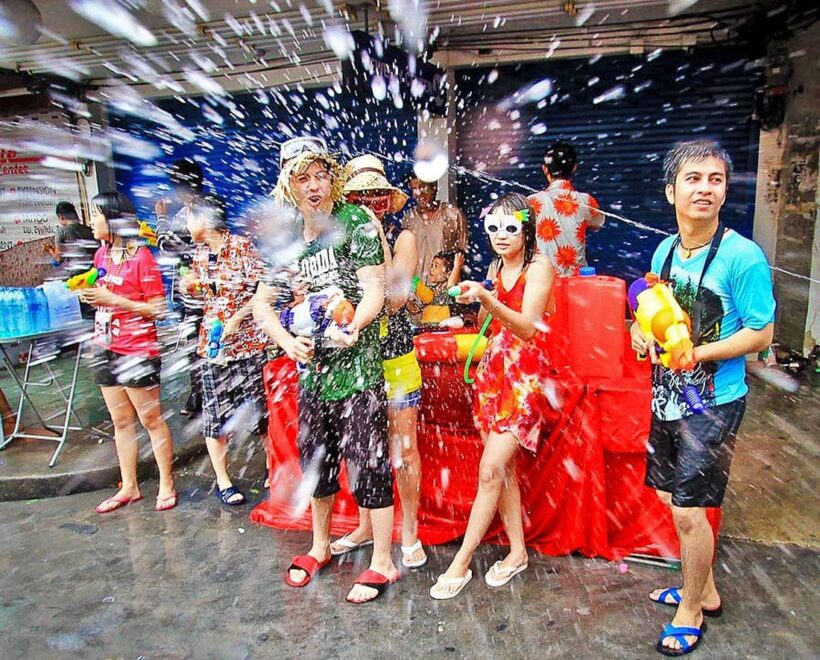 The Tourism Authority of Thailand is expecting more than 2.3 million local and foreign tourists will join the various Songkran celebrations this year. They say that should generate 20 billion baht+ in revenue for tourism and tourism-related services.
TAT's Governor Yuthasak Supasorn says 300,000 international arrivals are expected to celebrate the five day festival starting April 12, along with two million locals who will travel to celebrate Songkran this year. Songkran falling on a weekend this year will also bolster local tourism numbers.
The number of Songkran-specific visitors is up this year, partly because of the growing popularity of the festival internationally and the government extending the holiday to five days this year, now starting on April 12 (although 'Songkran, the Thai New Year, is actually on April 13).
Songkran festival extended HERE.
He admits that the bad publicity about the poor air quality in the northern regions is a problem, especially around Chiang Mai which has become a big international visitor favorite over recent yers.
Chiang Mai is one of nine provinces in the North struggling with smoke haze, mostly because of open-air burning of farm waste and rubbish, and localised bush fires. The heavy smog has caused temporary suspension of flights between Chiang Mai and Mae Hong Son although flights into Chiang Mai have been unaffected so far.
Wife claims husband died after being beaten up in police custody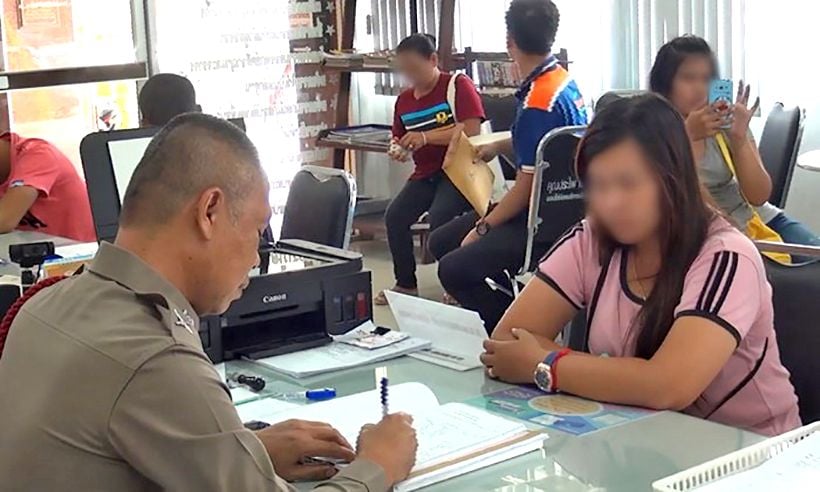 A woman has made an official complaint after her husband died after being in police custody.
The distraught wife went to Panat Nikom police in Chon Buri to complain yesterday after police called her to say that her husband had died whilst in detention.
31 year old Naruephon had earlier been arrested at his house on charges of smoking marijuana. He was detained and put in the cells at the local police station.
Not long after, his wife Praphaporn received a telephone call  to say that her husband had died in hospital.
She claims her husband was in good health with no medical issues. She believes he had been beaten up by police whilst in detention.
Pol Col Kritsana Wanabadeenimit of the Panat Nikom police says the body was sent for an autopsy.
Everyone involved in the arrest and questioning of the man was being interviewed as the investigation continued.  Pol Col Kritsana promised transparency and justice for both sides.
SOURCE: Sanook