Copulating couple cause culture shock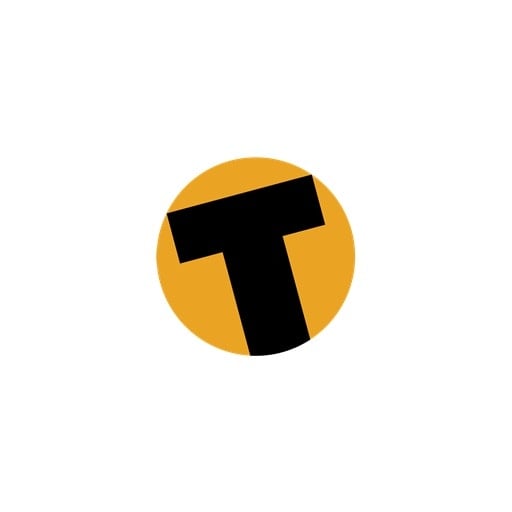 UTTARADIT: Government officials in Uttaradit have been put on high alert after a teenage couple was caught having sex right outside the culture office in the Provincial Hall on the afternoon of September 20.

On that day, the town was packed with people coming to watch a festival being held in Phraya Phichai Dap Hak Sports Stadium, opposite the hall.

Uttaradit resident Thongsak Yammansri told reporters that he happened upon the canoodling couple at about 2 pm, after he felt the urge to relieve himself while watching the procession of floats displaying local fruits and beauty queens.

As he was wandering past the offices of the provincial election commission and culture office, Thonsak was shocked to see two teens, whose ages he estimated to be no older than 17, brazenly making love in broad daylight on a stone bench.

"When I saw them I was shocked," said Mr Thongsak.

"I wanted to stop them, but was embarrassed. So I just made a lot of noise so they would know they had been spotted. When I came out of the toilet, they had already gone. That day was a public holiday, so the government officers were not working. Also, most people were watching the opening of the festival, so there weren't many people around," he said.

"I guess they were a young couple who wanted to give it a try, but didn't have money for a hotel room," conjectured Thongsak, who said he feared it could be the start of a worrying new social trend.

"I can't believe that today's young people could be so daring – and in such a bad way; having sex in inappropriate places with no fear of being seen," he lamented.

Sairung Thadajang, from the Uttaradit Provincial Cultural Office, said that after hearing about the incident in the press she was very shocked and immediately went to examine the spot where the couple were caught.

"Teenagers nowadays see all sorts of things on the Internet and don't know what they should and shouldn't do," Ms Sairung complained.

"Underage sex is a big problem in society now. The Culture Office has tried to combat it by controlling Internet use and arranging cultural activities to give youths something to do, but only some groups are interested," she explained.

Uttaradit Vice-Governor Jakrin Plianwong said that he had not yet been informed of the incident, but would now be investigating it in full.

From now on, members of the provincial volunteer guards will be asked to increase patrols in and around the seat of the provincial government to ensure there is no recurrence or other untoward events taking place there, he said.
Keep in contact with The Thaiger by following our
Facebook page
.
Man stung by scorpion hiding in bag of fruit
PHOTO: Wikiwand
A Bangkok man has taken to social media to warn fruit lovers to check fruit thoroughly before eating it, after he was stung by a baby scorpion hiding in a bag of langsat fruit.
Pennung Chaiyachit says he put his hand in the bag, which contained about 2 kilos of the fruit, when he felt a sharp pain as if his thumb had been cut.
Mr Pennung washed his thumb and poured some rubbing alcohol on it but, despite there being no visible wound or any bleeding, his pain began to get worse and he decided to drive to hospital.
While waiting to see a doctor, Mr Pennung did an internet search which revealed a breed of tiny scorpion that can live on langsat fruit and has particularly powerful venom.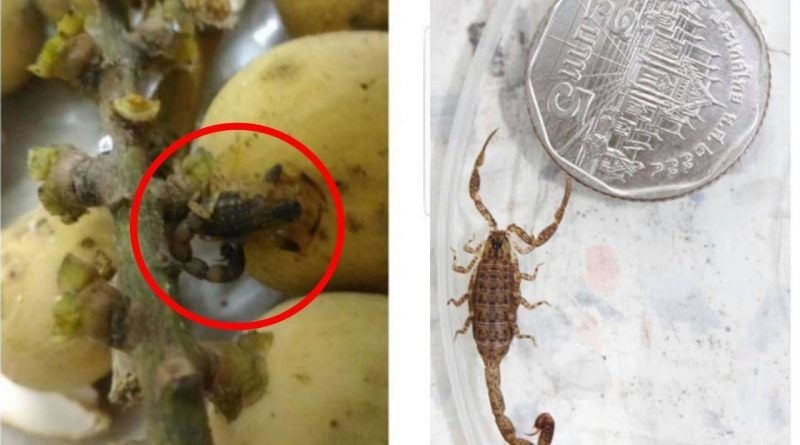 The doctor decided to keep Mr Pennung in overnight as a precaution, giving him antibiotics and administering pain relief through IV.
Mr Pennung documented his experience on Facebook as a warning to others, advising them to always check bags of fruit thoroughly and always wash fruit before peeling.
SOURCE: Thai Residents
Keep in contact with The Thaiger by following our
Facebook page
.
Pet leopard not a hit with neighbours in Chonburi, Thailand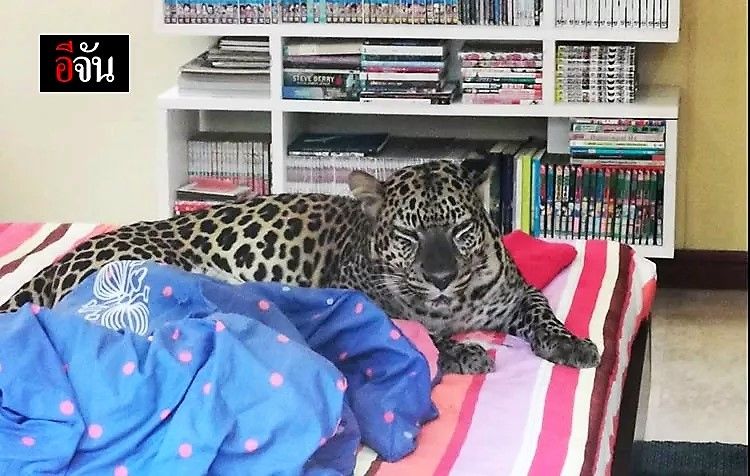 A couple in Chonburi, eastern Thailand, have not ingratiated themselves with neighbours after it was revealed they're keeping a pet leopard in their home.
It's understood that a Thai woman known as Nittiya, and her foreign husband, nationality unconfirmed, have just recently moved to the area from Chiang Mai, and news of their unusual pet has put neighbours very much on edge.
The couple have just had a visit from the Thailand Wildlife Enforcement Network (Thailand-WEN) after anxious villagers notified officials, saying they believed the leopard had been acquired illegally.
They added that the leopard was living in the couple's home and being treated as a pet, expressing concern that it could escape and attack people.
Yesterday, officials visited the home, which is surrounded by a 3-metre-high wall. Nittaya explained that the couple have had the leopard – named Typhoon – since it was born 4 years ago, producing the required documentation for inspection.
Officials agreed that the couple have the right to keep the leopard, but will need to apply for a new licence to keep it in its new location.
SOURCE: Thai Residents
Keep in contact with The Thaiger by following our
Facebook page
.
JetSki crashes into shop in Kamala, Phuket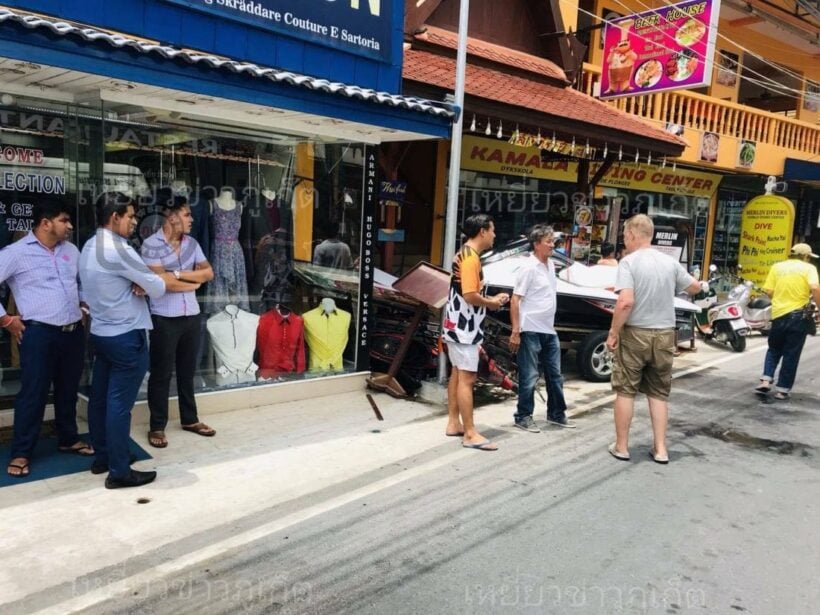 PHOTOS: Newshawk Phuket
Not often we get to write this headline… "JetSki crashes into shop in Kamala".
The jetski was being towed by a Saleng (motorcycle and side-car) through the streets of Kamala this afternoon when, for reasons we don't yet (probably brake failure), the whole shebang went AWOL and ended up running into the front window of some tourist shops.
The jetskis are a common sight going through the backroads of the various west-coast shopping areas at the start and end of each day, on their way to the beach to hire to tourists, usually in a convoy with the jetski staff riding shotgun on top.
This time it was a lone JetSki, being towed by a saleng, that somehow veered off the street and into the roadside Kamala shops.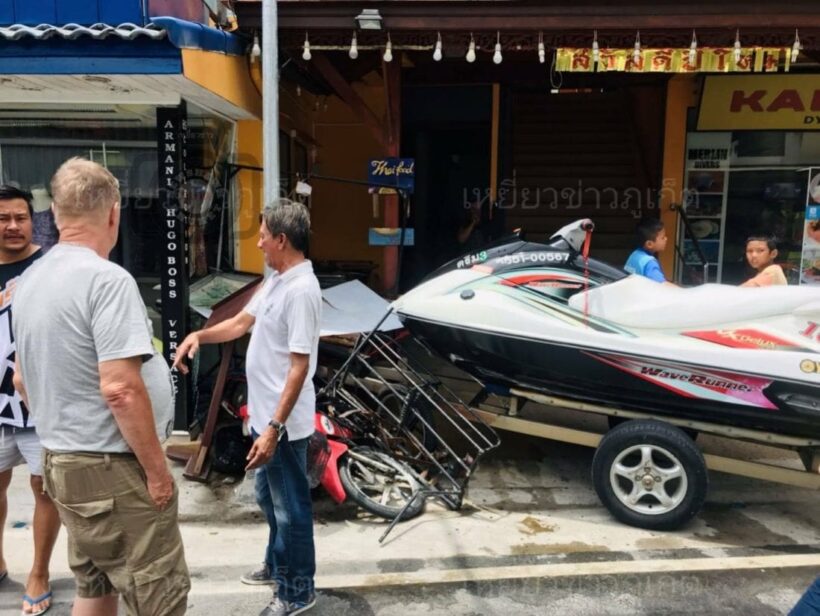 Keep in contact with The Thaiger by following our
Facebook page
.