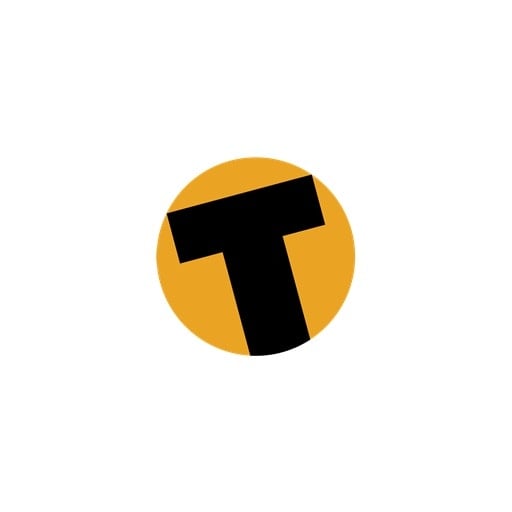 CHIANG MAI: Some women simply fall head over heels for a man in uniform. One love-sick Bangkok native, presumably with this in mind, found himself in trouble recently after impersonating a police officer in a bid to win the heart of a pretty Lanna girl.

According to the girl's neighbors, her pursuer, calling himself Pol Maj Krittanan Rattaradee, moved in near her house in Sanpatong district and enjoyed parading around in his uniform telling people that he was there on top-secret business.

The neighbors, sensing that the behavior of the new resident was inappropriate for an officer on a secret mission, became suspicious that Maj Krittanan was not all he was claiming to be.

The trickery finally came to light when, somewhat foolishly, the lovestruck major began showing off his fake ID card, which showed him to be a police major based in Nakhon Ratchasima. One of the neighbors managed to get hold of the card and make a photocopy before returning it.

On the morning of August 11, a group of villagers headed to Sanpatong Police Station with the copy of Maj Krittanan's ID card to check if he was really an officer of the law. On running the name through police databases, police found that there was no Maj Krittanan on record and the police department that the card stated Maj Krittanan belonged to had ceased to exist some time ago.

Crime Suppression Inspector Maj Suthep Jilo then accompanied the villagers to find Maj Krittanan. This proved easy and the group soon came across their quarry wandering down the Sanpatong-Mae Wang road dressed in full uniform.

On searching Maj Krittanan, police found not only the fake ID card and a plastic toy pistol he kept in his holster, but also a copy of the official stamp of the Governor of Nakhon Ratchasima.

After being hauled into the police station, Krittanan finally admitted that he was just a 36-year-old regular citizen from Pathum Thani, though Krittanan Rattaradee was indeed his real name.

He told police he had met a girl from Sanpatong when she had been living in Bangkok and he had instantly fallen for her. When she moved back to her home town, he followed her.

Every morning he would dress up in full uniform and walk past her house telling her he was off to work on secret business; every evening he would repeat the charade on his way home.

The only purpose he used the uniform and false ID for were to show off to the girl, Krittanan said. He did not explain why exactly he thought the major's uniform would increase his chances with his sweetheart.

Regardless, police charged him with impersonating a government officer.
Keep in contact with The Thaiger by following our
Facebook page
.
Man stung by scorpion hiding in bag of fruit
PHOTO: Wikiwand
A Bangkok man has taken to social media to warn fruit lovers to check fruit thoroughly before eating it, after he was stung by a baby scorpion hiding in a bag of langsat fruit.
Pennung Chaiyachit says he put his hand in the bag, which contained about 2 kilos of the fruit, when he felt a sharp pain as if his thumb had been cut.
Mr Pennung washed his thumb and poured some rubbing alcohol on it but, despite there being no visible wound or any bleeding, his pain began to get worse and he decided to drive to hospital.
While waiting to see a doctor, Mr Pennung did an internet search which revealed a breed of tiny scorpion that can live on langsat fruit and has particularly powerful venom.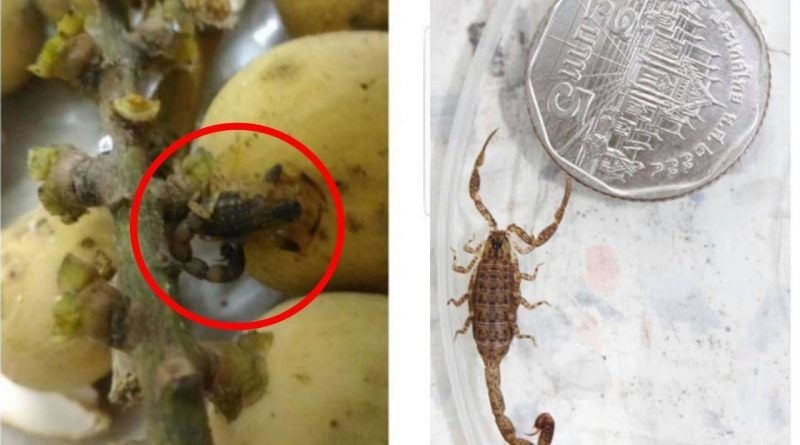 The doctor decided to keep Mr Pennung in overnight as a precaution, giving him antibiotics and administering pain relief through IV.
Mr Pennung documented his experience on Facebook as a warning to others, advising them to always check bags of fruit thoroughly and always wash fruit before peeling.
SOURCE: Thai Residents
Keep in contact with The Thaiger by following our
Facebook page
.
Pet leopard not a hit with neighbours in Chonburi, Thailand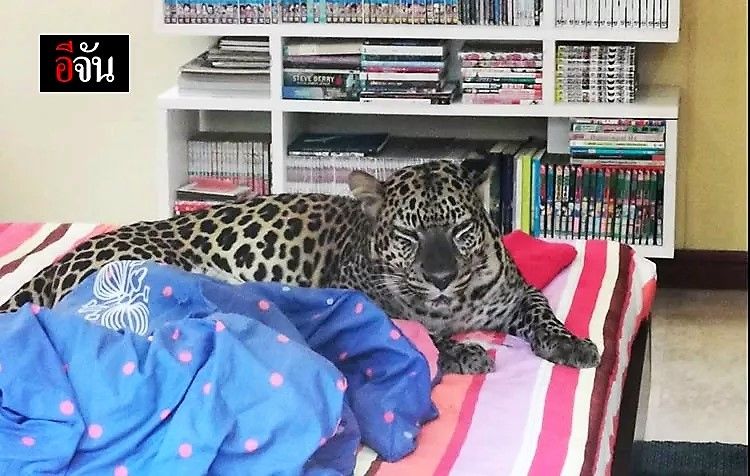 A couple in Chonburi, eastern Thailand, have not ingratiated themselves with neighbours after it was revealed they're keeping a pet leopard in their home.
It's understood that a Thai woman known as Nittiya, and her foreign husband, nationality unconfirmed, have just recently moved to the area from Chiang Mai, and news of their unusual pet has put neighbours very much on edge.
The couple have just had a visit from the Thailand Wildlife Enforcement Network (Thailand-WEN) after anxious villagers notified officials, saying they believed the leopard had been acquired illegally.
They added that the leopard was living in the couple's home and being treated as a pet, expressing concern that it could escape and attack people.
Yesterday, officials visited the home, which is surrounded by a 3-metre-high wall. Nittaya explained that the couple have had the leopard – named Typhoon – since it was born 4 years ago, producing the required documentation for inspection.
Officials agreed that the couple have the right to keep the leopard, but will need to apply for a new licence to keep it in its new location.
SOURCE: Thai Residents
Keep in contact with The Thaiger by following our
Facebook page
.
JetSki crashes into shop in Kamala, Phuket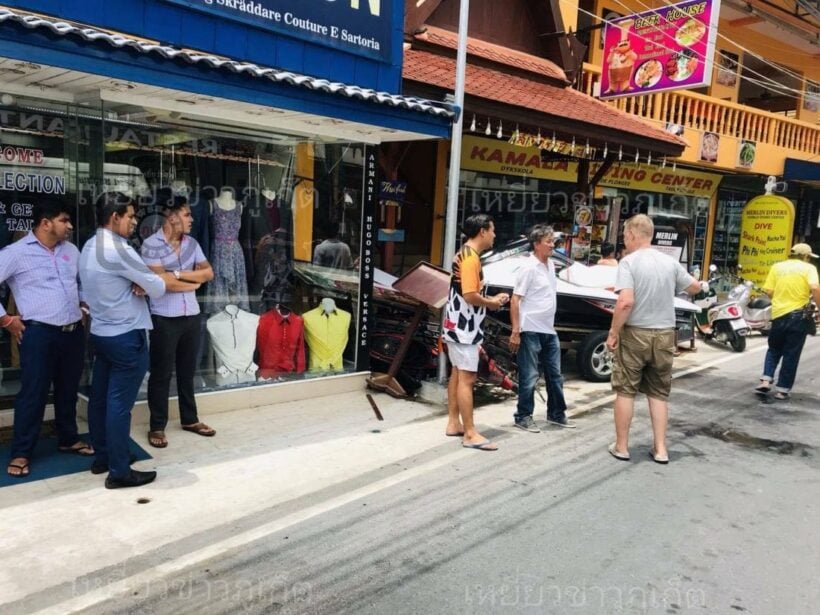 PHOTOS: Newshawk Phuket
Not often we get to write this headline… "JetSki crashes into shop in Kamala".
The jetski was being towed by a Saleng (motorcycle and side-car) through the streets of Kamala this afternoon when, for reasons we don't yet (probably brake failure), the whole shebang went AWOL and ended up running into the front window of some tourist shops.
The jetskis are a common sight going through the backroads of the various west-coast shopping areas at the start and end of each day, on their way to the beach to hire to tourists, usually in a convoy with the jetski staff riding shotgun on top.
This time it was a lone JetSki, being towed by a saleng, that somehow veered off the street and into the roadside Kamala shops.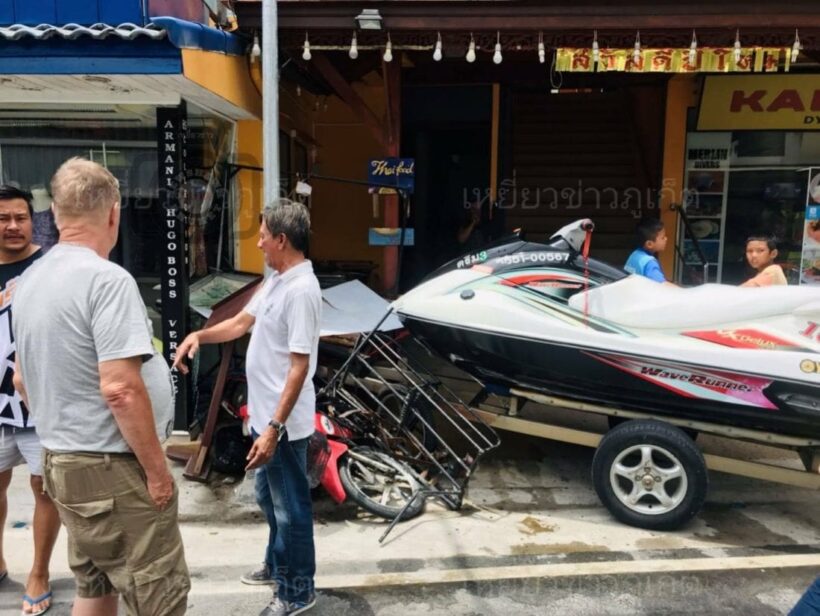 Keep in contact with The Thaiger by following our
Facebook page
.