Phuket Opinion: Not backing down in Phuket's edgiest district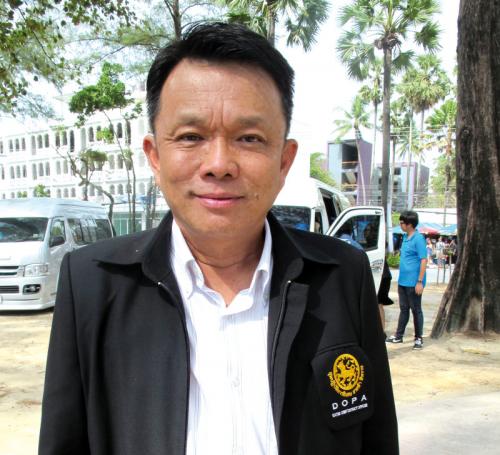 Veera Kerdsirimongkol, 57, originally from Nakhon Si Thammarat, has been District Chief of Kathu for four months. He was a district chief for 13 years before coming to Phuket, most recently in Palian, Trang. He has a master's degree in Management Sciences from Prince of Songkla University.
Here, he talks about what he has done to stop illegal activity in Kathu, and his plans for the future.
PHUKET: My work as District Chief is focused on reducing illegal activity, and my goal is to bring Phuket people back to a legal way of doing things. It's relatively easy to prevent new problems, but quite difficult to solve entrenched ones. My philosophy is to be flexible with old problems and not allow new ones.
I've only been here four months, but I've been busy dealing with a variety of issues in Kathu, such as illegal logging, illegal land possession and drugs.
The first problem I tackled was land encroachment, such as building on protected forest areas. We took action and made a number of arrests, especially on Kamala Hill.
I can say that right now in Kathu, we have dealt with all the new land encroachment cases.
However, land that was taken illegally in the past and already has buildings constructed on it is a lot more difficult to deal with. It requires going through a detailed and lengthy legal process, checking land possession documents, construction permits and so on. It can take eight to 10 years to finish a single case. That process is out of my hands.
To deal with the drug problem, I am using the same strategy I used successfully in Trang.
I set up special teams of officers and volunteers to man checkpoints and conduct raids. Our team in Kathu is called "Siharat". We've already set up checkpoints and arrested a lot of drug users and dealers.
These checkpoints will be ongoing, at a variety of locations and times. My officers will be relentless in pursuing and arresting offenders – there will be zero tolerance for drugs and absolutely no under-the-table money accepted.
My next project is the Patong Beach "free zone" (see here). I want to make about 500 meters of Patong Beach free of all businesses (map here).
This would mean no hawkers, no sun bed operators – no businesses at all on the beach. Then anyone could use it without being hassled to buy something, and tourists could sit down freely wherever they liked.
I've already passed along my request to Patong Municipality, the police and other government officers and gotten good feedback and support. I want to ask one of the local universities to create a poll to find out what local residents think.
After that, the next step would be checking which businesses would be affected and thinking about other employment for people who will be displaced.
This project is going to take some time. The beach operators have been there a long time and it's difficult to move them.
The important thing to remember is that beaches in Thailand are public and free for everyone to use.
The strict stance that I'm taking is going to upset some people – the people who are doing things illegally and have lost money because of me.
Some of these people have already taken steps to try to get me out of office, by spreading rumors about me. They don't want the rules to be enforced. They don't want things to operate in a legal way.
These people want to replace the rule of law with mob rule, which means that if they don't like something, or something makes them lose money, they protest. They think that by protesting, they can continue doing things illegally.
But I'm going to continue doing what I've been doing – pursuing illegal activity and putting a stop to it. My goal is to make Kathu District a legal place.
I need the help of everyone, residents and tourists alike, to inform me about illegal activities in Kathu. You can come to our office on Vichitsongkarm Road to file a report or talk to me directly.
— Saran Mitrarat
Keep in contact with The Thaiger by following our
Facebook page
.
Never miss out on future posts by
following The Thaiger
.
No vaccine, no entry – the world's next travel challenge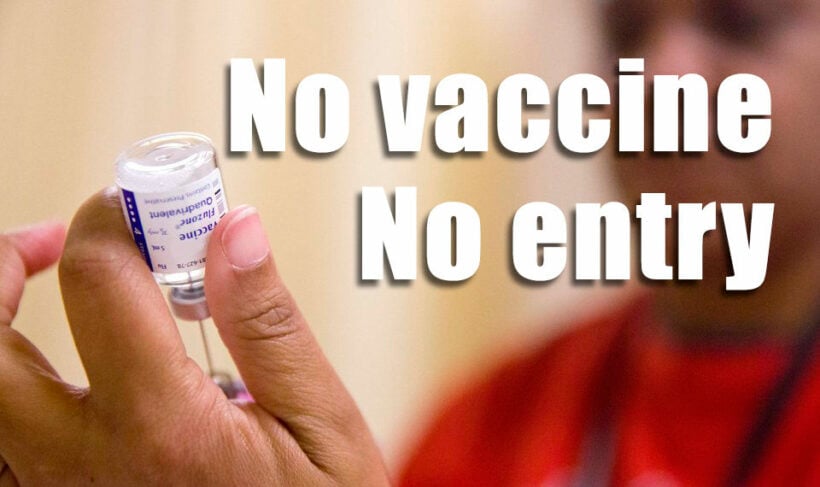 OPINION
UPDATE: Australia's national airline has already said it will impose "proof of vaccine" on all inbound and outbound international flights, a situation that IATA says they are likely to follow. Read more HERE.
ORIGINAL POST: With the announcements this week about several vaccine candidate trials, either being completed or at the end of their Phase 3 testings, and the applications to government bodies for 'emergency approval', we now have to face the next question.
What restrictions will be imposed on those people who don't have the vaccine, or even actively choose not to have the vaccine?
And more locally…
Will Thailand allow people to enter Thailand without first having the Covid-19 vaccine?
Given the Thai Government's low-risk strategy, well almost zero-risk strategy, and reluctance to take any chances with a second wave of Covid 19, it is highly likely there will be a stipulation that anyone entering Thailand will need a vaccine certificate or stamp in their passports.
Couple this with the Thai population's continued fear of allowing foreigners back into the country at this time, in poll after poll, and it's a safe bet there will be a "no vaccine, no entry" restriction imposed.
On a positive note, the Thai government may drop the 14 day quarantine for people that have had the vaccine (but not in the early days).
At this stage we know that most of the vaccine trials have had a 95% efficacy. We also know that the leading BioNTech/Pfizer vaccine needs an original jab plus a booster and has to be transported at extremely low temperature.
To complicate matters, there is not yet sufficient evidence that having had a bout of Covid-19, whether asymptomatic or not, guarantees you immunity. Or, if it does, for how long?
All these factors will mean that some level of quarantine will probably be in force as the Thai government slowly re-opens its borders to a wider groups of vaccinated travellers. This would remain in force until the world has a better knowledge of both the proven efficacy of the vaccine, or vaccines, and the re-infection rates.
So, even if we start getting groups of the world's populations vaccinated before the end of the year, and that's still a very big IF, there's a lot more water to pass under the bridge until a coherent, reliable vaccine strategy can be understood and implemented.
Then there will be a rump of people, either hard core anti-vaxxers, or others who are at least skeptical of a new vaccine, who will want to wait or not want the vaccine at all. Public education, some strong science and a successful roll out of the early vaccines will be a key to winning over a lot of the world's population.
Somehow governments and health authorities are going to have to wind back much of the disinformation floating around the internet about vaccines that is so factually out of whack with reality, it's going to be one of the greatest public health challenges of all time, to reassure people about the science of vaccines and vaccination.
All this, in the middle of a pandemic that, for now, is still on the ascendency as far as new cases and deaths are concerned.
But there is little doubt rejoining the world of international travel, even local travel, could become restricted to only those who are vaccinated. The rest will be stuck roaming around their own countries, or states, for… years with a raft of restrictions on their lives. Who knows.
Will shopping centres or public buildings also impose a "no vaccine, no entry" policy? Hotels? Public buildings? Job applications?
On top of the economic stress which has fallen on a lot of the world, with so many governments now facing the headwinds of deep recession, the vaccine 'haves' and 'have nots' will add even more public disquiet.
At this stage nobody is sure how the vaccine will be rolled out in Thailand. The Thai government has already signed up for several of the leading vaccine candidates and will most likely provide the vaccine for free to citizens under its public health system.
What does that mean for foreigners living here? If you are covered, with a work permit, under the country's public health, are you able to get the vaccine for free too? Will the thousands of foreigners on private health insurance be covered?
Surely the insurers will want its customers to be vaccinated. Sick customers cost them money. So, will insurance renewals be limited to only people who have been vaccinated? Will visas be renewed only if you have been vaccinated?
At this stage there are no firm answers to any of these questions.
Added to all this confusion, there is more than one vaccine, and some of the vaccines work in a different way than others. So do airlines and governments and shops and hotels and bowling alleys allow one vaccine through their doors but not another?
We're certainly now entering a new phase of this pandemic. New challenges, new questions. The rising numbers of cases throughout 2020 is only the first chapter of a book that will be many more years in the making.
Keep in contact with The Thaiger by following our
Facebook page
.
Never miss out on future posts by
following The Thaiger
.
The Thai tourism new normal, learning to live with the pandemic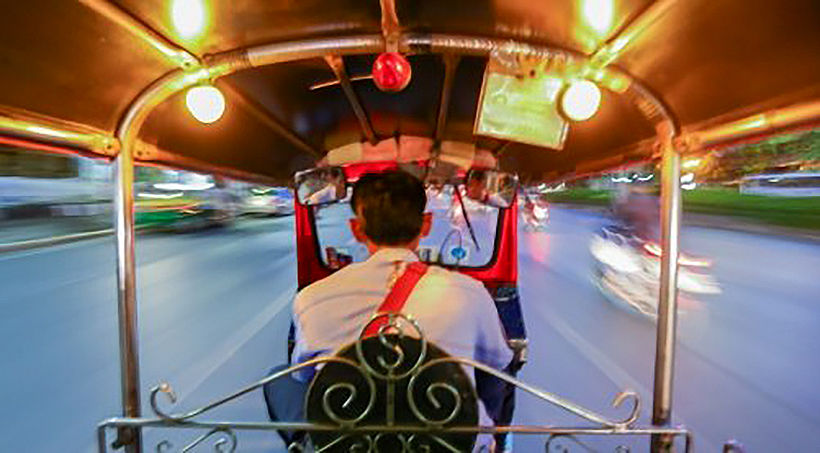 OPINION
by Julian Spindler
Thailand's world-class tourism industry, one of the twin drivers of our economy, is in a deep, coronavirus-induced coma, close to death.
No life support is currently available. Pandemic paranoia has gripped the nation, freezing our bio-security risk management in full containment mode, meaning zero tolerance for local Covid-19 transmission. The socio-economic, and some might add political, impacts of this crisis are huge. If both direct and indirect contributions are included, tourism represents some 22 percent of GDP, according to Fitch Solutions, and as much as 25 per cent of employment.
The ongoing collapse of this vital pillar of the economy means massive and growing unemployment, potentially amounting to 4-6 million people, a wave of bankruptcies, both among SMEs and larger corporates, and untold misery among our huge informal workforce. These are the millions of food vendors, masseuses, taxi drivers, hotel clerks and, yes, sex workers, who together make up the vibrant and welcoming grassroots human infrastructure that last year attracted 39.8 million visitors, making Thailand the world's 9th most visited tourist destination and Bangkok the world's most visited city.
This closed-door public health security policy is not sustainable. According to the Bank of Thailand and international rating agencies there can be no recovery of our economy without a recovery of tourism, and no recovery of tourism without foreign tourists who account for at least 65-70% of the total industry.
To open or not to open, this is question being hotly debated in the Centre for Covid-19 Situation Administration (CCSA), and its newer economic counterpart, the Centre for Economic Situation Administration (CESA), which currently run the country. The outcome to date, the much anticipated Special Tourist Visa (STV), satisfies only the public health voices in the debate. With its 14 day quarantine requirement, many other impractical hoops, and an initial limit of 1,200 foreign visitors per month, the zero tolerance, no local transmission risk profile is being maintained.
If this continues, Thailand's tourism industry will die.
Let's be very clear, only a quarantine-free welcome for foreign visitors can deliver the numbers needed to resuscitate the industry. The STV will allow 40 tourists a day to enter the Kingdom; in 2019 daily arrivals averaged nearly 110,000.
How to open safely?
This is the great conundrum facing Thailand and many other countries around the world for whom travel and tourism is a major economic driver.
We cannot wait for vaccines. They stand no chance of eliminating the disease globally. The idea that the only way to eliminate the threat of this disease somewhere is to eliminate it everywhere is simply misleading.
A more realistic solution is to be found in the words of the World Health Organisation's (WHO) European Director: "The end of the pandemic is the moment that we as a community are going to learn how to live with this pandemic."
Enter the tourism industry's new normal: Learning to live with the pandemic.
Learning to live with Covid-19 in Thailand means accepting there might be local transmission, accepting some people might get sick. It means opening our borders again, and quarantine-free entry for foreign tourists, albeit under controlled conditions.
If our Prime Minister has the courage to order the CCSA to make this policy shift, from total containment to managed risk, even as Covid-19 continues to ravage countries around the world, he should understand Thailand will not be alone. Many governments and many components of the international travel and tourism value chain are already rushing to construct the infrastructure necessary to rescue the industry from a global collapse.
For Thailand the first step must be to undo the pandemic paranoia conditioning affecting the whole country so people understand why we have to manage the risks and how we can do this safely, without overwhelming our health care system.
The second step is for all Government agencies and the entire tourism industry value chain to recognise the new normal requires maximum flexibility. For the government bureaucracy this means a dramatic change of mindset, from creating barriers to easing access. For the industry, it means no cancellation fees and full refunds, every step of the traveler's way.
Keeping this new mindset front and centre, one can identify two types of visitors Thailand can manage for the foreseeable future: Those who are willing to accept and pay for 14-day quarantine, and those who are not.
For the former, the doors should be flung wide open with minimum barriers. Why not? After all this is zero risk for our country.
No restrictions on countries of origin, no pre-paid accommodation requirements and Covid-19 health insurance only for the quarantine period. Digital nomads, snowbirds, returning expatriates, long-stay tourists, businessmen, medical tourists, all should be welcome. The only requirement: A certifiable negative Covid-19 test less than 72 hours prior to flying. Visas-on-arrival for as long as you want should be the order of the day, even year-long-stay visas with a work permit, for a modest sum, say US$1,000.
This new welcoming mindset would generate a small but useful and humane increase in essentially risk-free arrivals so it must be accompanied by a rapid increase in Alternative State Quarantine (ASQ) accommodation throughout the country and in airlift capacity. Simplifying entry requirements would also largely obviate the inter-agency bickering that has bedevilled the STV to date.
Making it even more welcoming, for those who can prove they already have homes here, would be the self-quarantine option, as currently practised in Hong Kong. On arrival, visitors are given another rapid Covid-19 test and if negative, equipped with a GPS tracking wristband and escorted to their registered place of residence, where they remain for 14 days. The tracking devices are monitored to make sure visitors don't stray.
However, STV arrivals alone will not save our tourism industry; only quarantine-free entry will.
Here's how it can work, safely:
Enter the much maligned "travel bubble", quarantine-free travel from countries and areas with low Covid-19 transmission rates to, at first, designated areas in Thailand that aim to be virus free.
Travel bubbles require close, multi-agency cooperation and coordination at both ends. They aim to be bi-lateral, reciprocal agreements. This is why it is so vitally important that our twin Covid-19 nerve centres, and the Cabinet, make a formal decision to open quarantine-free travel in principle as soon as possible, so all the criteria and arrangements can move forward quickly.
Looking at the Thai end of the travel tunnel first, we need to select leading tourist destinations where access can be controlled. Initially that might mean Pattaya, Hua Hin, Phuket, Samui and nearby islands, and Koh Samet.
For these areas the CCSA should instruct the Ministry of Public Health (MOPH) to undertake systematic, large-scale surveillance testing and tracking to cover all residents and migrant workers who are likely to come into contact with tourists. All those tested will be given a health status and tracking app, which will be updated as regular testing continues. Eventually the app will also record vaccination status
Responding to epidemiologists' war cry that testing, testing and more testing is the key to living safely with the pandemic, large-scale testing would represent a major policy change for the MOPH. To date, Thailand has had a very low rate of testing, even lower than poorer countries like the Philippines and Indonesia. This must change if we are to open travel bubbles safely.
While these preparations are being undertaken for destinations where access is easily controllable, the CCSA and CESA should be working with all relevant agencies to assess the viability of opening additional travel bubbles to other key destinations as quickly as possible.
At the same time Safety and Health Administration (SHA) standard certification must be accelerated to cover virtually all facilities in the travel bubble destinations.
The aim is to reassure foreign visitors of these destinations' near virus-free status during their stay, a claim which should be underlined by offering free Covid-19 health insurance for the duration of their stay. The CCSA and CESA should also start to develop the new more sustainable tourist ecosystems that meet the public health requirements needed to manage the Covid-19 risks in the longer term.
The next step is deciding which countries, and in some cases like China, which regions or cities, we will link up with.
These decisions must be data-driven, not withstanding diplomatic preferences, so as to allow a high degree of automaticity. As Covid-19 infection rates change around the world so will our allowable travel bubbles.
To manage epidemiological risk, the criteria and thresholds for identifying our travel bubble partners must be clearly defined. Thailand could adopt an approach similar to that being developed for the EU where the travel and tourism sector is screaming for harmonised travel regulations.
Published two months ago, the industry's European Tourism Manifesto urges the EU to replace the need for quarantine with comprehensive, cost-effective testing and tracing, to avoid blanket restrictions by using more granulated data to better target specific areas, to not impose restrictions on passengers in transit, and to ensure the interoperability of contact tracing apps.
For Thailand to consider, the current European Commission criteria and thresholds dictate countries should not restrict travel from other countries with fewer than 25 new cases per 100,000 people over the previous 14 days, and a test positivity rate of less than three per cent provided the weekly testing rate exceeds 250 tests per 100,000 people. There are other criteria that could be considered, and thresholds can be adjusted, but this will be for Thailand's epidemiologists to decide, once the political decision to open our borders for quarantine-free travel has been made.
Now that we have the tools to select, on a risk-managed basis, our travel bubble partners, we need to accurately monitor the health status of the individual tourists from these countries.
One possible tool is already a work-in-progress with at least 40 countries collaborating to launch Common Pass, a standard global framework enabling people to document and present their Covid-19 status, in a way that participating governments can verify, to facilitate safe border crossings while protecting individual data privacy, in effect a Covid-19 passport.
Common Pass, currently being tested internally on flights between London and New York, and Hong Kong and Singapore, is being developed by The Commons Project, a Swiss not-for-profit, in partnership with the World Economic Forum.
Common Pass aims to answer four questions that are vital for managing epidemiological risk with quarantine-free travel when our only protection is a very recent negative Covid-19 test. These are…
• How can a lab test result or vaccination record from another country be trusted?
• Is the lab or vaccination facility accredited?
• How do we confirm the person who took the test, or received the vaccination, is indeed the person who is traveling?
• Does the traveler meet border entry requirements?
Thailand is not currently participating in Common Pass. We should be. Each participating country needs to decide two things: Which centres for Covid-19 tests, and vaccinations, are deemed credible in their country, and their own border entry requirements. After the individual foreign traveler inputs their test results, the app will do the rest and when presented to airlines or border controls will show if the bearer is fit to enter.
Common Pass expects to become fully operational in early 2021. Until then, with no standard certifiable system for Covid-19 tests in place, we might decide to deploy the rapid 15-minute antigen tests that are coming onto the market at our airports as additional protection against less than reliable foreign test results.
Meanwhile, our multi-agency Tourism Recovery Team should be very busy negotiating travel bubbles with individual countries that currently meet our epidemiological criteria for quarantine-free entry. Given bureaucratic inertia, this will be a time consuming exercise but it is the only path to tourism survival.
We have already engaged with China for the STV. Now, we would do well to open discussions with Singapore, and learn from Singapore, as it has ASEAN's most proactive policies for reopening international travel, including quarantine-free entry for travellers from Brunei and New Zealand since September 1. With hard work and goodwill on both sides we could hope to see Singaporean tourists arriving before the end of the year.
When Covid-19 started to spread across an unprepared world early this year, Bangkok and Thailand both ranked number one in terms of anticipated impact severity. The first case of the virus outside China was recorded here, and during the first three months, before the lockdown, nearly three million Chinese tourists visited. But our world-class public health security system, ranked sixth in the world prior to the pandemic, and the willingness of the Thai people to put community first, enabled us to manage the potential disaster to the point where today Thailand is regarded as an outstanding example of successful pandemic management.
We have now had six months to further strengthen our public health capacities across the board. It is time for the government to leverage this world-class public health security ecosystem and save our world-class tourism industry and the many millions of citizens who depend on it.
Julian Spindler is a strategic communications consultant and long-time resident of Thailand. Since arriving in Thailand in 1969, Julian has worked as a journalist, editor, publisher and strategic communications consultant. Today he specialises in sustainability issues, crisis communications and strategic planning.
Keep in contact with The Thaiger by following our
Facebook page
.
Never miss out on future posts by
following The Thaiger
.
Police violence against democracy demonstrators – letter from Human Rights Watch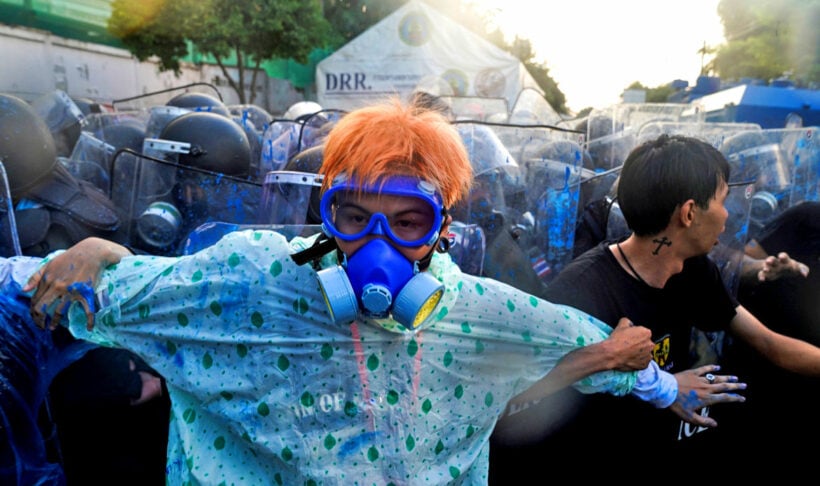 OPINION
In response to Tuesday's protests outside the Thai Parliament, and the police response, Brad Adams, Asia director at Human Rights Watch, responds. Published in full…
Unnecessary Use of Water Cannons, Teargas; 55 Reported Injured
Thai police unnecessarily used water cannons and teargas against peaceful democracy demonstrators outside the parliament in Bangkok on November 17, 2020, in violation of international human rights standards, Human Rights Watch said today.
At about 2.25pm, police attempted to prevent a demonstration organised by the People's Movement from reaching the parliament, where a debate on constitutional amendments, including possible reforms to the monarchy, was underway. Human Rights Watch observed crowd control units using water cannon laced with purple dye and an apparent teargas chemical, as well as teargas grenades and pepper spray grenades to disperse thousands of demonstrators, including many students. The dispersal operation continued until the demonstration ended at about 9pm Protests on November 18 proceeded without violence.
On November 18, the spokesperson for United Nations Secretary-General António Guterres "expressed concern about the [human rights] situation in Thailand … it's disturbing to see the repeated use of less lethal weapons against peaceful protesters, including water cannons … it's very important that the government of Thailand refrain from the use of force and ensures the full protection of all people in Thailand who are exercising a fundamental peaceful right to protest."
"The Thai authorities should heed the advice of the UN Secretary-General and stop using excessive or unnecessary force against demonstrators, while preventing violence by any group so the situation doesn't escalate out of control," said Brad Adams, Asia director at Human Rights Watch.
"The Thai authorities should promptly and impartially investigate the violence, including the alleged use of firearms by pro-government demonstrators, and prosecute all those responsible for abuses regardless of their political affiliation or rank."
At least 55 people were injured, most from inhaling teargas, according to the Bangkok Emergency Medical Service. The injured included six democracy demonstrators who suffered gunshot wounds during a clash with pro-government ultra-royalist groups near the protests.
The Thai government should transparently and impartially investigate all aspects of the November 17 violence, Human Rights Watch said. This should include an inquiry into the circumstances and decision-making process for the extensive use of water cannons and teargas by the police against peaceful demonstrators. The Thai government should be clear that its rules on the use of force by law enforcement comply with international human rights standards and are strictly followed at all times.
Under the United Nations Basic Principles on the Use of Force and Firearms by Law Enforcement Officials and other international human rights standards, law enforcement may only use force when strictly necessary and to the extent required to achieve a legitimate policing objective.
The 2020 United Nations guidance on less-lethal weapons in law enforcement states that "Water cannon should only be used in situations of serious public disorder where there is a significant likelihood of loss of life, serious injury, or the widespread destruction of property."
In addition, water cannon should "not target a jet of water at an individual or group of persons at short-range owing to the risk of causing permanent blindness or secondary injuries if persons are propelled energetically by the water jet." In line with international standards, teargas should only be employed when necessary to prevent further physical harm and should not be used to disperse nonviolent demonstrations.
The Thai government has shown increased hostility toward democracy demonstrations, which started on July 18 and later spread across the country. Demonstrators have called for the resignation of the government, the drafting of a new constitution, and an end to harassment for exercising freedom of expression. Some of the protests included demands to curb the king's powers.
Thai Lawyers for Human Rights reported that at least 90 protesters currently face illegal assembly charges for holding peaceful protests in Bangkok and other provinces since July. Some protest leaders have also been charged with sedition, which carries a maximum seven-year prison term, for making demands regarding reforms of the monarchy.
International human rights law, as expressed in the International Covenant on Civil and Political Rights (ICCPR), which Thailand ratified in 1996, protects the rights to freedom of expression and peaceful assembly. But Thai authorities have routinely enforced censorship and stifled public discussions about human rights, political reforms, and the monarchy's role in society.
Over the past decade, authorities have prosecuted hundreds of activists and dissidents on serious criminal charges such as sedition, computer-related crimes, and lese majeste (insulting the monarchy) for the peaceful expression of their views. In addition, over the past six months, the authorities have used emergency measures to help control the Covid-19 pandemic as a pretext to ban anti-government rallies and harass pro-democracy activists.
"The Thai government should end the police crackdown on peaceful demonstrations or risk further unnecessary violence," Adams said.
"Concerned governments and the United Nations should publicly urge the Thai government to end its political repression and instead engage in dialogue on democratic reforms."
You can read more from Human Rights Watch HERE.
Keep in contact with The Thaiger by following our
Facebook page
.
Never miss out on future posts by
following The Thaiger
.