Opinion
Time to build a Phuket bus culture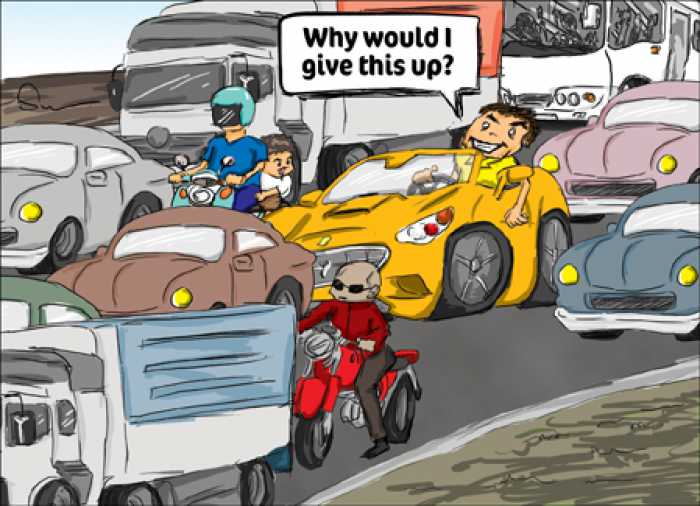 PHUKET: Efforts by the National Council for Peace and Order (NCPO) to rid Phuket of its notorious transport syndicates and establish safe, reasonably-priced public transport took another big step forward with the recent introduction of real metered taxis.
The term "real metered taxis" refers to those allowed to pick up and drop off passengers anywhere, as is normal in Bangkok and most urban centers in civilized nations around the world.
However, the lack of public response to the new Airport Bus service (story here) indicates that more needs to be done to wean local residents off the culture of driving that has become firmly cemented during the decades-long stranglehold of our roadways by local mafia.
Throughout that period, a climate of fear prevented any improvements in public transport. Even as the BTS Skytrain and MRT underground trains were built in the capital, public transport in Phuket remained stuck in time.
It seems hard to believe that the blue songtaew [pick-ups and buses] still seen lumbering along managed to survive, but perhaps the vehicles' lack of usefulness to tourists and other high-paying clientele is to be credited.
One of the many "lowlights" of the period came when efforts to set up a pick-up songtaew route from Patong to Karon resulted in the savage beating of a driver. Similar incidents have been reported in many other parts of the island.
The one notable exception during this transport Dark Age was the introduction by the Phuket Provincial Administration Organization of four pink bus routes that have helped students and low-wage workers living in and around Phuket Town.
Unfortunately, this network has been of little benefit to the majority of people living on the island. Its confusing route system makes it difficult for most local residents to master – and almost impossible for most foreign tourists to figure out.
Thus, the vast majority of island residents and tourists have been forced to take to increasingly congested roads in whatever form of conveyance they could afford, most often motorbikes. The results have been needless injuries and deaths.
However, when a bus service is finally presented to Phuket motorists, instead of getting on board, they choose to continue using their cozy cars and less comfortable, but incredibly convenient and dangerous motorbikes.
Perhaps what needs to be provided are the age-old school buses. Doing so would at least instill the concept of buses as a regular transport option in the minds of Phuket's youngsters and at the same time get many children off motorbikes during the dangerous "school run" during peak hours.