Phuket Opinion: Tsunami evacuation shortfalls resurface
PHUKET: THE pair of powerful earthquakes that struck off the coast of Sumatra on April 11 served as the perfect 'live test' of Thailand's preparedness to conduct emergency evacuation of tsunami risk areas, exposing, once again, serious shortcomings in the government's ability to relay important information to the public in a timely fashion.
The 8.6-magnitude quake that hit at 3:38pm was felt across the region, causing many people to panic, evacuate buildings and get on the telephone to warn loved ones in risk areas to get to the safety of higher ground because a tsunami might be on its way.
Unfortunately, the huge increase in telephone traffic quickly resulted in almost immediate regional collapse of service by all mobile phone providers, leaving users with an eerie sense of déjà vu. The last time such an across-the-board loss of service struck was in the aftermath of the 2004 disaster.
Meanwhile, efforts by the National Disaster Warning Center (NDWC) to get out real time information and keep the public updated as events unfolded were compromised on many fronts.
After initial reports about the earthquake were aired through terrestrial television, broadcasting across all of these channels was then automatically switched over to "TV Pool" coverage of a state event that continued until 7pm, immediately after which it declared the situation in Thailand as "back to normal".
This was not the first time the rigid workings of the "TV Pool" have been exposed, in some cases comically. Back in 1991, in the hours following the ouster by coup d'état of democratically-elected Thai premier Chatichai Choonhaven, all five state TV channels at the time displayed an image of the Thai flag as military music played in the background.
From time to time, the music would stop and one of the coup makers would appear to read aloud from a developing list of reasons explaining why the coup had to take place. However, one of these episodes happened to come at precisely 6pm, at which time the announcer was cut off in mid-syllable by the Thai National Anthem played nightly as part of Thailand's evening "time check".
Apparently not much has changed since then. As pointed out by former premier Abhisit Vejjajiva, the events of April 11 revealed the need to review the way the "TV Pool" system operates, especially in times when public safety is at risk.
Soon after the first quake, the NDWC website also failed, though the agency did provide some information through its Facebook page. Its "SMS Alert" system failed as well, due to the lack of mobile phone services, the Gazette receiving its warning at 6:35pm, almost two full hours after the first quake.
Fortunately, the NDWC's network of 69 warning towers got a passing grade, even though it covers only a small part of Thailand's Andaman coastline that is at risk of tsunami inundation.
Keep in contact with The Thaiger by following our
Facebook page
.
Smoke and mirrors, northern Thailand's annual smog problem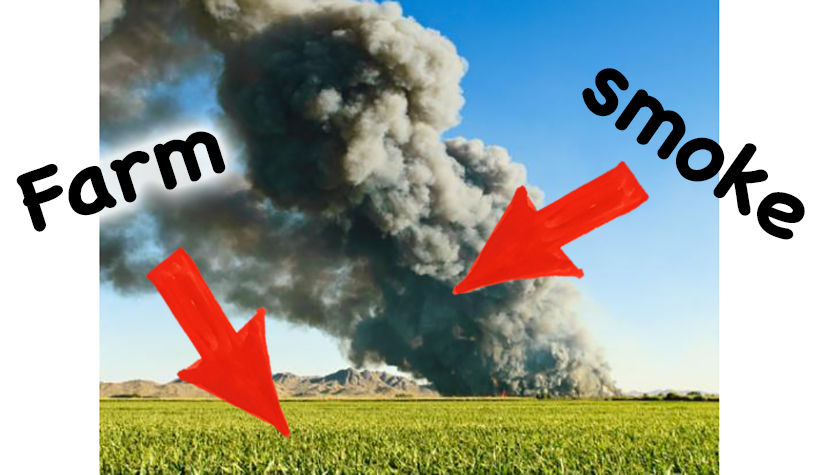 Congratulations Chiang Mai. Again you are the world's Number One.
Sadly, you're the number one in the world's worst air pollution, again. The third time in this week alone. And, sadly, because the problem is almost completely avoidable, but not easily solved.
Chiang Mai city has a PM2.5 micron reading this morning of 282, whilst just north of the city in Nong Han they have the staggering reading of 380 (hazardous).
PM2. 5 refers to atmospheric particulate matter (PM) that have a diameter of less than 2.5 micrometers, which is about 3% the diameter of a human hair. Commonly written as PM2.5 particles in this category are so small that they can only be detected with an electron microscope.

GRAPHIC: airvisual.com
Other heavily populated areas around Chiang Rai, Mae Hong Son and Lampung are also suffering serious smog and smoke problems today. Last week the Royal Thai Army announced it would head to the northern provinces, track down and arrest plantation and farm owners who were allowing fires to be started on their properties. They would work with local rangers to detect the fires and enforce orders from the government not to light fires to clear land in preparation for new crops.
"The newly deployed rangers will be sent to fire-prone areas to patrol for fires and arrest anyone they find starting them. The rangers will also assist fire officers in fighting fires."

If anyone in the government or Royal Thai Army has access to a computer, internet or smartphone, they can download this interactive 'live' map which shows all the active fires in any region in the world, accurate to about 100 metres. Or if that's too difficult they could could drive around the region and look for the smoke. HERE's the link to the live satellite imagery and a photo of what smoke looks like.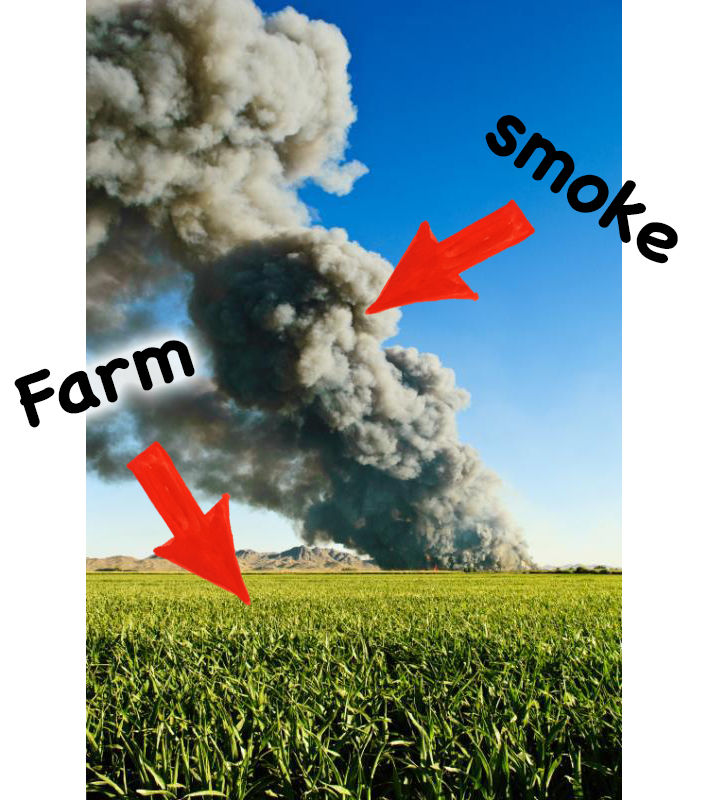 But, even if the government is able to abate some of the local burning off of farmlands on their own soil, they have a more nuanced problem negotiating with the Myanmar, Laos and Cambodian governments to enforce the same limits on their farmers. The winds blow across the borders and, as the satellite images show, much of the smoke is floating across in the prevailing winds from fires in neighbouring countries.
Thailand could show the lead and be a regional facilitator in vital changes to agricultural practices which are causing human tragedy and enormous damage to the region's tourist potential. ASEAN (where Vietnam is the Chair for 2020) has the regional 'teeth' to be able to bring these changes about and help arrange subsidies for farming districts to jointly share the costs of the harvesting and plowing machinery that would render the annual burn-off unnecessary.
Health effects
PM2.5 particulate are able to travel deeply into the respiratory tract, reaching the lungs. Exposure to fine particles can cause short-term health effects such as eye, nose, throat and lung irritation, coughing, sneezing, runny nose and shortness of breath.
PM2.5 particulate primarily come from car, truck, bus and off-road vehicle, construction equipment, snowmobile, exhausts, and other operations that involve the burning of fuels such as wood, heating oil or coal and natural sources such as forest and grass fires.
Exposure to these fine particles can also affect lung function and worsen medical conditions such as asthma and heart disease. Scientific studies have linked increases in daily PM2.5 exposure with increased respiratory and cardiovascular hospital admissions, emergency department visits and deaths. Long term exposure to fine particulate matter may be associated with increased rates of chronic bronchitis, reduced lung function and increased mortality from lung cancer and heart disease. (NY Department of Health)
The Thai government rate the upper safe level of air pollution as 50. The World Health Organisation rate the upper level at half of that, only 25 mg per cubic metre. Either way, the smog and smoke levels in Thailand's north are many, many times the acceptable safe levels for the region's populations and is doing incalculable damage to northern Thailand's future tourist potential.

PHOTO: Survivor Guide Chiang Mai
Keep in contact with The Thaiger by following our
Facebook page
.
Major corporations join the fight against plastics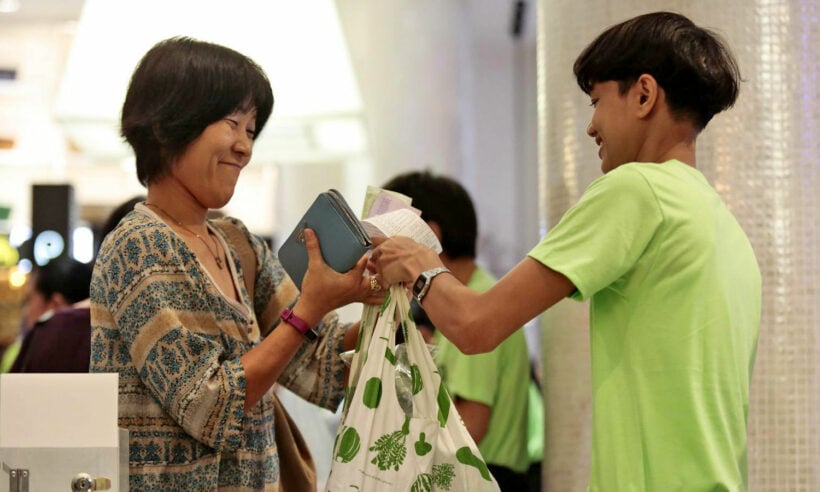 by Ghislaine Bovy
Reduce. Re-use. Recycle.
The public is now fully aware of the gigantic plastic pollution issue. They know it's time to act and act now. Many of us have already "gone" into using reusable plastic bags, refillable bottles and buy fruits and vegetables in bulk instead of in individual plastic bags, small shops don't give you a plastic bag unless you ask and pay for it!, usually.
The public is playing an important role in the fight against single-use plastics but what about the major corporations? Are they doing their part?
Consumer product companies are now adopting 'reduce, reuse, recycle' strategies and that's what I call positive news.
There is also a business reason behind this trend – consumers are demanding more sustainable goods and services. People are now ready to buy goods and services at a higher price provided they are respectful of the environment.
Unilever for example has implemented its Unilever Sustainable Living Plan as early as 2010 and they have to keep their promise since consumers will hold them accountable. Their goal is to convert all packagings to be 100% reusable, recyclable or compostable and to cut by half the use of virgin plastic and collect and process more plastic packaging than it sells by 2025.
As an example of the corporation efforts, most of Unilever home care bottles use 100% post-consumer recycled (PCR) materials.
Another consumer goods corporation, Nestlé is implementing a number of immediate actions in order to speed up the transformation of its products in line with consumer trends and choices.
Leading by example, Nestlé Indochina is now using paper secondary packaging and Nestlé worldwide is developing packagings that will reduce their environmental footprint by using climate-friendly ingredients and alternative packaging materials.
In the cosmetics industry, L'Oréal committed that by 2025, 50% of its products' plastic components will be recycled or bio-sourced and 100% of its plastic packaging refillable, rechargeable, recyclable or compostable.
"Sustainability is a new licence to operate, and it's the condition inherent to the company's long-term success and to safeguarding our planet. It's clear that corporate social responsibility is a strategic issue for L'Oréal." said Ines Caldeira, chief executive of L'Oréal Thailand.
Food operators are also joining the fight. The Oishi Group, for example, implemented "recycle and reduce" programs such as switching the company's gyoza and sushi packaging via delivery to paper boxes instead.
Hotel, Restaurant and Coffee chains are also making extensive efforts to reduce their single-use plastics usage.
The Phuket Hotels Association goes a step further than supporting the reduction of the usage of single-use plastics by their members, they are addressing the core of the problem – education.
They launched the Green Planet Learning Hub which includes a green learning centre/workshop curriculum catered for Thai students. The Green Planet Learning Hub will provide education and awareness raising programs regarding Environment & Sustainability to Thai students between 8-15 years of age in Phuket.
Their aim is to educate 5,000 Thai children per year, approximately 100 students per week. Click HERE to read.
Now that the large corporations are joining the fight and children are learning more about the environment, it's also up to you and me to do our part so let's do this!
Keep in contact with The Thaiger by following our
Facebook page
.
March 2020, the Thai month of cancellations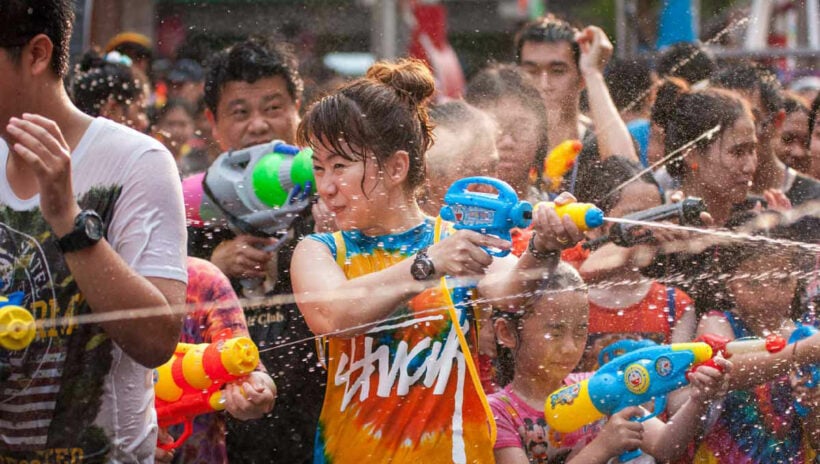 March will end up as the long month of cancellations. With Songkran looming, one of the busiest times for travel in Thailand, and increasingly one of the biggest annual tourist magnets to the Kingdom, cancelling Songkran would take Thailand into unchartered tourism and economic territory. Fears, real or imagined, are forcing companies and governments to assess their risks associated with the coronavirus (Covid-19) outbreak. But that's what's starting to happen.
But if the mega festivities and parties, big and small, aren't cancelled soon, it will cause unnecessary expense and inconvenience with Songkran (the Thai New Year) only five weeks away. Around the country Thais traditionally head home for festivities and local celebrations with their families. For tourists it's a popular pilgrimage where the water fights and parties have become a massive attraction in their own right.
The annual Thai splash-fest is a major generator of business for hotels, road transports companies, food & beverage services and airlines. This year the Songkran holiday runs, officially, from April 11-15 (but many workers will apply to take off the Friday before). Many of the festivities linger on for a few more days, principally in Pattaya and Chiang Mai.
Already officials have cancelled the annual Wan Lai Festival activities scheduled for April 16-17 in Saen Suk Municipality near Pattaya. It is sure to be just the first of many cancellations on the way.
Earlier this week the Moto GP, a growing and hugely popular international sporting event in Buriram, was postponed until another future date can be set.
Meanwhile, just today, the popular Koh Phangan Full Moon Party has been cancelled for March 8 with the Mayor saying there will be no other parties until the threats of the Covid-19 virus have passed.
And that's only the tip as airlines start cancelling services amid growing international concerns and governments are spurred into actions that may end up restricting or complicating travel arrangements.
As Shakespeare wrote "Beware the Ides of March". Just ask Julius Caesar.
Keep in contact with The Thaiger by following our
Facebook page
.