Opinion: Too good to be true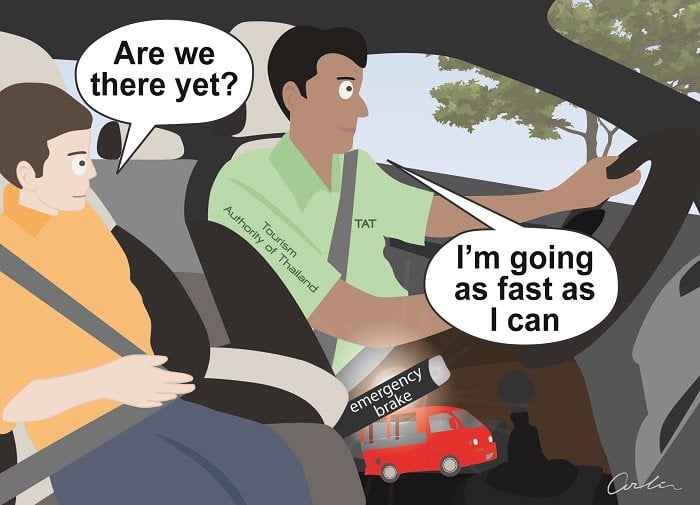 PHUKET: The recent proposal to launch a potentially free shuttle service for tourists transiting at Phuket International Airport is an excellent idea. However, islanders should not be optimistic about such a service being available any time soon.
Until the National Council for Peace and Order (NCPO) came to power just over a year ago, Phuket's tourism economy suffered brazen abuse at the hands of its notorious public transport syndicates.
No topic had been the subject of more futile editorializing in the Gazette, at least until the NCPO stepped in with its no-nonsense approach to imposing order on the corruption-driven plague that has done so much damage to the island's reputation.
Phuket boasts an unbeatable range of tourist attractions. In addition to being blessed by nature with beautiful beaches, free-market forces have added a vast array of recreational pursuits to our tourism menu: nightlife, yachting, golf, meditation retreats, martial arts training, go-kart racing, shooting ranges, recreational aviation – the list is too extensive for this space.
The 'missing link' has always been the almost complete lack of safe, reasonably-priced public transport. The forces of collusion conspired to make it cost prohibitive for tourists to pursue many interests, and for tourism businesses to realize the full earnings potential on their investments. It has been as if the entire tourism economy were being driven with the emergency brake engaged.
The legacy of this is evident in the fact that tourists can easily get an air-conditioned hotel room with WiFi and other amenities at a cost less than a half-hour ride in a cramped, smoke-belching tuk-tuk. In what other world-renowned tourist destination does such a situation prevail?
Given our baleful public transport history, the concept of a free airport shuttle service appears attractive indeed. From a public relations standpoint, the introduction of such a service would go a long way toward reversing the ugly and truthful image of an island suffocating in the stranglehold of thugs backed by corrupt civil servants and local politicians.
From a free-market perspective, however, the free airport shuttle idea has serious drawbacks. First, it would severely undercut the existing Airport Bus Express service, which was launched in the pre-NCPO era and deserves government support, not undermining.
Phuket has seen an abundance of 'pie in the sky' public transport schemes over the past two decades – from the 'Patong Tunnel' to multiple iterations of a monorail. Untold millions of baht and man-hours have been squandered on "feasibility studies" of such services. We do not need to add another to the list.
The NCPO has correctly highlighted Phuket's public transport crisis as a top priority. The key to the island's long-term tourism success is to rid public transport of graft so that free-market forces can prevail. If we can establish this during the NCPO's tenure and maintain it when we 're-start' during our next experiment with democracy, Phuket will ultimately emerge as the true 'Hub of Asean Tourism' that we all want and hope for it to be.
Opinion

Join the conversation and have your say on Thailand news published on The Thaiger.
Thaiger Talk is our new Thaiger Community where you can join the discussion on everything happening in Thailand right now.
Please note that articles are not posted to the forum instantly and can take up to 20 min before being visible. Click for more information and the Thaiger Talk Guidelines.