Opinion
Opinion: The future of the Andaman's coral reefs is in the hands of Phuket tourists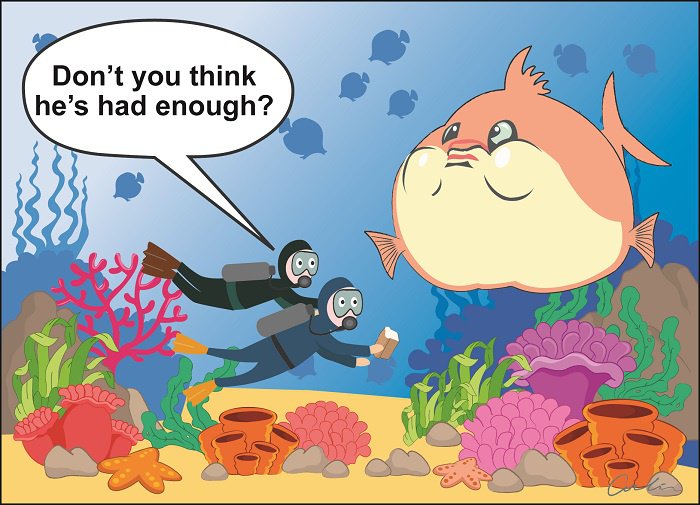 PHUKET: A recent comment made by a high-ranking government official that seawalking tourists should be allowed to continue hand-feeding bread crumbs to reef fish is a serious cause for concern.
Ministry of Tourism and Sports Phuket Office Director Santi Pawai recently went on a fact-finding mission to investigate claims that a marine tourism operator's seawalker tours off the coast of Phuket's Koh Hei (Coral Island) were damaging the marine environment there, with tourists hand-feeding fish bread crumbs, stepping on coral formations and other environmentally unsound practices (story here).
Mr Santi, who obviously enjoyed his marine adventure, concluded after viewing the fish feeding first-hand: "From my tourism point-of-view, it isn't too harmful to the fish."
However, experts without tourism points-of-view, including experienced researchers at the Phuket Marine Biological Center, tend to disagree. Even many ecologically-aware dive tour operators and environmentalists on the island who do share a tourism point-of-view disagree.
It is true that feeding patterns at coral reefs are inherently dynamic and small-scale feedings like the kind presented to Mr Santi are a "drop in the bucket" compared with the other devastating practices that humankind has wrought on our planet's marine environment.
These include oil drilling and other forms of offshore resource mining, aquaculture, destruction of mangrove forests and other forms of coastal "development", unsustainable fishing practices, terrestrial wastewater pollution and many more.
In a recent study published by the respected journal Science, one world-renowned panel of researchers concluded after an extensive, interdisciplinary study: "We may be sitting on a precipice of a major extinction event" in the global marine environment.
The most discouraging aspect of Mr Santi's statement is the apparent lack of understanding that when "small scale" behaviors that affect an ecosystem are applied to mass tourism, they will have wholesale effect.
One tourist hand-feeding some fish "only a little bit", when multiplied by tens of thousands of people each year doing the same, is likely to have a staggering effect on the marine life at that site.
If Phuket's leaders are unable to understand – never mind raise public awareness about – mankind's increasing role in rapidly-changing global ecosystems, both terrestrial and marine, then we are heading into ecological dire straits.
Phuket's dive tour industry has a history of raising awareness of environmental issues through real-life experiences that cannot be reproduced through classroom lectures.
However, dolphinariums, Phuket's pathetic private zoos and seawalker tours tend to have the opposite effect: reinforcing the belief that it is acceptable to treat the environment as if is exists solely for our benefit and amusement, and, after all the fun is over, our final dumping ground.