Island View: End of circus show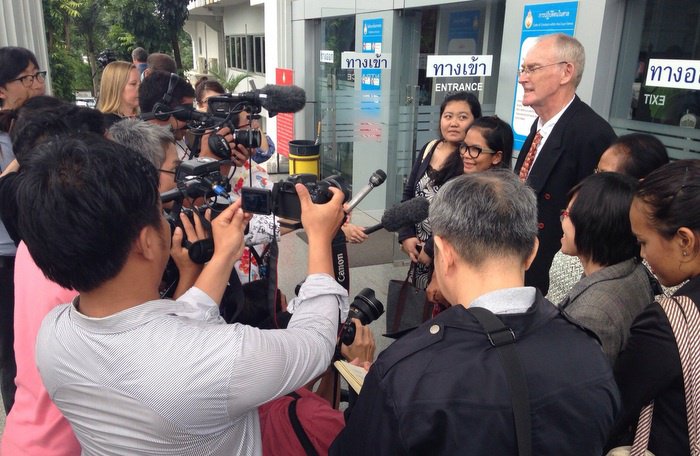 PHUKET: I was deeply relieved to see justice served when the court in Phuket delivered a 'not guilty' verdict last week in the case against Chutima Sidasathian and Alan Morison of local news blog PhuketWan.
Though there was a great amount of grandstanding, showboating and circus entertainment for the international media leading up to the trial, it was important that government not use a heavy hand when dealing with the media in this case.
In this, the Thai justice system worked, and should be praised after the onslaught of international condemnation it received.
The fact that the case was pushed by open letters from PhuketWan and a number of human rights groups to Prime Minister Gen Prayut Chan-o-cha, in hopes that he would subvert the legal process, was disconcerting, given that these calls for intervention came in the same breath as the authors' repeated declarations of the need for free speech in a 'democracy'.
Among the greatest concerns mooted in the international media was that this case could set a precedent for future cases, eventually leading to the specter of straight-up gagging of the local media in Thailand – ball, duct tape and all. But there is no system for precedents in Thai jurisprudence. Each case is a fresh start.
Since the May 2014 coup, at least 40 individuals have either been convicted or remain in pre-trial detention for offences under Lese Majeste Section 112 and the 2007 Computer Crimes Act, according to the United Nations Office of the High Commissioner for Human Rights.
Does anyone know what happened to Rinda Paruechabut who was arrested under the power of the Computer Crimes Act for allegedly spreading anti-government rumors on social media?
And what about the case of human rights defender Andy Hall? Mr Hall was charged with defamation and computer crimes violations for reporting alleged labor abuses at a large Thai pineapple wholesaler. He is at least getting some international coverage – but it is certainly not on the scale that PhuketWan was able to employ.
The relief I felt when the verdict arrived was not so much for Mr Morrison – with his grand claims of willingness to do jail time in the name of 'journalistic integrity' – as it was for Ms Chutima.
In a worst case scenario, Mr Morrison would most likely have been deported in a hailstorm of criticism of the current administration. But Ms Chutima – who had assisted Reuters as they conducted their Pulitzer Prize winning investigation into the Rohingya – wouldn't have had that option. She was truly facing the possibility of hard time in prison.
Thankfully, the case followed due process with a verdict that was fair to the defendants, to Thais, to Thailand, and yes – to journalistic integrity. But when it comes to freedom of the press, the PhuketWan decision does not by any means see journalism in this country out of the woods.
Just a couple of weeks ago, in the wake of the devastating Bangkok bomb blast, a senior level Thai government spokesman praised the government of China for its skills in 'information management'. The spokesman went on to warn journalists that the government could "interrupt" them if they did not use discretion in reporting on "negative aspects" of Thailand.
— Tony Kleinschmidt
Keep in contact with The Thaiger by following our
Facebook page
.
Never miss out on future posts by
following The Thaiger
.
Special Tourist Visa 2.0 – This is what should happen on September 26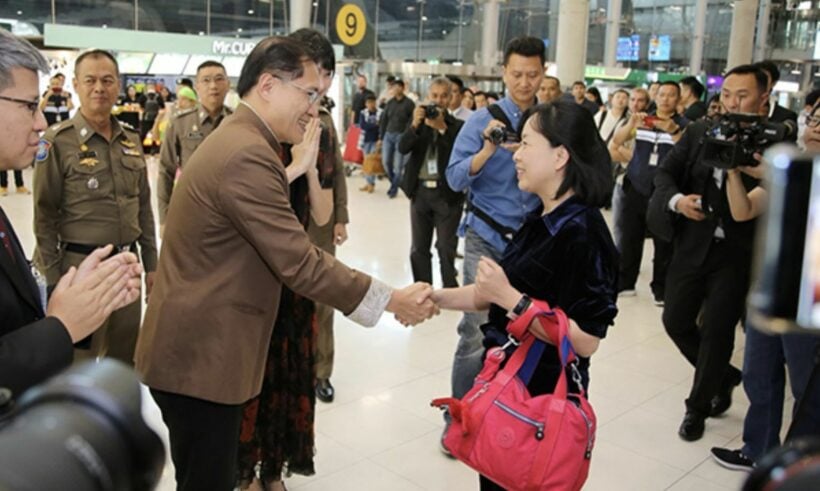 OPINION
So here's an idea. If Thailand truly wants to attract tourists why not offer FREE QUARANTINE for the first 10,000 people who contact their Royal Thai Embassy and register to come as tourists under the new Special Tourist Visa. The Thai government or TAT could pay the hotels directly (I bet it will be a lot less than the extortionate price currently being asked by participating hotels). Some other countries are paying for tourist quarantine expenses. Thailand, with a big reliance, directly and indirectly, on tourist dollars, should consider the same.
Provide a valid incentive rather than just spewing out clear attempts at price-gouging people who genuinely want to visit Thailand. Stop this veneer of acting as 'generous hosts' and actually be properly and sincerely generous. Long term, attracting a handful of wealthy tourists, with time and money in plentiful supply, is not going to fill the country's hotels, tour boats or street-side restaurants.
Whatever the cost to the Thai Government, it would be easily repaid in increased revenue to the country from the foreigners' 90 days+ stays in the Kingdom. Given the bad PR Thailand is receiving at the moment, related to its numerous unworkable visa "plans" and "models", turn travellers' frowns upside down and revel in the power of positive PR instead of trying to 'spin' a travel plan into profit for a selected few.
And allow the current tourists, or people stuck here with lapsed visas, to "roll over" onto the Special Tourist Visa on September 26. Yes, they should report to their nearest Immigration office and report where they are and pay the 2,000 baht application fee. But just stamp them in for another 90 days and save yourself additional paperwork. Let them, instead, spend any cash they have left on restaurants, travel and bar girls… whatever. Those remaining foreigners are your best best to revive international tourism with their stories about Thailand's 'good will' and the posts about their adventures around the Kingdom.
Even better, for the foreigners who want to come to Thailand, dust off one of your grounded Thai Airways planes and fly them here for free as well, or at least at highly discounted fares (given the 100s of thousands of un-refunded fares you have sitting in the bank). With a handful of airlines currently flying into Bangkok, the sight of a Thai Airways plane at international airports would be another attractive reminder about Thailand and its many alluring natural and cultural assets. Heaven knows, the beleagured airline needs some good PR too and would be the best gift to the patient airline staff and pilots as they bite their nails awaiting the outcome of the current restructure and bankruptcy proceedings.
We won't even mention the whole Covid-19 insurance 'scam', provided magically by Thai companies. Or the reception they'll get at Suvarnabhumi which is more like the set of the Andromeda Strain than a welcoming airport. Or the many reports of foreigners footing up to embassies around the world to be told they know nothing about the new Special Tourist Visa.
Be real hosts and put the smile back into the Land of Smiles.
Of course we realise none of this will happen but simply express the frustration of many in the form of 'wishful thinking'.
We posted something similar on Facebook yesterday and received the following responses…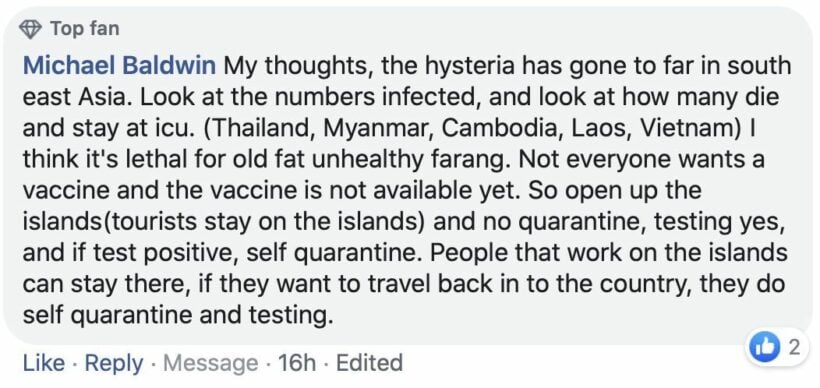 Make your responses to the story HERE. Or in the website comments section blow.
Keep in contact with The Thaiger by following our
Facebook page
.
Never miss out on future posts by
following The Thaiger
.
Trials and tribulations 3. Returning to Thailand in the Covid era – on the home straight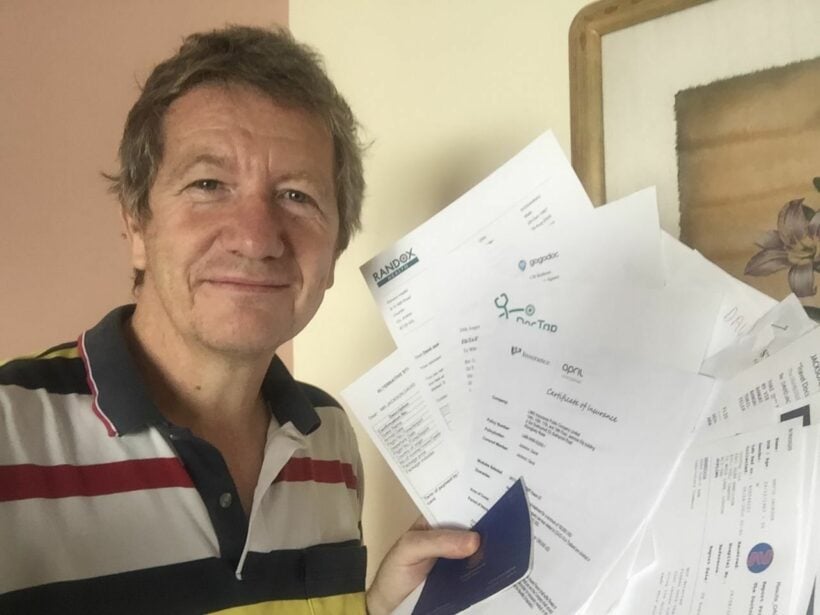 byDavid Jackson
Monday morning and I'm on the home straight assuming I pass my final Covid test that I took yesterday morning.The situation hasn't been too bad over the weekend as I was allowed outside into the hotel's garden area for 40 minutes each day. On Saturday the threat of rain caused the nurse to request my early return to my hotel room, presumably the paranoia of any possible illness caused her some consternation; luckily the rain didn't materialise and I stayed outside, I am a Brit… rain happens!
It certainly feels good on the eyes to see infinity and to finally observe people going about their daily business in the adjacent street whilst safely socially distanced at 300m.The garden area here in this hotel is full of flowers and small trees so I have modified my room race track into an outside one although, regrettably, my times for ten laps are actually getting longer.
You can read David's first and second articles about his time in quarantine.
Every Alternative State Quarantine (ASQ) Hotel is paired with a local hospital and the nurses keep a good eye on you via the Line app.Every morning and night you have to report your temperature and they especially enjoy asking about your stools… welcome to Thailand. Incidentally, and most definitely not in any way related to the previous statement, there has been plenty of fruit and vegetables provided in both the Thai and Farang meals.
I have been asked to go into greater detail about the processes involved in the home country prior to embarkation.I must make a disclaimer here since I imagine systems and procedures will be changing rapidly, but this was my process.I have not included costings because this would depend upon the point of origin and many other factors.
The flight for me was booked via Thai Airways although the initiator of the paperwork for this flight was, in my case the Royal Thai Embassy in London.I eventually managed to book an ASQ myself after some stress because I was convinced there were not initially enough available.
In my case I did not need a visa since I already had a work permit and my exit/re-entry visa from a few months ago was still valid.The embassy will then issue you with a Certificate of Entry document so they know exactly when you are arriving in order to arrange the welcome committee (see my first article from last week). Incidentally I did everything online and there are some excellent staff at this embassy who really are working way beyond their remit so treat them well because they sincerely want to facilitate your return.
So, you now have a date and confirmed flight so stage two needs to begin.For me, I needed an additional insurance although I imagine many repatriates will already be covered, the key statement which should be shown on the certificate is Covid Cover to USD 100,000 and the welcome party will scrutinise this piece of paper so make sure it is bona fide.I used a Thai company via an agent and this contract was efficiently turned around in less than 48 hours.
The final two products are time specific.A 'free of covid' certificate undertaken via the PCR (aka. swab-up-nose) method plus fit-to-fly certificate.The rules are a validity of 72 hours prior to checking in for the flight and the embassy eventually confirmed a revised statement of 72 hours from the result and date of the certificate, not when the swab was taken. For me my covid test certificate was dated one day too early yet the doctor writing the fit-to-fly was happy to write a statement confirming the Covid test and dated it all within the 72 hour period.
This is what you need in specific order (excluding visa)…
Flight
Hotel
Insurance
Certificate of Entry (free from Thai embassy)
Covid Free Certificate
Fit to Fly certificate, or letter from a doctor (online in my case)
It was not cheap so do your maths; I have a job here in Thailand and certainly did not want to let down my boss, colleagues and students, so I 100% had to return. I personally do not think any of this is sustainable long term since the process which I followed, plus the 15 days lack of freedom, are brutal.Nevertheless, the hotels have done a grand job at making this happen so I imagine there will be some reverse pressure to maintain the 14 day quarantine for the time being if only to recoup some of this investment.
What an incredibly difficult year. The world is in a mess; we have virtually overnight destroyed the numerous transhumance systems created over many years to apparently save lives. We walk around scared to shake hands hidden behind masks and visors, like Armageddon is imminent, yet the 900,000 covid deaths are replaced in less than three days with new born children globally.
Let us hope that over the next few months the decision makers become slightly more pragmatic and, in my opinion, start to think about the longer-term economy and the status of foreign visitors within that.In the meantime, good luck with your paperwork and welcome back to The Land of Smiles.
The accompanying picture shows what can be achieved in eleven days using volumes and volumes of food packaging, chop-sticks, random pieces of plant and a pot scourer.
David Jackson in an English teacher and former headmaster from London working at St Mark's International School, Bangkok.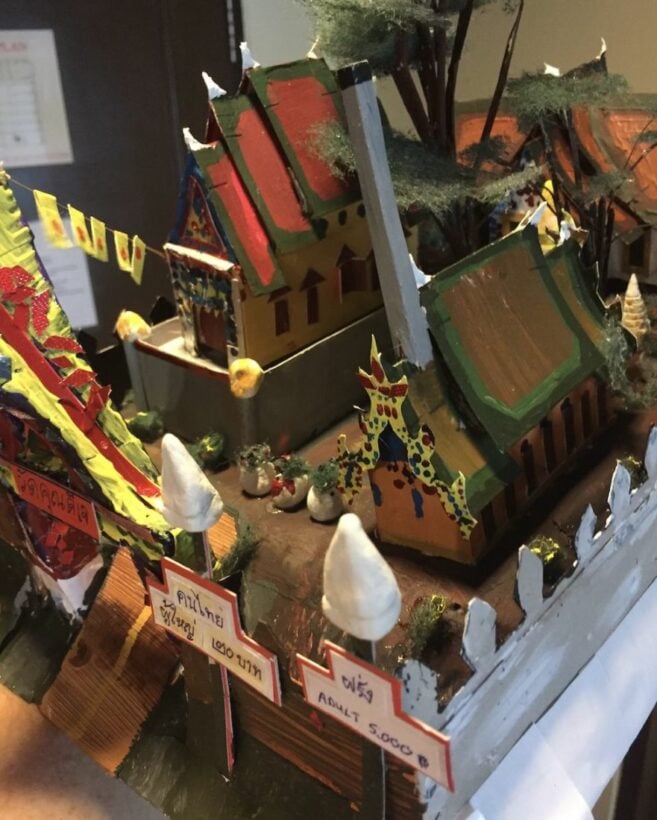 Keep in contact with The Thaiger by following our
Facebook page
.
Never miss out on future posts by
following The Thaiger
.
"Thai government refuses to acknowledge the red light economy"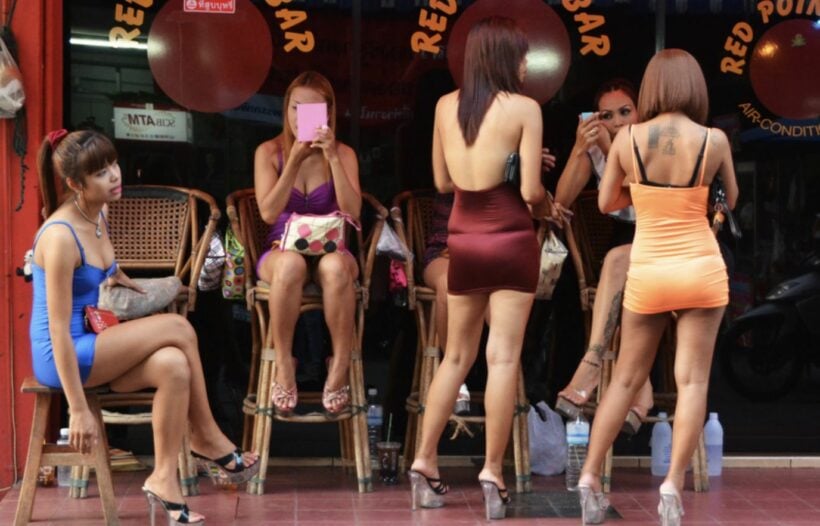 OPINION
Thanks to WB for sending us this response to earlier article. The views expressed by WB do not represent The Thaiger, its management or staff.
Prostitution is not illegal in Thailand, although many activities associated with it are (brothels, pimping, causing a public nuisance, etc.). Nevertheless, it was estimated to be worth US$6.4 billion a year in revenue (2015), accounting for a significant portion of the national GDP – Wikipedia.
---
Thailand faces a grim choice. It can have tourism with widespread Covid or it can stay closed up, but it can't have tourism without Covid … there is no middle ground. All the data available from other countries shows this to be the case.
Its second dilemma is that Thailand has traditional multi generational households (generally 3 generations) and if Covid gets into the broader community it will pose a massive threat as it will be impossible to isolate the elderly/vulnerable, from the younger generations that will predominantly remain asymptomatic and spread the virus unknowingly.
The third dilemma is the Government's refusal to look at the real facts about its GDP and economy. The "tourism" industry is not about how many farang pass through an airport, it's about how much money is spent in the wider community and where it's spent.
They may choose to look strictly at the formal sector and survey the 5 star hotels to make their assumption of a 15-19% GDP number, but in reality there is a massive informal tourist economy that effects tens of millions of Thai people and businesses.
This is not the t-shirt seller, this is flow on economy from the million or more bar ladies.
They all purchase food from the street venders, get their clothes laundered, rent rooms, pay bills, and send the bulk of their income home to support an extended family, not to memtion all the "boyfriends" remitences from overseas. In the great fight to save face the government has refused to acknowledge their existence and include them in any type of covid financial aid, and that doesn't just effect the lady but her whole extended family.
The ripple effect from this is being felt far and wide. One room is now occupied by 4 ladies and 3 rooms are vacant. The payments on motorbike loans are not paid. Mama-noodles are the economic choice and the BBQ cart is struggling, as is the chicken farmer, and the chicken feed producers. The real estate financial problems are coming as these same ladies are no longer able to service their bank debts for land and house building.
The Catch 22 is unfathomable, the reality is hard to face and it is a guaranteed loser at the next election regardless of the choice made, but delaying the choice is not going to work for long either.
The only thing that is certain is that the Phucket quaratine bubble will not work in its proposed form due to the characteristics of this virus. You either need to isolate each and every guest from the other guests for 14 days or you will have an outbreak. The minute you have an outbreak the staff will try to flee due to the superstition and fear that has been built up (needlessly) about the virus. Those fleeing staff will spread it as they go and the whole 6 month quarantine/lockdowns/restrictions will have been for naught, and then they will start again destroying what is left of the economy.
I do not envy the choices to come, but the true science needs to be used or thousands will die needlessly, my family may even be among those numbers.
Perhaps the "ministers" should get some plain clothes and go hang out at the bars in Pattaya (and other places), buy the ladies some drinks and ask questions, they will be only to happy to fill you in on what is really going on below the shiny surface that is the hi-so hotel bars of Bangkok. Heck, im happy to introduce you and get the conversation started if you like.
WB
---
NOTES:
In July 2016, it was reported that the Thai government intended to abolish the sex industry. Kobkarn Wattanavrangkul, the tourism minister, said… "Tourists don't come to Thailand for sex. They come here for our beautiful culture" and that "We want Thailand to be about quality tourism. We want the sex industry gone". Kobkarn was replaced as tourism and sports minister in November 2017
In 2015 Havocscope, a database providing information about the global black market, gave an approximate figure of about 250,000 for the number of prostitutes working in Thailand. In 2015, UNAIDS in estimated the total population of sex workers in Thailand to be 147,000. Another UN report, prepared by NGOs, estimates the number of prostitutes in Pattaya at around 30,000.
---
If you reply to stories on our website, either your entire reply, or sections, could be re-published in other articles.
Keep in contact with The Thaiger by following our
Facebook page
.
Never miss out on future posts by
following The Thaiger
.