Husband shot after wife questions "mystery" phone call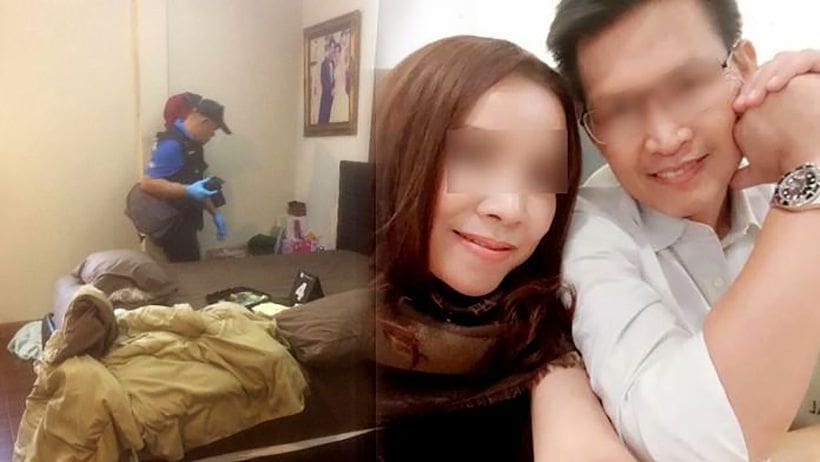 A man in Kalasin was seriously wounded with a gunshot to the head early this morning. Kalisan is in the north-east of Thailand.
Daily News reports that the man's wife says she was 'furious' after her husband refused to explain a mystery phone call during a romantic Valentine's Day dinner.
Somdej police arrived at the two storey house after the local Asoke Foundation had been called by the wife, named as 44 year old Mayura.
When they arrived they found her shaking beside the bloodied and prostrate body of her husband 45 year old Dr Ratthasat who had been shot in the right cheek of his face. He was still alive and was rushed to hospital.
On the floor was a gun. Clothes were scattered all around the room.
The wife claims the 9mm gun went off by accident as the couple fought over clothes when she ordered him out of the their home.
The wife is a businesswoman in Kalasin selling fermented fish and her husband has a degree and is a prominent figure in Kalasin educational circles.
Pol Col Thaweesak Raksasin of the Somdej police says that the woman had told him that the couple had been out to dinner when her husband received a call on his smartphone. She asked who it was from and he was evasive.
When they returned home the couple began arguing again and she ordered her husband to pack up his clothes and get out of the house. The wife said that the couple were grabbing and wresting over clothes when her husband's gun in the pocket of a garment went off resulting in her husband being shot in the head.
She immediately called the Asoke Foundation rescue volunteers.
She has been charged with attempted murder, a charge that could be upgraded depending on the condition of her husband who remains is serious condition in hospital.
Daily News reports that the couple have two children – the eldest is a boy and the youngest a girl.
SOURCE: Daily News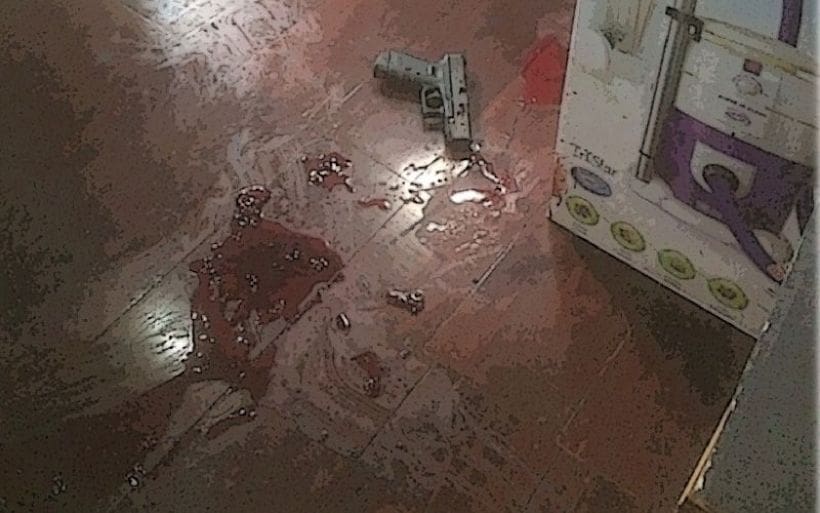 Read more headlines, reports & breaking news in North East Thailand. Or catch up on your Thailand news.
100 houses damaged after storm hits Nakhon Ratchasima districts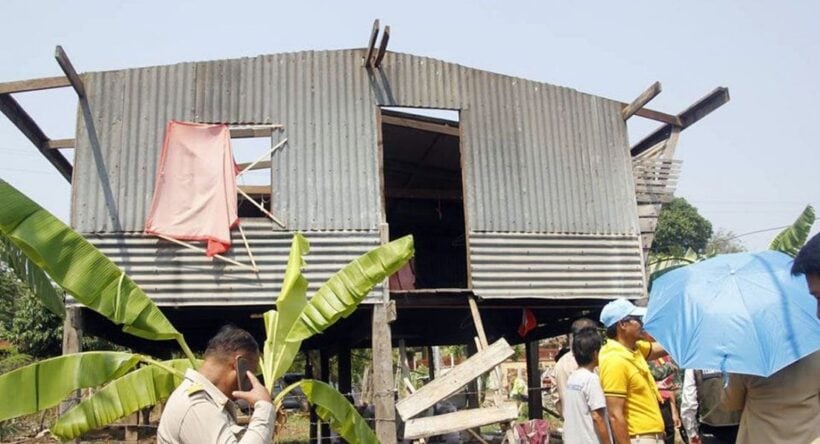 by Prasit Tangprasert
A tropical storm has left more than 100 houses damaged after it hit Nakhon Ratchasima province, north-east of Bangkok, yesterday.
Nakhon Ratchasima's Governor Wichian Chantanothai says… "We are in the process of surveying damages."
He made the comment as he was handing out relief items to storm victims in Sikhiu district. He said authorities planned to ask soldiers to help with repairing the homes of victims.
Nong Sung, Chaloem Phra Kiat, and Nong Bunnak districts were also affected by the storm.
The Governor advised people to check the structure of their houses because there could be several more storms during the season change (between hot season and wet season).
"Local administrative bodies, meanwhile, must check billboards to ensure they are well secured," he said.
Several big boards have previously fallen down during storms in Thailand, causing both casualties and property damage.
The province has hot and dry conditions expected over the next few days.
SOURCE: The Nation
Cabinet waives tolls for 8 days over Songkran break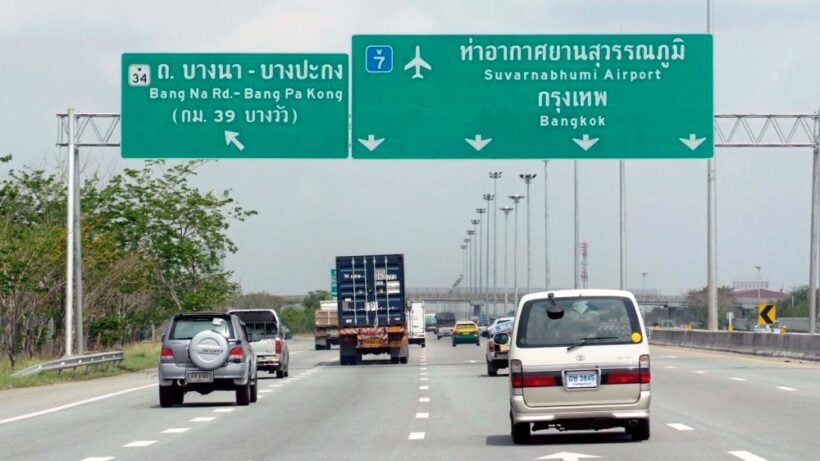 Thailand's cabinet has decided to waive tolls on the Bangkok-Pattaya and Bangkok-Bang Pa-in-Bang Phli motorways starting April 10 until midnight on April 18. This takes in the main Songkran break between April 12 – 14 and the annual 'seven days of danger'.
A Cabinet spokesperson say that a large number of people are expected to leave Bangkok for the provinces during the annual Songkran festival, so the cabinet decided to waive the toll fees to make travel a bit easier and less expensive.
Official holidays for the Songkran festival are from April 12-16, but many families are expected to set out 1-2 days before to avoid heavy traffic on the three main arteries to the northern, northeastern and southern regions.
The Transport Company will be adding extra buses to cope with the increased volumes of travellers and airlines have added flights to the schedule, while more trains will be provided during the holiday period.
31 injured when bus overturned in Nakhon Ratchasima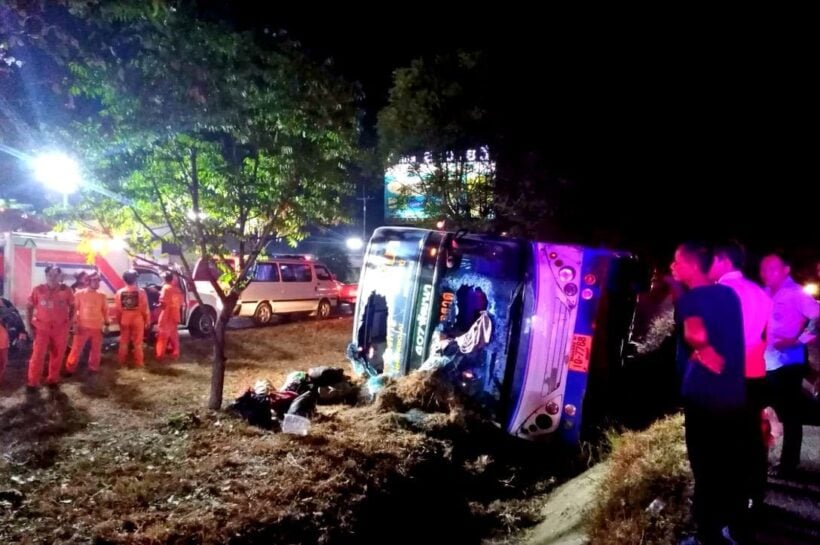 b

y Prasit Tangprasert
PHOTOS:โนนสูง "อาสา" ฐานหน้าโรงพยาบาลโนนสูง
Thirty one passengers have been injured, two critically, when a Nong Khai-Rayong inter-provincial bus overturned in Nakhon Ratchasima early this morning.
Police and rescue workers were alerted at 2.40am to the scene on Mitraparp Highway in Ban Don Tabaeng, Noen Sung district in Nakhon Ratchasima.
The blue and white air conditioned bus was carrying 41 passengers.
Police suspect that the driver, whose name has been withheld at this stage, dozed off behind the wheel.
This is the third major inter-provincial bus crash within a week around Thailand, that we know of.