Copyright police sting, arrest 15 year old girl over krathong floats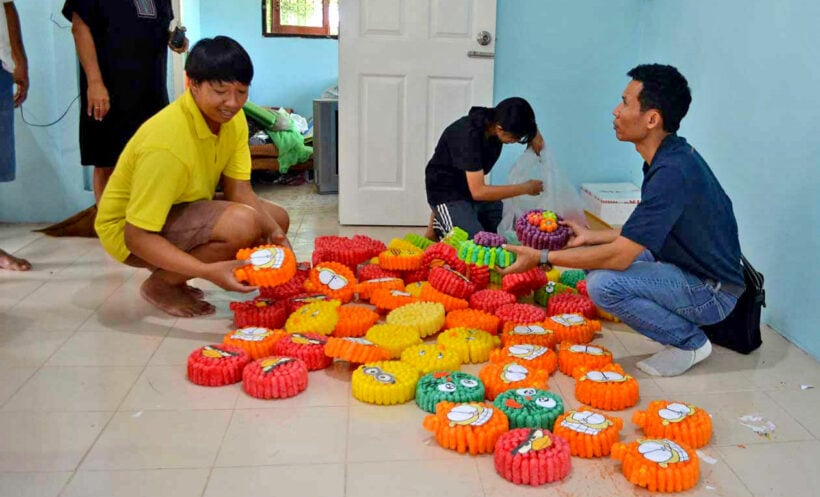 PHOTO: Prasit Tangprasert
A 15 year old girl in the northeastern province of Nakhon Ratchasima was arrested and fined 5,000 baht for making krathong baskets showing copyrighted cartoon characters. The baskets were ordered by undercover copyright police in, what appears to be, an attempt to lure the girl into infringing copyright laws.
The girl, identified only as "Orm", says her family was shocked by the planned sting operation.
She had intended to produce flower-patterned floats for this weekend's Krathong Festival to raise money for her schooling. She offered her services on Facebook.
She had many customers, none of whom ordered a particular pattern, until one customer specifically ordered cartoon characters on the krathong floats. When she delivered them she learned the order came from copyright police, who were waiting for her.
"I made krathong baskets from 8am until 1.30am to fill the order, only to be arrested," Orm said.
"I don't usually make baskets with copyrighted characters, but this customer stressed they wanted them. I cried all night because I've never faced legal action before. I want to know why they had to do this to me."
She says she made her krathong from bread and only wanted only to help her family because her father is a low-paid factory worker. Her father said the undercover agent ordered 136 krathong baskets with famous cartoon characters and his daughter delivered only 30. The agent then threatened a 50,000 baht fine. Media report that the girl priced her baskets at 17 baht each.
Her grandfather, a former policeman, later negotiated the fine down to 5,000 baht. Nakhon Ratchasima police confirmed the incident and said copyright agents and police were involved.
The president of the Help Crime Victim Club posted on Facebook saying the girl had been extorted and the club would help her. He cited a ruling that it was illegal to lure someone into violating a copyright.
SOURCE: Bangkok Post
Keep in contact with The Thaiger by following our
Facebook page
.
Government applies for UNESCO status for Korat Geopark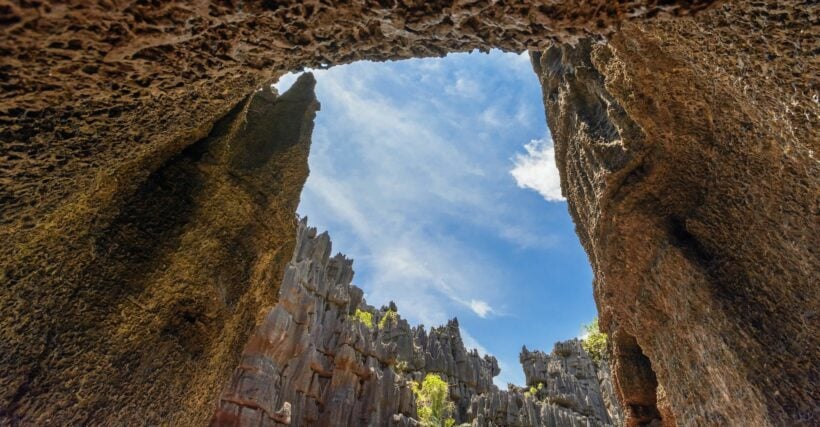 PHOTO: Satun Geopark already has a UNESCO Geopark – Greenpeace.com
Government deputy spokesperson Ratchada Thanadirek says the government is seeking UNESCO status for the Korat Geopark in Nakhon Ratchasima, north-east Thailand. The move follows a recommendation from the Natural Resources and Environment Ministry.
A geopark is an area with a rich geological and cultural heritage and a UNESCO Geopark is required to demonstrate best practice in conservation management, education, and research into sustainable development.
UNESCO Global Geoparks are single, unified geographical areas where sites and landscapes of international geological significance are managed with a holistic concept of protection, education and sustainable development. Their bottom-up approach of combining conservation with sustainable development while involving local communities is becoming increasingly popular.
The Nation reports that there are 147 UNESCO Global Geoparks, spread over 41 countries, four of which are in southeast Asia, including in Thailand, Malaysia, Indonesia and Vietnam.
Ratchada explained that Thailand's first UNESCO Global Geopark is in Satun, southern Thailand.
"Satun Geopark was given Unesco Global Geopark status on May 1, 2018. Korat Geopark covers 3,167 square kilometres of Nakhon Ratchasima's five districts – Muang, Chaloem Phra Kiat, Kham Thale So, Sung Noen, and Sikhiu. This geopark is considered a proper place for requesting UNESCO status since there are 35 sites of natural resources, geology and cultural heritage."
The Nation adds that if the Korat Geopark is granted UNESCO status it would be a big boost for the country, recognising Thailand's natural resources, attracting more visitors, and ultimately creating more employment and revenue for the region.
SOURCE: The Nation
Keep in contact with The Thaiger by following our
Facebook page
.
DSI is demanding Court revoke Chaiwat's bail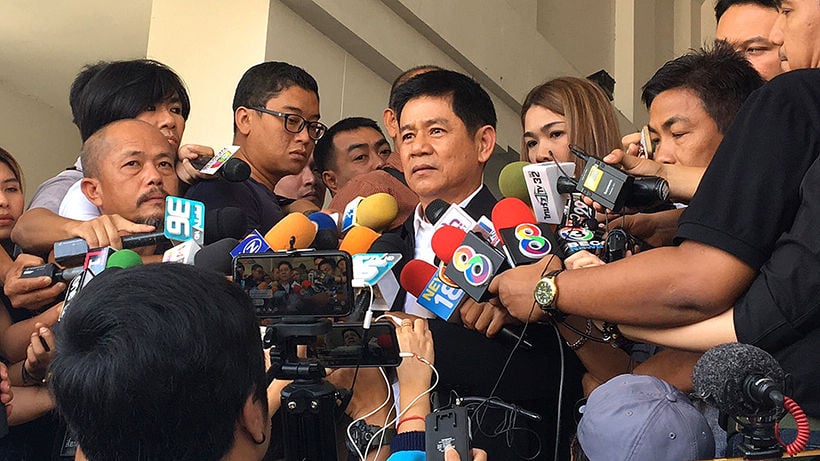 PHOTO: Khaosod English
The Department of Special Investigation will ask the court to revoke bail for former national park chief Chaiwat Limlikhit-akson along with three other suspects, or set a new bail.
Chaiwat, director of the Conservation Office in northeastern Ubon Ratchathani province, along with three others, has been charged with multiple counts in the disappearance and murder of Karen activist Poralajee "Billy" Rakchongcharoen about five years ago.
A DSI source told local media that since Chaiwat's release on bail, he has given interviews to the press, TV and even social media, making false statements about the case and "causing problems" for the DSI. Some witnesses are now reluctant to cooperate, according to Thai PBS World.
The source says that the DSI will ask the court to revoke bail for all four suspects, or at least forbid them from speaking to news or social media. The DSI will also ask the court to prevent the four from entering Kaeng Krachan national park, where several prosecution witnesses still live.
The DSI objected to their release on bail, but the court overruled and granted bail at 800,000 baht each.
'Billy' was arrested on April 17, 2014 for allegedly stealing wild honey in the park. Chaiwat claims Billy was released on the same day, but he has not been seen since. DNA tests have shown remains discovered recently in a submerged oil barrel in the the park's lake to be his.
SOURCE: Thai PBS World
Keep in contact with The Thaiger by following our
Facebook page
.
Wife chooses winning lottery ticket, husband flees WITH the winning ticket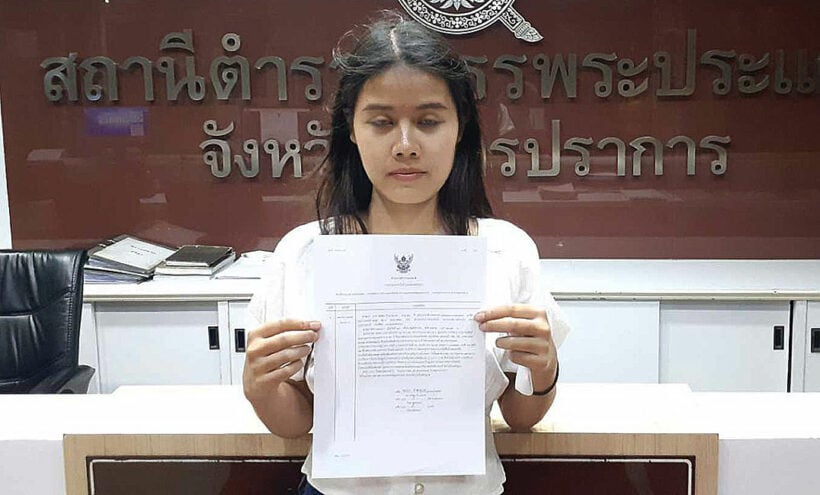 PHOTO: Pornthida Chamnanwet with her formal complaint about the missing winning lottery ticket, and her husband who stole it – Sutthiwit Chayutworakan
A 34 year old husband has left his wife stranded at home. He disappeared with their winning lottery ticket from Saturday's draw. The winning ticket is worth around 6 million baht.
23 year old Pornthida Chamnanwet has made a formal complaint to police that her husband has disappeared, along with the winning ticket, even though, she claims, the couple had agreed to share the money equally. Pornthida is from Ubon Ratchathani and filed her complaint at the Phra Pradaeng police station yesterday morning.
34 year old Wijak Wannaprasit, from Bangkok's Thon Buri district, worked with his wife in a local factory.
They had cashed in their ticket for prize of a few hundred baht with a local lottery vendor on November 9 and then bought two more lottery tickets for Saturday's draw (there are two draws per month). The wife said she chose one of the two tickets they bought.
The ticket she chose, 017223, won 6 million baht as the first prize in the draw on Saturday afternoon.
The jubilant couple went to the Phra Pradaeng police station to register their win and had their photos taken with the winning ticket. They then returned to their rented room. Pornthida told police that they agreed to divide the 6 million windfall equally and were planning how they would spend their share.
Then, on Sunday evening, Pornthida told police that her husband said she could only have 2 million baht on the 6 million baht prize. Then they had argued. Her husband told her to "go to court", and left the house with the winning ticket.
Pornthida has asked if police can prevent her husband cashing in the ticket. She says she will also ask the Government Lottery Office to block any payment.
SOURCE: Bangkok Post
Keep in contact with The Thaiger by following our
Facebook page
.