Chiang Mai: 30 year old admits to raping 74 year old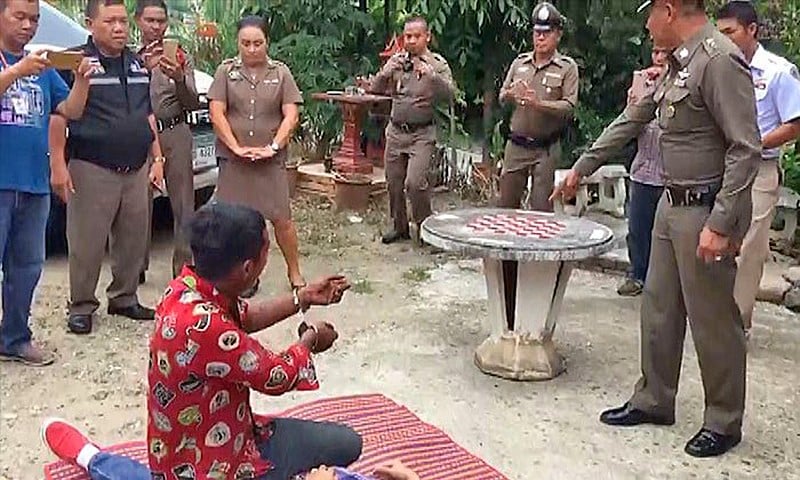 Sanook is reporting that a 30 year old Thai man has told police he raped and robbed a 74 year old Chiang Mai woman because his wife was pregnant and he couldn't have sex with her. He also claimed that he was drunk.
The rapist, who already has priors and previous jail time for assault and robbery, had been in charge of a children's fun slide at a travelling fair set up in a neighbouring village.
30 year old 'Nim' was quickly arrested after the incident last Sunday night in Nam Bor Luang sub-district of San Pa Tong.
A re-enactment at the house of the victim descended into chaos as 100 villagers turned up to try to lynch him. Police had to take him away and do the re-enactment at a secure location nearby.
74 year old Grannie Sutjai remains in a critical condition in hospital.
Nim told police that he was in charge of a children's slide at a fair nearby her village. After work he was drunk and passed the victim's house where she was sitting out front.
He claims, due to the fact that his wife was pregnant, and wouldn't engage in sex, he decided to rape the elderly lady. He dragged her to a pond on her property and raped her. Then he slashed her throat with a knife and stole a one baht weight (20,000 baht) gold necklace and 10,000 baht in cash. Local police soon had him in custody.
Deputy head of the Chiang Mai police Pol Col Piyaphan Phatrapongsin was on the scene yesterday. Sanook reports that Nim had already served time in jail in Pattani for robbery and assault.
The man has been charged with rape and robbery, and detained.
SOURCE: Sanook


Read more headlines, reports & breaking news in Chiang Mai. Or catch up on your Thailand news.
Thailand will swelter through searing temperatures this summer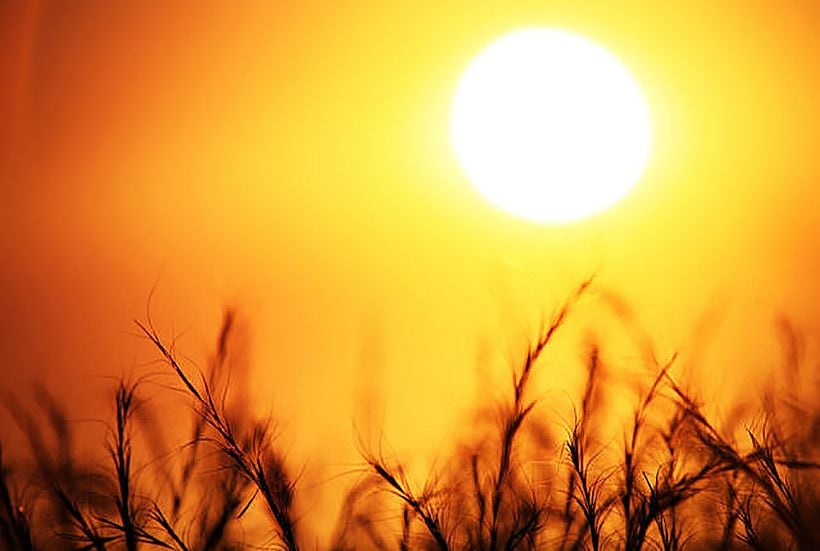 Temperatures in Thailand this summer is forecast to be 1-2 degrees Celsius warmer than last year. The announcement comes from the Thai Meteorological Department director-general Phuwiang Prakammin.
And it's predicted to hit 42-43C in seven provinces in northern Thailand.
In Thailand summer, as a regional season, is listed as running between February 21 to mid-May.
Phuwiang says daytime temperatures in March and April will hit 40C in much of the North, Northeast, Central and Eastern regions. But he doesn't foresee the record set on April 28, 2016, when Mae Hong Son, on the north-western border sweltered at 44.6C, being broken.
"But Mae Hong Son is one of the seven provinces forecast to reach 42-43C this year, the others being Lampang, Uttaradit, Sukhothai, Tak, Nakhon Sawan and Kanchanaburi."
"In southern regions, the maximum temperature will be 38-39C in Prachuap Khiri Khan, Surat Thani, Nakhon Si Thammarat, Yala, Krabi, Trang and Satun, accompanied by occasional rain and waves at sea up to a metre high."
"Rain will increase towards the end of April (the traditional start to the country's wet season is Songkran which is on April 13 each year), and waves will be up to three metres high."
"The weather in Pattaya in Chon Buri will match that of the South, with a maximum temperature of 35-37C in April."
Chiang Mai's sword-wielding song thaew driver charged over intimidating tactics – VIDEO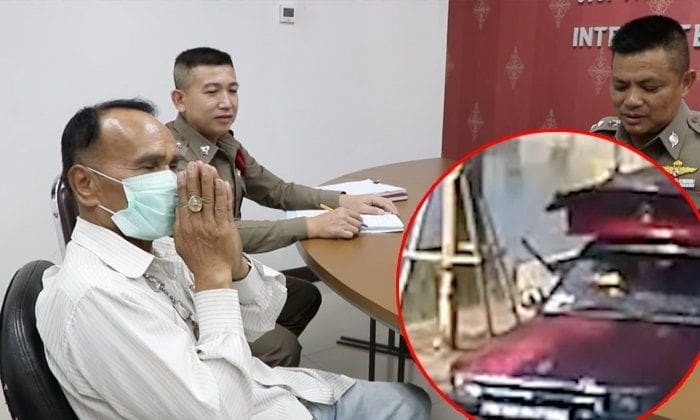 Story from Sanook. Video from Thai Rath
The red song thaew driver, who followed a white sedan around the moat road waving a sword in Chiang Mai, has now been charged by the police.
Sanook reports that 69 year old 'Son' has now been charged with having a knife in public and behaving in an intimidating manner that could scare the public.
The original video showed the public transport driver tailgating a white Honda Jazz, waving a large knife or sword.
But Son insists he acted because he was "furious about the driving of the man behind the wheel of the white car".
He claims that the white car was cutting in and out of traffic dangerously before the car braked in a "dangerous manner" three times, almost causing him crash into the back of the vehicle.
He remained adamant that, despite the post being made by a woman, it was a man driving… "a woman would not behave like this, believe me" he told a Channel 7 reporter. Sanook showed the man apologising and doing a wai.
They also reported that the head of the Chiang Mai song thaews as saying that the driver had been warned about his conduct. He said that Son had never been in trouble before.
สี่ล้อแดงเข้าพบ ตร. หลังก่อเหตุชักดาบขู่เก๋งกลางถนน ตำรวจแจ้ง 2 ข้อหา

Posted by Thairath on Tuesday, February 19, 2019
Swordwielding song thaews driver slapped on the wrist – no police action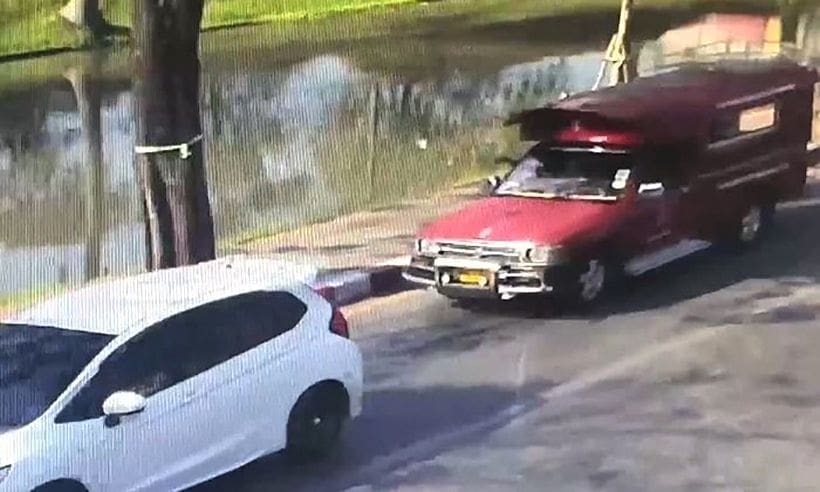 The head of the infamous Chiang Mai red song thaews says he has spoken with a driver after the man wielded a sword out of his window at another driver who he claimed had tooted his horn.
But that's it. Nothing more.
CCTV on the Maneenopparat Road shows the incident as the song thaew driver tailgates the white Honda Jazz, waving the sword out of his driver-side window .
The hatchback driver had earlier posted about the incident on Monday. He says that the song thaew had cut in front of him and he had sounded his horn. He was then chased around the city moat.
The post was later deleted.
Bunniam Buntha, head of the local song thaew association, says he spoke to the driver who admitted that he was angry and waved the long knife out the window. He says he was warned the driver that there may be more questioning with a view to possible punishment.
At this stage no police action has been taken.
SOURCE: Sanook