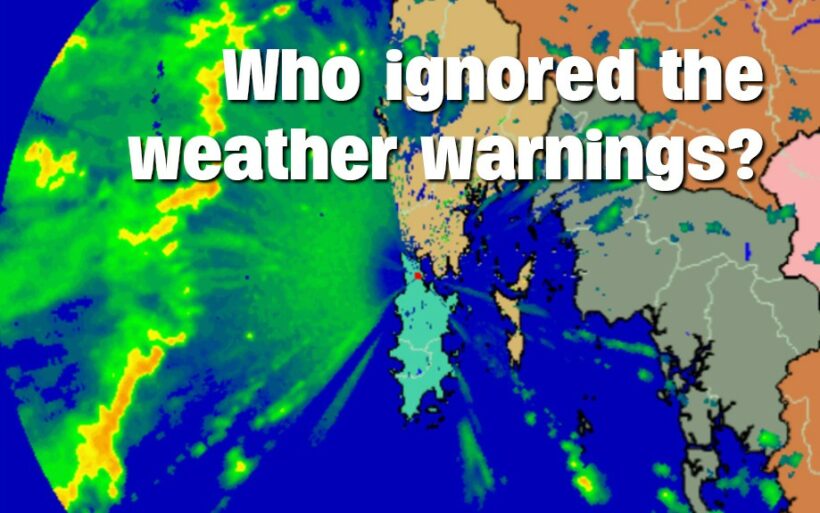 Marine Department is continuing its investigation over the Phuket boat tragedy, a week ago.
The marine Department Region 3 Chief Puripat Teerakulapisut says,"The warning announcement for boats heading to sea is based on the Thai Meteorological Department (TMD). If we can see that the wind and wave conditions are not too strong, we will announce to for boats to be careful travelling into open waters."
"The ban for boats not to leave from port is also considered based on the Thai Meteorological Department (TMD). In addition relevant informations such as reports from boats which are already in the sea is essential information."
"After these details are considered, information is sent to the committee to consider again before issuing an announcement to ban or not to ban boats from departing port."
"For this tragedy we say that the sea was quiet and no big waves during that morning. Boats were leaving from ports along the east coast since morning. After that the weather changed suddenly with strong winds and high waves. At that time decisions must be made by boat captains. Their instant decisions are crucial for the safety of their passengers."
"The Marine Department has set up a committee to investigate this case."
The Captain of the dive boat 'Phoenix' claims that four to five metres waves hit the boat causing it to sink.
Read more HERE.
The Thaiger posted a screen shot on its 'The Thaiger' and The Thaiger Radio' Facebook pages around 2pm on the day of the tragedy – information readily available to anyone. It was clear from the screen shots that an abrupt frontal system was approaching the island.