Youth warned to avoid World Cup gambling trap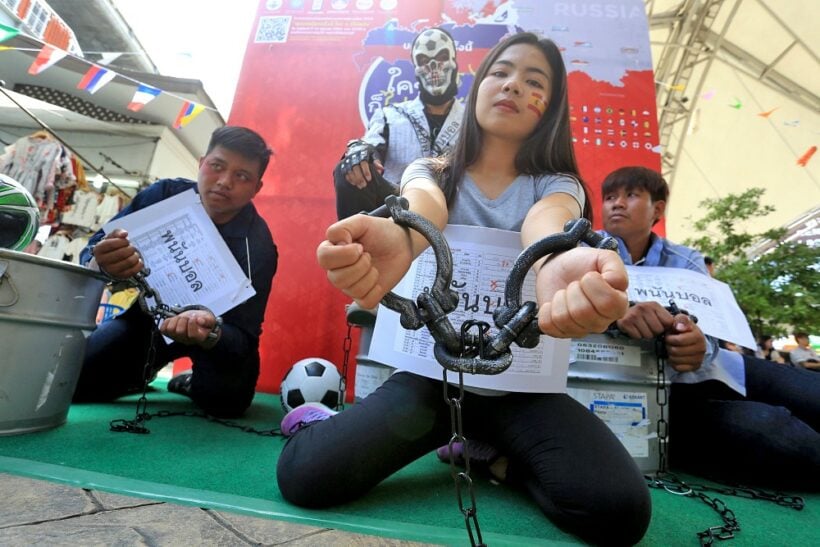 In the hours leading up to the kick of the 2018 Fifa World Cup, advocates against young people gambling on the football were parading in downtown Bangkok.
A 2017 survey found that 2.4 million Thais engaged in football gambling valued at a reported 140 billion (yes BILLION) baht. The survey also says that 82.6 per cent of secondary student punters said they started getting the gambling bug when betting on football at an early age.
It is expected that over 10 per cent of Thai youth will place bets on football matches for this year's month of games in Russia, according to Thai Health Promotion Foundation's Wichet Pichairat.
Wichet spoke as he joined with other activists, the Defence Ministry, the Royal Thai Police and 100 youth in a campaign dubbed "None will gamble on matches in this World Cup" at the Victory Monument area.
The campaign also involves students from 10 universities producing four short films with anti-gambling content to air online and a roadshow to 100 secondary schools around the country.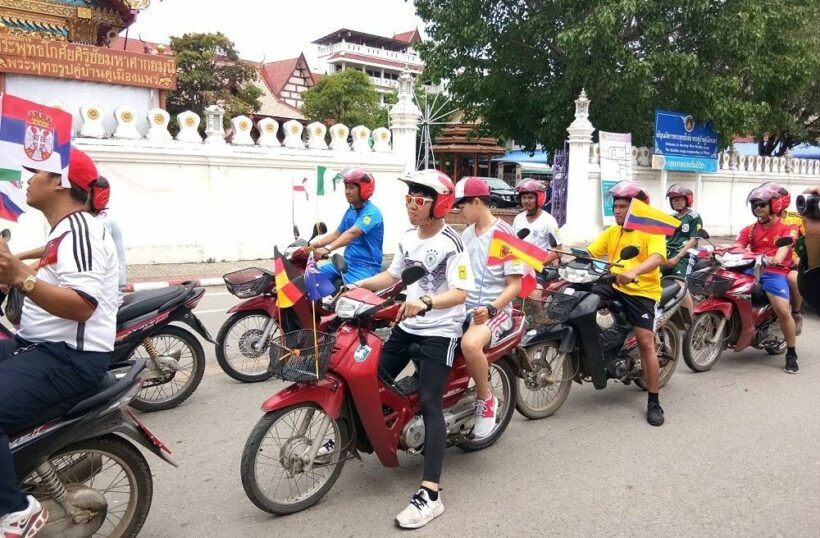 Wichet also cited research on gambling by youths during the 2016 UEFA European Football Championships, which found that 16.8 per cent of surveyed youths engaged in football betting. Some 10 per cent of this group initially had no intention to gamble but joined in under peer pressure or were induced by the hyper-emotional football atmosphere.
About 40 per cent of those youth gamblers admitted to facing subsequent problems, such as declining academic performance, stress from having a gambling debt which they had no idea how to repay, and being cheated, he said.
Meanwhile, deputy National Police Chief Pol General Chalermkiat Srivorakan yesterday affirmed that police would continue to crack down on football gambling, including online gambling. He warned that youths caught gambling may face a maximum three-month jail term, a maximum 30,000 baht fine, or both while their parents would also be charged.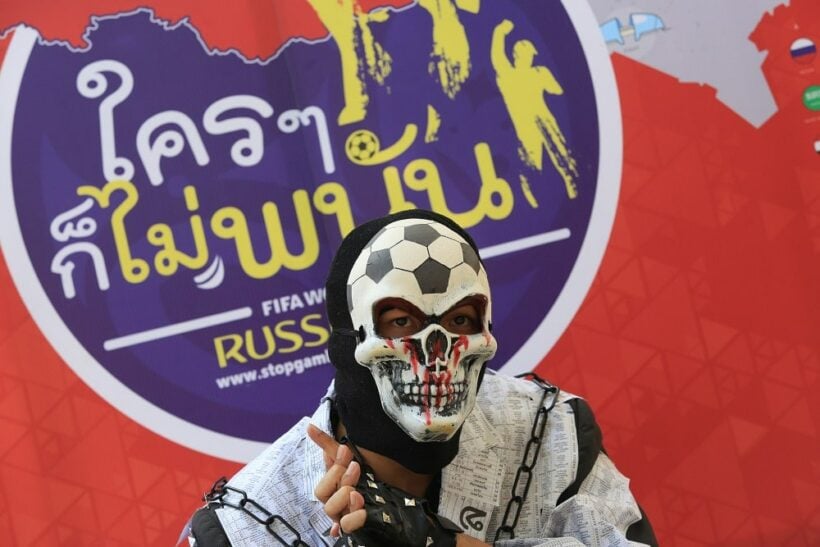 FULL STORY: The Nation
Keep in contact with The Thaiger by following our
Facebook page
.
Never miss out on future posts by
following The Thaiger
.
Pattaya bike rider injured after plunging into large construction hole in road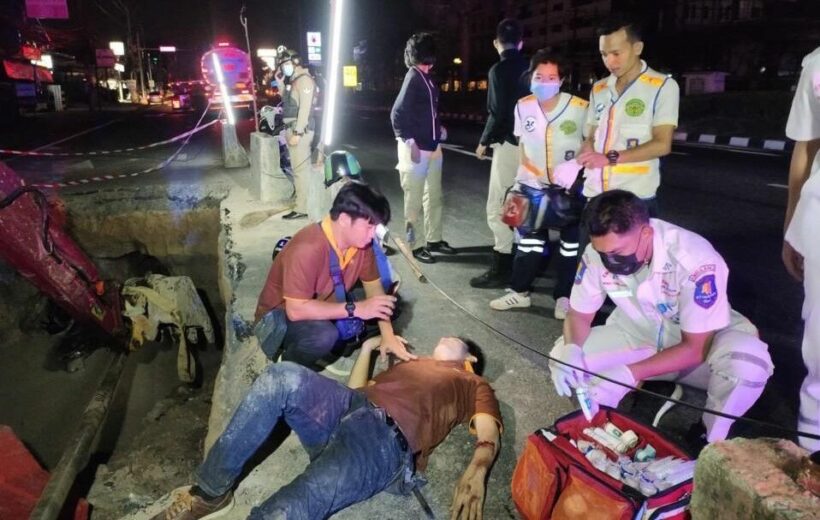 A motorbike driver has been injured after his bike plunged into a 2-metre deep construction pit in the Naklua area of Pattaya. The Pattaya News reports that the accident occurred around 4am on Thursday morning, with rescue workers arriving to find the bike at the bottom of the pit.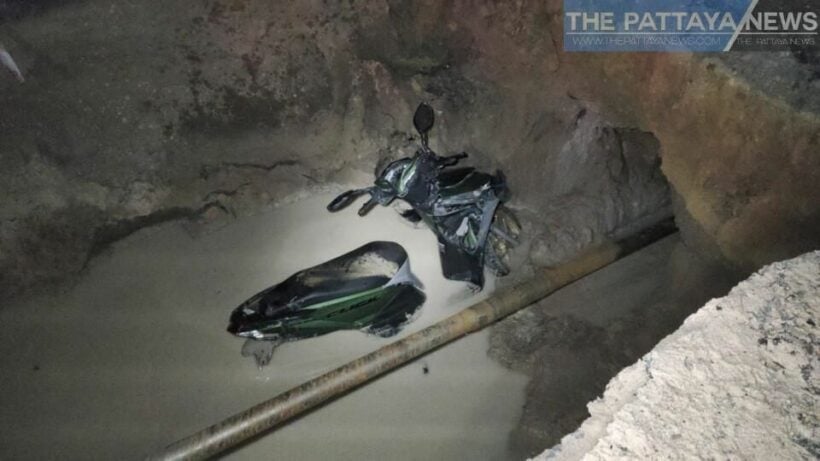 The driver, 39 year old Wassapon Thataworn, had managed to climb out of the hole, despite his injuries, and was transported to a local hospital for treatment. His friend, who has not been named, says he was following Wassapon on another bike, when the accident happened. He claims the hole was not well-lit.
However, the police disagree with his assessment, saying there were barriers around the pit, as well as several neon white lights. It is not known if anyone will face legal charges over the accident.
SOURCE: The Pattaya News
Keep in contact with The Thaiger by following our
Facebook page
.
Never miss out on future posts by
following The Thaiger
.
Chinese probe heads back to Earth after spending 2 days on the Moon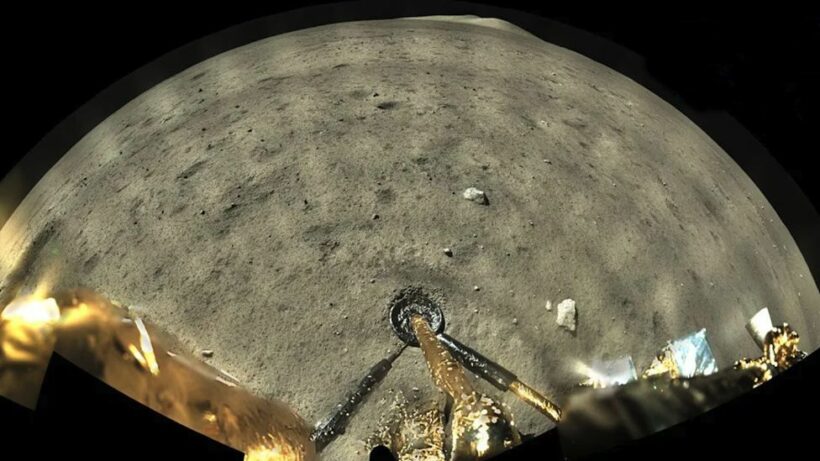 A Chinese space probe, Chang'e 5, is now on its way back to earth after having flown to the Moon, landed, explored, collected soil samples and taken off again. It will bring the first lunar rock and soil samples back to Earth in over 4 decades. The probe is bringing a payload of some 2 kilograms of rocks back for testing and investigation.
The landing hardware included a powered descent system, which is now remaining on the Moon's surface after last night's blast off.
The Chang'e-5 Chinese developed and built probe, named after the mythical Chinese moon goddess, look off from the Moon at 11.10pm Beijing time last night. Everything was described as 'routine' by the mission control staff following the probe's 2 days motoring around the lunar surface and collecting samples.
The probe was launched from China's Hainan island, south of Hong Kong in the South China Sea. It will land in northern China's Inner Mongolia region after its journey back to earth and the perils of an earth atmosphere re-entry. The arrival back at earth is at least a week away.
Scientists hope the samples will help unravel more about the moon's origins and volcanic activity on its surface. The Chinese have poured billions of Yuan into its military-run space program. The program's stated ambitions is to have a crewed space station by 2022, and eventually sending humans to the moon and establishing the first colony.
China is only the third country to have retrieved samples from the moon, following the US and the Soviet Union in the 1960s and early 70s. The last time a mission headed to the Moon was the Soviet Union's Luna 24 unmanned mission in 1976.
The spacecraft was due to collect 2kg (4.5lbs) of material in a previously unexplored area known as Oceanus Procellarum (Ocean of Storms), a vast lava plain, according to the science journal Nature.
Beijing is looking to finally catch up with the US and Russia after years of belatedly matching their space milestones.
Another Chinese lunar rover landed on the far side of the moon in January 2019 in a first that boosted Beijing's aspirations to become a space superpower. The mission of Chang'e 5 was on the side of the Moon that always faces the earth.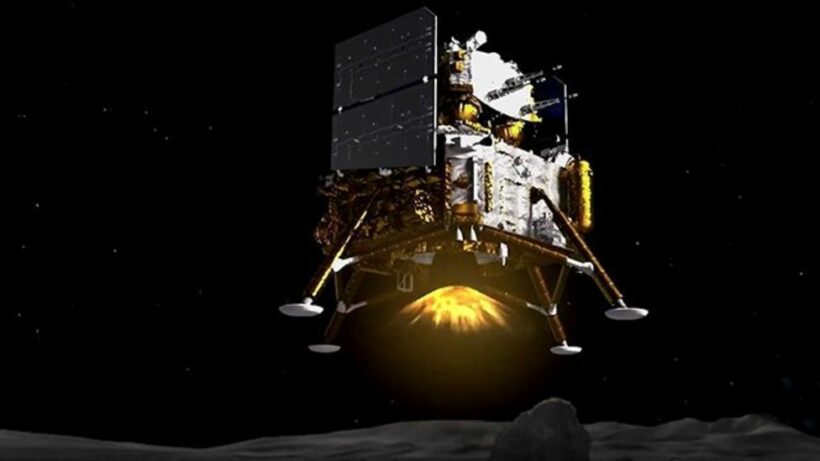 Keep in contact with The Thaiger by following our
Facebook page
.
Never miss out on future posts by
following The Thaiger
.
150 Thai workers ask to be allowed home from Myanmar's virus-hit Tachilek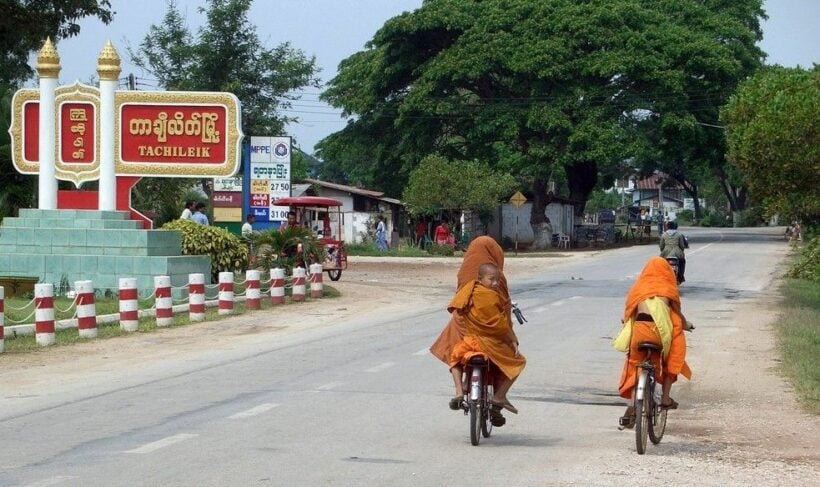 The Department of Disease Control says up to 150 Thai nationals have applied to return from Tachilek, as Covid-19 cases rise in the Burmese border town. The requests come as health officials attempt to trace hundreds who came into contact with a number of Covid-infected Thai women who crossed into the Kingdom illegally, bypassing health checks and quarantine. A man in Chiang Rai who had contact with the women has since tested positive for the virus.
A total of 10 women, all of whom were carrying the virus, are believed to have made the illegal crossing. 2 of them subsequently boarded flights to Bangkok and Phitsanulok. It's understood most of the women worked at a hotel and nightlife complex in Tachilek, called 1G1. Nation Thailand reports that around 180 Thai nationals work at the establishment.
Thai health officials say over 1 million volunteers are now being deployed to homes in border areas, to check for anyone who may have entered the Kingdom illegally. The Thai military is working with other relevant agencies to block the border crossing at the second Thai-Myanmar Friendship Bridge, in the Mae Sai district of Chiang Rai. At least 80 officials, accompanied by additional troops, are being deployed to check illegal border crossings.
Tachilek has reported 15 new cases of Covid-19, with the total number of cases in Myanmar now over 95,000.
SOURCE: Nation Thailand
Keep in contact with The Thaiger by following our
Facebook page
.
Never miss out on future posts by
following The Thaiger
.