Yingluck will be arrested if she tries to flee: NACC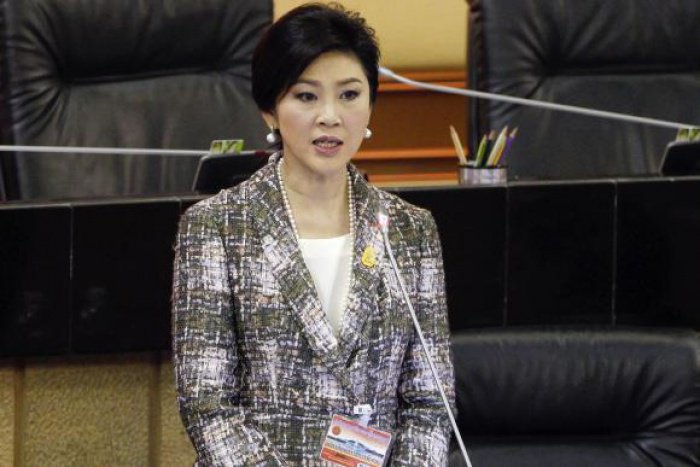 PHUKET MEDIA WATCH
– Thailand news selected by Gazette editors for Phuket's international community
Yingluck will be arrested if she tries to flee: NACC
The Nation / Phuket Gazette
PHUKET: Former prime minister Yingluck Shinawatra, who now faces criminal charges over the rice-pledging scheme, could be arrested if she shows any intention of leaving the country to avoid the court trial, the anti-graft body said yesterday.
Impeachment by the junta-installed National Legislative Assembly (NLA) on Friday was not the end of her troubles because the Office of the Attorney General has decided to indict her in the Supreme Court's Criminal Division for Political Office Holders in connection with the rice-pledging scheme.
The Election Commission is also looking at evidence to decide whether or not she used state funds and resources for a political campaign ahead of the February 2 election last year, which was the subject of major street protests.
National Anti-Corruption Commission (NACC) secretary-general Sansern Polajiak said the public prosecutor has one month to write and submit a criminal writ to the Supreme Court.
After drafting of the writ is completed, prosecutors have to coordinate with the NACC to inform Ms Yingluck that she has to report to the Attorney General on the day the suit is filed at the court.
If Ms Yingluck fails to turn up, the Attorney General will ask the NACC to fetch her. If it looks like she intends to flee the country, the NACC would ask the police to issue a warrant for her arrest. However, Mr Sansern said he believed the former PM was ready to stand trial to fight the charges.
Former Pheu Thai Party MP Amnuay Khlangpha said the party would not protest over the prosecution of Ms Yingluck on criminal charges or her impeachment because the party wanted peace and stability. He believed Ms Yingluck would not flee the country because she has already announced her intention to fight the charges in accordance with justice procedures.
While some have said they see Ms Yingluck's impeachment as a chance to open the door for an amnesty and reconciliation, Mr Amnuay believes it would be "extremely appropriate" to issue an amnesty law.
"Reconciliation is just 'lip service' without amnesty. These two must go hand in hand," he said.
National Council for Peace and Order (NCPO) spokesman Col Winthai Suvari said Ms Yingluck's prosecution was a separate matter that had nothing to do with reconciliation. The NLA voted freely without any influence from the NCPO.
He said Ms Yingluck must still observe the NCPO's rules and seek permission if she wants to travel abroad, which she has not made done since she was impeached and indicted on criminal charges over the rice-pledging scheme.
Col Winthai said there were no political "undercurrents" that might spark a new round of political conflict after Ms Yingluck's impeachment. There had been only comments from people with different political attitudes.
Former education minister Chaturon Chaisang posted on his Facebook page that Ms Yingluck's impeachment was not carried out democratically and the intent was to get the Shinawatra family out of politics.
He foresaw more "ill intentions" of the May 22 coup, such as hitting the strength of Pheu Thai Party, reducing the role and power of elected parties, allowing an unelected prime minister, senators and independent agencies, and increasing the authority of the Constitutional Court.
"I am not instigating protests but the voice of the people is always meaningful and once the collective voice gets louder, it would be strong enough to suspend disaster to democracy," he said.
Pheu Thai's acting deputy spokesman Anusorn Iam-saard denied reports that Ms Yingluck would hold a press conference at different places over her impeachment. He said Ms Yingluck would prove her innocence through the justice system.
He said the party hopes that once democracy returns to the country, justice will prevail. "What happened [with her impeachment] is the torment that must be kept in our heart. We will wait till the day the election comes," he said.
Inquiries into Ms Yingluck's activities are not over yet. Election Commission chairman Supachai Somcharoen said the EC sub-panel had not completed its probe into the allegation that Ms Yingluck used state funds and resources while campaigning in the North and Northeast prior to the February 2 election.
He said five panel committees would tentatively finish their probe before the end of January but he had no idea if they could wrap up the probe as expected, as he could not interfere.
— Phuket Gazette Editors
Keep in contact with The Thaiger by following our
Facebook page
.
Never miss out on future posts by
following The Thaiger
.
News of American sued over bad Koh Chang hotel review has everyone talking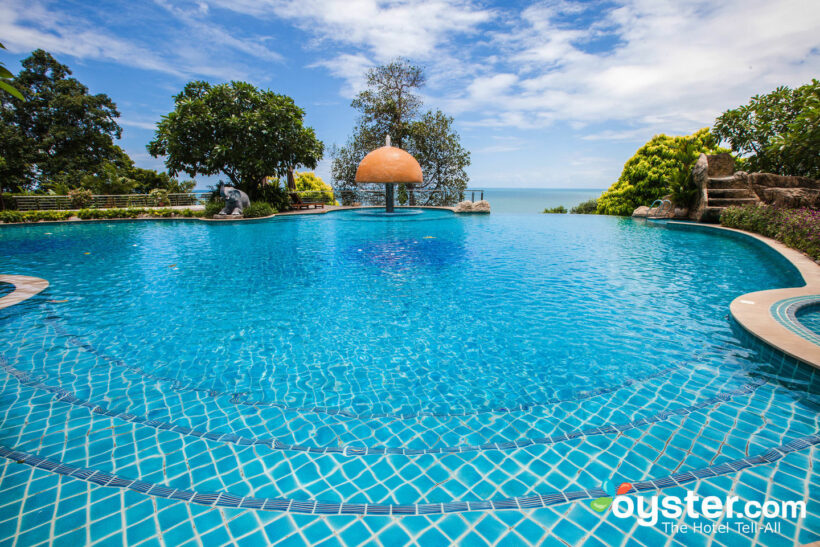 After news hit of an American being arrested and sued for defamation over leaving a bad review about a Koh Chang hotel on TripAdvisor, many are taking to the internet to voice their opinions on the issue. The Sea View Resort owners say it tried in vain to negotiated with Wesley Barnes after he posted the reviews, but he continued to post completely untrue comments.
The owners released a five-page statement after the news of it suing the American gained widespread attention. You can read their response HERE. Then, Barnes submitted his own response detailing the situation which was also published online.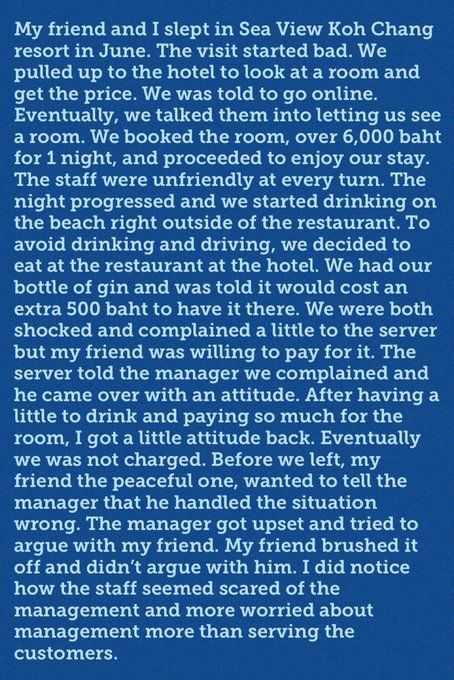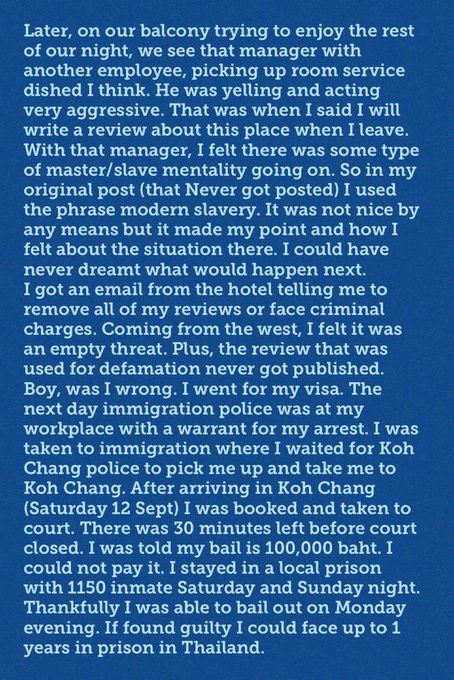 Now, the story has gained even more attention as netizens have begun posting their opinions on the controversial issue of Thailand's defamation laws. Below, are some of those posts on The Thaiger's Facebook page.
"Can someone clarify for me Thailand's position on people leaving honest bad reviews as my girlfriend says it's fine to leave a bad review of a business and it's not defamation if honest of course? I have heard people say that you simply can't leave bad honest reviews at all here but that sounds ridiculous. The thing about many Thais is that they think they're beyond reproach. They can't accept criticism because it's not aligned with their grandiose self-image. Many also have a torrid time when it comes to ownership of their own actions and decision making."
"OMG! He is arrested for a review.?! I know of an expat in Malaysia that wrote a bad review about a Thai-owned resort in Penang and he was sued as well. Be careful with what you share in that neck of the woods."
"It's one thing to leave a bad review but to throw in "modern slavery" remarks escalates to thai defamation law. He shouldn't be arrested for his comments but you need to respect the country laws no matter how crazy they seem compared to your own country. This press is going to negatively affect the business way more than that review would have done though."
"The owner should have settled with the review platforms privately and move on. I would hardly hold up Trip Advisor as a beacon of truth, however some people write extremely personal and vindictive comments that go beyond a review, in an attempt to gain product or refunds in return, this is an absolute fact, and hopefully this might make people think before they start writing reviews that are not exactly honest, I have read stories critical of the General Managers because they didn't contact the guests, some really petty reviews by rather petty people."
If Barnes is indeed found to be guilty of defamation, he could spend up to 2 years in prison and pay up to a 200,000 baht fine.
SOURCE: Chiang Rai Times
Keep in contact with The Thaiger by following our
Facebook page
.
Never miss out on future posts by
following The Thaiger
.
Phuket police arrest 6 after finding large amounts of methamphetamine in raid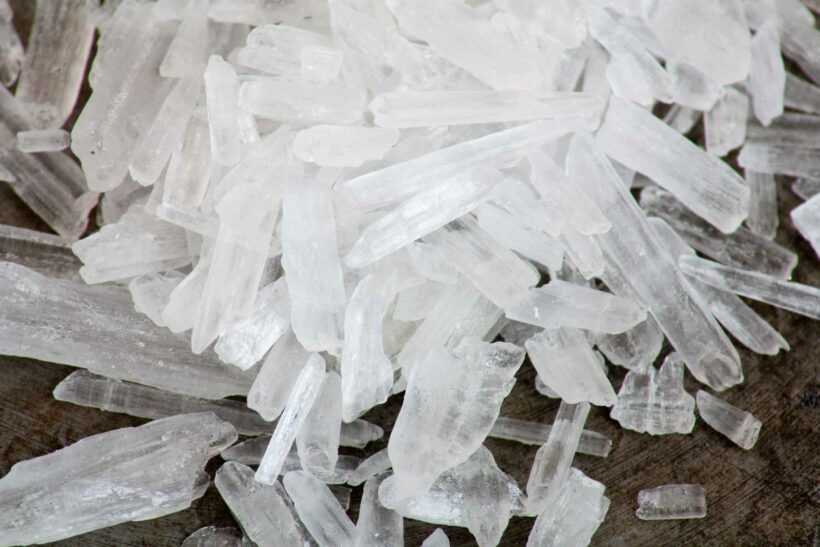 Phuket Provincial Police have arrested 6 people after finding large amounts of methamphetamine and other drugs during a raid. One suspect alone allegedly had 7.6 kilograms of crystal meth (ya ice) and over 12,500 methamphetamine pills (ya bah). 29 year old Surasak 'Bank' Wijit and 27 year old Panida 'Mei' Saeyang were arrested at an apartment car park in Soi Lookkaew, Moo 6, Rassada, in eastern Phuket, after they were found in possession of the drugs.
Police also found 2 mobile phones and a red Honda PCX, registered in Phuket, as evidence. Both suspects have been charged with posessing a Category 1 drug with the intent to sell.
Other suspects arrested at the same time include 36 year old from Chiang Rai, 42 year old Sarawut 'An' Srichanon, from Ranong and 31 year old Pornthep 'Iew' Thepchampa, who were charged with the same crimes in Chalong after police found more drugs in their possession. 33 year old Kamon 'Kung' Sae-ngow, was arrested as well after police found kratom juice and leaves at a house in Rassada. He was taken to Phuket City Police station and was charged with a Category 5 drug possession.
SOURCE:The Phuket News
Keep in contact with The Thaiger by following our
Facebook page
.
Never miss out on future posts by
following The Thaiger
.
Phuket Muay Thai fighter is the first Thai national to compete in UFC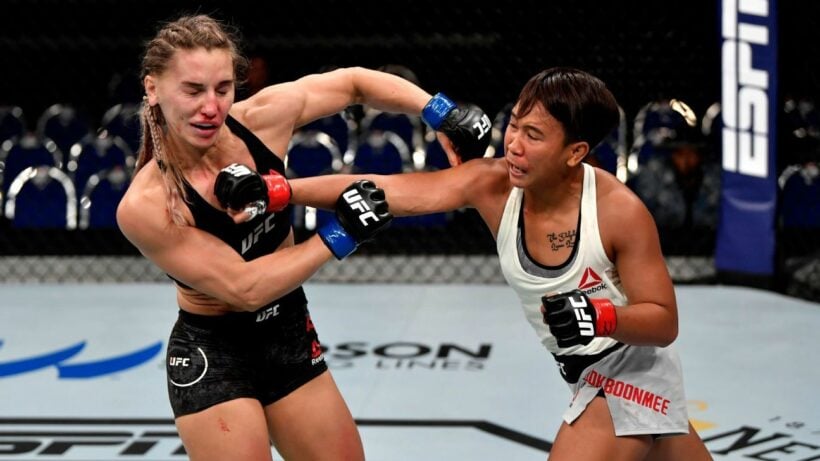 The upcoming Ultimate Fighting Championship Fight Night event in Abu Dhabi will feature Thailand's only national marking her third fight with the UFC, the world's largest mixed martial arts competition. 24 year old Loma Lookboonme, from Burirram in northeastern Thailand, will fight in the event on October 3, 2020.
Loma is a Muay Thai fighter who has adapted her MMA skills to fight in the UFC where she currently trains at the Tiger Muay Thai gym in Phuket. Loma qualified for the national team at the age of 19 and has fought in over 12 nations worldwide. She currently trains 6 days a week starting daily at 6:30am with a 3 kilometre run. In the UFC, she will be competing against China's Angela Lee who is the undisputed champion of the 52 kilogram fist weight category.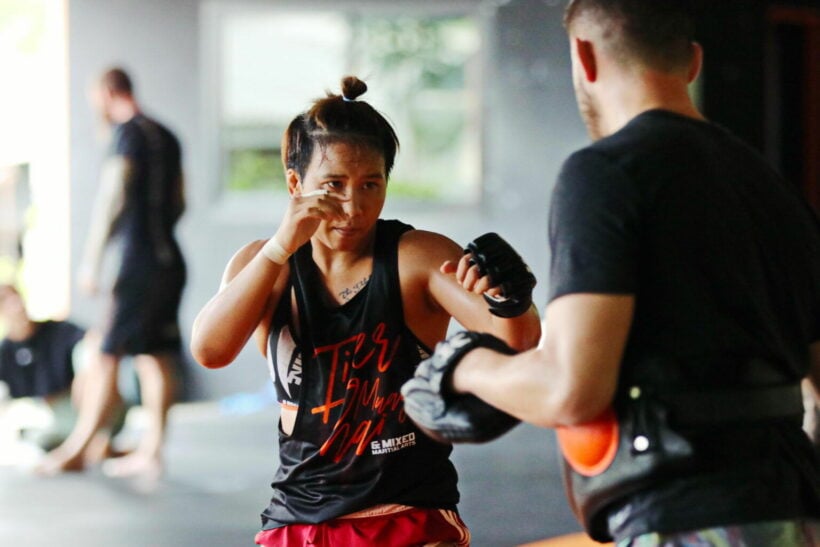 Loma's parents are former Muay Thai fighters and her 2 sisters currently compete as well. She reportedly started training at 8 years old after being inspired by her father, whom she describes as her "hero."
Like most Thais in such fighting sports, Muay Thai offers a way to rise out of poverty-and fighting for the UFC can be financially lucrative. But Loma says her only Thai sponsor is the gym where she trains, with the rest of her sponsors being from foreign brands. She says she is trying to get more Thai sponsors but feels that maybe she needs to win the UFC first before Thai brands notice her.
Loma lost her last fight and says her new opponent gives her nothing to lose. She says her goal is to get into the Top 10, but is not sure when it will happen. Loma says for now, it would be good to fight against someone in the Top 10 to help her prepare for her future.
FULL INTERVIEW: Thisrupt.co
Keep in contact with The Thaiger by following our
Facebook page
.
Never miss out on future posts by
following The Thaiger
.