Where to post all of your job positions: Completely free!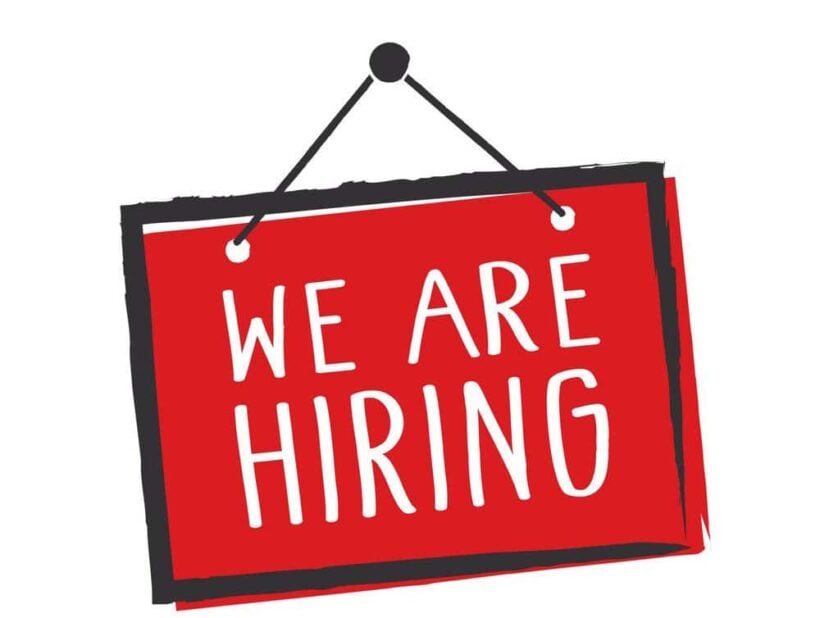 Recruitment can cost you more than you realize. You do not want to sacrifice candidate quality, but you don't wish to spend too much time and money to find them.
All types of employers are searching online for platforms they can use to post their job positions for free. From social networking websites to job boards, there are many ways to post your job positions for free.
The main benefits of posting an online job for free, there are no advertising costs which would result in a potentially lower cost per hire, exposure to new and wider audiences. The downside, however, is the time you will spend listing your job positions, managing and tracking them successfully, the type of job seekers and their relevance to the job.
At the end of the day, no employer would like to waste their time and promote job positions — free or not — and attract a non-relevant talent pool or drown in a sea of resumes from unqualified job seekers.
Where you can post your job positions online for free?
On JobCute
JobCute's job postings allow you to effectively recruit and engage with qualified candidates.
Their matching jobs and search engine system helps large numbers of visitors to find the right job. More than 90% of the Jobseekers on JobCute have a full profile, which helps to match candidates to your job listing and they will be high-quality candidates which can help to reduce your turnover of staff.
"We already have a careers page on our company website. Why should we post our jobs also on JobCute?
Besides the fact that you will get higher exposure and allow a candidate who did not visit your website to apply for a job on JobCute is simple, easy and fast.
Career page/search platform
Ensure recruitment managers keep the content relevant and updated. Also, make sure you have a top quality job description that can fit an online search platform.
It's important to make sure your job descriptions are updated or SEO optimized before listing them on job posting portals.
Social media
Use social media to post your job positions and start with the places your company already has a social presence on. You can also post the job positions on relevant groups/online community. Just make sure your posts are always updated and relevant to keep your social presence good.
Community job boards
The vast majority of universities and colleges offer to post job positions for free. If you are looking for a short term intern or a graduate student, this would be a good place to post your jobs positions.
3 reasons to post your job positions on JobCute:
100% free with no surprises.

The JobCute support team can help you list all of your job positions within 5 minutes.

With JobCute, you can easily track and manage your company profile and your job listing and see exactly who is engaging and matching with your job positions.
Keep in contact with The Thaiger by following our
Facebook page
.
PETA reveals 'abused' monkeys used to pick coconuts in Thailand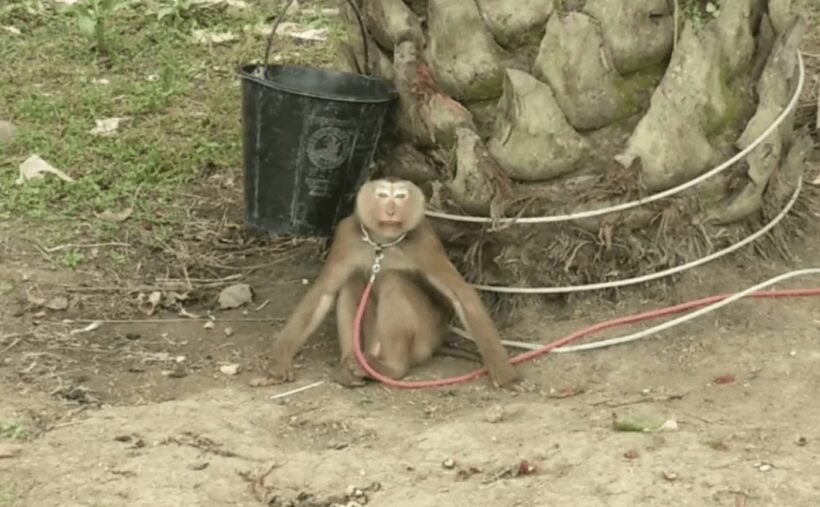 A boycott is in full swing amongst western retailers to pull Thai coconut products off their shelves following allegations that the coconuts have been picked by monkeys who were 'abused' to learn how to pick coconuts. People for the Ethical Treatment of Animals director, Elisa Allen, claims the macaque monkeys are "snatched from the wild" and cruelly trained to climb up coconut trees and pick up to 1,000 coconuts a day.
"These curious, highly intelligent animals are denied psychological stimulation, companionship, freedom, and everything else that would make their lives worth living, all so that they can be used to gather coconuts."
PETA says that the Thai pigtailed macaques are treated like "coconut-picking machines". A new investigation into Thailand's coconut industry reveals the monkeys are confined to cramped cages, chained, and forced to work. PETA reports that the monkeys are used by commercial farms that supply 2 of Thailand's best-known coconut milk brands, Aroy-D and Chaokoh. Both brands are exported EU countries and the US.
In the UK, Waitrose, Ocado, Co-op and Boots have now announced they will stop selling some coconut products from Thailand. A spokesperson for Tesco told the BBC… "Our own-brand coconut milk and coconut water does not use monkey labour in its production and we don't sell any of the branded products identified by PETA".
"Following PETA's Asia's investigation, more than 15,000 stores will no longer purchase these brands' products, with the majority also no longer buying any coconut products sourced from Thailand monkey labour."
PETA has shared a video narrated by Downton Abbey star Peter Egan. According to PETA, the video shows 'monkeys pacing and circling endlessly on chains… confined to cramped cages with no shelter from the rain… forced to climb trees and pick coconuts for milk sold by major brands'.
PETE claims it had found 8 farms in Thailand where monkeys were forced to pick coconuts for export around the world. Male monkeys can pick up to 1,000 coconuts in a day. It's thought that a human can pick about 80.
"Other coconut-growing regions, including Brazil, Colombia and Hawaii, harvest coconuts using humane methods such as tractor-mounted hydraulic elevators, willing human tree-climbers, rope or platform systems, or ladders, or they plant dwarf coconut trees."
The group said it has uncovered "monkey schools", where the macaque species monkeys are trained to pick coconuts, fruit, as well as ride bikes or play basketball for the entertainment of tourists.
"The animals at these facilities, many of whom are illegally captured as babies, displayed stereotypic behaviour indicative of extreme stress."
Keep in contact with The Thaiger by following our
Facebook page
.
Prohibition activist criticises unequal enforcement of Thai alcohol laws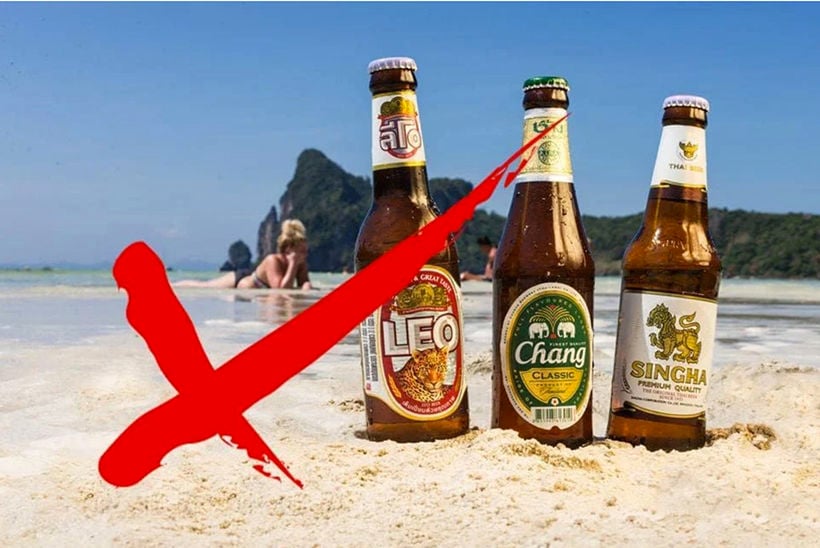 The head of the prohibitionist Alcohol Watch Network is criticising the Office of Alcohol Beverage Control and police for looking the other way after ML Piyapas Bhirombhakdi posted a photo of herself showing off a branded bottle of an alcoholic drink on her Instagram profile (the picture has since been deleted). Piyapas is not only a great-granddaughter of HRH Prince Nares Varariddhi, a son of HM King Rama IV, but is the wife of Chutinant Bhirombhakdi, an heir to the Boon Rawd Brewery fortune and executive vice president of Singha Corp. Her post showed her holding a new Boon Rawd product.
Kamron Choodecha argues that the bottle and brand were clearly visible and, given that Piyapas has a vested interest in Boon Rawd's sales, her post must be construed as sales or marketing, violating the Alcohol Beverage Control Act, which prohibits any sort of alcohol marketing online. He claims the fact she has not been fined, even as police extract hundreds of thousands of baht in fines from ordinary people posting harmless photos of themselves enjoying alcoholic beverages, shows the inequality in Thai society and the privilege elites are given when it comes to the law.
Others may argue, however, that the hypocrisy of the incident illustrates only how ludicrous the law is. Sporadically enforced over the years, the law again made headlines this year when foreign-managed alcohol distributor Beervana was fined 50,000 baht for an online post describing one of its products as "refreshing," which contravened a ban on adjectives in marketing copy.
In the days that followed reports surfaced across the country of the OABC and police summoning people and slapping them with huge fines for posts that had no connection to sales or marketing.
Most recently, a young woman in Thailand's South was fined 17,000 baht for posting a photo of a beer she liked to a beer fan page. The page owner was so outraged that he paid 5,000 baht of the fine and met face to face with regulators to protest the law.
Even Kamron, an anti-alcohol zealot, admits that the law is being misused by police and authorities. He says simply using the word "beer" or posting photos of bottles or glasses does not break the law, as long as brands are not shown. He believes the law's intent is only to prevent advertising of alcoholic beverages on conventional and social media platforms. He argues that if the poster had no commercial intent, no one should be fined.
"But if authorities are going to strictly interpret the law, distant royal relatives or any other elite member of society should be punished equally."
By the way there is an alcohol ban on for the next two days.
2 Buddhist holidays, Asahna Bucha Day and the start of Buddhist Lent, fall this weekend, and as a result the government has added Monday, July 6, as a national holiday. There will be an alcohol ban on the Sunday (July 5) and Monday (July 6). No alcohol will be sold or served on these days.
Keep in contact with The Thaiger by following our
Facebook page
.
Bangkok's shopping malls struggle under tourist ban, fierce competition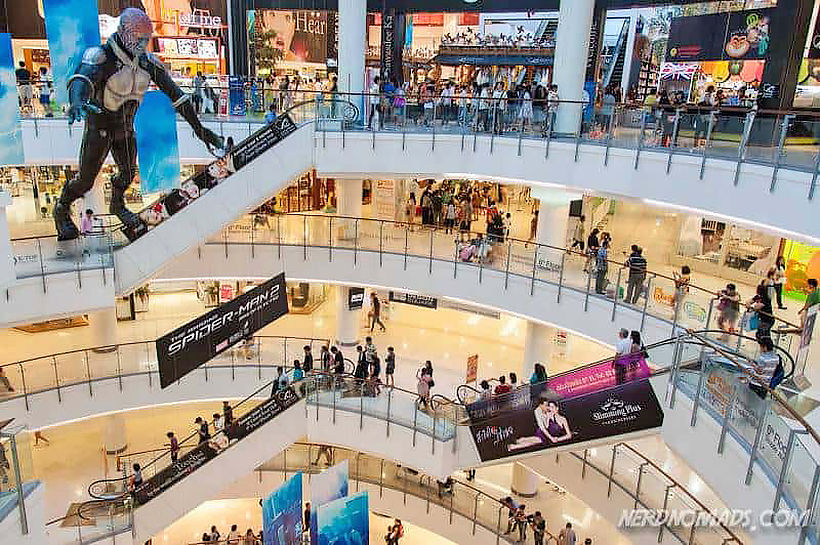 Suvarnabhumi, the name of Bangkok's second international airport, means "realm of gold," and was given by His Majesty the late King Rama IX to Bangkok's eastern outskirts (technically in Samut Prakhan province), once a marshland called Nong Nguhao (Cobra Swamp). With its overtones of wealth, the name represents the hopes of developers, who are turning the area into a retail battlefield.
The problem is oversupply. In late June, multitudes of of shoppers eager for a new experience after weeks of Covid-19 lockdown came to the grand opening of Siam Premium Outlets Bangkok, a brand new mall less than 10 kilometres east of the airport, the main gateway to Southeast Asia's second largest economy.
The mood was festive for the debut of the massive project, a collaborative effort by Thai mall operator Siam Piwat and US conglomerate Simon Property Group. The joint venture invested 4 billion baht to accommodate an anticipated 10,000 visitors per day in the mall's 50,000 square metres of floor space.
Siam Piwat Simon's managing director says "Premium outlet is a retail trend that still has potential to grow". He believes that growth will reinforce Thailand as one of the world's most popular tourism destinations. But given the effects of the Covid-19 pandemic, it's hard to imagine a tougher time to open a mall. The foreign tourists whose spending would normally ensure the success of a new shopping complex are being kept out as the government still bans most international arrivals.
When tourists do return, their numbers and mobility may be limited, and competition among major retailers around Suvarnabhumi will enter a new, more intense chapter. Rivalries between central Bangkok's many malls and those emerging around the airport will also heat up. There's plenty of shopping for bored travellers waiting for flights inside the main airport as well.
Some analysts predict the "new normal", requiring social distancing and limiting customer numbers that could result in significant shrinkage in physical store offerings. The head of retail advisory and transaction services at CBRE Thailand says retailers' rental space requirement may be reduced by 20 – 40% from the levels before the pandemic. Still, nearly 1.3 million square metres of new retail space is expected in Bangkok by the end of 2023 – more than 25 times the size of Siam Premium Outlets Bangkok. That many commercial facilities opening in a span of just 3½ years is sure to add plenty of new challenges to the retail landscape. According to a spokesman for the Thai Retailers' Association…
"Premium outlets are business in an upward trend, while duty-free shops are the opposite. In the future, there will be no tax because of free trade agreements. And tourist behaviour is changing. They don't want to pay a lot of money for short-lifecycle goods. They would buy more goods from premium outlets rather than duty-free shops, where goods are more expensive."
Thailand has been benefitting from growing overseas tourism, led by the Chinese with their formidable purchasing power, which was booming until the pandemic. According to a report by the World Tourism Organisation, in 2018 the kingdom was the ninth most visited country by tourists in the world, and second after China in Asia. Thailand's visitors in 2019 were close to 40 million.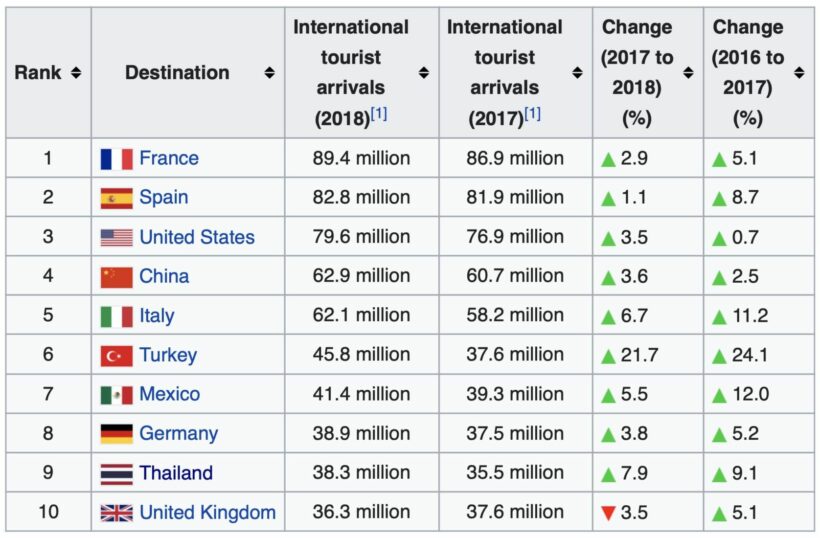 The turf war near Suvarnabhumi is essentially an extension of the fierce retail competition in central Bangkok, where retailers are also highly dependent on overseas visitors. Siam Piwat introduced mega mall Iconsiam on the east bank of Chao Phraya river, as a joint project with Thailand's largest conglomerate CP Group and its property arm Magnolia Quality Development, in November 2018. Siam Piwat co-owns Siam Paragon with another retailer, The Mall Group, which also developed Emporium and EmQuartier department stores. Central Group, including Central Pattana, runs Central World and Central Chidlom.
More projects are in the pipeline. Magnolia Quality Development is working on one called The Forestias, scheduled to be completed by 2023. The US$4 billion (124 billion baht) project is on track to be the largest property investment in the kingdom's history.
Whether in Bangkok proper or near Suvarnabhumi Airport, all major retail complexes have one thing in common: they're counting the days until the foreign tourist inflow returns. The Tourism Authority of Thailand came up with a plan to promote domestic tourism packages to mitigate the impact from the lack of overseas travellers, but Thais' spending power is limited compared to that of foreign tourists.
Although the coronavirus situation in the kingdom is well in hand, the risk of a second wave has the world on edge, even as some countries such as the US and Brazil struggle to rein in their first wave. The outlook for Thailand's big bet on the return of inbound demand is fraught with uncertainty. The "Realm of Gold" that welcomes travellers may not be quite so precious for some time to come.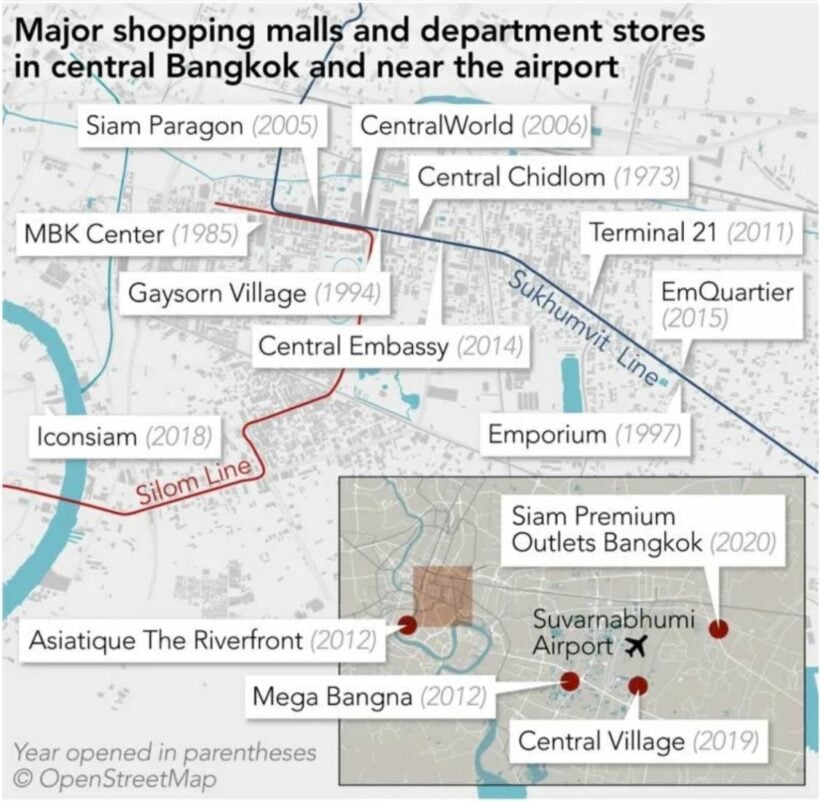 SOURCE: Nikkei Asian Review
Keep in contact with The Thaiger by following our
Facebook page
.