Bangkok
Generally clear. High 35ºC. Winds E at 10 to 15 km/h.
.

Phuket
Generally clear. High 33ºC. Winds E at 15 to 30 km/h.

Chiang Mai
Morning clouds followed by afternoon sun. High 35ºC. Winds SE and variable.

Pattaya
Morning clouds followed by afternoon sun. High 31ºC. Winds SSW at 15 to 25 km/h.

Hua Hin
Partly cloudy. High 31ºC. Winds ESE at 10 to 15 km/h.

Ko Samui
Generally clear. High 25ºC. Winds ESE at 25 to 40 km/h.



Read more headlines, reports & breaking news in Thailand. Or catch up on your Thailand news.
Choosing sides. Abhisit Vejjajiva will have to choose after Sunday.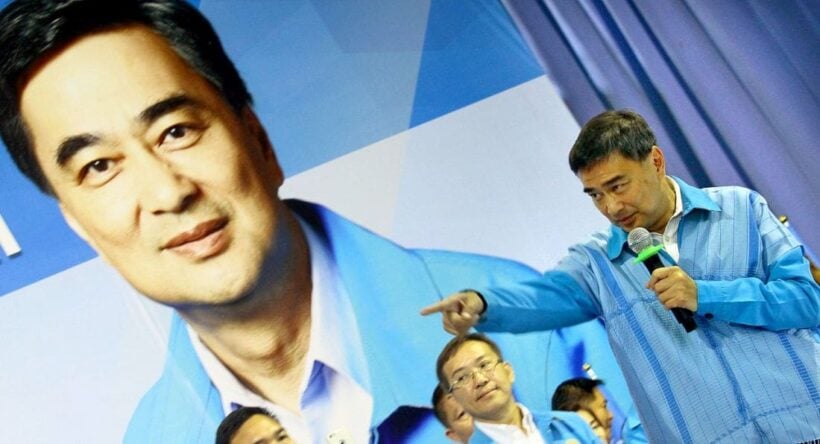 PHOTO: The Nation
Sunday's election will not be the end, it will only be another episode in a two-decade long drama as Thailand struggles with democracy and attempts to throw off the shackles of nearly a century of military tampering in political affairs.
Thailand's oldest political party, the Democrats, head into Sunday's election with leader Abhisit Vejjajiva facing some tough decisions in the first poll since the 2014 coup.
At one end of the political spectrum in Thailand are the pro-military, pro-status quo parties. At the other are the pro-democracy, pro-Thaksin parties. And between them, the Democrats trying to find some political middle ground.
The way the votes are likely to fall, no party will have enough seats in the new lower house of the Thai parliament. There will have to be some long phone calls and concessions made by everyone to cobble together a workable coalition. Either way, the Democrats are likely to be the ones roped into any coalition – they won't get enough votes to win government but will have a substantial handful to bargain their place at the table.
Either way they are going to upset a sizable majority of the pro-military or pro-democracy parties. And the Democrat voters won't be happy with they party leaders getting cosy with the opposition parties.
But Abhisit Vejjajiva argues that there is a scenario that could return him to the PMs office, which he held from 2008 to 2011 after a court dissolved a pro-Thaksin government.
"We will be the alternative in leading Thailand out of the last decade of troubles."
But the polls and pundits say this scenario is unlikely.
The March 24 election is being billed by the NCPO as returning south east Asia's second-largest economy to civilian and democratic rule. But the new constitution, overseen by the generals simply enshrines military influence over politics. Whilst it will be a free and fair vote for the lower house of government, the upper house of 250 military Senators is already set in stone.
Abhisit this month said in a campaign video he would not support Prayut Chan-o-cha staying on as PM, which he said will "breed conflict and is against the Democrat party's principle that the people have the power".
But at the same time, Abhisit made it clear he would be loath to work with the main pro-Thaksin party, Pheu Thai. The Democrats have long decried the Thaksin movement as corrupt and a threat to independent democratic institutions.
"I don't want dictatorship and I don't want corrupt people," Abhisit said.
"Corrupt politicians provided the pretexts for the military to stage all the coups in the last 20 years."
So here I am, stuck in the middle with you!
The biggest problem Abhisit faces next Sunday is an electorate that has become increasingly polarised, and the middle ground, with all the best intentions in the world, being lost in the background noise of the bitter political struggle.
There is no doubt that the charismatic Abhisit Vejjajiva, and his party members, will be a part of any new co-alition following the election – they will have numbers and numbers count. But the Democrat vision, one of the oldest political visions in Thailand, will be lost amongst the ongoing battle between the pro-Thaksin and pro-military voices.
"I'm sorry" – Premchai granted bail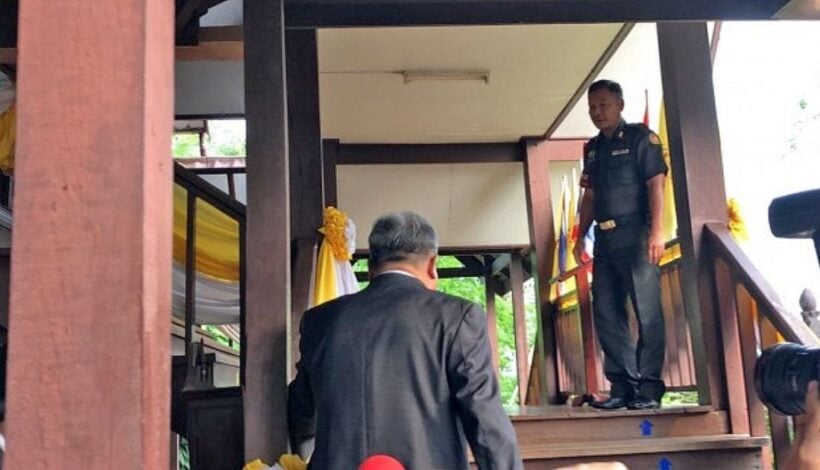 "There is one thing.  I am sorry."
PHOTO: Thai PBS
Thailand's billionaire construction magnate says he was "sorry" after being granted bail following yesterday's court verdict that set a prison sentence of 16 months for illegal hunting in the Thungyai Naresuan wildlife sanctuary in far north-west Thailand.
Three others were also found guilty and given jail terms by the court. Yong Dodkrua was sentenced to 13 months, Mrs. Nathee Riamsaeng, four months and Thani Thummat given two years and 17 months in prison.
Premchai Kanasuta, president of Italian-Thai Development Corp, one of Thailand's largest construction firms, along with three other people were arrested by forest rangers at their make-shift camp where carcasses of a black panther, a barking deer, wild fowl and hunting rifles were found 13 months ago.
The high-profile case has generated strong reactions from many Thai people fed up with wrongdoings by those in power and with influence often going unpunished. The case has also been the subject of jokes in the social media and prompted demonstrations in and outside Bangkok.
He was found guilty on three counts and sentenced to six months for carrying firearms in public without a permit, 8 months for abetting others to poach protected wildlife species and two months for possession of carcasses of wild fowl.
The court did not find the tycoon guilty of illegal hunting of an endangered panther as charged by the prosecutor.
The four defendants were also ordered by the court to pay two million baht compensation to the Department of National Parks, Wildlife and Plant Conservation.
Asked whether he had anything to say to the public, Premchai responded briefly:  "There is one thing.  I am sorry."
All were released on a 400,000 baht bail, except Thani who was released on 500,000 baht bail.
The wildlife sanctuary chief Wichien, hailed a hero for his courage in standing up against the influential tycoon, told the media he was satisfied with the verdict, adding that justice has been served.
Premchai verdict and prison sentence comes just 5 days before the election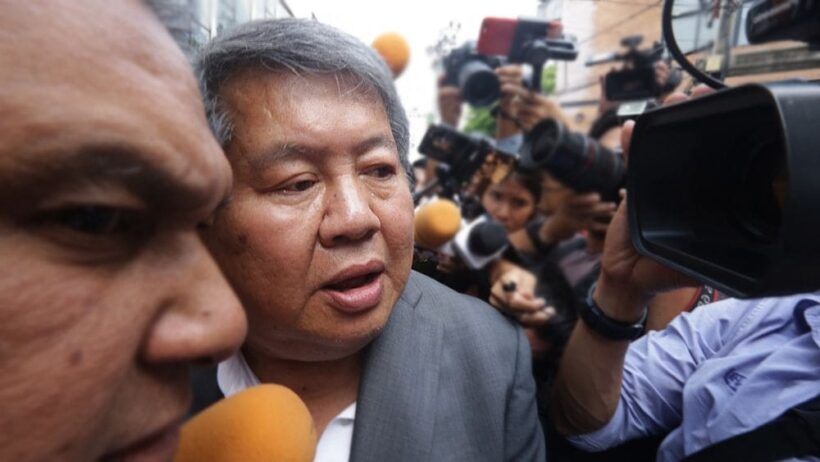 Premchai Karnasutra, once listed among Thailand's richest people, has been found guilty in a Kanchanaburi court of poaching protected animals, and sentenced to 16 months in jail.
Wildlife rangers arrested the 64 year old tycoon along with four other associates in the Thungyai Naresuan nature reserve, a world heritage site in Kanchanaburi in February last year.
The incident has caused public outrage in Thailand over the past year since the story came to life. Social media has been running strong with people expressing their scepticism that the country's justice system would bring the 64 year old to justice, claiming the system often allows the rich and powerful to walk free.
The judge said Premchai, the president of construction giant Italian-Thai Development, was sentenced to a prison term for poaching protected animals and illegal possession of protected animal carcasses, and firearms offenses.
Wildlife rangers said they tracked down gunshots and followed the sound at the time only to find the carcasses of a black leopard, a barking deer and Kalij pheasants left behind.
The black leopard, listed as a vulnerable species, was found dissected and scalped.
The rangers, said they were offered bribes but turned them down. They also found two rifles, a double-barrelled shotgun, and ammunition by the campsite.
Apart from the social media outrage in the lead up to today's verdict, graffiti depicting black leopards has also popped up around the country in a bid to pressure authorities to find Premchai guilty.
With the election only five days away the outcome of today's verdict and sentencing was always likely to provide ammunition for undecided voters.
Premchai's legal team have not announced an appeal of the sentence at this stage.
Kanchanaburi is Thailand's far west on the Myanmar border.